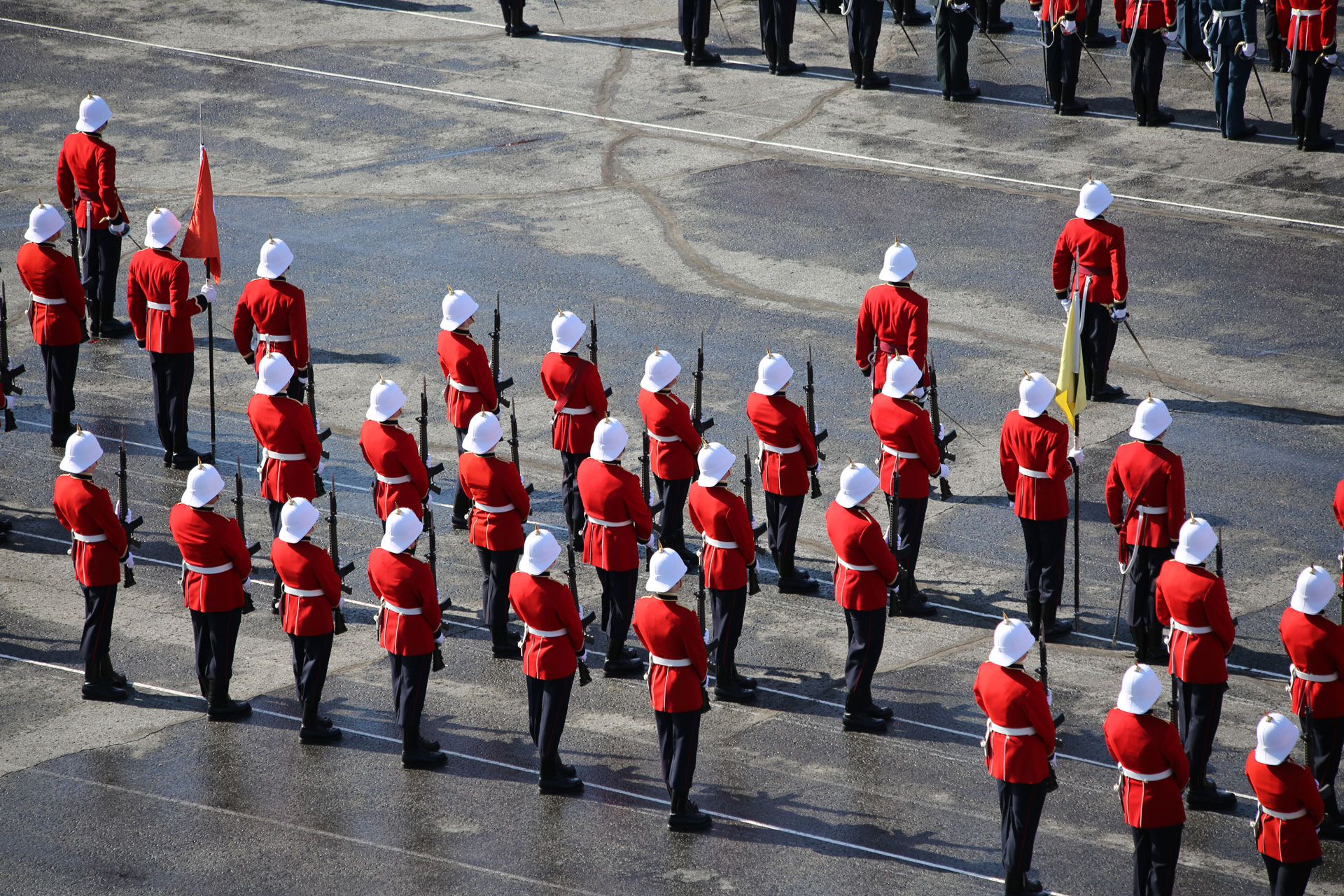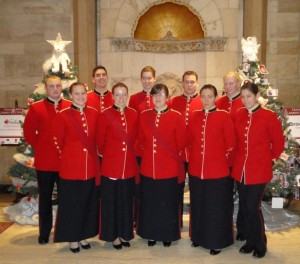 10 Cadets Attend WiDS Luncheon at Chateau Laurier in Ottawa – From Left to Right (Back): 25712 OCdt Amirault, 25888 OCdt Martin, 25008 OCdt Brunelle, 24975 OCdt Long, 25461 OCdt Schuler.
From Left to Right (Front): 24981 OCdt Moffat, 24754 NCdt Maul-Wilson, 24749 NCdt LaRocque, 25505 OCdt Martel, 25532 OCdt Otis.
Cadets Meet Up With Women Leaders in Defence & Security
By: 24981 OCdt Joycelyn Moffat
The annual Women in Defence and Security Luncheon and Holiday Reception was held at the Chateau Laurier in Ottawa on Friday 3 December. Ten cadets from the Royal Military College in Kingston were graciously invited to join in the festivities. Accompanying the group was Dr. Stephanie Belanger from the Language Centre.
A hectic time of year, the luncheon and reception was an excellent way to finish the semester, mingling with many notable persons within the security industry across Canada. Both female and male cadets were hosted by Women in Defence and Security, General Dynamics Canada, DEW Engineering and Development, and CFN Consultants. We were invited to sit at the corporate sponsored tables and enjoy candid conversations about the successes of women in security and defence careers. In addition, we were most honoured to listen to speeches from Lieutenant-General André Deschamps, Chief of Air Staff, and Commander Josée Kurtz, commanding officer of the HMCS Halifax and the first female naval officer to command a ship in the Canadian navy, amongst other well noted speakers.
Women in Defence and Security is a forum for professional development, promoting the advancement of women leaders in defence and security positions across Canada, including those with the ranks of the CF. As young officers in the CF, WiDS offers many networking opportunities which I would encourage other cadets to consider and to take advantage of. For several of the cadets in attendance, the luncheon and reception were an excellent introduction into the WiDS network as new members.
On behalf of the cadets invited, I'd like to extend a thank you to all the persons who made our involvement possible. The event was a delight and immensely beneficial.
par: 24981 OCdt Joycelyn Moffat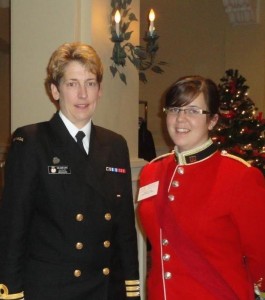 Le déjeuner annuel et reception des temps des fêtes des Femmes dans la Défense et Sécurité a eu lieu le au Château Laurier à Ottawa vendredi, le 3 décembre. Dix élèves officiers du Collège militaire royal de Kingston ont été gracieusement invités à se joindre aux festivités. Accompagnement du groupe était le Dr Stéphanie Bélanger du Centre de langues.
Une période mouvementée de l'année, le déjeuner et la réception ont été une excellente façon de terminer le semestre, se mêlant avec plusieurs personnes remarquables dans le secteur de la sécurité à travers le Canada. Les cadets féminins et masculins ont été accueillis par les femmes dans la Défense et de Sécurité, General Dynamics Canada, DEW Engineering and Development, et CFN Consultants. Nous avons été invités à nous assoir à des tables parrainé par les entreprises et aussi de profiter des conversations franches sur les succès des femmes dans le domaine de sécurité et de défense. En outre, nous avons été très honorés d'entendre les discours du lieutenant-général André Deschamps, chef de la Force Aérienne, et Capitaine de frégate Josée Kurtz, commandant du NCSM Halifax et la première officier naval féminine au commandement d'un navire de la marine Canadienne, parmi les d'autres orateurs bien noté.
Les femmes dans la Défense et de la sécurité est un forum pour le perfectionnement professionnel, de favoriser la promotion des leaders féminine dans les positions de défense et de sécurité partout au Canada, y compris ceux avec les rangs des FC. Comme les jeunes officiers dans les FC, FeDS offre des possibilités de réseautage nombreux J'encourage les autres cadets à les examiner et en prendre avantage. Pour les cadets qui ont été présent, le déjeuner et la réception ont été une excellente introduction dans le réseau FeDS tant que nouveaux membres.
Au nom de tous les cadets invités, je tiens à remercier tous les personnes qui ont fait notre implication possible. L'événement fut un grand plaisir et très bénéfique.
Photo Caption side photo: Commander Josée Kurtz and NCdt Christine LaRocque chatting at the WiDS Holiday Reception.