"The weight of unkind words today can become a crushing burden to carry in the future for the victim and the transgressor"
Article by 17160 Stephen Kalyta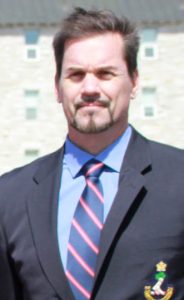 For those of you who are not familiar with the concept of the butterfly effect, I will offer here a general definition. The butterfly effect is similar to dropping a stone in still waters, the waves reverberate well beyond the initial point of contact between the butterfly's wings and the air surrounding it. This image is relevant in the context of my recent happy reunion with an old classmate and an opportunity for current College Cadets to consider carefully how they interact with one another for it may have future consequences.
I just reconnected tonight with a classmate from CMR after 28 years. The power of social media can bridge time and space and rekindle old friendships. Life has an interesting way of driving us down a long precarious path that upon reflection, time and a bird's eye view, actually ends up being a complete circle. When we reconnected, I remembered that my friend was often mistreated by fellow Cadets because of misplaced narcissistic tendencies that too often were thrust upon him. I felt bad for him and admitted as much. He reminded me that I was not one of his adversaries and treated him with dignity and respect. He told me this mattered all these years later.
As a skinny, odd looking prepubescent kid that did not quite fit into his body or overly large head, I became an early advocate for the oppressed. I could not have guessed though how simple dignity would matter three decades later, but it did, an to him, and that is the butterfly effect.
There is a simple lesson here. MilCol is a microcosm, like the edge of a butterfly wing that propels action, word and sometimes misdeeds well into the future. Consider for a moment how the weight of unkind words today can become a crushing burden to carry in the future for the victim and the transgressor. Instead, take a moment to reflect on how you can lighten the burden of another by simply being respectful toward those who may see the world differently. "A real friend is one who walks in when the rest of the world walks out."