Article by / par 17160 Stephen Kalyta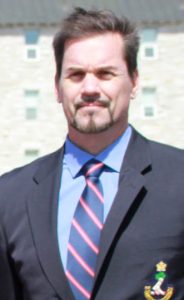 This article will achieve its mission statement if it successfully dispels the myth that the "real world" adjustment to the Canadian Forces requires "unlearning" the RMC experience. Schein describes three levels of organizational culture as artifacts, values and assumptions. Certain aspects of the RMC culture do not transpose 1 to 1 to the Forces experience, which include dress norms and routines (artifacts). However the values imbued in the 4 Pillars you have mastered as RMC cadets over 4 or 5 years are a distinct leadership advantage and should be cherished.
The premise of unlearning, which I have heard ex-Cadets mutter from time to time over the years, is rooted in the flawed assumption that you have learned or were taught incorrectly and consequently require re-training. The flaw in logic with this statement should be obvious. Your RMC training has made you adaptable and resilient to change which of course is an asset. If those characteristics of adaptability and resilience are to be viewed negatively as "unlearning" the RMC culture, perhaps unlearning in this context is not a myth, nor is it a bad thing. In fact, your capacity to adapt as a leader to your environment is called situational leadership and is a prudent way in life to stay sane, safe, and maintain a sensible cadre of subordinates that respect you. Change is not unlearning, and it is essential to ensure you afford yourself the opportunity to transform and evolve. This transformation process does not end upon graduating from RMC; it's simply a new path on the road to your developing career.
From the privileged pulpit of 29 years of post-graduate life experience, I can tell you with unassailable conviction that your training will serve you in ways that will astound you. In fact your training is a composite of life skills that are held in reserve and will propel you through some of your most difficult personal and professional experiences you are destined to experience. I sincerely hope that those challenges are few and far between, but I have no doubt you have the skills to overcome any challenge because of your RMC experience, not in spite of it.
If I could go back in time and thank the 17 year old version of me that had the wherewithal to wander into the recruiting center and apply to CMR, I most certainly would. In this hypothetical meeting with my younger self,  I would applaud the young man before me for having the prescience to invest in a program that would demand I deliver the best version of Self and which would provide a good return on investment that pays out for a lifetime.
Perhaps its worth you conducting a similar hypothetical interview with the recruit that was you 4 or 5 years ago. Then take a moment to look in the mirror and reflect that you are now at the start of a new beginning. Be proud of all you did to get there.
//
Cet article atteindra son énoncé de mission s'il parvient à dissiper le mythe voulant que l'ajustement du "monde réel" aux Forces canadiennes exige un "désapprentissage" de l'expérience du CMR. Schein décrit trois niveaux de culture organisationnelle sous forme d'artefacts, de valeurs et d'hypothèses. Certains aspects de la culture du CMR ne transposent pas 1 à 1 à l'expérience des Forces, qui incluent des normes et des routines vestimentaires (artefacts). Toutefois, les valeurs contenues dans les quatre piliers que vous avez maîtrisés en tant que cadets du CMR au cours des quatre ou cinq dernières années constituent un avantage décisif en matière de leadership et doivent être préservées. 
La prémisse du désapprentissage, que j'ai entendu de temps en temps ex-marmonner d'anciens élèves-officiers, découle de l'hypothèse erronée selon laquelle vous avez appris ou enseigné de manière incorrecte, ce qui nécessite une nouvelle formation. La faille dans la logique avec cette déclaration devrait être évidente. Votre formation RMC vous a rendu adaptable et résilient pour changer, ce qui est bien sûr un atout. Si ces caractéristiques d'adaptabilité et de résilience doivent être considérées négativement comme un "désapprentissage" de la culture du CMR, peut-être que désapprendre dans ce contexte n'est pas un mythe, ni une mauvaise chose. En fait, votre capacité à vous adapter en tant que leader à votre environnement s'appelle le leadership situationnel et une manière prudente dans la vie de rester sain d'esprit, en sécurité et de maintenir un cadre raisonnable de subordonnés qui vous respectent. Le changement ne consiste pas à désapprendre et il est essentiel de veiller à ce que vous vous donniez la possibilité de vous transformer et d'évoluer. Ce processus de transformation ne s'achève pas à la sortie de RMC, c'est simplement une nouvelle voie sur la voie de votre carrière en développement. 
De la chaire privilégiée de 29 années d'expérience de la vie post-universitaire, je peux vous dire avec une conviction inébranlable que votre formation vous servira d'une manière qui vous étonnera. En fait, votre formation regroupe des compétences de la vie courante gardées en réserve et vous propulsera à travers certaines de vos expériences personnelles et professionnelles les plus difficiles que vous êtes destiné à vivre. J'espère sincèrement que ces défis sont rares et espacés, mais je suis convaincu que vous avez les compétences nécessaires pour surmonter tous les défis en raison de votre expérience du CMR, et non en dépit de celle-ci.Si je pouvais remonter dans le temps et remercier la version de moi âgée de 17 ans qui avait la place de se promener dans le centre de recrutement et de postuler à la CMR, je le ferais très certainement. Dans cette hypothétique rencontre avec mon plus jeune moi, je voudrais féliciter le jeune homme qui m'a précédé d'avoir la prescience d'investir dans un programme qui exigerait que je livre la meilleure version de Self et me procure un bon retour sur investissement qui soit rentable pour la vie.
Cela vaut peut-être la peine de mener un entretien hypothétique similaire avec une recrue, il y a 4 ou 5 ans. Ensuite, prenez un moment pour regarder dans le miroir et vous dire que vous êtes maintenant au début d'un nouveau départ. Soyez fier de tout ce que vous avez fait pour y arriver.