"Success in achieving attainable goals is a great strategy to beat down a funk"
Article by 17160 Stephen Kalyta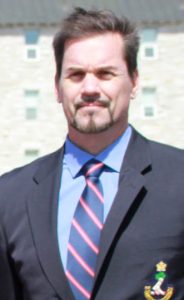 Sherri Melrose, an Athabaskan University Professor, cites from her research in 2015 that Seasonal Affective Disorder (S.A.D.) affects about 15% of Canadians from late Fall through to the Winter.
The lack of sunlight is a direct contributor, as this robs us of the necessary Vitamin D and can become cyclical in its recurrence. In the context of Cadet life, it is my opinion and personal experience that it may be exacerbated by the consequences of your performance in the previous term. Naturally, you may feel the pressure from academics, your military performance or physical performance.
For First Years, the Christmas break is over and perhaps represented the first extended respite at Home since joining the Forces. Being at Home for Christmas offers an opportunity to see old friends, but if they are not military, you likely noticed its far harder for you to relate to each other's life experience. This can create a recurrence of being homesick if your parents live far enough from the College that weekend getaways are not possible.
This experience not only affected me but many of my "Anglo" classmates at CMR. To build resilience to SAD one needs more than a vitamin supplement. While at CMR, all of us coped by relying on one another for support. My "Franco" roommates would offer me a chance for a home cooked meal on the occasional weekend in Montreal. It also gave me an opportunity to improve my bilingualism and immerse myself into Quebec culture, and I believe I am far better for it. Of course, the model equally applies in Kingston and I would encourage local Cadets to open the doors to their home as a source of respite for your classmates that may be feeling a little homesick.
Hitting the gym and getting some exercise can also improve your mood, according to the Mayo Clinic, and I would personally agree. A good plan that you stick to in order to pull yourself up by the bootstraps demonstrates good self-management. Consider what kind of leader you will be seen by others if they view you cannot take care of yourself. Part of self-care is understanding how the environment may affect us and one of the causes could be Seasonal Affective Disorder. It is only temporary, and there is a stellar support network at the College you can leverage to make sure you stay in top form. Success in achieving attainable goals is a great strategy to beat down a funk.