18668 Geneviève Bonin: Joining the Ranks of the Consulting Elite
By 12570 Mike Kennedy
Since its founding nearly 100 years ago by its namesake, McKinsey and Company has since grown to become a global professional services powerhouse, and arguably the preeminent force in strategy and management consulting globally… With 25,000 employees and 120 offices located  in major business centres in every region the planet, McKinsey has long made an enviable name for itself in providing advice on all manner of strategic issues to C-level executives of virtually every nationality.
One of the newest members of the McKinsey family is 18668 Geneviève Bonin (known as Imbeault while in the Forces) who joined the firm as a partner in the Toronto in January 2018. Yet to reach her 47th birthday, Bonin's new assignment at McKinsey is just the latest move in an already stellar career in the management consulting field. If her previous accomplishments are any indication, she's bound to make an impressive mark in helping her new employer to use its formidable expertise to serve the needs of Canada's public sector organizations. And in listening to her describe her life experiences, it's clear that the lessons she took away from her five years in military collage played a vitally important role in shaping her into the kind of professional and leader she has become today.
Growing up in Quebec City, Bonin was a talented pianist and flute player who originally aspired to pursue a career in music. Her first exposure to military life came as a teenager, when she joined the Royal Canadian Sea Cadets. The thought of attending military college intrigued her, and perhaps out of curiosity more than anything else, in her final year of high school she applied to see if she could get in. In the late summer of 1988, at just 16 years of age, Bonin arrived on the CMR campus in St. Jean. Five years later, with a very successful college career behind her, Bonin marched of the Square at RMC with a degree in chemical and materials engineering under her belt, and an officer's commission in the Royal Canadian Navy in hand.
During her years at CMR and RMC, Bonin participated in a wide range of activities and did well in all aspects of her training. Her musical talents shone through as a member of the band, and her athletic abilities were put to good use playing sports such as water polo and cross-country running, and most notably in captaining the downhill ski team. In her final year at RMC, Bonin was given the opportunity to further develop her leadership skills in two senior bar positions, first as sports officer for 7 Squadron, and in her final semester, as Cadet Wing Sports Officer.
Following graduation in 1993, Bonin was commissioned as a naval engineering officer, and undertook training first at Esquimalt and later in Plymouth, England. Regrettably, her entry into the RCN coincided with the difficult years of the early 1990's, a time when the Forces came under severe financial pressures and many dedicated and highly skilled military members were compelled by circumstances to seek new opportunities in civilian life. As a member of a classification that was in the process of being downsized, Bonin agonized over the decision to leave the service. "I really enjoyed the military life, and was in an occupation where I was doing well" she recalls. "But I eventually came to the realization that my immediate opportunities in the Navy would be limited, and that there were other ways in which I could more effectively serve my country."
Not long after returning to Canada in the summer of 1994, Bonin settled in Ottawa, and soon thereafter took off her uniform once and for all. A short while later, she found herself back in a classroom, this time as an MBA student at the University of Ottawa. Bonin excelled in her graduate studies, completing the MBA in little more than a year, and in the process, meeting the man who would become her future husband. Upon receiving her degree, she accepted a position with Anderson Consulting, where her first assignment involved working on a major Government of Canada contract.
As is so frequently the case, about a year later fate intervened, when Bonin attended a mess dinner in Ottawa and found herself sitting next to a fellow Ex-Cadet, 8194 Ernie Wallace (Class of 1969). Impressed by the dynamic and highly motivated young woman, Wallace urged her to meet a business associate who was a partner with the consulting firm Coopers and Lybrand. A lunch was arranged in due course, and by the time the meal had ended, Bonin had been offered a new job, and was en route to joining the firm where she would eventually build much of her career.
Bonin's first tour of duty with her new organization lasted from 1996 to 2002, during which time Coopers and Lybrand merged with a longtime competitor to become PricewaterhouseCoopers (PwC). When the firm's consulting practice was sold to IBM in 2002, she left to join Hewlett Packard, where over the next four years she held several different executive roles. She was recruited to rejoin PwC in 2006 to help the organization rebuild its global consulting practice, and throughout the next dozen years took on a variety of progressively senior appointments, culminating with responsibility for the national leadership for the management consulting practice, as well as for the Public Sector practice across all lines of services.
In reflecting back on the five years she spent wearing the red coat, Bonin remains convinced that the role models she was mentored by, and the leadership lessons she took away from her experiences, all played a major contributing role to her future success. "My formative years in my late teens and early 20's were spent in the military college environment, and it was a unique and amazing opportunity to develop the full range of my abilities" she says. "In my many years of management consulting, I have never encountered anything in the private sector which compares with the quality of the leadership I was exposed to in the military. I think it would be no exaggeration to say that the core values of Truth, Duty, and Valour are what still today define who I am as a professional."
One of the most valuable and enduring lessons Bonin acquired through her time at the two colleges was a deeper appreciation of the importance of what she calls "servant leadership". "As a leader in any organization, you cannot presume loyalty from those who are your followers. That is something that has to be earned" she comments. "I am a strong believer in the concept of inspirational leadership. My view is that the critical challenge facing any leader, no matter what the context, is to begin by working at gaining the respect and confidence of the people you are responsible for. If you can inspire them with a vision, and convince them to believe in you, they will follow you, because they want to follow you."
As a young woman who began her military college career during a time when the Canadian Forces were in the early stages of going through a huge cultural transition, Bonin also expresses great respect for those of her female colleagues who were "trailblazers" in their military occupations. "In my time as a cadet and young officer thirty years ago, the Forces were just beginning to open up many occupations to women, and were just starting to come to the realization that females could serve in combat just as well as men could" she says. "The military was still very much of a male-dominated environment that was characterized by a culture based on deeply-ingrained beliefs and values. Though the CF still continues to struggle with gender diversity, a lot or progress has been made since that time, and I think all of us owe a great deal to those of my female contemporaries who chose to persevere and serve with great dedication and dignity, even when it was clear that they weren't always welcome within the ranks of the armed forces."
In addition to her numerous accomplishments during her business career, Bonin has also been very active in community service and philanthropic work. True to her military roots, she has served on the board of the True Patriot Love Foundation and is an active member of the Treble Victor Group.
She also serves on the board of the Royal Ottawa Hospital Institute for Mental Health Research, an institution which works very closely with the Canadian Forces and with military veterans. More recently, Bonin has also accepted to become the Chair of a new advisory committee for the MBA program at Ryerson University's Ted Rogers School of Management. "I believe volunteer work offers many important opportunities to serve our country, and contribute to helping build a better society" she says. "Throughout my career, I have always made it a priority to set aside time to devote to volunteer work, and do what I can to support causes where I feel I can make a difference."
Today, 25 years after graduation, the fluently-bilingual Bonin can look back on an already hugely successful professional career thus far. At the same time, she's also got many more years ahead of her during which she will have innumerable opportunities to make an even more significant impact as senior leader within an elite global consulting firm. But no doubt her most cherished accomplishment in life is the fact that, notwithstanding the demands of her professional career, she is also the proud mother of four children. One son is now at Queen's studying engineering, and as to the question of whether any of the others will eventually choose to march through the Arch and take up a College Number, well, that remains to be seen.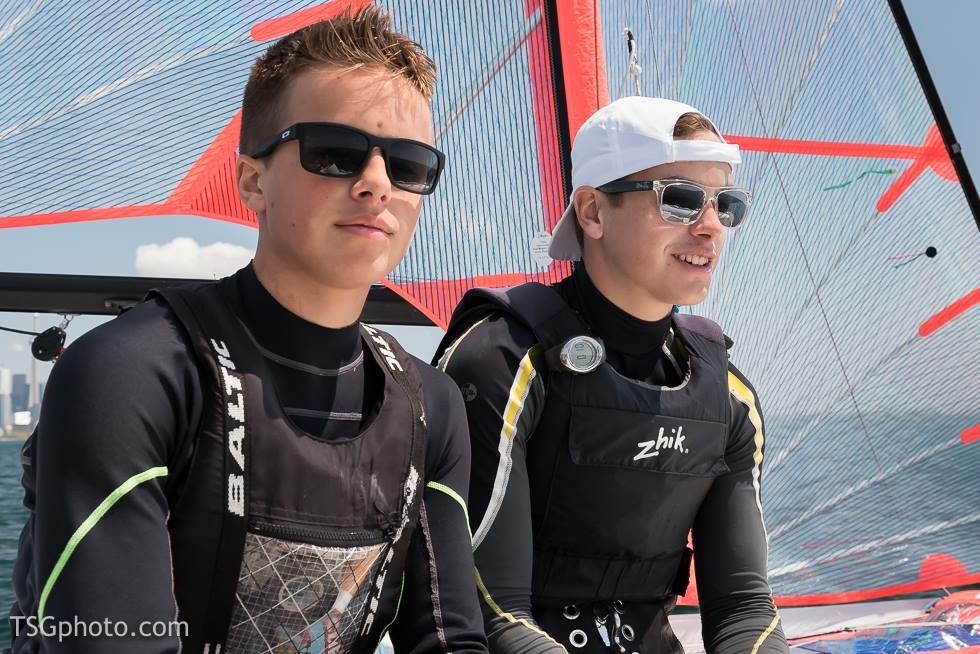 All her children, have followed in Bonin's footsteps as competitive sailors, with the two oldest now aspiring to represent Canada at the 2024 Olympics.
Regardless of whatever direction her career may take her in, or whatever new heights she may eventually scale, it's clear that this Lady Cadet is one world-class act, and the kind of Ex-Cadet that RMC can be proud of. It's equally clear that Geneviève Bonin is passionately loyal to her alma mater, and deeply appreciative of the opportunities it provided to her. "My time in military college was an amazing experience that went on to give me an enormous competitive advantage in my subsequent professional career" she says. "The College was an environment that tested my abilities to the limits and beyond,  and a place where I made many lifelong friends. It was a wonderful experience I have treasured ever since, and I wouldn't trade it for the world."