"I'm trying to be a good teacher, but I don't think I'm there yet…"
Article by 25366 Anna-Michelle Shewfelt
I've been to several of the Class of 1965 Teaching Excellence Award Public Lectures in the past and I have to say I always leave having learned something not just about the particular professor's subject area but also about what makes professors at the College so special. This year's recipient, 19930 Dr. Nicholas Vlachopoulos (RMC 1995), and his presentation entitled "Digging Deep into Education: An observational approach to technology enhanced teaching" were no exception.
The event last Monday night was well-attended by Dr. Vlachopoulos' family, members of the Class of 1965, RMC faculty, and current students. 14458 Dr. Harry Kowal (RMC 1984), filling in as Master of Ceremonies for Dr. Phil Bates, kicked things off by acknowledging that at the College, "We do this every year. And it's always difficult for the Selection Committee to make their choice." He added, "There is no higher form of praise." He also acknowledged those from the Class of 1965, who, as he joked, turned out in such numbers that they actually "had to bring two cars this year."
6496 Charles Emond (RMC 1965) also spoke to why the Class of 1965 had chosen to give back to the College in this way. "We realized that a lot of the success we had had was due to the nurturing we got here," he explained. "What a difference it made to have a prof who would not let us underperform! And so we came up with a proposal to recognize teaching." (For a more detailed history of the Class of 1965 Teaching Excellence Award please see here.)
"They don't give Nobel Prizes for teaching," he stressed. "They give them for research, but generating new knowledge is only useful if you can actually put it to use."
And while the Award does come with prize money, Charles underscored the fact that it's not about the money. "Do these professors win this for the prize money or the award?" he asked before answering his own question. "Neither. They win by being the best professor they can be."
As Dr. Vlachopoulos' presentation showed, he certainly is at the top of his game as a professor (although his modesty might not allow him to admit it). He began by emphasizing that getting to do what he does is a privilege. "I don't have all the answers," he added. "I don't even have all the questions!"
The "observational approach," as he explained, is one that as a civil engineer he uses all the time. "We observe, we do something to impact our surroundings, and then we observe what happens because of that. If it works like we want it to then we run with it."
His discussion of what this means for education began with observations of his own learning journey. From his earliest days and his mother's admonition that "Your textbooks are your girlfriends!" to his current endeavours, he traced the passionate curiosity that has made him who he is. As always, his students were at the centre of it all.
"Cadets observe," he pointed out. "I certainly did. And I wasn't not going to learn anything from a prof that I hate. I also wanted to know why I am I learning this? How are they not making it relatable?" Furthermore, as Dr. Vlachopoulos pointed out, "Today's students are not the students of yesterday. We need to understand our students."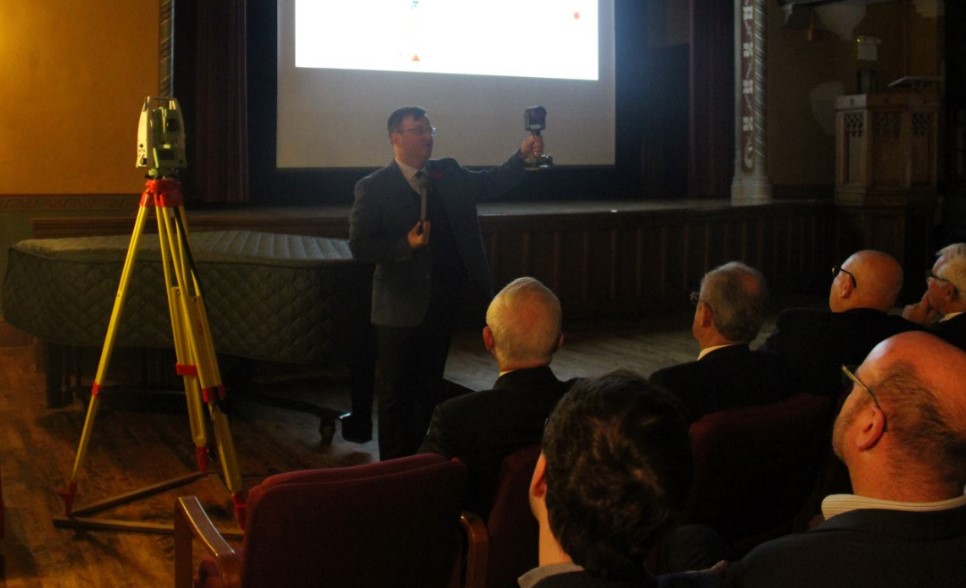 It's also necessary to understand what the students will be asked to do in the real world and to that end he drew on examples from his own career as a military engineer. One such example was from his time in Kandahar in 2005. "We were creating a camp and I was asked what kind of protective wall we would need to have to stop an RPG," he explained. "There was no textbook answer for that. I had to use my skills and resources to address the situation and provide a solution." To that end, he advised the students present to focus not just on what they are learning but also on how to learn. "You'll use your degree from day one," he stressed.
Observing work as a professor also includes examining what it means to be a professor. "Being a professor is one of the few professions for which systematic training is neither given nor required. We know our subject matter but how do we communicate it?" As he has observed over the years, passion is important for communicating it but it's not everything. "Damage can still be done," he said. "Imparting information is actually the least important aspect of teaching. Model curiosity and teach with the students in mind. No two students are alike."
With that in mind, he explained that in the Survey Camp civil engineering Cadets complete, the students are really in charge. "Initially I was teaching traditionally, and while I learned the material really well, the students didn't. So in Survey Camp we reverse the model, because the students must be actively engaged in the learning process," he explained. "We looked at this and we said, 'Let's do it for real.' We empower the students, and it works. What they produce lives up to the challenge, so much so that we actually receive external requests for projects for them to work on."
"We need to ensure that our students have the tools and support they need for success," Dr. Vlachopoulos emphasized. This includes experiences like Construction Field Trips which, due to funding and regulatory issues, don't always happen as they should. In addition, that success will come both in and out of the military. "Our students will have two professions, the profession of arms and the profession of engineering. They won't always be in the military and we need to expose them to opportunities such that they are ready for that day when they're no longer in the CF."
All of these various observations then led Dr. Vlachopoulos to the question of technology in the classroom. Besides underscoring that his "classroom" is outside he stressed that technology has to augment learning and not control it. "We have to keep asking, 'How do we make sure we're doing this correctly?' And that involves a lot of feedback and evaluation from the students themselves."
Dr. Vlachopoulos ended his lecture in the same modest fashion that he began it. "I'm trying to be a good teacher," he paused, "but I'm not there yet. I know my limitations. And I never stop learning."
Dr. Kowal's remarks as he drew the evening to a close summed it up well. Addressing Dr. Vlachopoulous, he said, "Every year the bar is raised higher and higher. You have educated us and you have entertained us, but what shows the most is your passion. You didn't lecture. You started your slides and you simply started to teach."
For more photos from the evening click here.