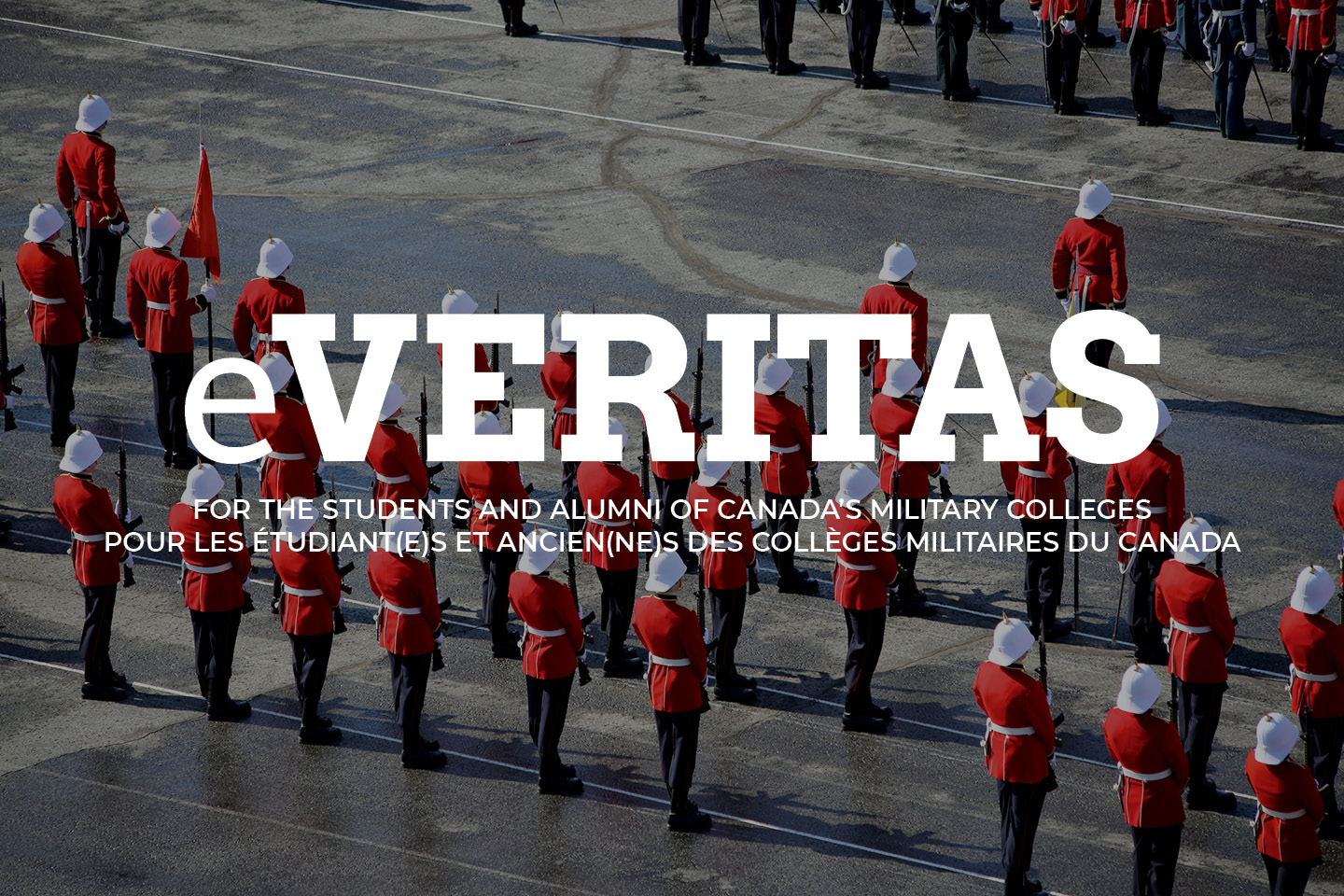 TEAM OF THE YEAR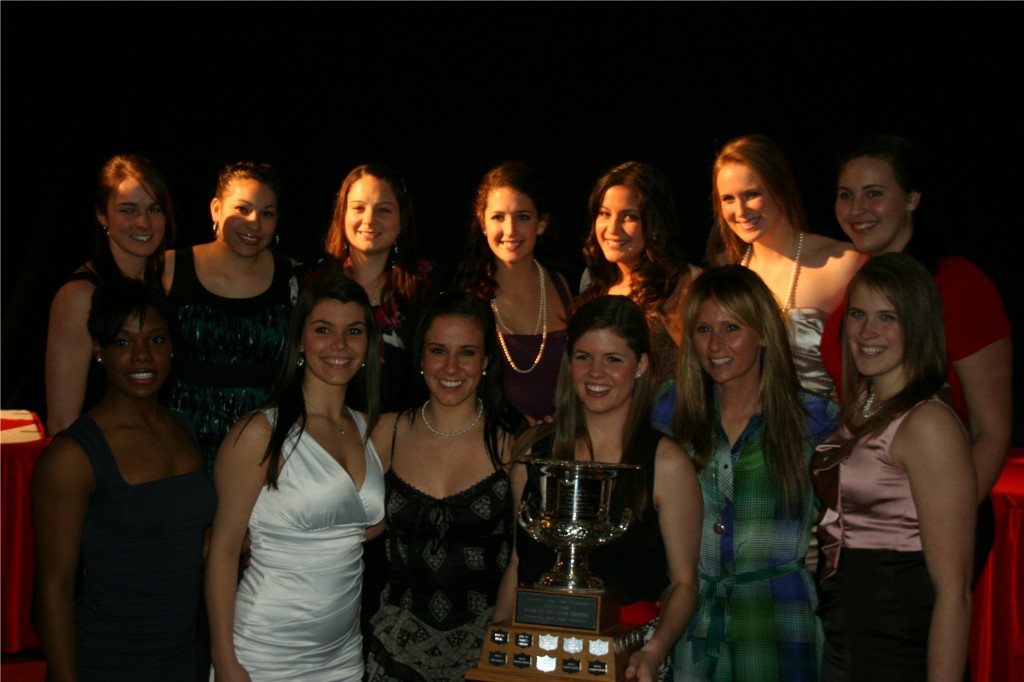 Congratulations to RMC Women's Volleyball – Team of the Year
(photo by: 24487 Dan Fleming)

Pre-Ceremony Cocktails
photos by: 24487 Dan Fleming
" Tonight's varsity awards ceremony was a wonderful event which illustrated the leadership and athletic excellence found at RMCC. Throughout the evening, we had the opportunity to recognize all the incredible athletes and teams, dressed in their finest, along with the coaches, trainers and medical staffs that enabled their success. Special thanks to Guy Dube, the stage band and choir, and all the others who organized and participated in this important event, and as always, particular thanks to the RMCC Foundation and RMCC Club whose generosity and support play a key role in permitting the athletes and teams to compete at such a high level of excellence."
Commodore William Truelove
Commandant
Royal Military College Honours Varsity Athletes at Annual Ceremony
The achievements of RMC athletes were recognized during the Varsity Awards Ceremony, held on Tuesday, March 22nd. Athletes from eight different varsity teams were honored with various major awards.
Fourth year Psychology student Laura Gray, 21, from Brookside (NS), won her second consecutive Kelly Gawne Memorial Cup as RMC Female Athlete of the Year. Gray, who also earned the top 4th Year Athlete as well as women's soccer team MVP awards, was named OUA East 2nd Team All-Star a third time in four seasons this past fall.
Colin O'Rourke, 23, a third year Aeronautical Engineering student from Dorval (QC), was named recipient of the Tommy Smart Cup as RMC Male Athlete of the Year. The dual sport athlete served as captain of the men's soccer team in the fall, then laced on his skates to patrol the blueline of the Paladins hockey team.
Carolyn Pumphrey, 23, from Gander (NF), was co-captain of the women's basketball team the past two seasons. The Honours Business Administration student has excelled academically and militarily throughout her four years at the college. Pumphrey was named recipient of the H.R.H. Prince of Wales Cup for her excellence in all four components throughout her college years.
The Captain Matthew Dawe Memorial Cup is awarded annually to the outstanding male or female ROTP varsity athlete, of any year, who excels in all aspects of College life at RMC. David Bernatchez, 21, from Repentigny (QC), has been an important contributor to the successes experienced by running team this past season. The fourth year Honours Space Science student has been a tremendous leader, mentor and ambassador for both the running team and the college throughout his time at RMC.
The women's volleyball team was named RMC Team of the Year for 2010-10, following their highly successful competitive season. The Paladins qualified for the OUA post-season for the first time in team history, posting a record of seven wins and twelve losses. Rookie Chelsey Litjens (Ottawa, ON) of the women's volleyball team earned the top 1st Year Athlete award.
Jason Song (Maple Ridge, BC) of the taekwondo team was named top 2nd Year Athlete. Landon Lavictoire (Kirkland Lake, ON) of the men's hockey was named top 3rd Year Athlete, while teammate and fifth year forward Richard Lim (Calgary, AB) was named Top Team Captain.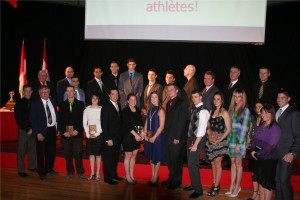 TEAM MVP's
SPORT NAME
Basketball (M) Gavin Viray-Cox
Basketball (W) Carolyn Pumphrey
Fencing (M) Eric Castellani
Fencing (W) Nicky Sapera
Hockey (M) Andrew Flemming
Rugby (M) Clarke O'Reilly
Running (M) Richard Hayes, Félix-Olivier Cordeau
Running (W) Marina Lowthian, CJ Best
Soccer (M) Jhordan Dorrington, Thomas Pugh
Soccer (W) Laura Gray
Taekwondo Felix Kesserwan
Volleyball (M) Bobby Hartzell, Sean Vanthournout
Volleyball (W) Danielle Vortisch
Trophies and Awards:
Hutton Trophy (Best 1st Year Cadet): Awarded to the first year cadet who makes the most
outstanding achievements in athletics during the current College year.
Recipient: ………………………………………………………… Chelsey Litjens, Women's Volleyball
Hutton Trophy (Best 2nd Year Cadet): Awarded to the second year cadet who makes the most
outstanding achievements in athletics during the current College year.
Recipient: ………………………………………………………………………..… Jason Song, Taekwondo
RMC Military Club of Canada Trophy (Best 3rd Year Cadet): Awarded to the third year cadet who
makes the most outstanding achievements in athletics during the current College year.
Recipient: …………………………………….…..………………….Landon Lavictoire, Men's Hockey
RMC Military Club Canada Hamilton Branch Cup (Best 4th Year Cadet): Awarded to the fourth
year cadet who makes the most outstanding achievements in athletics during the current College year.
Recipient: …………………………………………………………………………… Laura Gray, Women's Soccer
Fair Play Award: Presented to the student athlete who demonstrated to the coaching staff and his/her
teammates an attitude of fair play towards opponents, officials and everyone else that he/she comes in
contact with both on and off the field of play.
Recipient: ……………………………………………..……….………….Liam Wright, Men's Basketball
The Kelly Gawne Memorial Cup: Awarded annually to the female athlete of the year.
Recipient: ……………………………..………………………………….…………….Laura Gray, Soccer
The Tommy Smart Cup: Awarded annually to the male athlete of the year.
Recipient: …………………………………..…………………………………Colin O'Rourke, Hockey/Soccer
The Douglas Massey Cook Memorial Cup: Awarded annually to the Team of the Year.
Recipient: ………………………………………………….…………….…. Women's Volleyball Team
The Whitaker Cup: Awarded annually to the RMC Officer-Cadet who has been the best team captain
of an RMC team sport.
Recipient: …………………………………………………………………..Richard Lim, Men's Hockey
The H.R.H. The Prince of Wales Cup: Awarded annually to a Fourth-Year Cadet in recognition of
excellent athletic performance and strong performance in the four pillars (academic, military, physical
fitness and bilingualism) throughout their entire college years.
Recipient: …………………………………….……………….Carolyn Pumphrey, Women's Basketball
The Captain Matthew Dawe Memorial Cup: Awarded annually to the outstanding male or female
ROTP varsity athlete, of any year, who excels in all aspects of College life at RMC.
Recipient: …………………………………….…………………….….……….David Bernatchez, Running
The Outstanding Athlete Award: Awarded to those cadets whose athletic performance has been
clearly recognized as outstanding not only against the immediate intercollegiate competition, but also
at the national intercollegiate level or its' equivalent in provincial, national or international events.
Recipient: …………………………………….…….………………………………Serena Palmer, Swimming