Feature photo: Caption: Poster presentation (L-R)  BGen Sébastien Bouchard; Keith Ambachtsheer – Class of 1965 representative; Dr. Jennifer Scott; and Dr. Harry Kowal

2017 Teaching Excellence Award
By: WJO – Photos by 27184 OCdt (IV) Louis Saulnier
The 2017 Teaching Excellence Award (TEA) presentation sponsored by the Class of 1965 took place last Monday, October 30th.
The deserving recipient this time around was Dr. Jennifer Scott of the Department of Chemistry and Chemical Engineering.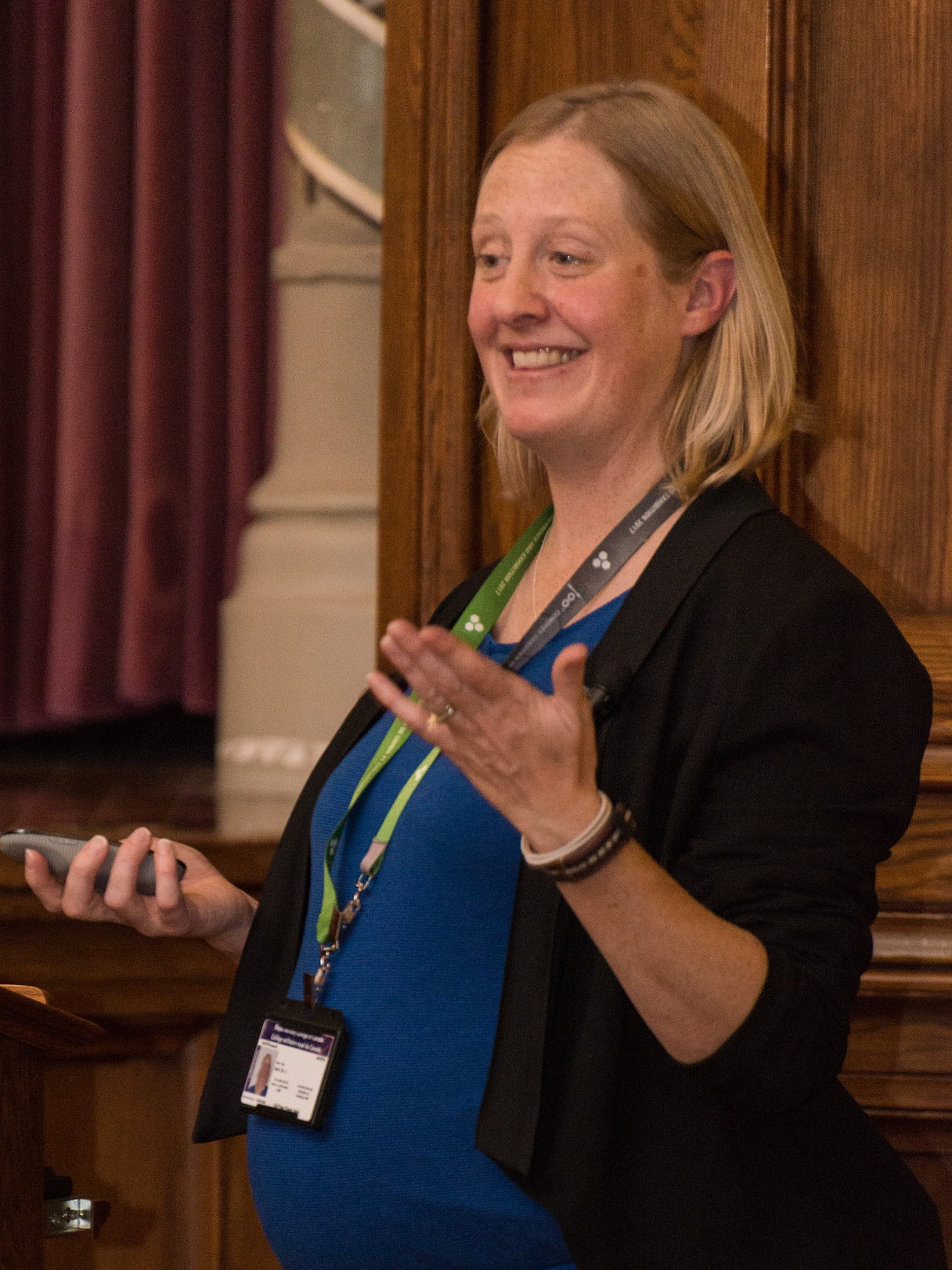 Amidst the rich, paneling with the impressive paintings and other distinguished works of art in Currie Hall, Dr. Scott who teaches Inorganic and Organic Chemistry – centered her presentation on chemistry related topics. Which, of course, was no surprise!
The expectant mother of twins (Feb) managed to capture the attention of the majority of the audience – which included the commandant, BGen Sébastien Bouchard and his wife, Karine Chayer during her well thought out and entertaining 30-minute talk.
It didn't take to long to 'catch on' when the college principal, Dr Harry Kowal mentioned in his opening introduction that "the presentation this evening will be given by three people – not one".
Well done, congratulations Dr. Scott – your wit and wisdom shone through your presentation!
More photos by 27184 OCdt (IV) Louis Saulnier – Here

***
Caption: left to right the smiling faces of members of the Class of 1965 with the 2017 TEA winner: Bob Walker, Steve Arnold, Keith Ambachtsheer, Charlie Emond, Terry Colfer, Gerry Mueller; TEA winner Jennifer Scott, John Adams, LT Taylor, Hugh Spence, Jim Carruthers, Mike Houghton and John Cowan (Honorary Member). (Submitted photo)
Class of 1965 in for the long haul – still doin' a lot of the heavy lifting
By: WJO
As mentioned above the 2017 version of T.E.A. presentation was a winner!
Equally impressive was once again the turnout of members from the Class of 1965. Some of whom traveled in from: Dartmouth, NS; Ottawa; and a one-day round train trip from Toronto. This type of tangible support further confirms their commitment to RMC.
A former commandant, Charles Emond (photo left) from both CMR (1991-94), RMC (1994-96) spoke on behalf of the Class and gave a brief but easy to understand background on how T.E.A. came about. "In conjunction with our 25th reunion in 1990. Keith Ambachtsheer, an economist and world authority on pensions, discussed the Class giving back to RMC with fellow classmates Tom Barton and Steve Arnold."
He added, "It didn't take long for the majority of the Class to buy in and in no time T.E.A. became a reality."
The boys from '65 are not newcomers when it comes to supporting their Alma mater.
The RMC Foundation are the administrators for their funds.
They have set up four endowments currently totaling $2,350,183 which have delivered $626,627 in benefactions to the colleges to date.
As previously mentioned the Class decided some 30+ years ago to focus on academics. The Class Endowment in addition to the Teaching Excellence Award [TEA] highlighted here supports a Professorship in Leadership and is currently developing a new initiative titled the Centre for Innovation in Teaching and Learning [CITL].
The John Bart Endowment which recognizes cadet leadership exemplified by the RWE Obstacle Course.
The John Cowan Endowment, as a companion bookend to the Class TEA, recognizes Excellence in Research.
The Jim Carruthers Endowment is dedicated to support of Naval Cadets and rowing.
Of course, the $$$$$$$$$ donations are important but close behind is the volunteer leadership provided by Ex Cadets to both the Club and Foundation. In this department, the '65ers' unofficially ranks 1st!
The current and past president of the Foundation are Mike Houghton and Jim Carruthers respectively. Their 1965 classmate, Tony Goode, just wrapped up a three year stint as Club president and now moves over as a member of the Foundation Board.
Over the past few years, other classmates have stepped up and were major contributors to either or both Boards. Three that quickly come to mind are Fraser Holman, Terry Colfer and John Cowan who we previously mentioned is a very active honourary member of this proud Class.
Like some other Classes, they have better than their fair share of those who have gone on after graduation who assumed leadership positions in all sectors of Canadian society. Too many to list in this article.  From personal experience a couple quickly come to mind who were also well above average military athletes – John Adams and Doug Ross.
Like most Classes, they have a 'character' or two too. One who comes to mind is – Bill Rattray, an air force officer, who I had the opportunity to serve with at CFB Trenton 20 years after his CMC graduation. He was a 'proud' captain at the time and still a fun loving character; much like he was at 'Roads' back in his second year. To get an idea of what the 'Rat' was like in those days check  out: