"My biggest challenge was setting a good example"
Article by 25366 Anna-Michelle Shewfelt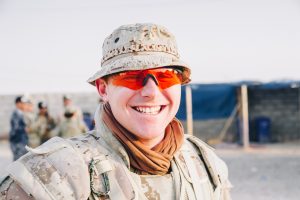 For 25377 James Ward (RMC 2012), joining the military and coming to RMC was something he just had to do. "When I was going through high school, the War on Terror was at its prime and seeing the faces of soldiers displayed on hockey night in Canada was deeply motivating for me to be in the military and join the fight," the Portland, ON, native explained. This drove me to get good grades, volunteer, participate in school sports and apply to RMC."
Although it was a desire he'd held for a while, it was not one that went over well with his family at first. As James explained, "I first thought of joining the military when I was 13 years old while spending a summer in Sea Cadet training at HMCS Ontario based at RMC. When I articulated this desire to my parents, they were dismayed; however, they resolved to let me join only if I went in as an officer through the ROTP programme." He was accepted and entered RMC in the fall of 2008.
Like most ex-Cadets, he had both his challenges and his good times over the next four years. "I think my biggest challenge was setting a good example as leader while I was CSL in my Fourth Year. I was still learning how to be a leader and still growing into a young man. It was difficult at times as I was both being a leader of my peer group and a good example for the younger years to follow in. Ultimately I feel I was successful, and that experience set me up for success as a young Infantry Platoon Commander," he said. "While I was CSL I would often have long talks with my Squadron Commander Capt Kevin Schamuhn, who was a great mentor for me, about leadership styles and how to manage personnel. He would often help me to tackle a problem but I think his relaxed yet competent style of leadership stuck with me and would influence how I behaved as a leader after I left the College."
"The Reunion Weekends at RMC were my favorite weekends," James answered, on a lighter note, "not only because of the shenanigans that take place at the 'Ex-Cadet Reunion Weekend Dance' but also because participating in the Obstacle Course in both First and Fourth year were just so fulfilling for me. Winning the Colour Party team competition, doing the Sunset Ceremonies to hand-over the colours, and then having the honour of being the school colour party were also great memories for me."
Since graduating in 2012, James Ward has had a very busy career as an Infantry Officer. "After grad I went to CFB Gagetown to complete my Infantry Officer Development Period (IODP) 1.1 and 1.2 before becoming a fully-qualified Infantry Officer. I was subsequently posted to 3 RCR, based in CFB Petawawa, in December 2012. I was there until August 2018, when I was posted to the Lincoln and Welland Regiment in St. Catharines, ON as the Operations Officer." As he explained, while with 3 RCR he had the following roles/deployments:
i.                        Ceremonial Guard Platoon Commander (Apr-Jul 2013 in Ottawa, ON);
ii.                        Rifle Platoon Commander (Jul 2013 – Dec 2014 in Petawawa, ON);
iii.                        Rifle Platoon Commander during Operation REASSURANCE (Sep-Dec 2014, spending time in Poland, Germany, France, Belgium, and Lithuania);
iv.                        Assistant Adjutant (Jan 2015 – Jul 2016, Petawawa);
v.                        Ground Liaision Officer / Information Management Officer (Aug 2016 – Jul 2017, Petawawa);
vi.                        Battle Captain in a Coalition Strike Cell (Jul 17 – Feb 18, In Erbil, Iraq);
vii.                        Training Officer (Feb 18 – Aug 18, in Petawawa, ON); and
viii.                        Operations Officer (Aug 18 – Present, in St. Catharines, ON).
Not surprisingly, James has more than few memorable moments to look back on. "I will always be haunted by the trials and tribulations I went through during IODP 1.1," he said with a laugh. "The highlights of my career, however, are as follows: 1. Being a rifle platoon commander on a NATO exercise in Hohenfels, Germany, from Oct-Nov 2014. This gave me excellent exposure to how other countries' militaries work and was an awesome experience from the 'front lines.' 2. Being a battle captain in a coalition strike cell, helping prosecute coalition airstrikes against ISIS. This was a very rewarding job and gave me amazing exposure to how international diplomacy works."
James also keeps close ties with the friends he made while at the College. "Besides seeing my peer group in the Army through training with other units as well as career courses, I've also kept very close touch with my core group of friends such as 25450 Sean Keoghan (12 Sqn) and 25245 Chris Veinotte (6 Sqn). They were both in my wedding party and we talk regularly on Facebook and via text. At least annually, the three of us get together with our families to catch up."
James and his wife Alicia are expecting their first child in May.