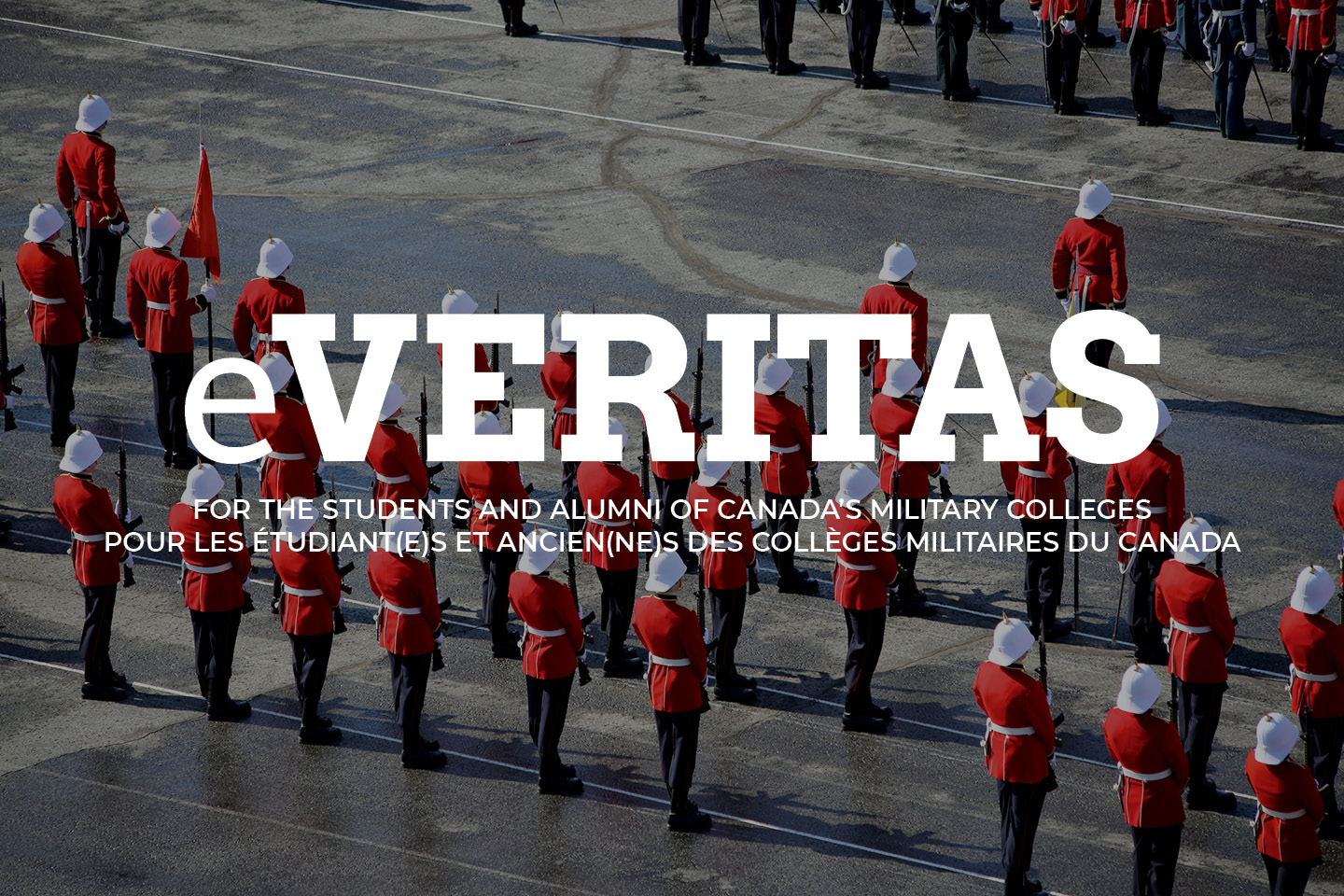 Exchange Student Living the RMCC Experience!
By: 26659 OCdt (II) Danielle Andela
Hello e-Veritas readers! It is my pleasure to introduce you to Michael Freigang! Michael is a Second Lieutenant in the German Army and currently studying Business Administration at Helmut Schmidt Universität der Bundeswehr Hamburg (Helmut Schmidt University of the German Federal Armed Forces Hamburg).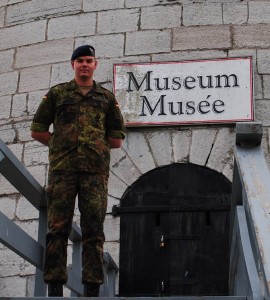 On the school side of the equation Michael's year consists of three trimesters of study where the Officer Cadets have the option of wearing their uniforms and attend normal university classes. The University offers many clubs and sports for the Officer Cadets to participate in; however participation in these groups is not mandatory. Throughout the year Officer Cadets have duties such as maintaining information boards, remaining present in the area of Hamburg, and attending classes when mandatory. The largest focus of the Officer Cadets while studying is to graduate within the four year program period.
Michael was conscripted into the Federal Defence Forces of Germany (Bundeswehr) in 2008 and found that he really enjoyed the military lifestyle and wanted to continue in the Army. Like the Royal Military College of Canada, when he applied to study at HSU he chose not only his degree but also his future military career; Michael is currently on track to become a helicopter pilot. Before even going to the school, Officer Cadets spend a year and a half of military training which includes but is not limited to: basic training, leadership training, officer school, language training in English and on the job training at a branch related to their trade.
Just like RMCC, HSU also has a fitness test twice a year and two required rucksack marches during the year. This test is a standardized test for all the Federal Defence Forces and includes a 1000 metre run, chin up bar exercise and interval running. The marches that the Officer Cadets are required to complete are 6 and 12km marches. Officer Cadets also have the chance to earn the German Sports Badge, which is an award for physical fitness proficiency only achieved through performing in the following categories:
– Swimming – High-jump or long-jump – Timed running – Shot put and 100 meter swim, and – Endurance run, skate, bicycling or swim.
HSU has no form of First Year Orientation because of the year and a half of military service and training that the Officer Cadets undergo before coming to the school. The six month basic training during this year and a half period is the most FYOP-like portion of the training for Officer Cadets because HSU is treated very much like a normal military unit. The Officer Cadets begin their training with the rank of" Private Officer Cadet" and arrive at the school with the rank of "Master Corporal Officer Cadet".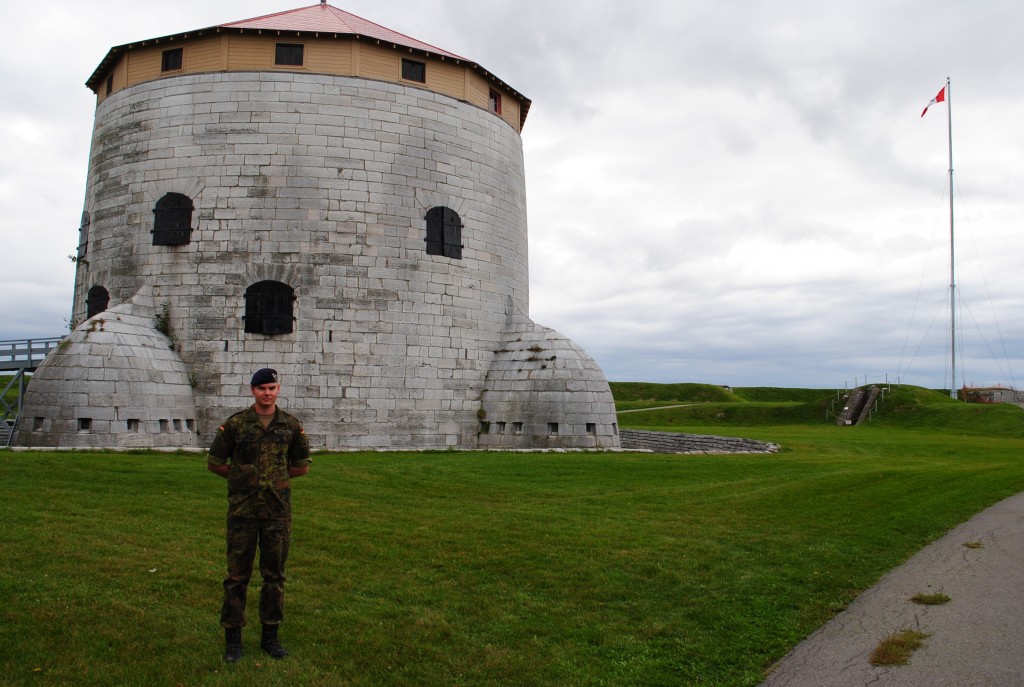 Now WHAT does he think about Canada? When asked how he was enjoying his time in Canada and what he liked the most, Michael had some interesting things to say. Michael said that he was immediately welcomed by all when he arrived and that he has been having a great time learning about different systems of military/officer training. He also enjoyed learning about Canadian culture, especially in regards to ex-cadets remaining involved in RMCC and coming back on occasions such as Reunion Weekend. Michael finds that the military and academic sides of RMCC are much more merged then in HSU and likes the traditions, both military and academic, which are such an integral part of RMCC. Michael also has enjoyed being in the City of Kingston and meeting new and friendly people. He said that he thinks Kingston is beautiful and it is a good experience to be able to stay at RMCC and experience the traditions and camaraderie here.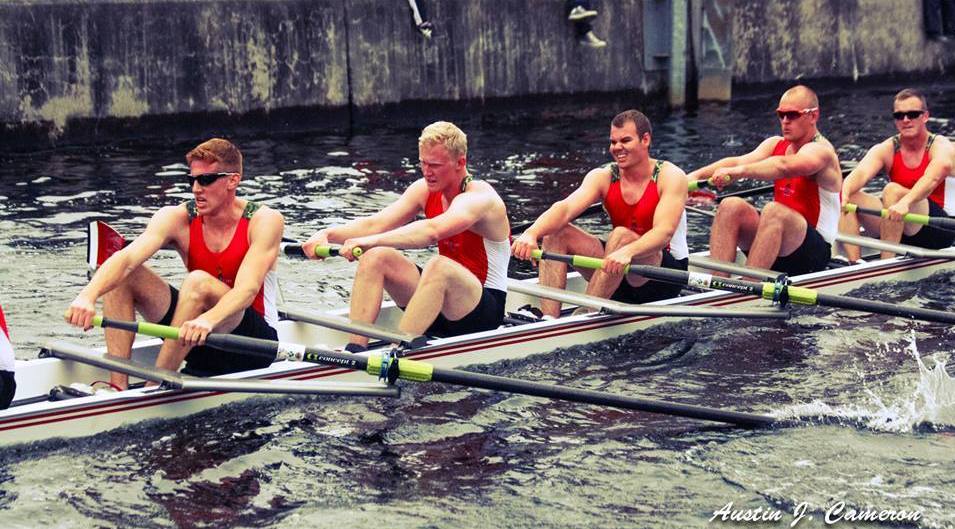 Since coming to RMCC, Michael has joined the Rowing Team and is a rower on the eight man boat. Michael said that it has been a great experience with the team and that they immediately made him feel very welcome. He has competed in two of the years five Regattas already and is excited to go to the Canadian University Rowing Championship. He said the team is very professional and he is very happy to have the opportunity to see different places in Canada as he travels with the team.
Michael will be leaving at the end of the first semester but is having a great time thus far in Canada and is heavily involved in the school events and learning about the tradition and culture surrounding the Royal Military College of Canada, and Canada as a whole.