From the near bottom…to near the top…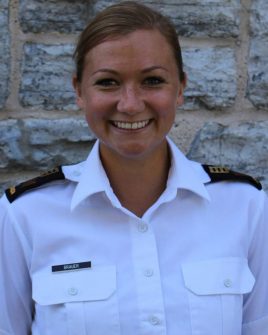 In just a few days, I will be graduating as a naval officer with my entire life ahead of me. Wow, four years really do go by fast. I feel like it was only yesterday that I was failing my PPT, bench warming on the soccer team and struggling to pass almost all of my first year courses.
I had a rough first year at RMC as I was not surpassing any of the four pillars… whatsoever. I was only trying to keep my head above water until I could have a fresh start again in second year.
It was a huge eye-opener to me, because in high school I was excelling in my gym class, getting top grade and a starter on the best women's team in Ontario.
Looking back, I had it so easy then. It felt like I barely had to try to succeed in practically anything in my life, until I came to RMC. It was a huge slap in the face because it really was not easy. I have never felt like more of a failure to my friends, family and most importantly myself then I did by the end of first year.
However, I am grateful for this chapter of my life. RMC has taught me that it is okay that you are not perfect, as long as you are constantly bettering yourself. That may sound very strange considering that RMC is trying to produce top quality officers, however they do acknowledge that failure is part of development.
RMC does not limit their lessons to having students excel in school and as future officers (whilst that is the intention) it also creates friendships, builds courage and forms personalities.
I am not proud of my below average standards during my early years at the college, but I am thankful for them. It has pushed me to want to better myself internally and externally. Yes, I did fail my PPT in first year with only 13 push-ups, but now I am doubling the women's push-up standard. Yes, I was not a starter on the soccer team in first year, but now I almost have to beg to come off the field. And yes, I did almost fail all of my first year courses, but now I am achieving exceptional grades in my courses.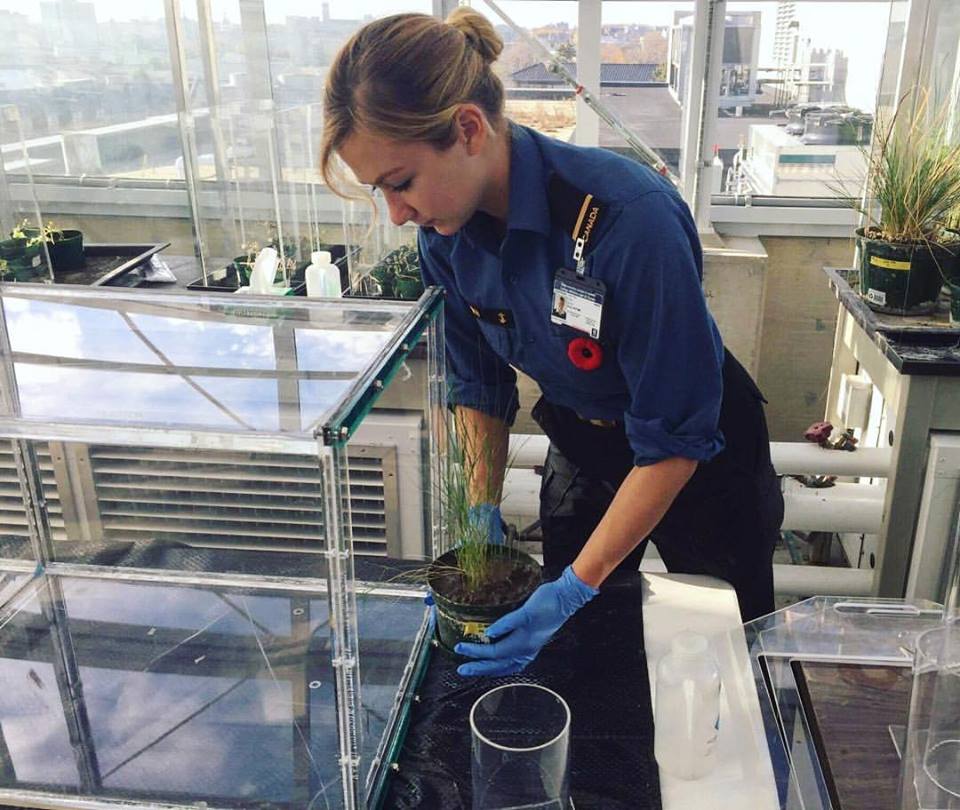 Many people do not think that this school has done anything for them, and that's okay. But for me, I am very aware of how I have grown over the past four years. I have had the pleasure to be one of the captains of the soccer team, CSL, present my thesis findings at environmental conferences and represent RMC at numerous events.
If it was not for my failures in first year, I would not have had the opportunity to do any of these things. I have pushed myself harder than I ever thought I would need to. I am confident that RMC has prepared me to become a great chemist and MARS officer, but more importantly, I am confident that will continue to overcome any obstacles and grow.
I am DEFINITELY ready to move into the next chapter of my life, away from all of the stress that comes with being a student at RMC. I still have more challenges to face, but the end of my university chapter has undoubtedly been life-changing. Advice for anyone reading this that is currently not happy with their performance at RMC, keep pushing. Keep your chin up, keep reaching for your goals, because you are going to get there! It is not easy, but I guarantee you that you will feel just as proud in yourself as I do in myself when you march through the arch for the last time.
27131 NCdt (IV)  Mackenzie M. Brauer
***
Some of the most significant memories for me after my time here at RMC have got to be the Carr-Harris Cups I played in as a member of the hockey team.
Coming out onto the ice with almost the whole Cadet Wing there watching and supporting us is something that was unmatched in my hockey career.
On top of that, the game is a part of history.
The first time RMC players laced it up against Queen's University, Canada was only  twenty one years years old as a nation.  Our rivalry is older than zippers, basketball, Fort La Salle and all other hockey rivalries.
We won the Carr-Harris in my first year and in my last and I was so lucky to be a part of the group of guys who brought the team back from a winless season in my second year to another Carr-Harris Cup in my last.
26893 OCdt (IV) Mitchell Hewson
***
Bonjour à vous chers lecteurs,
Je suis l'élève-officier Mathieu Lavallée, COMO de l'escadron 8 et je suis natif de la région de Québec, où j'ai vu le monde en 1992. Environ 60 jours me séparent d'un baccalauréat en Histoire et de ma commission d'officier au sein des Forces armées canadiennes. Avant d'obtenir mon changement d'occupation volontaire dans l'infanterie en novembre dernier, j'ai eu droit à de belles expériences d'entrainement alors que j'étais toujours officier de surfaces maritime . En effet, j'ai eu la chance l'été dernier de m'envoler à Guam pour participer à un stage avec la US Navy où nous avons patrouillé la mer de Chine méridionale pendant 3 semaines. Après le temps en mer, j'ai pu visiter la magnifique ville de Singapour pendant trois jours avant de retourner au Canada. Cependant, il est maintenant temps pour moi de me concentrer sur les prochaines phases d'entrainements qui me formeront dans mon nouveau métier.
Mes quatre années au Collège furent pour moi une expérience positive et je ne regrette pas ma décision d'adhérer au programme PFOR. Cela ne veut pas dire que mon séjour ici ne fut pas exigeant. Être assistant-capitaine de l'équipe inter universitaire de hockey, participer à deux POPA en tant qu'instructeur et être COMO pour mon dernier semestre m'a définitivement appris à bien gérer mon temps et à être organisé. Toutefois, ces positions m'ont d'abord et avant tout appris que prendre soin des gens qui nous sont affectés via les positions de commandements est très gratifiant et cela m'a confirmé que j'avais fait le bon choix de carrière.
Finalement, je suis très reconnaissant des amitiés que j'ai forgées au Collège.  Que ce soit les gars de hockey, avec qui j'ai partagé tellement de beaux moments, ou avec mes autres ami(e)s au sein de l'escadre, les liens que nous avons tissés ne se briseront jamais, même si nous carrières sont sur le point de nous envoyer un peu partout au Canada. Un gros merci à vous tous, et au plaisir de se recroiser sur une base dans un futur rapproché !
27157 Mathieu Lavallée