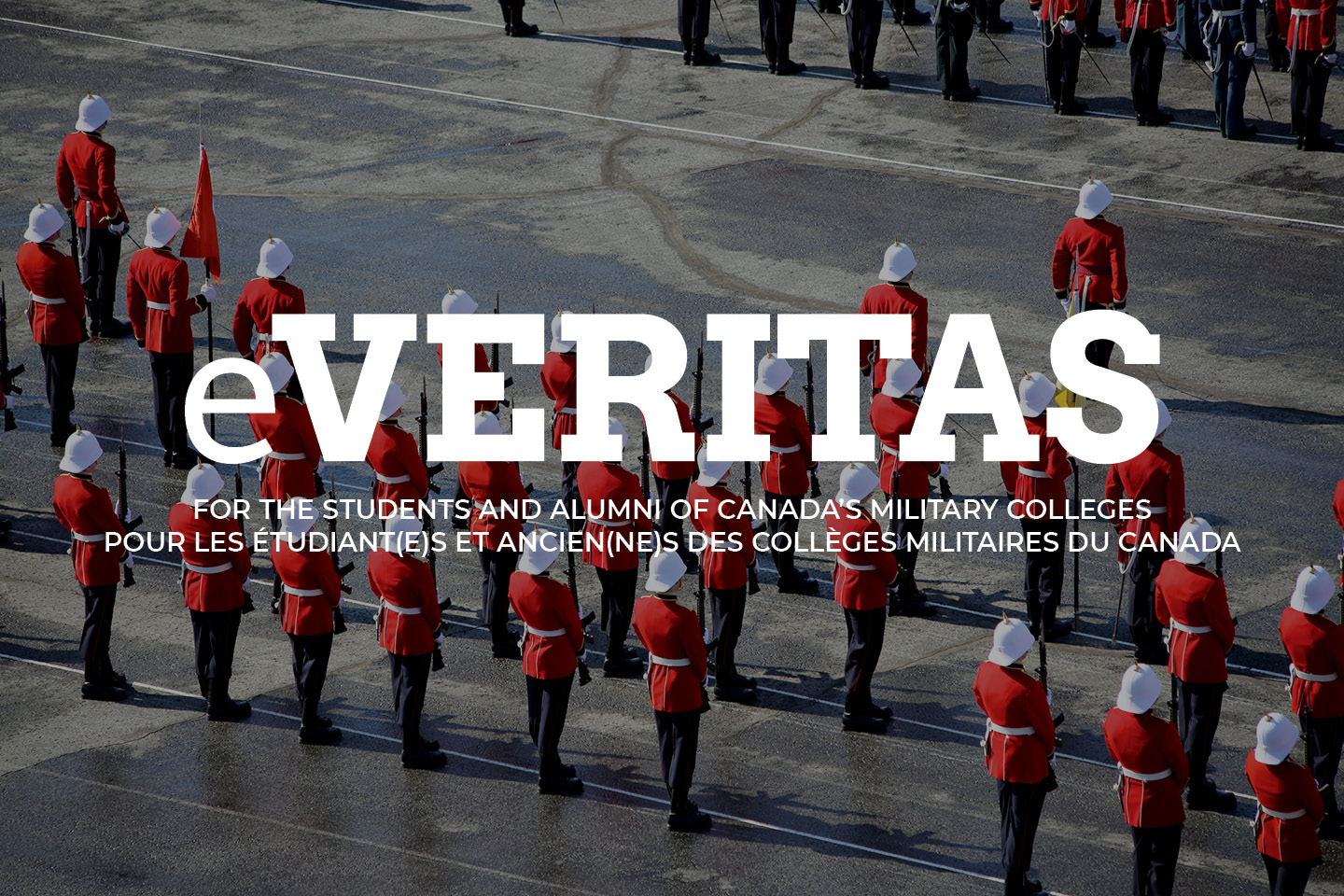 E3161 Victoria Edwards interviewed 4610 Major (Ret'd) Gus Nelson (RRMC RMC 1959) member of the early band at the Royal Military College.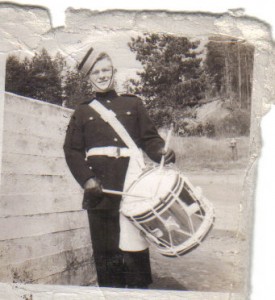 e-veritas: What instrument(s) did you play?
Gus Nelson: The snare drum.
e-veritas: Your first introduction to a drum was with the Royal Roads Drum and Bugle Corps?
Gus Nelson: This started on my way to Royal Roads. Our High School in Schreiber was too small to have a music course, so the first introduction I had to a drum was at Roads. On the way out to Victoria, in 1955, the popular tune was "The Yellow Rose of Texas" which had a neat drum introduction. This stuck in my mind and at Roads when they asked for volunteers for the band, I thought I would give it a try. The Cadet Lead Drummer (CFL) was 4191 Hugh MacDougall. At the trials he asked me to play something, and I had a go at what I thought was the drum score from "the Yellow Rose". He wrinkled his nose and said come back tomorrow. Of course Hugh went on to RMC and we followed him in 1957.
e-veritas: Your bunk mate at Royal Roads was a drummer.
Gus Nelson: It was there I also met 4494 Terry Neill (the next guy down on the alphabet) who also showed up as a drummer. Terry and I became bunk mates. In those days we were in dormitories on the third floor of the main building, while the Grant Building was being erected. We were in two tier bunks in an open concept (ahead of it's time or standard military configuration?) Of course Terry being 6.3+ got the bottom bunk while I being 5'4.56 got the upper level. The fun and games antics that resulted are grounds for another story.
At Royal Roads it was a DRUM and Bugle Corps so the drum beats were those associated with that type of band and to my mind relatively straight forward. The band played for the daily morning parades but the Navy Band from Esquimalt did the ceremonial stuff.
Terry and I had become buddies by this time. It turned out that he came from Port Arthur (now Thunder Bay) which made him almost a neighbour.
e-veritas: You had defaulters before RMC officially opened?
Gus Nelson: The next step was RMC for us. We decided to go a bit early and met up with 4444 Mac MacIntosh (damn piper) and found out you can do defaulters in civvies before the College officially opens.
I digress.
We hardly got off the defaulters square and got our gear when the call went out for us to report to (I said to Terry "where the XXXX is Yeo Hall?) Well we got that sorted out and there was Hugh! So I said do I have choice on this volunteer bit? Well, he smiled cheerily and said "not a chance" or words to that effect. I was doomed! I knew NOTHING about highland drumming! Thanks to Hugh I embarked on an accelerated learning curve and was able to drum on the first parade. Not that good.
e-veritas: Can you identify some of the band members from the class 1959?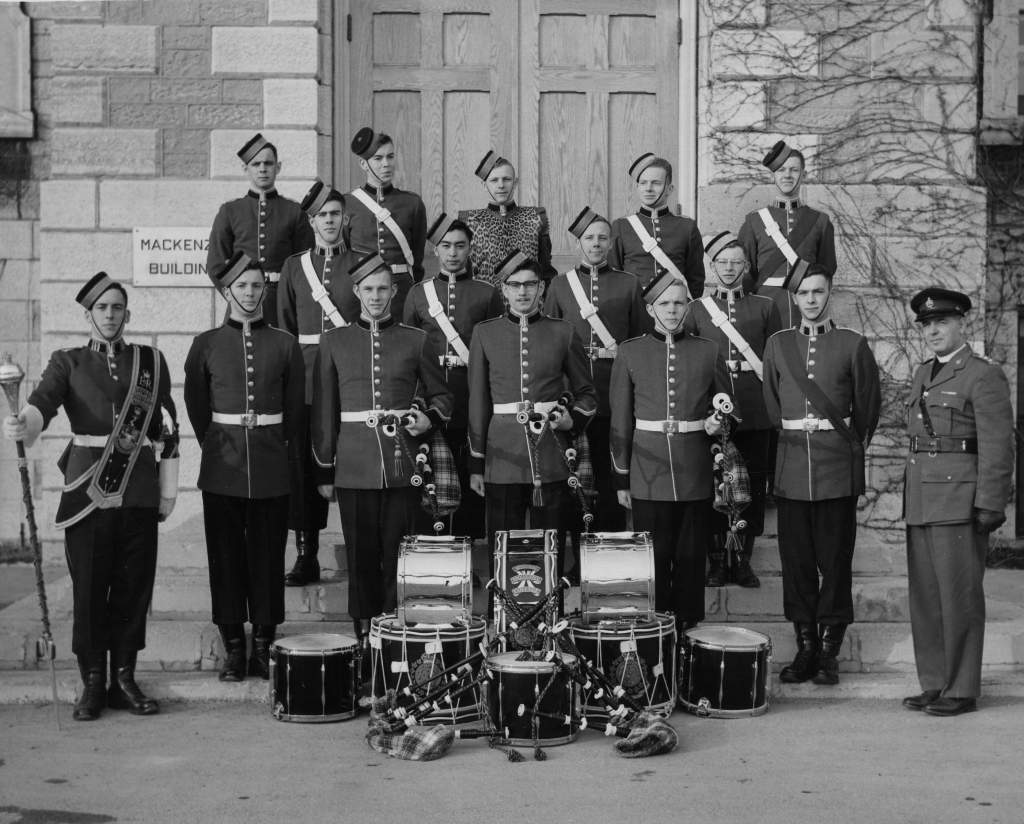 Gus Nelson:
Front Row: 4832 Fred Archibald 4459 Ed Murray, 4940 Donald MacLeod, 4742 Robert Dibblee, 4848 Ken Graham, 4444 Mac McIntosh, Capt Bickley
Middle Row: 4494 Terry Neill, 4859 Ken Murata, 5215 Larry Springford, 4610 Gus Nelson
Back Row: H4860 John de Chastelain, 5216 Dave Springate, 5220 Gerry Turcotte, 4844 Gord Fogg, 5192 Brian MacDonald
e-veritas: What challenges did the early band face?
Gus Nelson: There was always the problem of pipers. They kept on graduating! That is not to say that drummers were dumber only that there were more skilled drummers per capita than pipers!
This of course was during our years there not being many of us, we had to make ourselves heard.
e-veritas: What tunes did the band play?
Gus Nelson: Who knows? There were the standards:
• "Scotland the Brave",
• "Wings",
• "Green Hills",
• "Hundred Pipers",
• "Steam Boat", etc.
And any other odd ball tunes that came into the heads of the powers that be. Just to maintain interest, increase skill and keep us on our toes. Being otherwise busy with classes etc. we didn't have time to research new curses in Gaelic.
e-veritas: Any notable performances? I understand that a very bewildered chicken wandered on to the ice at the West Point hockey game.
Gus Nelson: Our visit to perform at West Point was a highlight. Yes but it couldn't skate, and didn't show any respect for the band tunes.
e-veritas: Did the band have special uniforms or regalia?
Gus Nelson: Not much. I think we had gauntlets, white leather leg protectors to keep the drums from destroying our pant legs, and of course the bass drummer had a leopard skin.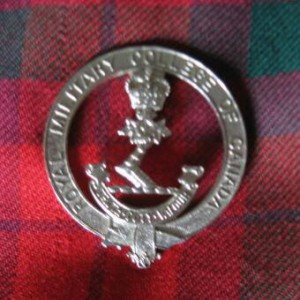 e-veritas: Did the band have special band kit or instruments?
Gus Nelson: A big improvement at RMC was newer drums which could be tuned using the drum key. This was a vast improvement over the ropes on the Royal Roads drums. Also it made changing drum heads so much easier. You can see from the ropes that to take off and replace the rim holding the head was an exercise in sewing!
e-veritas: Where did the band practice?
Gus Nelson: I believe it was on the second floor of Yeo Hall, which was later used as a Chapel. Likely because the pipes and drums drove out any evil spirits leaving only Scotch ones.
e-veritas: You and Terry Neill participated backstage in the RMC Drama Club's "The White Phantom" in 1958
Gus Nelson: Yup those weird noises were moans of jealousy at Henry et al having all that face time with the ladies.
What follows is description of the R.M.C. Drama Club taken from the June, 1958, copy of the RMC Review, somewhat amended to highlight points that would have well known at the time:
This year, the College Drama Club, assisted by five girls from Queen's, produced only one play after spending the first term reading and discussing several possible selections. The play, a one act 'grim farce' entitled "The White Phantom", was innately bad but a good deal of enthusiasm, wit and imagination managed to transform it into the material for an entertaining evening. In an attempt to cast 'out of character', Lynn Quesnel and Anne Merklinger were two society parvenues, with Carolyn Kilby and 3243 Robert Reid as the respective daughter and son, the rather doubtful love interest of the piece. 4270 Shane Henry portrayed a remarkably convincing policeman of limited mental capacity while Belinda Rees was remarkably effective as a coloured maid whose name was not Ten or Fifteen but Eleven. Bringing up the rear was our leaden footed ghost cum house agent, 4345 Campbell Copeland. Probably as important as the people on the stage and certainly enjoying themselves in safer surroundings were the backstage people, 4595 Jerry Holtzhauer and 4610 Gus Nelson who produced all the weird noises they could think of, 4494 Terry Neill who supplemented them on the organ, and 4847 Art Skaling and 5216 Dave Springate who made sure that everyone and everything was at the right place at the right time
e-veritas: You attended the 50th reunion celebrations of the RMC band in 2003.
Gus Nelson: Yes. It was a great experience. 2364 Air Commodore Leonard Birchall, recounted how it came about that RMC wound up wearing the Mackenzie tartan
[Thanks to the efforts of 2364 Air Commodore Leonard Birchall, then RMC Commandant and H8829 Col. The Hon. George F.G. Stanley, then RMC Dean, the RMC pipes and drums were equipped for the first time with most of their highland kit. They began wearing the Mackenzie tartan but continued to wear the pillbox. The feather bonnet came in 1970].
Colin Clancy, then the College Pipe Instructor gave a great solo concert. 21745 Captain Brendan Clancy (RMC 2000) later enrolled in RMC (Otter Sqn) He did well and won some acedemic awards which were presented on the badging parade.
[6894 Alan P. Burke a piper at RMC for 4 years and the Cadet Wing Pipe Major in his graduating year (1965-1966), the 2nd year to wear the Mackenzie kilt recorded the music at our reunion for the 50-year anniversary and you can play it from http://classof1966.rmcclub.ca/Reunions/Band50th/6894Pages/AudioClips.php ]
e-veritas: You are an organizer of the 60th reunion celebrations of the RMC band in 2013.
Gus Nelson: I only played a small part in getting the ball rolling. The bulk of the organizing and nitty gritty details were/are being done by the ExCadet Weekend organizers and yourself. The details follow:
• The Pipes and Drums (and highland dancers) will perform during the Old Brigade Dinner, 4 Points Sheraton Saturday September 28th c. 9-9:30 pm and accept the "Lone Piper" artwork by Joanne Gervais from 5611 Gerry Stowe, Adjutant of the Old Brigade, and former Chairman of the RMC Band. (joannegervais.com)
• The Pipes and Drums (and highland dancers) will perform during the RMC Club Dinner, Ambassador Hotel Saturday September 28th c. 10:30 -11pm and accept the 'Where have all the flowers gone' artwork by Bruce Sherman from 13987 Brian Bailey, President of the RMC Club; The original painting was gifted to 22621 Tara Dawe in memory of 22596 Capt Matt Dawe (RMC 2000) by the artist, a family friend of S150 LCol (Ret'd) Peter Dawe. http://awbrucesherman.blogspot.ca/2010/05/where-have-all-flowers-gone.html There were bugle calls at RMC, long before there was a P&D band. The Commemorative paintings will hang in the practice room(s) in Yeo hall.
• The Pipes and Drums may perform on Sunday, September 29th (still to be confirmed) and accept the commemorative kilt pins and a base drum skin (RMC insignia) – details and timings still a work in progress.
Well done to all those who have been in the RMC band at one time or another over the years!
____________________________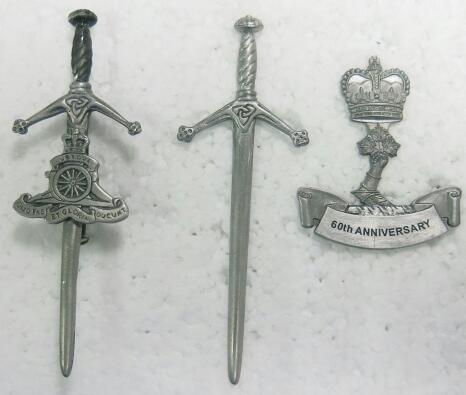 Calling all Ex Cadet Band Members to join in the celebration of the 60th Anniversary of the College Pipes and Drums!
The RMCC Pipes and Drums are celebrating its 60th Anniversary this year and there are several initiatives under way to commemorate this milestone. Alumni have already stepped forward and have donated art work as well as funding for a kilt pin (photo above) for all members of the RMCC Band who wear kilts.
The College has also graciously approved a request for Alumni members to participate in a Band Rehearsal on Saturday and to join the Band in leading the parade back to the Parade Square on completion of the Arch Ceremony on Sunday morning of Reunion Weekend.
For those Ex Cadets who would like to participate in the march from the Arch on Sunday, please contact MWO Ron Reedy, RMC Band Master at 613 541-6000 extension 6262 or by e-mail at Ronald.Reedy@rmc.ca.   Or leave a comment below.