Ex Cadets connect with school children- #3 in a series
On Remembrance Day 2017, 7964 Don Bell (right) and 7530 Fletcher Thomson (left) (both Class of '69) marched in the veterans' contingent of the Ottawa parade. Upon dispersal, while they were on their way to the Veterans' Lunch at the Chateau Laurier, a lady in the crowd gave each of them a letter written by a school child thanking them for their service, and asking questions about life in the Armed Forces. When they arrived at the lunch, they found more letters like these at their table.
After the lunch, Don noted that some of the letters had not been picked up. To avoid having the letters go unanswered, he canvassed classmates to write replies. Over the next few Issues, eVeritas will publish these letters and replies. Due to privacy and security concerns, only the students' first names can be published.
We hope you enjoy reading the letters.
***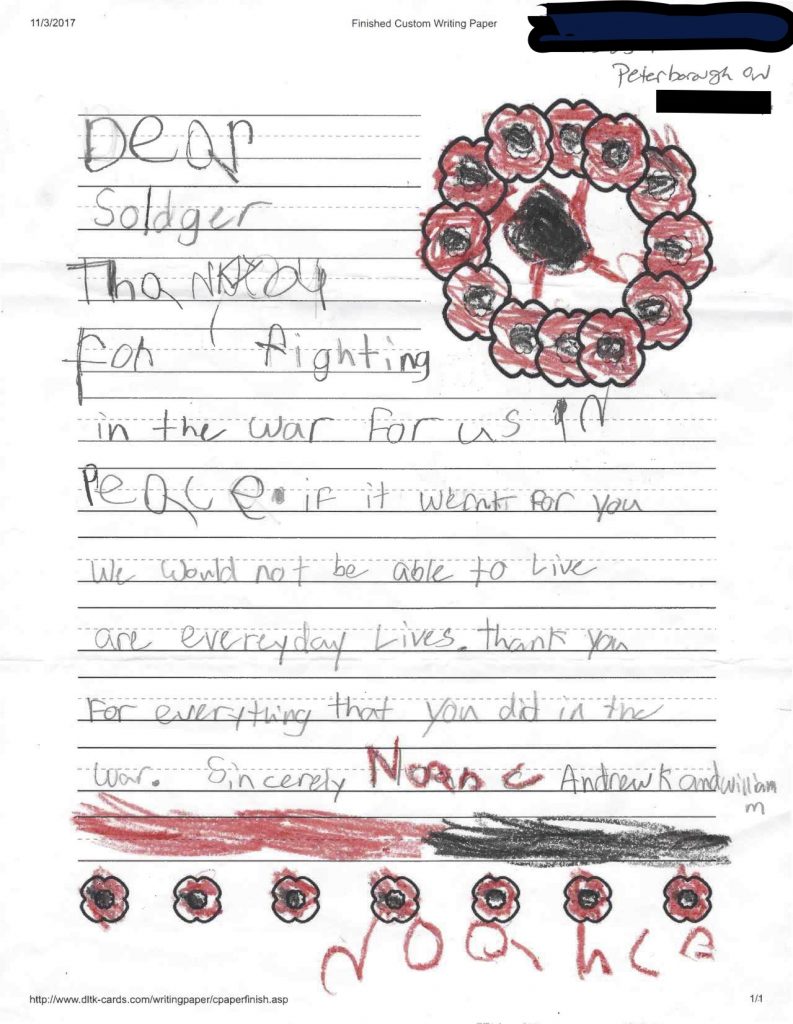 November 14th 2017
Dear Noah, Andrew, and William
It was a pleasure to get the very nice letter you wrote thanking our soldiers who fought for Canada.  My name is Cajo Brando and I joined the Royal Canadian Air Force as a pilot when I was 17 and served our country for 42 years.
I learned to fly airplanes in Air Cadets when I was a bit older than you are now and went to school at the Royal Military College in Kingston, Ontario, not very far from where you live in Peterborough.  I started in the Air Force teaching students how to fly on a little airplane called a "Chipmunk" and went on to fly many much bigger airplanes, even spy planes for a few years in Germany.
My favourite airplane was called the "Hercules". It is a very large aircraft with four big propellers that can carry almost 100 soldiers or deliver 20 tons of cargo, anywhere in the world. We would fly all over the United States and Canada, including close to the North Pole, as well as Europe, South America, Africa, Asia and the Middle East. Often we would carry much needed food and relief supplies to help people in countries where they had problems like hurricanes, floods or earthquakes.
In the military I learned that everyone's job was important and that we all had to work together and support each other to get things done. Most often our job was to help Canadians and people in other countries during times of peace, but we also train and practice to be fully ready if called upon in times of conflict.
Canada has often asked the men and women in the Army, Navy and Air Force to do what they have trained for. Each November the eleventh we remember everything they've done and sacrificed during the two World Wars and Korea, and we also honour the over 1800 Canadian Armed Forces members who lost their lives more recently in the line of duty.
I thank you for remembering them and I thank your teachers for telling you how important they were in safeguarding and defending our beliefs in this wonderful country called Canada.
Sincerely
Cajo Brando
Brigadier-General (Retired)
Ottawa, Ontario
Previous article in this series:
Ex Cadets connect with school children: 7964 Don Bell
Ex Cadets connect with school children: 7770 Michael Lawrance #2 in a series