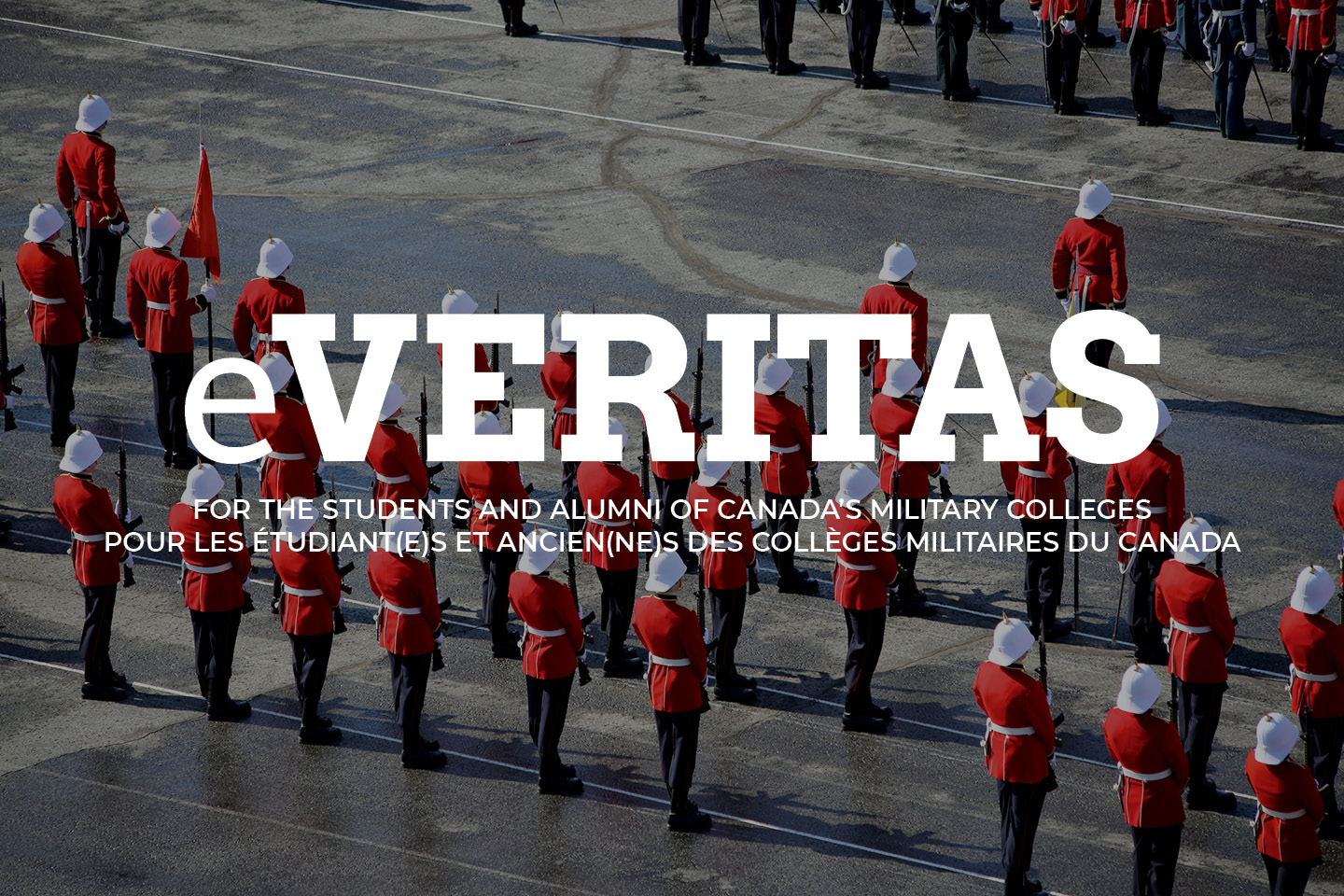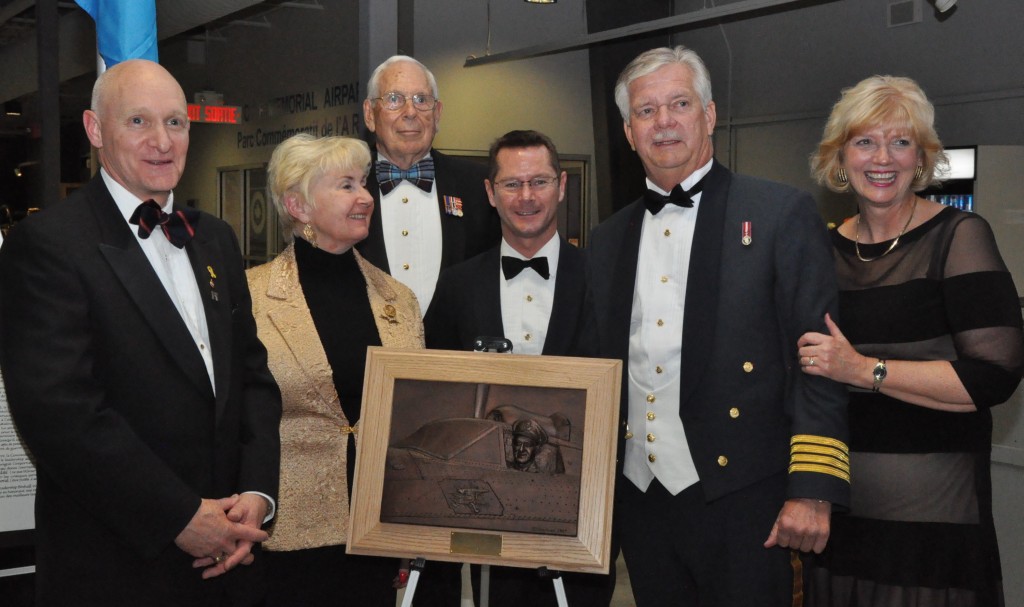 Caption: The Air Commodore Leonard J. Birchall Leadership Award was presented to HCol of 8 Wing Trenton,  John Ross Williams. Pictured – (L-R): Bob Booth; Sharon Chandler (daughter of Commodore Birchall); John Chandler – husband of Sharon;  Colonel Lowthian – Base Commander – 8 Wing Trenton; John Williams & Mrs Williams. (Photo – Ross Lees – 8 Wing Contact newspaper)
8 Wing Pulls off Birchall Leadership Award with Class
By: WJO
The 91st anniversary of the RCAF and the 11th annual 2364 Air Commodore Leonard J. Birchall Leadership Award presentation were a combined affair last Wed (1 April).
The venue was the National Air Force Museum of Canada at 8 Wing, Trenton and what a great location it is to host an event(s) of this sort. In addition to a fabulous meal, the decorations were outstanding. As they entered the foyer attendees were greeted with rare RCAF memorabilia including a special display of personal artifacts of Air Commodore Birchall.
MORE
The table settings were well identified and neatly presented; all the chairs were beautifully covered.  The tables were covered in white tablecloths with impressive 8 Wing decorative place-mats – which made for a great souvenir from the evening.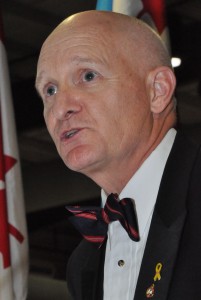 The tables were strategically located including under the wings of vintage Second World War air planes. Also, what was especially nice was the ample room for mingling prior to the formal dinner and during a 20 minute intermission.
In short, over 300 people were comfortably seated through a mixture of fine music, a delicious meal, and an assortment of presentations and speeches.
The main event from a RMC perspective was the very impressive preamble given by 10080 Bob Booth, (Photo left by Ross Lees) who has been the go-to-guy for for what is now the 11th Birchall Leadership Award presentations.
The recipient this year was the former two term Mayor of City of Trenton, John Williams – now Honourary Colonel of 8 Wing Trenton – The terms of reference for the Birchall Leadership Award provide that recipients will be individuals who have demonstrated the qualities of leadership (integrity, responsibility and moral courage) that Air Commodore Birchall demonstrated and taught during his career.
Responsibility for the administration of the Award is coordinated by Royal Military Colleges Club of Canada Foundation Inc.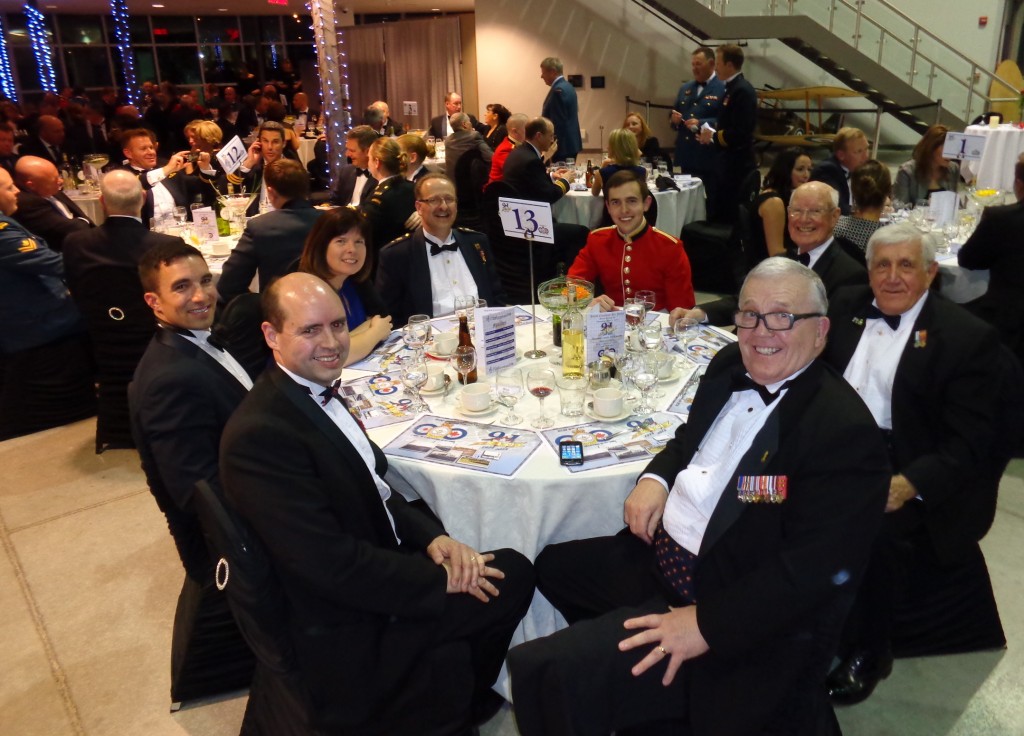 Caption:(L-R) Bryan Bailey; Justin Lystiuk; Cheryl Kowal; Harry Kowal; OCdt belanger; Al Pickering; Bernie Laliberté; and Bill Oliver.
A number of folks from the Kingston Branch and the College made the one hour and 15 minute drive to this gala event – see above photo. In addition, Rod McDonald, wife Micheline  were at another table – no photo available. A contingent of 12 cadets – in scarlets all of whom were sponsored by the RMC Foundation enjoyed the opportunity to attend both the Dinner and formal leadership presentations during the day.
One of those events that you say to yourself and to anyone who will listen – "I'm really glad that I attended!"