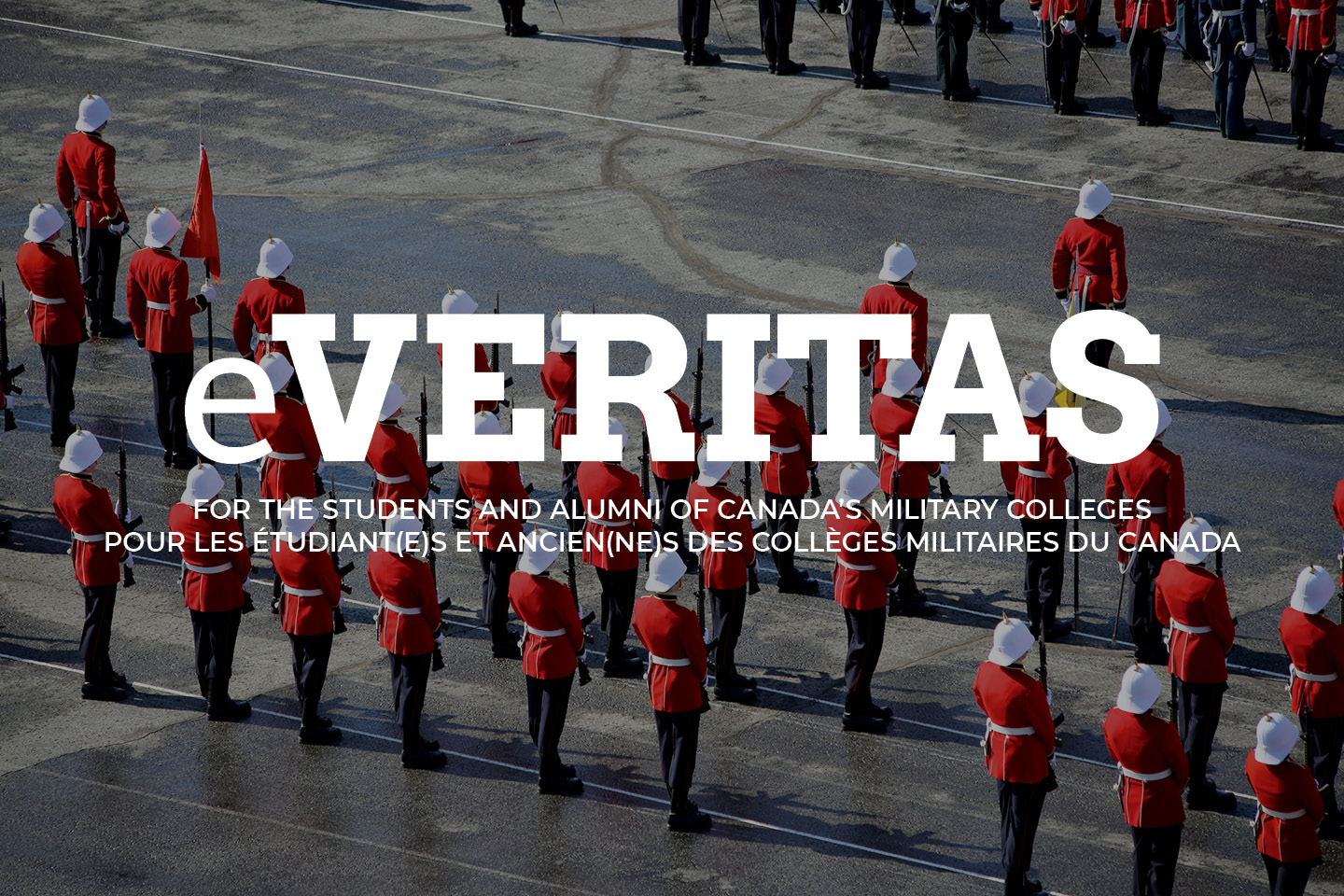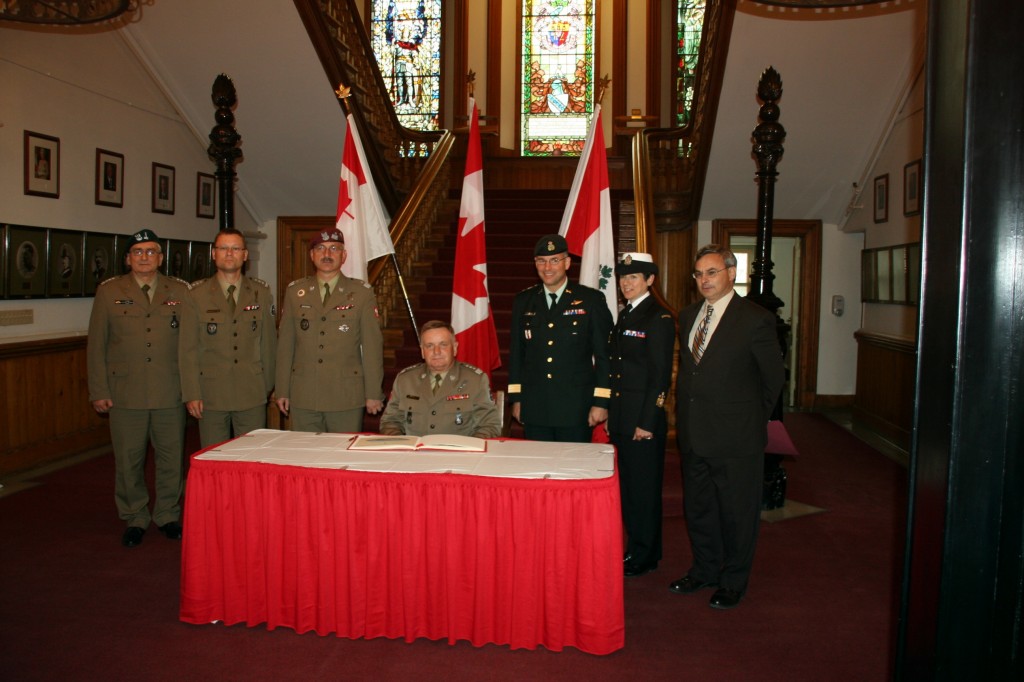 Polish Chief of Land Forces Pays Visit
RMCC hosted some high profile visitors from Poland this week – the Polish Chief of Land Forces and his delegation. The guests, who were met with an quarter guard and given a tour of the College included: Lieutenant-General Zbigniew Głowienka, Chief of Land Forces, Brigadier-General Dariusz Wroński, Chief of Aeromobile Forces, Land Forces Command, Colonel Jarosław Mokrzycki, Chief of International Cooperation Division, Land Forces Command, Warrant Officer Marek Szczur, Adjutant to Chief of Land Forces; and Colonel Michał Peksa, Defence, Military, Naval and Air Attaché. The day included a gift exchange.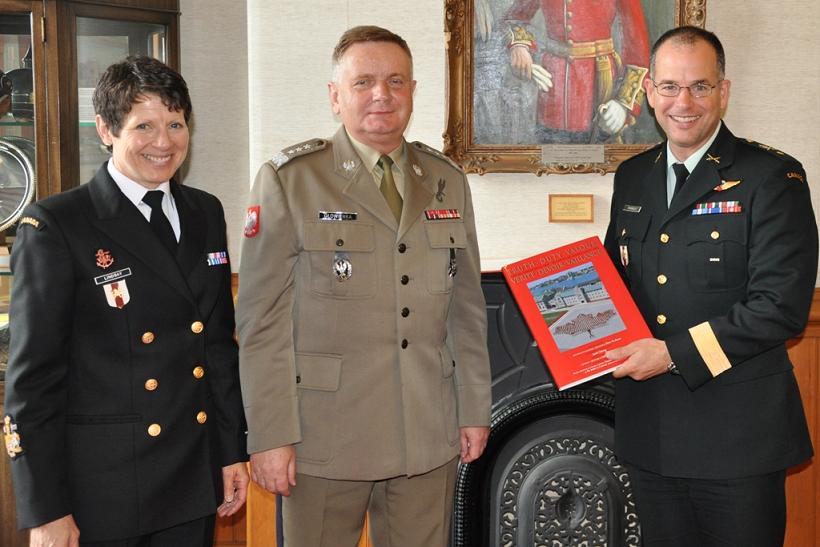 Pictured during the gift exchange from left are CPO1 Elizabeth Lindsay, College Chief Warrant Officer; LGen Zbigniew Głowienka, Polish Chief of Land Forces; and BGen Eric Tremblay, Commandant RMCC.
____________________________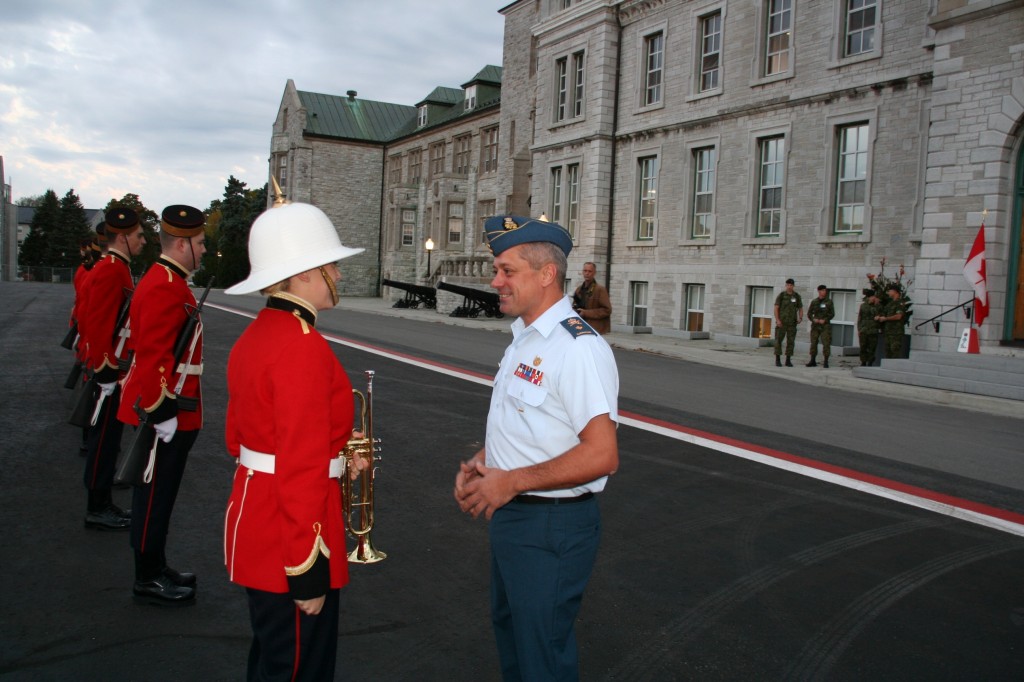 Brig-Gen JGS Bedard arrives to quarter guard reception.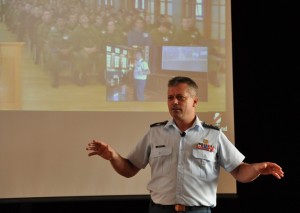 BGen JGS Bedard is the first speaker in the Commandant's Professional Development Series that will see a number of high level CF personnel come to speak to Cadets and will be held on Wednesdays during PD time. He spoke to Cadets about the role of public affairs and the importance of connecting with Canadians throughout their careers in the military. Interestingly as well, the speech was "wired" so BGen Bedard could speak to III & IV Cadets in two locations: in Currie Hall, where he and half of the Cadets were, and by link up to the New Gym, where the other half were located. Both venues were packed. Bio
____________________________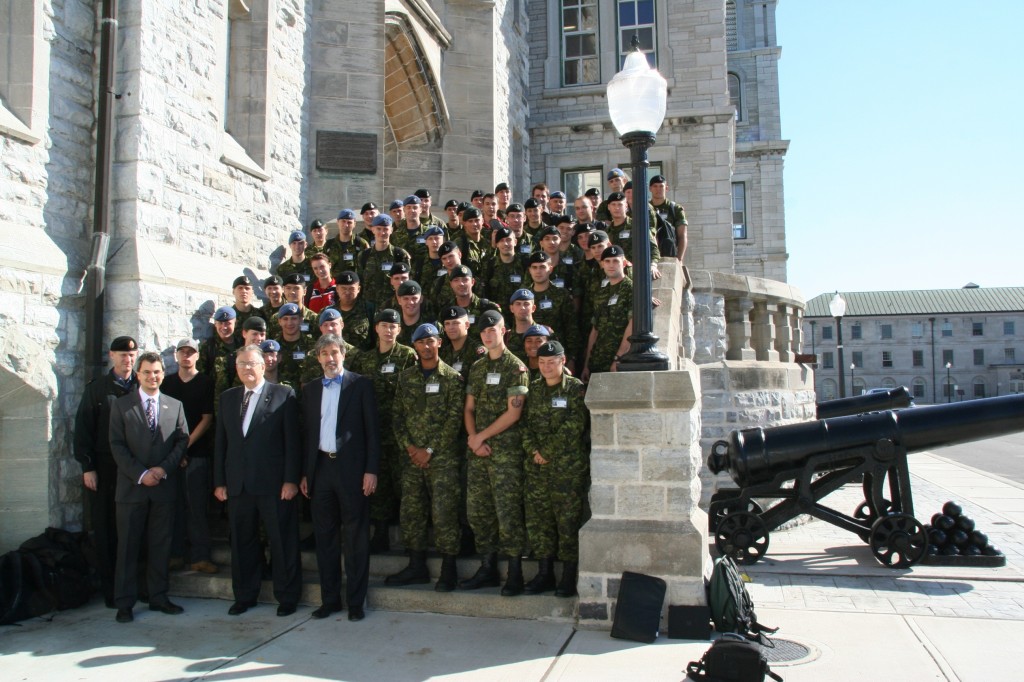 A Talk with Former Canadian and American Politicians
Pictures and article by 25961 OCdt Ethan Strong.
Wednesday 5 October, the Department of Political Science and Economics' first-year introductory class hosted former Democratic United States Congressman from Arizona, former U.S. Department of State Foreign Service Officer and triathlete Sam Coppersmith (JD Yale) as well as former Associate Minister of National Defence and Minister of Supply and Services under Prime Ministers Brian Mulroney and Kim Campbell, Paul Dick (LL.B. UNB). They guest lectured on Canadian and American political systems and institutions in a comparative context. This comparative evaluation allowed cadets to better understand the American system, as well as the strengths and weaknesses of Canada's own system of governance. Topics discussed included health care, governmental efficiency and even the American mindset as the speakers opened the floor to questions. It was inspiring to see the amount of interest that our future military leaders have in the governance of both Canada and America, and especially instructive since many cadets will work closely with American counterparts throughout their career.
After the presentation, 25961 OCdt Ethan Strong, and 25505 OCdt Geneviève Martel accompanied the gentlemen to lunch at the SSM along with the Commandant of RMC, the Principal of RMC, the College Chief Warrant Officer, the Head of the Department of Political Science and Economics department and the professor of the first-year class. Lunch concluded with the presentation of an RMC coin to both Mr. Dick and Mr. Coppersmith.
This event was very successful as it provided the first year cadets with an elementary understanding of the functions of the governmental institutions in both Canada and the United States. It exposed the aspiring leaders two individual who embody RMC's ideal of leadership and citizenship for national service.
____________________________
Recent Promotions at RMCC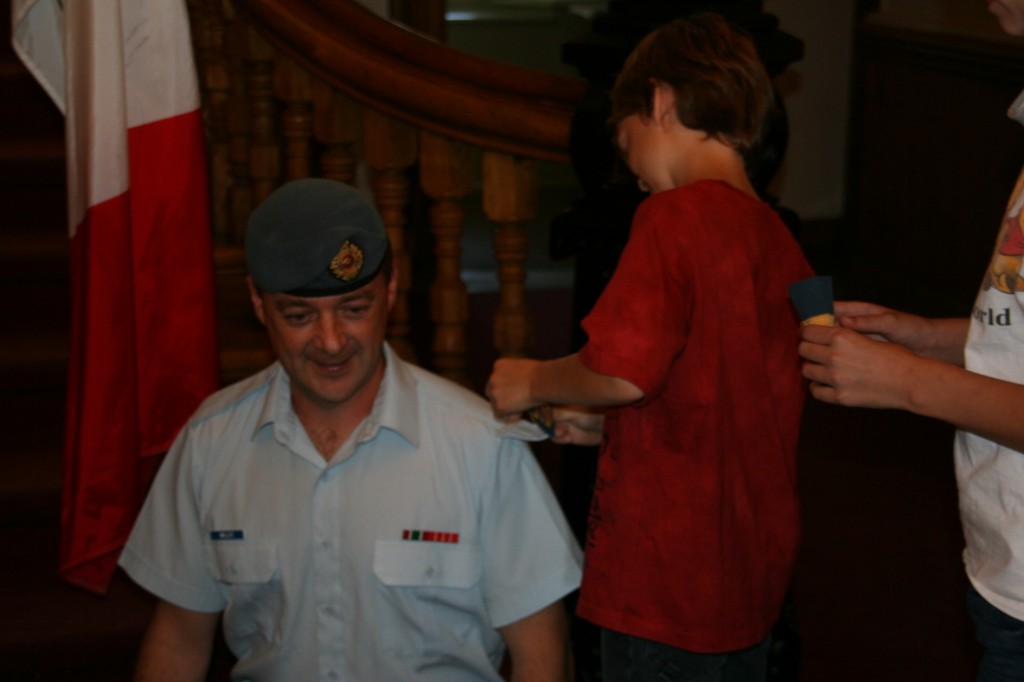 Chris Veinotte (from NCdt to Acting Sub-Lieutenant) and Shawn Milley from Capt to Major. Maj Milley is the College Engineering Officer and ASlt Veinotte is off to MARS training.