11th Coast Artillery Regiment
A Private's Battle
Article by Tom Rozman
Military duty when in active maneuver operations against a competitive and competent foe will test the leader and the soldier to the fullest extent imaginable.  Every part of the nature of knowledge, skills and abilities and combat task competency will come into play.  The essence of the soldier's core psyche will be tested to the point that soldiers, even when not physically wounded will be psychologically wounded, some to the point that they do not recover.  And active combat maneuver operations can sometimes extend for long periods.
It is an adventure that keeps the soldier and leaders on a psychological roller coaster so profound that it will mark them for the rest of their lives—short or long.  But it is not a boring, dull, repetitious or less than stimulating service.
That said, much military service, perhaps most of it, does not operate in this hyper active, high threat contest of life and death mode.  While all military service has an inherent danger built in just in the performance of training or handling and operation of weapons and equipment such as heavy armored vehicles, large guns and aircraft for instance, the nature of the mission, proximity of a threatening force and likelihood of an active force causing active operations outside maneuvers or exercises may confront the unit and the soldier with another potentially debilitating, even fatal foe.
Boredom can kill.  Failure of leadership in a non-war or emergency environment to  keep units and soldiers as challenged as possible with a "defined and credible mission" may introduce one of the oldest military killers and evils.  Bored soldiers not committed to a mission that they aggressively train against are a prescription for disaster.  Younger males, particularly, with too much time on their hands will find ways to entertain themselves.  Some of those ways have proven not to be healthy.  Often, one handmaiden in the alternative activity, and there are others, has been intoxicants.  Though the array of potential substances has greatly increased, perhaps one of the most ubiquitous, and it remains so, has been alcohol.
The U. S. Army in between the wars through the 19th and into the first half of the 20th  Century was a hard drinking Army.  Some of this was cultural and some certainly was a by product of a small Army parceled out to hundreds of small posts along the coasts and in the areas of the of the progressive boundaries of the then western land frontier.  The majority of these posts were garrisoned by three to six companies, batteries or troops, occasionally the better part of a regiment and even in some cases a single company, battery or troop.
Despite the best efforts of leaders to engage the soldier in meaningful constructive activity, there were limits on what leaders could do.  Consequently, boredom and repetition could take a toll and in too many cases lead to an engagement of "mistress alcohol."
Ft. Michie, situated on Great Gull Island, New York on the far eastern sea approach to Long Island Sound and the eastern sea approach to New Your City, was a coastal defense fortification authorized by the Endicott Program in the late 19th Century in response to perceived coastal attack vulnerabilities to Spanish Forces.  The fort's first two battery sites came on line in 1900 with three more being operational by 1908—Battery Palmer (12" disappearing rifles), Battery North (10" disappearing rifles), Battery Benjamin (6" gun), Battery Maitland (6" gun), and Battery Pasco (3" gun).  Battery North would be active until 1917, Battery Pasco to 1933, Battery Palmer 1945, and Batteries Benjamin and Maitland till 1947.
At the breach of a 12" rifled gun at Battery Palmer, Ft. Michie, New York—Private Fernand J. Boucher is the soldier far right.
The Coast Artillery Regiment that garrisoned and had its headquarters at Ft. H. G. Wright with Ft. Michie as one of the smaller forts in the Eastern Long Island Sound defense system, garrisoned Ft. Michie with a detachment of the regiment and oversaw the detachment's operations.  That regiment was the 11th Coast Artillery Regiment.  The regiment was formed in 1924, initially with a Headquarters Battery and Batteries A through K (less J).  The regiment garrisoned the defenses of Eastern Long Island Sound until 1944 when it was deactivated and its personnel were distributed to other Army units.
In 1930 a young private would be assigned to the regiment.  He was the oldest son of a large French (Quebecois) Catholic family living in Wilson, Connecticut that had recently relocated from Lewiston, Maine.  The family was originally of Quebec origin both father and mother having extensive family in Canada, the father having been born in the Gaspé.   All were French speakers.
Private Fernand J. Boucher, 11th Coast Artillery Regiment photographed in 1930 on a 12" rifled gun at Battery Palmer, Ft. Michie, New York.
The private would serve his enlistment of four years.  He would serve in a gun section of one of the 12" disappearing rifles of Battery Palmer.  Anyone who has served as gun crew for large ordnance has a sense of the effects on the body of firing these large caliber guns.  The physical effects on the gun crew of a 12" rifle were enervating at the least, never mind the effects on hearing.  But the guns when being worked kept the attention of the soldier.
When the duty day was done the Army did provide day rooms, reading material and some other distractions but duty on an island for any extended time has its limits.  The private, even though prohibition was still in effect, found a "sad friend."  And thus would begin a struggle through his remaining life into his late 60s with that friend.
The soldier would return to civil life after completing his enlistment.  But as a trained artilleryman he would return to active service at the beginning of World War II.  He would eventually be assigned to an artillery battalion of the 98th Infantry Division.  The division on completing its organization and training would be deployed as a defense force to Hawaii.  As the noose closed on Japan, the division was identified to be one of the assault divisions for the invasion of the Japanese Home Islands.
Private Fernand J, Boucher, 98th Infantry Division 1942.
The dropping of the bombs brought the Pacific War to a close. The division did not deploy and the soldier mustered out of active service for a second time and returned to civil life.  But he struggled with his sad friend to the end.
Leaders in the service will from time to time have soldiers susceptible to intoxicants.  I've experienced the issue as a commander and staff section leader and in a few cases had to take necessary action to separate the soldier from the service for unfitness.  That said, a challenging program with a well defined mission combined with a "real" professional development system can engage soldiers and draw professional commitment from them that can forestall the worst inroads of the "sad friends."  It has been more than once observed that a failure of leaders to engage their soldiers effectively may produce far more soldiers that meet and fall under the spell of the sad friends than is necessary.
For context, two of the soldier's uncles served in the Army in World War I.  One, an infantry corporal, was killed in action at Belleau Wood, France on 6 June 1918.  Three other uncles would serve in the Army in World War II, one as a sergeant in the South Pacific who would be awarded the Purple Heart for wounds received.
The soldier's three younger brothers would serve in the Army Air Force, one retiring from the Air Force as a Chief Master Sergeant.  One of the three was stationed at Hickam Field when the Japanese attacked on 7 December 1941 and by war's end was a first sergeant in France.  Eight of his brothers-in-law would serve in the Army and Navy, seven during World War II.  Six would serve as non-commissioned and commissioned officers.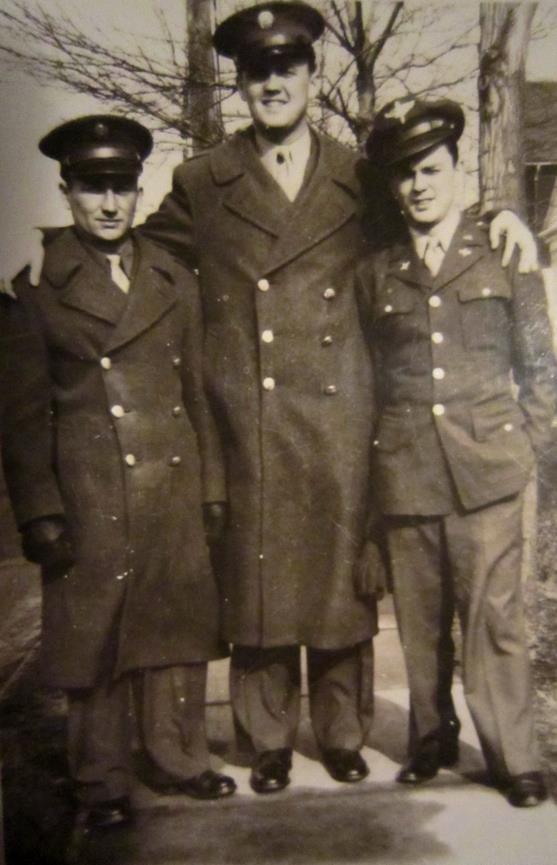 Brothers Fernand, Wildy and Lucien Boucher 1941 photographed outside their home in Wilson, Connecticut.
The soldier in this case was my uncle.  And the struggle he suffered with affected his entire family.   But despite his almost lifelong battle, he served his country as a soldier for some eight years.   As a leader of soldiers I often reflected on my uncle.  He was a guide to me in engaging with the soldiers I was responsible for–to pay attention and be proactive if a soldier seemed to be in difficulty, especially with the "sad friends."
98th Infantry Division