Above: A family affair! Kevin's son Ky on the left, U.S. Air Force Attaché, Colonel Rowell, Kevin, his wife Michelle, and daughter Tesia.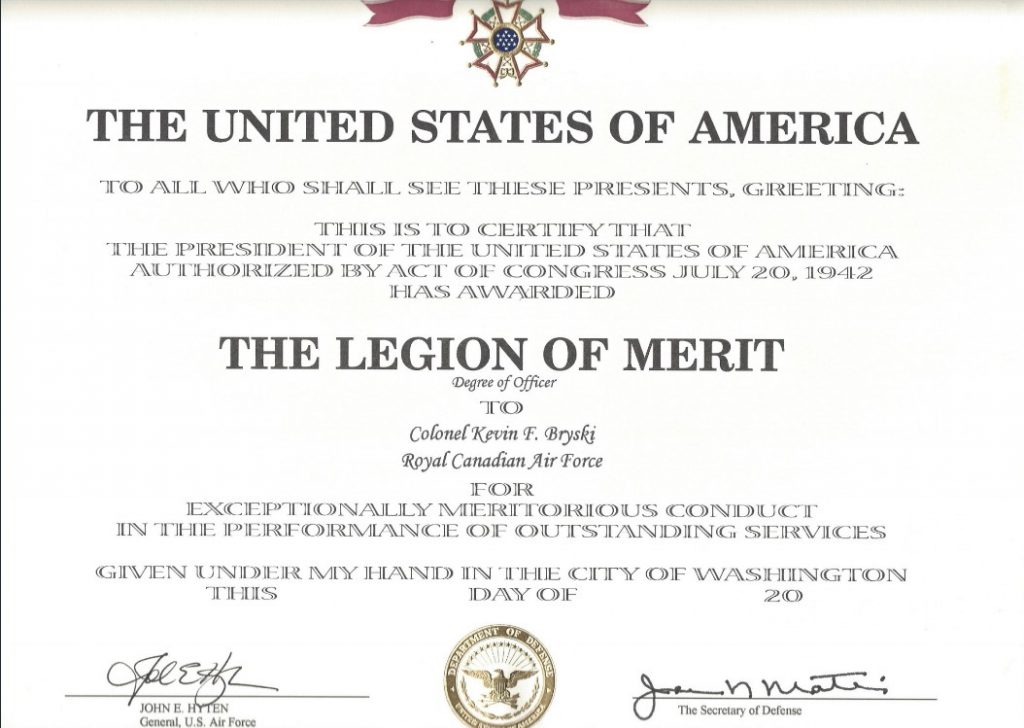 13846 Colonel (retired) Kevin F. Bryski, OMM, CD, M.Eng. P.Eng., Awarded the U.S. Legion of Merit
Article by 11766 James Doherty
I was privileged to join Colonel Kevin Bryski and his family at a ceremony held at the United States Embassy in Ottawa on Tuesday the 17th of July, 2018, where Kevin was awarded the U.S. Legion of Merit of Officer for exceptionally meritorious service while serving as the Canadian Defence Force's Liaison Officer in U.S. Strategic Command (USSTRATCOM) in Omaha from July 2014 to July 2017. Colonel Bryski retired from the Royal Canadian Air Force in September 2017 and was featured in a previous e-Veritas article, entitled Classy officer calls it a day after 38 years.
Nominated by General Hyten, Commander U.S. Strategic Command, signed by the U.S. Secretary of Defense, retired United States Marine Corps General Jim Mattis, and bestowed by U.S. Air Force Advisor to the US Ambassador in Canada, Colonel Bill Rowell, the U.S. Legion of Merit (degree of officer) citation emphasizes Colonel Bryski's extraordinary contributions that enhanced understanding, improved cooperation, and strengthened relations between the United States Strategic Command and the Canadian Armed Forces. Colonel Bryski's leadership, professional knowledge, and technical expertise served to promote, enhance, and sustain the strategic military cooperation between the United States and Canada, our Allies, and other partner nations, tirelessly advocating for military inter-operability and developing broad engagements based on a deterrence and assurance context that spanned multiple domains. His consummate professionalism and proactive nature made him the driving force in developing strategic objectives for execution and the establishment of a framework for operations, planning, and exercise cooperation within the Command… The superior effort, outstanding leadership, and personal initiative displayed by Colonel Bryski reflect great credit upon himself, the Royal Canadian Air Force, and his country.
This prestigious decoration adds to two previous international honours that Colonel Bryski has received including the NATO Meritorious Service Medal for his exceptional contribution as project manager of the $1.6B Mid-Term Modernization of the NATO AWACS and the U.S. Army Bronze Star Medal for outstanding meritorious service on combat operations in Afghanistan as Chief of Staff in the U.S. lead Afghan Regional Security Integration Command (South).
To put this in perspective, in the publication called Commonwealth and Foreign Honours published by the DH&R about foreign and commonwealth honours awarded to CAF personnel. Over the time period 1967-2017 there were only 24 CAF members who were awarded 3 honours.
Following the ceremony, award recipients and their guests were treated to a stirring performance by the U.S. Army Old Guard Fife and Drum Corps, which included a history of the Fife and Drum.
Now retired from the RCAF, Colonel Bryski has started Kemvich Enterprises Inc. and is under contract with the RCAF as Special Advisor to DG Space.
With much admiration, 11766 Colonel (retired) James Philip Doherty, OMM, CD, P.Eng.