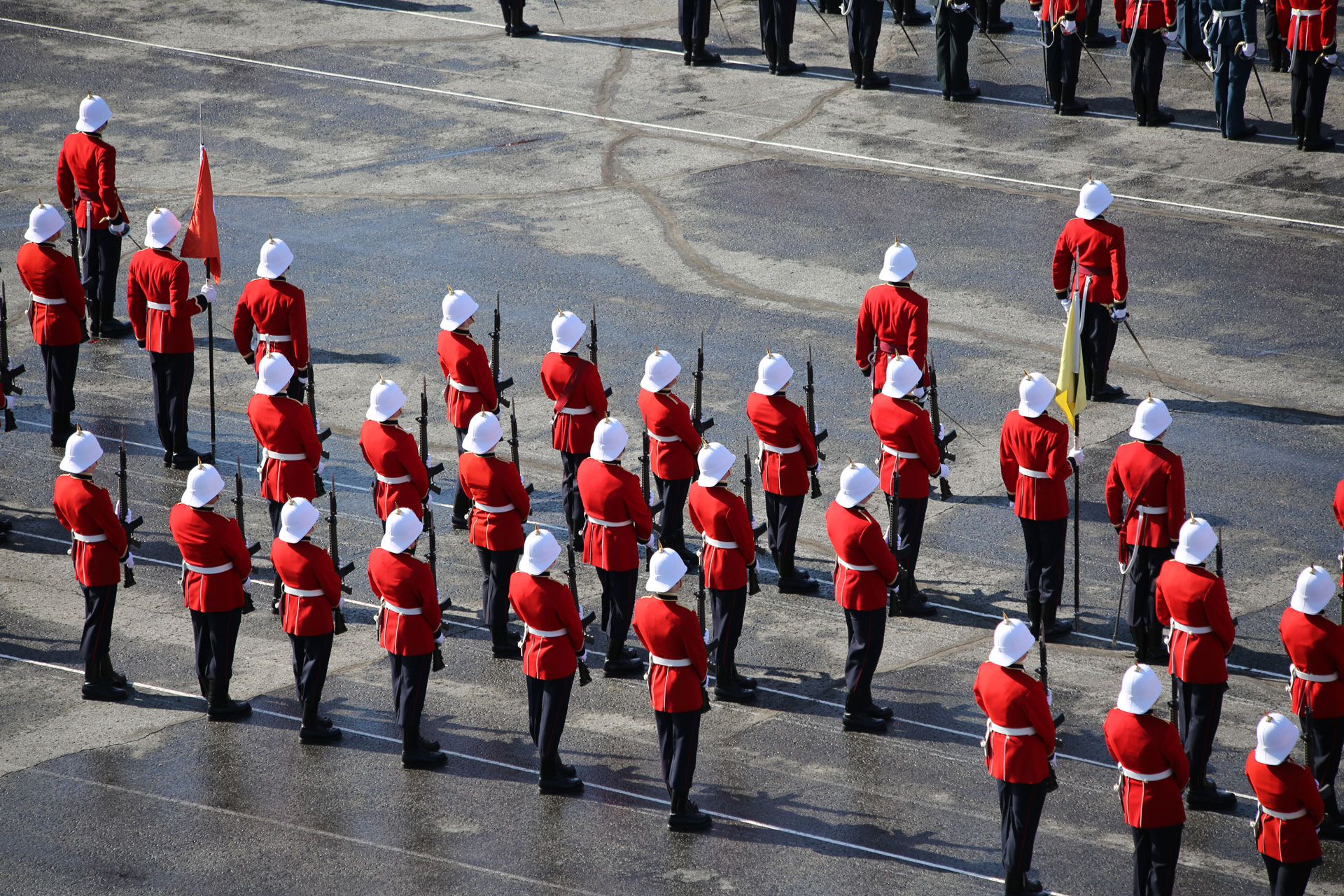 Birchall Leadership Award Ceremony Big Part of the 2010 Legacy Dinner
An added bonus to all of us who had the pleasure of attending the Legacy Dinner this year was to also be part of the Birchall Leadership Award presentation.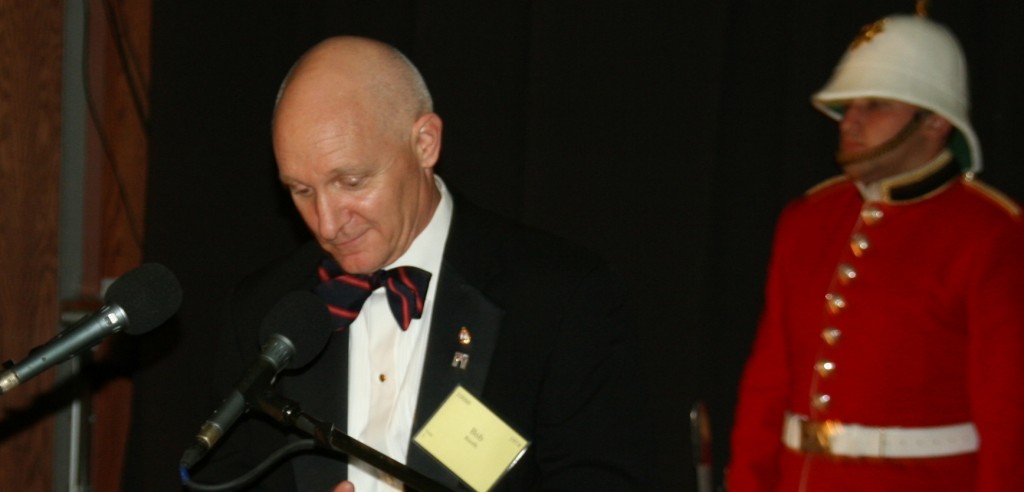 10080 R.T. (Bob) Booth (photo above) was the Master of Ceremonies for this portion of the evening. He sat the table perfectly by covering some of the highlights from Air Commodore  Birchall's career – many of the cadets in the crowd heard this for the first time:
 Len Birchall was Born in 1915 in St. Catherines and entered the Royal Military College in 1933.
 Following graduation in 1937 he was commissioned into the RCAF.
 On April 2, 1942 Squadron Leader Birchall arrived with his 413 reconnaissance squadron in Koggala, Ceylon from the Shetland Islands.
 2 days later on April 4, 1942 Birchall was piloting a Catalina flying boat over the Indian Ocean when he sighted and reported an advancing Japanese fleet intent on attacking Ceylon. The Allied Forces response to Birchall's call successfully blunted the force of the attack. However, Birchall's Catalina and its crew of eight were shot down and he, along with 5 survivors spent 3½ years as Japanese prisoners of war. It was as a senior officer among the POW's that Birchall's true leadership skills came to the fore as he frequently confronted his captors to seek better conditions for his men, often risking his own life. He succeeded in preserving the morale, dignity and safety of lower ranked prisoners of war. He exemplified integrity, responsibility, and moral courage. I'd like to read from an article that appeared in the Kingston Whig Standard on September 14, 2004:
"Birchall was the senior Allied officer in several prisoner-of-war camps. He became a role model for all those he commanded.
He defended his men whenever he saw them abused. Once he punched a Japanese sergeant who was kicking a sick man. The guard's jaw was broken. Air Commodore Birchall was court-martialled. He was beaten and hung by the thumbs all day. He was sentenced to death by beheading. A mock execution, complete with chopping block and samurai sword, was staged. Then he was reprieved, beaten and tossed into a cramped cell with almost nothing to eat for two weeks.
The point was made: His tormenters couldn't break him – and that's why they let him live. The Japanese Army understood bravery only too well. If he'd broken, he'd have been a dead man. And he went on to save many other men's lives.
He organized stealing parties to collect food. He bribed guards to get medicines. He always intervened when men were ill-treated – and he made his officers do the same."
 Upon being freed at the end of the War Birchall continued his RCAF career and held many significant commands including Commandant of the Royal Military College.
 He retired after more than 60 years of service with the Canadian Forces (one of the longest service careers of any officer in the Canadian Forces).
 During his career he was awarded the Distinguished Flying Cross, the Order of Canada, and the Order of the British Empire. He was inducted into Canada's Aviation Hall of Fame and the United States Legion of Merit. In 2003 he was made an American Eagle.
 He was President of the Kingston Salvation Army, a lifetime Governor of the Kingston General Hospital, honorary colonel of 413 Squadron until his death on September 10, 2004; and a founding member of the Burma Star Association.
And so why the Birchall Leadership Award? At the time of Birch's passing the Globe and Mail ran a full page article, recounting the significance of his achievements. What caught the attention of our Alumni was a letter to the editor, published in the September 23rd edition of the Globe and Mail. Peter Krantz of Niagara Falls wrote:
"Thank you to your obits writer for educating me about one of Canada's true heroes, Len Birchall (the "Saviour of Ceylon"). In this time of self-interest and man's inhumanity to man, it is sobering to read about true heroism. For a man to continually put his life on the line to protect his fellow soldiers, to face death on countless occasions and never be broken, indeed, to believe that justice and right would win in the end, over insurmountable odds, is truly inspiring. Then to learn that none other than Winston Churchill proclaimed him "the Saviour of Ceylon" leads me to the obvious question. Why are there not buildings or statues or streets named after this man? I showed your obit to many people at work; all were deeply moved by this man's life and yet none had ever heard of him.
Shame on us for not recognizing our national heroes."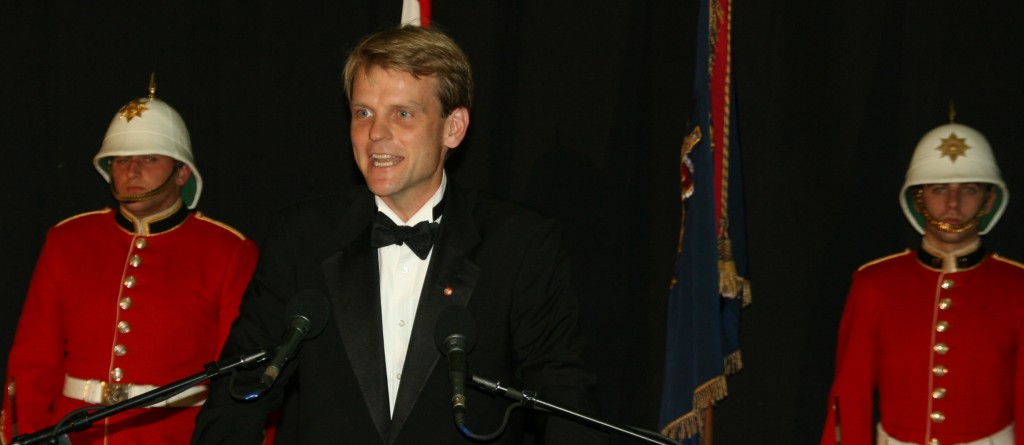 Photo caption: The 2010 Birchall Leadership Award Recipient during his acceptance speech, Mr. Chritopher Alexander.
The establishment of the Birchall Leadership Award in 2005 was a direct response by the RMC Alumni to the challenge presented in that letter.
RMC ex-cadets come from, and during their careers and in retirement, live in every part of Canada. We like to think of RMC as Canada's National University whose purpose is to train leaders. So the RMC Alumni network can be very effective in offering to further our country's national interests – including recognizing and celebrating leadership in Canada.
It is our intent, to preserve the memory of Air Commodore Birchall and remind Canadians of his outstanding leadership and character as a true Canadian hero. We seek to do this through recognizing members of our own community, who have shown exemplary leadership attributes. The unique leadership quality which this award celebrates is the ability to stand up in the face of difficulty or adversity to promote the welfare and safety of others.
The first Birchall Leadership Award was presented by the Calgary Branch of the RMC Club in 2005 to a Calgarian, the late Art Smith, a great community leader in business and politics, a decorated RCAF veteran of World War II; and perhaps most significantly the driving force behind the creation of the Calgary Homeless Foundation and many other philanthropic organizations.
Since then the award has been presented annually to deserving Canadians at dinners held in support of Military families in Toronto, Winnipeg, and again in Calgary. Recipients have included Generals de Chastelain, Henault, and Hillier and Kingston's own Danny McLeod.
Award nominees are not restricted to past or present members of the Canadian Forces, nor to any particular profession or walk of life – only that he or she has demonstrated some significant aspect of A/C Birchall's extraordinary leadership qualities.
Mr. Booth also announced, "I'm pleased to announce that a Leadership Dinner is being planned in support of Military Families in Edmonton for Nov 4, 2011 to continue the annual recognition that the Birchall Leadership Award represents."
The former RMC Club of Canada President (2005-06) also mentioned to the close to 300 Ex cadets, cadets, family & friends. "It is tremendously satisfying to all RMC Alumni that this Award is being presented in its 6th year at RMC after having introduced so many Canadians throughout the country to the legacy of Len Birchall through recognition of Canadian leaders."
The Birchall Leadership Award Recipient for this year is Mr. Chritopher Alexander.
A previous e-Veritas article in August gave an extensive background profile on his achievements and impressive career.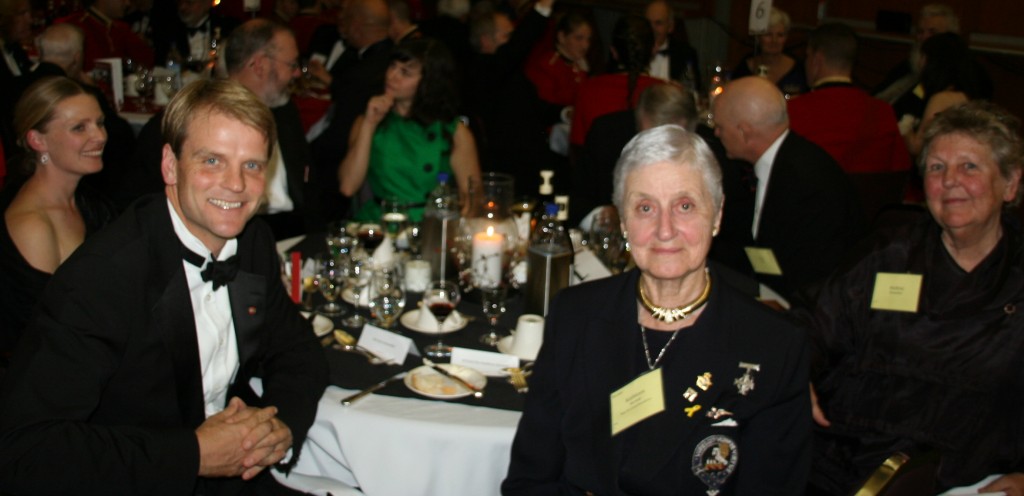 Mrs. Kay Birchall (centre), widow of Air Commodore Leonard J. Birchall was in attendance at the Black Tie Dinner and shared a table with the Alexander family including Christopher's wife (left) and mother (right).