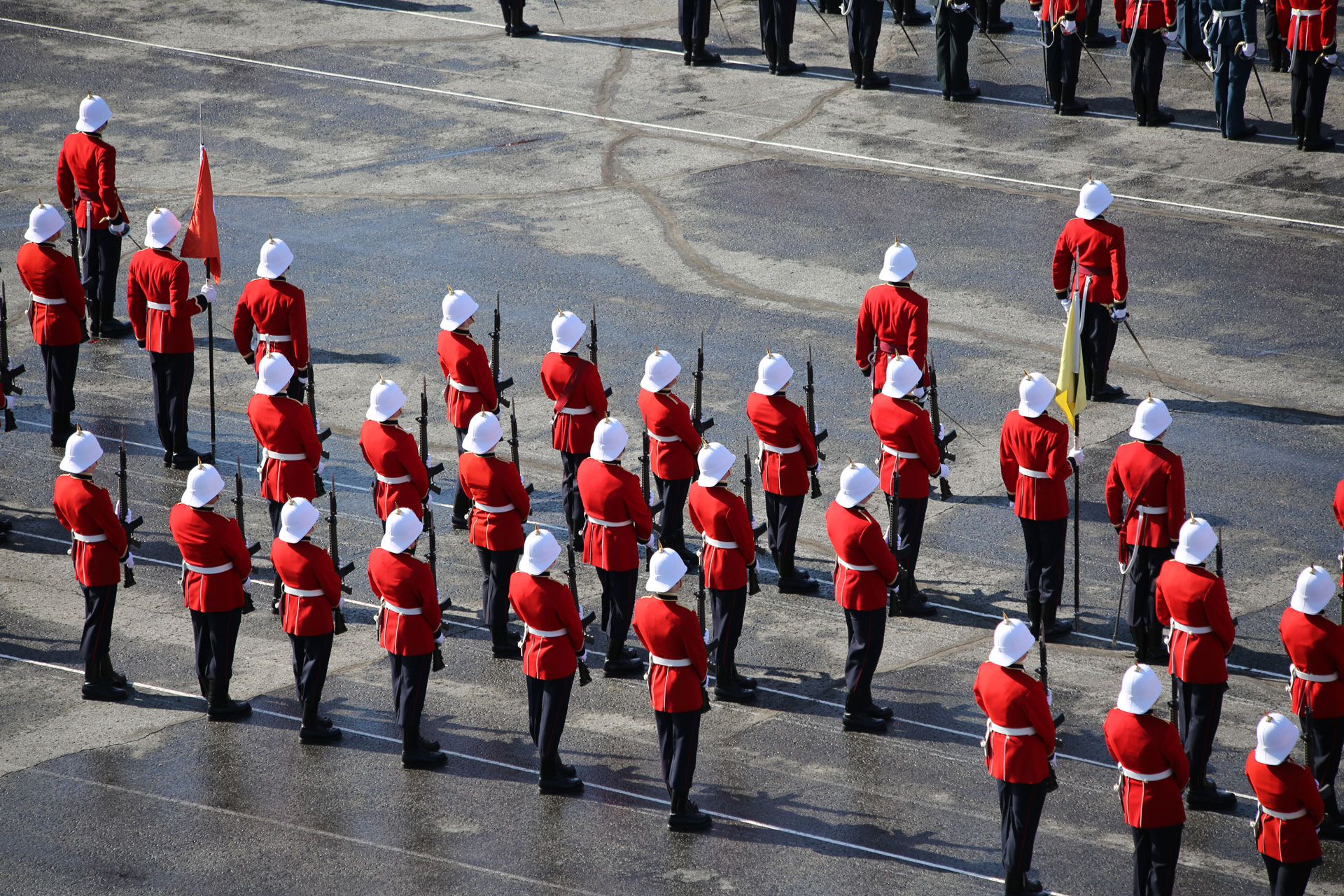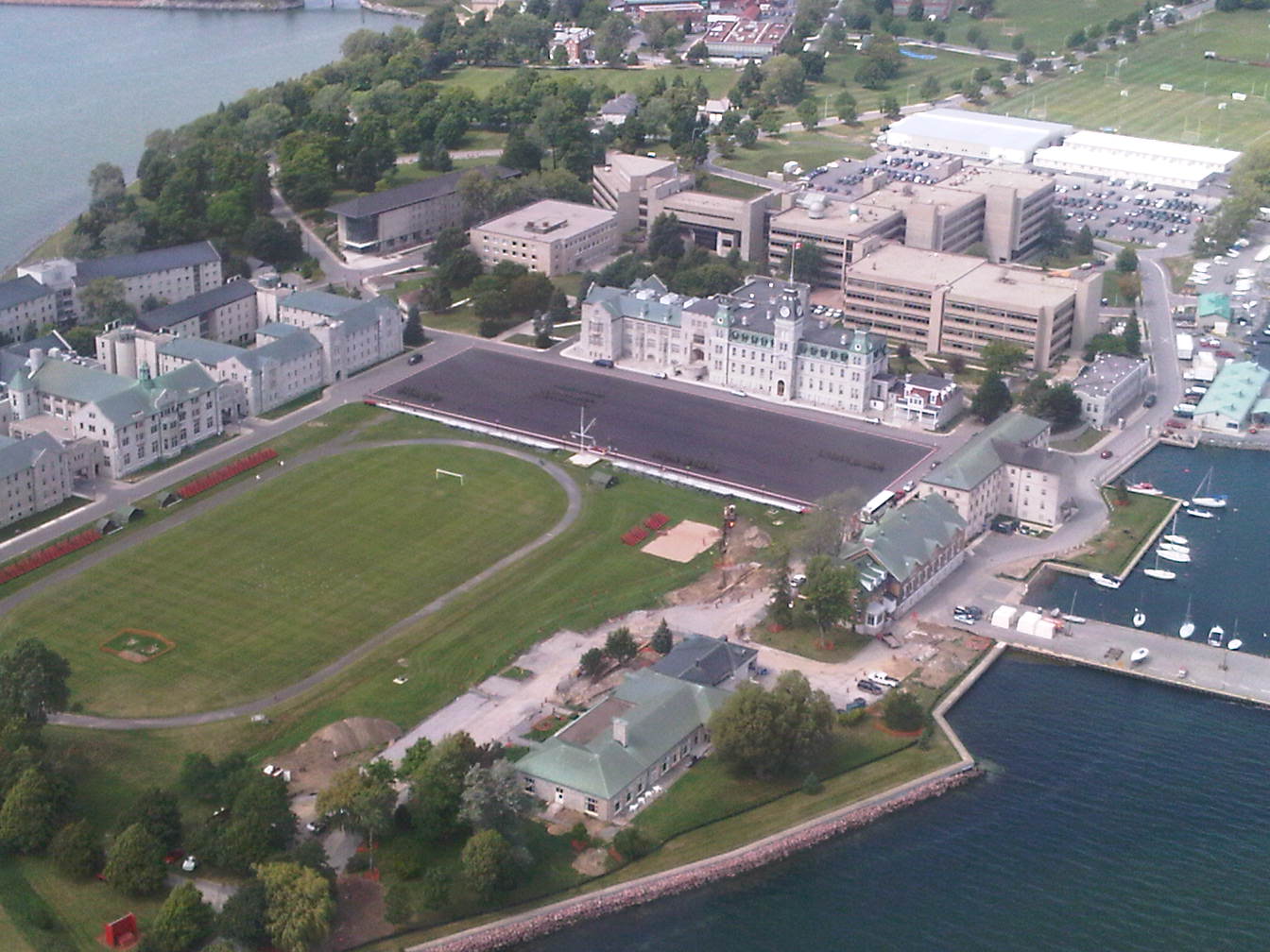 Caption: Ian Wookey was able to get up in a CH-146 which was doing a few laps around Kingston on Wednesday 17 Aug. Ian managed to get a good photo of the recruits doing their thing on the parade square.  Viewers will notice all the construction going on around the college – especially in front of the Old Gym, Panet House and the SSM.  Also, those with keen eyesight will undoubedly recoznize the temporary academic buildings near Navy Bay and the Navy Bay parking lot. Click, click on photo for better viewing.
Slideshow depicting some of the various activities of the new recruits from Monday to Wednesday
Photos for Boot Camp article by: 24487 Dan Fleming

It Hasn't Even Been Two Weeks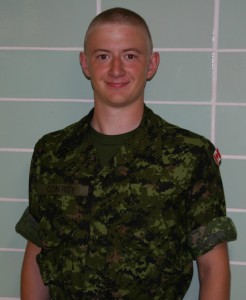 Recruit camp started out slow as everyone was arriving. By Monday morning, the pace began increasing rapidly, with no end in sight. Although we wake up seven hours earlier than we have for the last month, we can't complain. After all, we volunteered, and so far, I don't have any regrets. The campus itself looks (and is) very distinguished. Maybe someday I'll be able to stop and admire the area instead of jogging past every day.
On a related note, I would like to comment on how nice it was to clean your room and make your bed… occasionally. But those days are over. Now, we just have to hope that we don't fall asleep in an important briefing, or that the tolerant staff can somehow shape us into respectable Canadian forces officers.
The future is what we all look forward to, even if it's simply lights out after a long day. For now, until the future arrives, I just keep reminding myself that this is what I want, and that it's worth it. Hopefully, after all this is over, the FYOP (First Year Orientation Program) will be more than a memory and a four letter word.
Ocdt Conroy
Progression on the Parade Square!
A Time for Change
We all arrived in anticipation towards the next step in our future endeavours: the transition from civilian teenagers to respectable young adults as officer cadets in the Canadian Forces family. At first glance, the senior officers seemed intimidating to many, but following the second day of recruit camp, change was visible with our newly acquired military knowledge.
Divided into flights, officer cadets quickly formed bonds of friendship where no individual was above another. A family atmosphere was evident in completing daily tasks. Characteristics of leadership, teamwork and determination prevailed among all flights in completing the next day's missions.
PT stands to be the greatest obstacle for many cadets' transitions into the military lifestyle. However, the lowest denominators are strongly motivated by their fellow flight members to push through these road blocks – many individuals acquired or improved their teamwork skills.
Dressed in our combats as officer cadets, one feels like a pristine member of the Canadian Forces. Drill as well as classroom lessons begin to shape the backbone of our new military lifestyles. Every day is a learning opportunity wherein all new officer cadets become one step closer to their aspirations of successfully completing the RMC recruit camp.
Ocdt Findlater