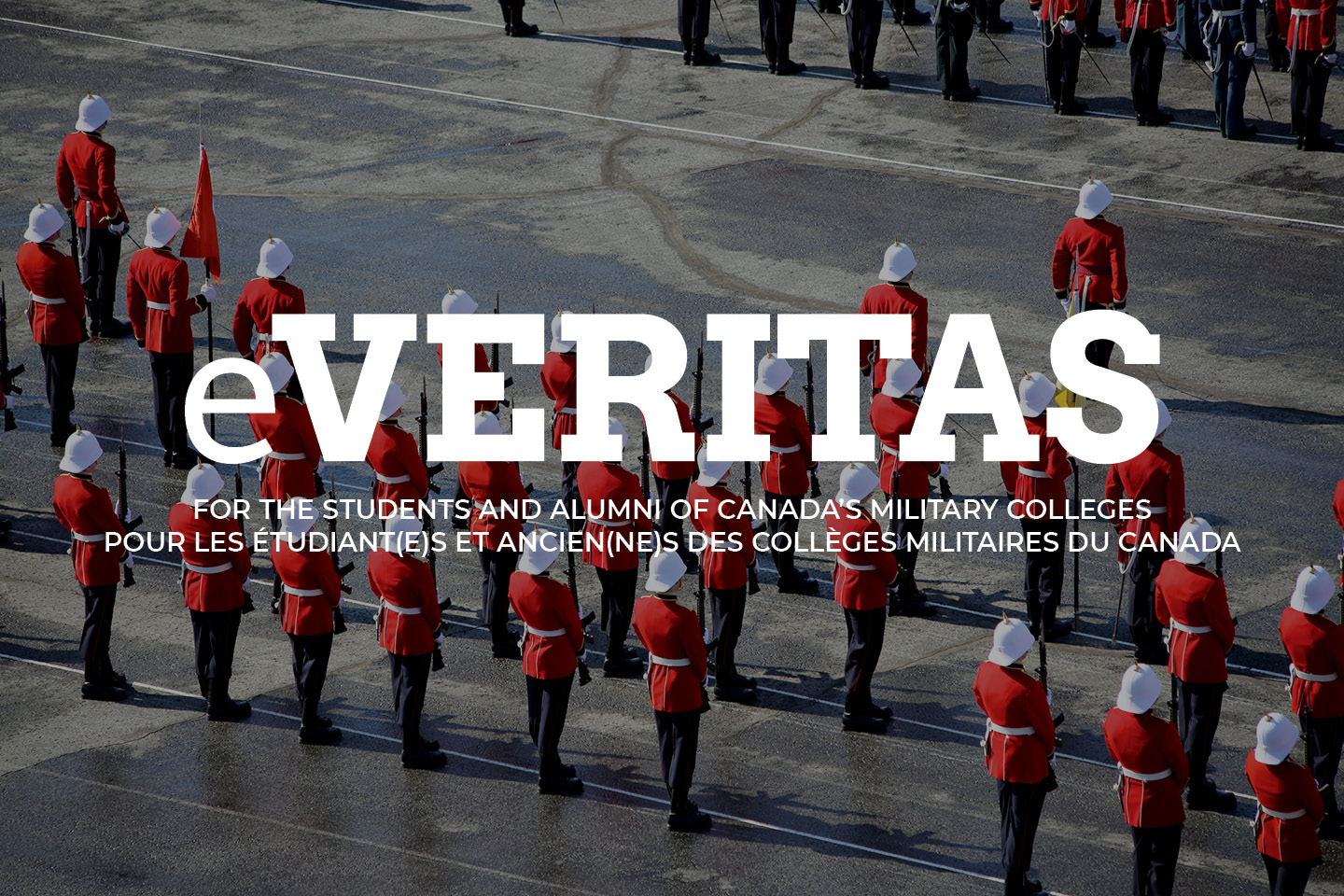 Kingston Branch Making A Difference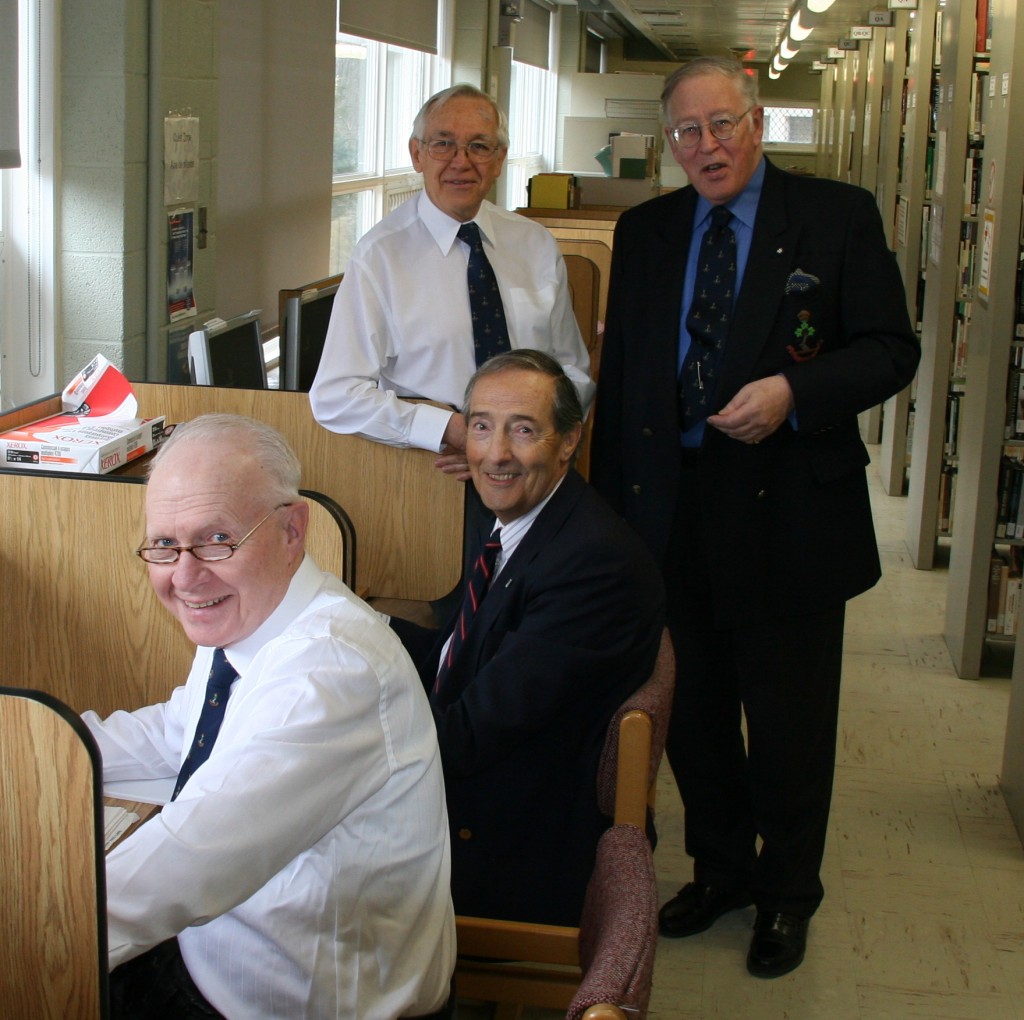 Photo: Last day on the job! Front – 5207 Andrew Robb; Middle – A 118 Ray Dignum; Back left – 4976 Reg Watts; Back right – 3572 Frank Norman.

'It' Completed After 4 Years of Work
By: Andrew Robb
'It' is finally completed, after four years and many dedicated hours each month by members of the Kingston Branch of the RMC Club. 'It' is the project to protect all the pre WW II cadet files from deterioration. Each sheet of each of the 2828 files of the cadets who entered the College up to and including 1940 has been interleafed with a sheet of acid-free paper. This will protect the contents of the files from further more rapid deterioration. All files are now boxed and stored in the climate controlled workshop of the RMC Museum where they are readily accessible by researchers and others. Twenty-one volunteers from the Branch worked on the project at different times, and it took over 700 man-hours to finish the job. 4459 Ed Murray conceived the project, and 5207 Andrew Robb managed to keep the volunteers on track and the records in good order.Thank you to all Branch members involved for completing this Herculean task.
Sadly we have been unable to locate any of the files of cadets from the post WW II years. The best information we have received is that they were destroyed. Too bad!
Final word to: 4976 Reg Watts, President, Kingston Branch
"This project has several levels of significance. First of all, the RMC spirit of getting the job done came through on this. Some days we trudged through the snow and occasionally sweated through summer mornings when the library air conditioning failed. It showed that our common past is a still a strong bond. Second, we realized the wealth of College Heritage information contained in the ex-cadet files now preserved for researchers, families and interested parties, and it revealed to us that there are many similar aspects of College heritage in similar danger. Thirdly, projects like this can keep alive the fellowship aims of the RMC Club of Canada by bringing Branch members together. We are fortunate because of our location to have access to records and memorabilia, but we need the support of the entire Club in future to make major progress. Hopefully this accomplishment will lead to similar activities in other branches, or support of the RMC museum financially.
Well done to all "KB Filers!"
Kingston Branch Meet Up With Cadets At Yeo Hall
By: Andrew Robb
Members of the Kingston Branch of the RMC Club had a real treat on 6 April. They were the guests of the cadets and had lunch with them in the Yeo Hall dining room. This was a different experience for many as the cafeteria style service has been added in more recent years. The cadets chatted openly with the members over lunch and answered many questions.
Thanks to Bill Oliver for helping make this connection.
Photos by: Dan Flemming and Kate Haddon
___________________________________
Vancouver Branch:
After-Action Report & Warning Orders for Military Ball and Golf Tournament.
The RMC Club Vancouver Branch had a very successful Gun Range Night this past Wednesday March 30. The attendees were:
14390 Kate Armstrong and guest Miles Federspiel
20028 Torren Craigie-Manson
7566 Chris Haines the Elder
4473 Dave Larrigan
7786 Doug Matthews and spouse Marimae
10969 Mike McAuley
13766 Konrad Mech and spouse Kim
16064 Ingrid Milne and spouse Ron
9406 Bob Parsons and spouse Kathy
10992 Jeff Poste and spouse Maria Primavera
9835 Jim Reith and spouse Maggie (non-shooter)
16586 Scott Ross
11559 Steven Shore
The program was a lot of fun, comprising 2 bays X 9mm Glock, 1 X .40 cal automatic, 1 X .45 cal automatic, and 1 X 8 gauge shot-gun. Each person shot 10 rounds scored on the 9mm Glock and prizes were awarded at the Cat and Fiddle Sports Bar and Restaurant afterward as follows:
Best ex-serviceperson: 10992 Jeff Poste with a perfect score of 50.
Best female guest: Kim Breakell Mech (mother of 1st year OCdt Anders Mech, Hunter Flight, 12 Sqn), with a score of 32 – and the first time firing small-arms.
Best male guest: Ron Milne, with a score of 48.
Prizes were donated for this event by Weatherhaven, "Proven Expertise in Redeployable Shelters" and familiar to serving CF members as their home away from home in Afghanistan, Bosnia, Kosovo, and UN missions around the world.
Photos: the smiles say it all – this was a great night.
012c: Dave Larrigan, Torren Craigie-Manson, and Steven Shore
014c: Scott Ross on the .40 automatic.
016c: Kim Breakell Mech on the .45 automatic.
026c: Marimae Matthews before the 8 gauge shotgun.
027c: Marimae Matthews after the 8 gauge shotgun.
031c: Sherriff Konrad Mech, (background) Doug Matthews, David Larrigan, Maria Primavera, and Jeff Poste.
033c: Kate Armstrong showing form.
034c: Ingrid Milne.
038c: Kate Armstrong getting instruction on the shotgun from the Range Safety Officer.
049c: Ingrid Milne working the .45 automatic with Miles Federspiel on the 8 gauge shot-gun.
056c: Kate Armstrong and Doug Matthews.
058c: Doug Matthews on the shotgun.
061c: Trinity from the Matrix readying her personal hand-gun.
067cc: L-R: Miles Federspiel, Torren Craigie-Manson, Bob Parsons, Kate Armstrong (back), Kathy Parsons, Ron Milne, Ingrid Milne, Dave Larrigan, Doug Matthews.
071cc: Dave Larrigan with a respectable score of 38 out of a possible 50. And they all would have hurt a lot, especially the one to the left iliac in the pelvis.
081cccc: Jeff Poste with the trophy for Best Ex-Service Person, Kim Breakell Mech with trophy for Best Female Guest, Ron Milne with trophy for Best Male Guest, and event organizer Sherriff Konrad Mech.
Upcoming Events for Vancouver Branch:
1. The RMC Vancouver Branch is booking tables for attendees at the Vancouver Garrison's Annual Military Ball, which will be held on Saturday 21 May 2011 with the Hyatt Regency Vancouver as the host hotel for 2011. The hotel's well appointed ballroom has served as a great venue for both dancing as well as floor shows several times in the past and it is expected to do same excellent job again for the 66th Annual Military Ball.
The tariff for the Ball has been set at $110 per person. This increase comes after having kept the line for the last six years, however, reality of the general costs today vs six years ago is, reluctantly, reflected in the tariff for the 2011 Ball but with the anticipation that the new level will be sufficient to cover costs for several years to come.
Interested parties are asked to book their tickets directly with the event coordinators on line at http://site.militaryball.ca/2011tickets and request seating with the RMC Club of Canada group.
2. The RMC Vancouver Branch is again holding its Annual Texas Scramble and Steak Dinner at Ft. Langley Golf Course on Sunday June 12th. This is always a popular event and is a great time on a great course. Pricing and specifics to follow but book the date now.
3. Recce has begun for the exact route for the RMC Vancouver Branch Mini-Fondo. The Fondo will be in the Pitt Meadows/Pitt Lake region of the Lower Mainland, with Golden Eagles Golf Course as the start and end point. We will run two routes, one a 50km (flat!) route for roadies, and the other being a mountain-bike friendly route on the dykes bounding the Alouette River. Stay tuned for dates and timings. Maggie Reith will be the chase car driver for mechanical breakdowns and general baggedness, and a steak dinner will follow at the Golden Eagles Golf Course.
Your faithful correspondent and Branch President, 13766 Konrad Mech.