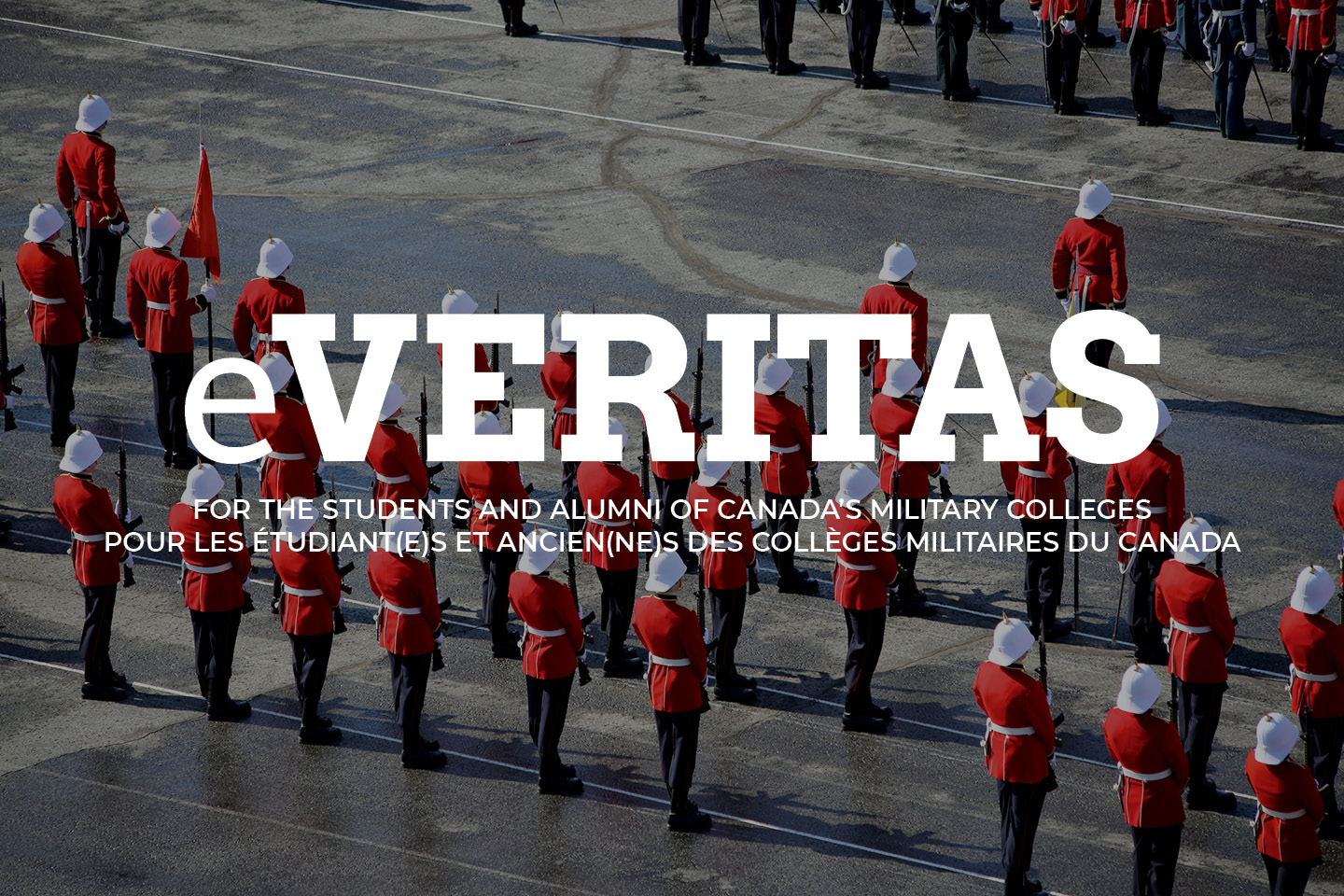 Wet Weather Can't Dampen Spirits in Century Old Tradition / 
La pluie ne peut porter atteinte au moral lorsqu'il est question d'une tradition vieille de plus d'un siècle
Article by 25813 OCdt (IV) Fanie Simard, Cadet Wing Public Information Officer 
Photos by 25366 Mike Shewfelt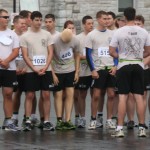 Saturday, September 8th, was the traditional Wing Harrier race. Despite the grey and cloudy sky, the Wing's morale seemed high when everyone gathered for the morning parade. Amongst the various squadron colors, the late Joliette squadron's color was also present on the parade square. Some of the members of the former 13 Squadron even formed up together on parade, to commemorate, in a way, their old team.
Le Directeur des Élèves-officiers, 19706 LCol Pat Lemyre, s'est adressé à l'Escadre rassemblée devant lui sur le terrain de parade. Il s'est tout d'abord attardé sur la signification de la course Harrier, qui est une tradition depuis longtemps établie au CMRC. Il a mentionné que, cette année encore, comme elle le faisait il y a de cela des années, elle a permis aux participants et aux spectateurs de se réunir et de faire grandir un plus grand esprit de corps.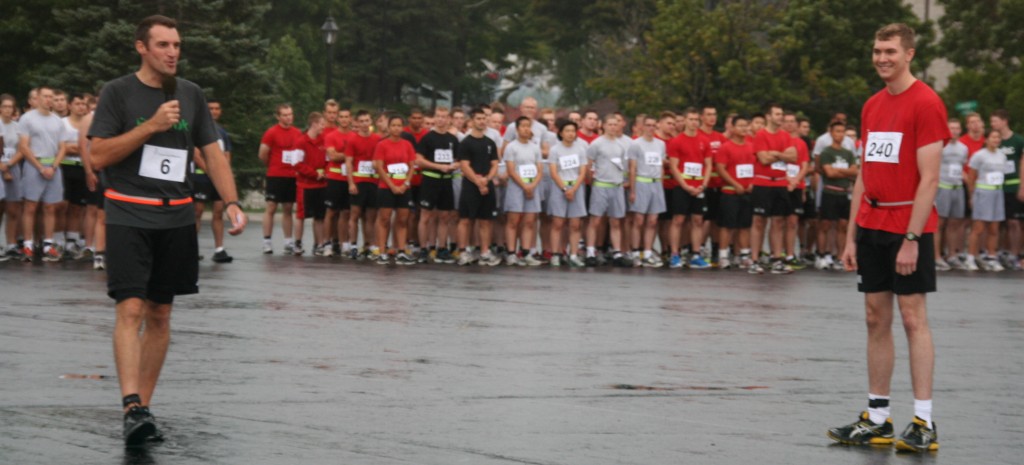 Since the beginning of the new school year, every squadron has been through some changes. The 2015 class welcomed the Officer Cadets from CMRSJ, and the 2016 class has been undergoing FYOP for a couple of weeks now. For all of them, and for everyone else, the Harrier race was a good opportunity to bond with the squadron, and to raise the team spirit among their members. Obviously, some colorful skylarks were also noticeable on campus.
Une fois que tous les participants furent de retour du parcours, le rassemblement eu lieu pour la remise des prix. Sans qu'ils ne reçoivent de récompenses, les Élèves-officiers ayant obtenu la 4e position furent tout de même nommés par 25547 Neil Gasser, Élève-officier en charge du déroulement de l'événement. Du côté des femmes, M0965 Hannah Holroyd, de l'Escadron Otter, tandis que du côté des hommes, 26726 Pier-Alexandre Lacasse, de l'Escadrille Grizzly, ont tous deux mérité une mention.
The 3rd place awards were presented by Director of Athletics,  Mr Darren Cates to 26037 Michelle Begin-Major, from 2 Squadron, and to 25695 Colin Shannon, from 9 Squadron. The 2nd place awards were obtained by 25533 Véronique Trépanier, from 8 Squadron, and 26707 Anton Humenuik, from 4 Sqn's Kaeble flight. Those awards were presented by the DCdt, 19706 LCol Pat Lemyre. And, finally, the 1st place winners received their awards from the Cmdt, 14835 BGen Éric Tremblay. The worthy cadets were 25390 Isabelle Allain, from 7 Squadron, and 25561 Trevor Reid, from 8 Sqn's Whiskey flight.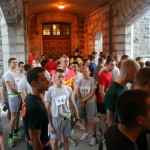 En ce qui a trait aux Escadrons, les récompenses furent remises par 25586 Brenden Clark. La troisième place fut attribuée à l'Escadron 10, la seconde à l'Escadron 5 et c'est l'Escadron 2 qui s'est mérité la première place.
Malgré les prévisions, la température aura permis à l'Escadre de profiter de l'événement. Par contre, les activités sportives qui devaient avoir lieu en après-midi seront remises à plus tard au courant du semestre. Selon toute vraisemblance, les participants et les spectateurs de la course passèrent un bon moment, et les membres de l'Escadre purent prendre cette occasion pour se lier et pour faire grandir plus encore le sens d'unité et la cohésion du CMRC.
Editor's Note: Those events from Sports Day that were cancelled due to the weather have been tentatively reschedule for Oct 21.  
More photos from the race: