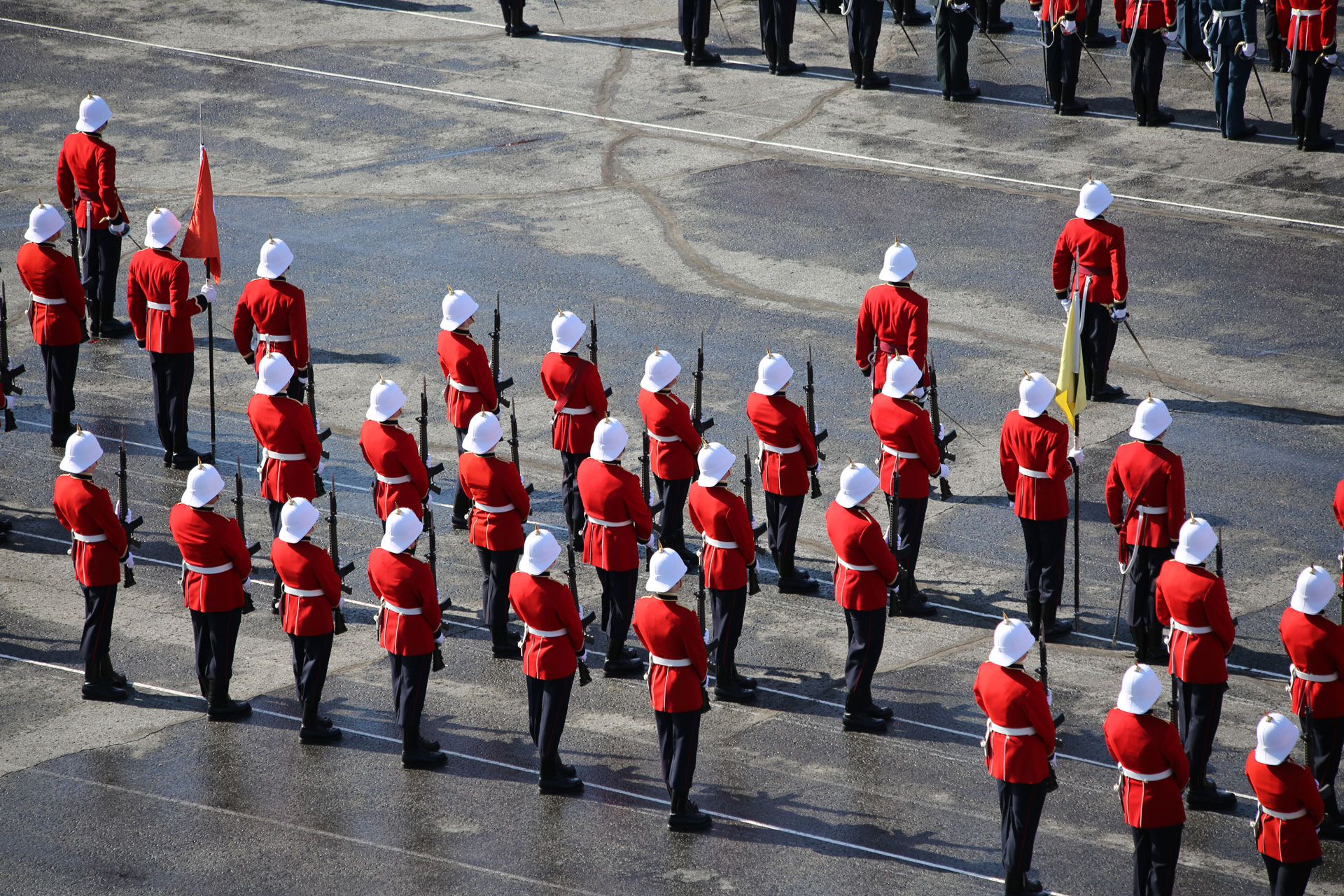 Caption 1: Cadets and professors alike wearing civilian dress in return for donating to the Canadian Red Cross for Haiti.
Caption 2: Officer Cadets relaxing in Bill & Alfie's in civilian dress and wearing a sticker of the Haiti flag showing they donated to the Red Cross effort in Haiti.
Caption 3: OCdt (I) Balfour relaxes in the mess and takes a shot in the comfort of civilian dress, sporting the sticker in support of Haiti.
(Click on photos for better viewing)

RMCC pitches in to help out Haiti
By: 24550 Alan K.O. Li
This past Friday, RMC underwent a fund-raising campaign to raise donations towards the Canadian Red Cross relief effort in Haiti. Cadets, military staff, and civilians alike took part in a Dress-down day while sporting stickers of the Haitian flag to raise awareness of the devastation caused by the recent earthquakes in Haiti. In light of the plight suffered by the Haitians, the entire college gave generously and, as of printing, raised over 4,000 dollars.
In order to raise awareness and in return for the generosity of the cadets and staff alike, the chain of command authorized the wearing of civilian dress throughout the day and into the evening. This included the First Year cadets who, probably for the first time in a while, was able to enjoy their night in town out of uniform. Donations are still pouring in and being tabulated. The final count will be announced this Wednesday and handed over to Canadian Red Cross representatives.
__________________________________________________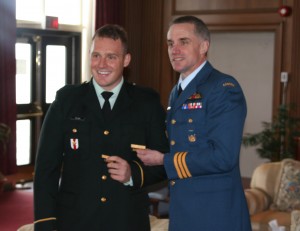 The time has come: Second Lieutenant Tyler Riches accepts his new epaulettes and Infantry cap badge from Lieutenant Colonel Tony O'Keefe, Director of Cadets. The promotion ceremony was held at the RMCC Senior Staff Mess last Thursday. As the newest officer from the Continuing Education Officer Training Program (CEOTP) in the Canadian Forces, 2Lt Riches will receive his Commissioning Scroll in the near future.
(Photo by 25247 Ken Eady).
__________________________________________________
xxxxxxx
Isla Elizabeth Price (born July 8 2009) was baptized by Padre Patrick Lublink at the RMC Protestant Chapel on December 22nd 2009. Parents, 22558 Sandra Price (nee Reibin) and 22702 Nathan Price, are posted to RMC as Squadron Commanders. The service was very special in that the Christening Bell currently at the chapel is the same one that was at Royal Roads Military College before it closed. It is a naval tradition to Baptize children with naval bells and to engrave their names on the bell afterwards. Sandra Price's father, CWO (Ret'd) Donald Reibin, was a Drill Instructor at Royal Roads from 1977 to 1980. Both Sandra and her sister Captain Heather Reibin (23234 class of 2005) were christened in the same bell in 1979 and 1982. Sandra and Nathan hope to get Isla's name engraved on the bell this spring.