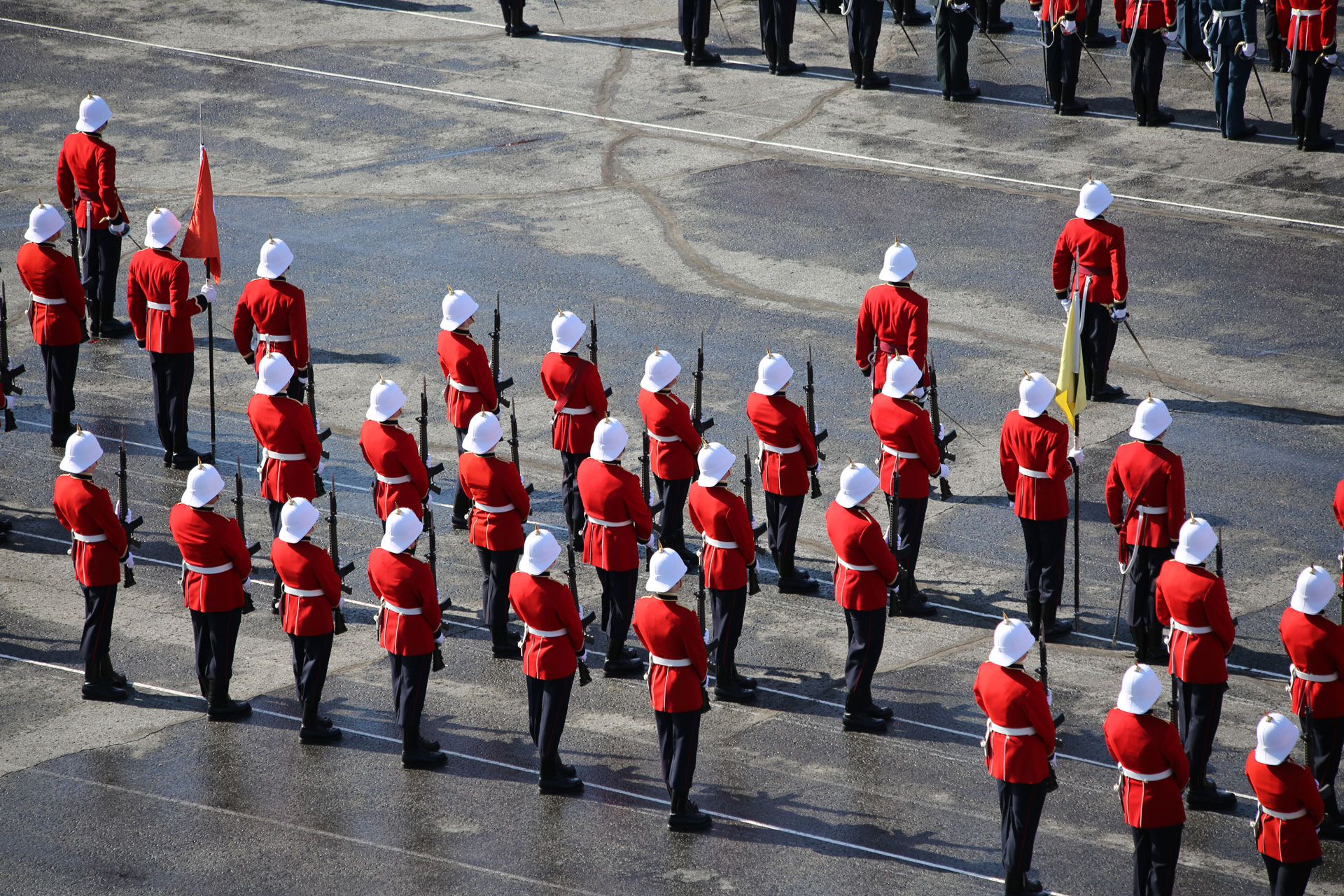 The Vancouver Island Ex-Cadet Club held its annual Christmas Reception and Luncheon
Click on photos for better viewing. Photos by: Don Lovell and Dave Wightman
Article by: 3334 Dave Wightman
The Vancouver Island Ex-Cadet Club held its annual Christmas Reception and Luncheon for serving cadets and aspiring cadets and their families on December 28th.
As usual, a solid turnout of ex-cadets and their spouses was in attendance to welcome the guests and inspire them to the values of the institution to which we all owe so much.
In the absence of our President 9318 Dave Bindernagel due to illness, Past President 10263 Don Lovell welcomed the guests and called for a moment of silence for the most recent Afghanistan casualty, Corporal Steve Martin, Royal 22nd Regiment. He then introduced distinguished guests and members, in particular our senior ex-cadet and Honorary President 2593 John Parker. There was a roll call of cadets and the introduction of applicants and families. A magnificent buffet lunch (really a dinner) was served by the Embassy Suites Hotel and their service, as usual, was outstanding.
Caption middle photo: 8788 Geoff Bennett announced the 2011 RMC Rideau Canoe Trip and displayed the magnificent 78″ paddle carved out of a single piece of yellow cedar by Jason Henry Hunt of Port Hardy's Kwagi-ulth tribe. The motif is an eagle, wolf and orca, representing the three branches of the armed forces. The paddle was a joint venture of 7282 Rick Gilleland and Geoff and it is hoped that the paddle will soon feature prominently in RMC Foundation fundraising.
____________________________________________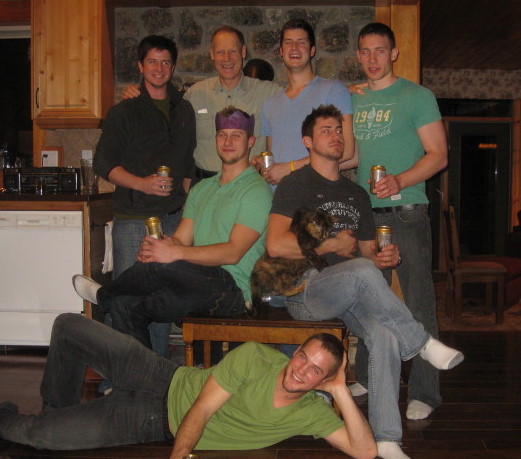 RMC Cadets Make Late Night Attempt to Replicate Old 18 Photo
On 27 December, a group of mostly 4th Year cadets gathered in the Foothills of the Rocky Mountains at their final base camp before a week of downhill skiing and boarding at Mount Revelstoke, BC, the mountain with perhaps the longest vertical drop in Canada.
(Back Row) 24868 Steve Burry, hair longer than Beyoncé; 5675 Dennis Apedaile, base camp boss; 24890 Jack Lawson,
Nigerian Diamond Salesman, and 24768 Matt Stokes, the Dubai tan man.
(Middle Row) 25000 Kevin Bowness, King for a day, and 24992 Eric Robb, with hammer lock on Coco, mission mascot.
(Front Row) 25276 Ben Apedaile, ski team liaison.
____________________________________________
Army (West Point) Hockey Falls to Russian Red Stars, 11-4, In Exhibition Play
"It was obviously a great opportunity for our fans to see a real skilled Russian team," said Army head coach Brian Riley. "We knew it might be a little it tough from not having been on the ice and some guys just got in [to West Point] today. Hopefully this experience makes us a better team going into Thursday's game against Merrimack."
____________________________________________
People bullish for Gaskin Lion
The Gaskin Lion was restored this past summer due to the efforts of the Ukrainian Canadian Club of Kingston, which was marking its 100th anniversary of Ukrainians settling here.
The club didn't buy the ornaments in bulk, its president, Lubomyr Luciuk, said Wednesday.
"I don't think they would have allowed it," he said. "They seemed to be pretty judicious in the way they were selling them."
Luciuk, in fact, only managed to buy three of the ornaments himself: he sent one of them to the company that did the restoration work on the lion, he gave another to his parents, and saved the last one for himself.
He had tried to buy the five remaining Gaskin Lion ornaments at one of the outlets, the Grand Theatre, but they would only sell him one of them because of the high demand, he said.
It was gratifying for him to see the ornaments sell so quickly, Luciuk said.
"It's a wonderful Christmas gift back to us," he said. "(It) says to me the community in Kingston in general appreciates the gesture we made to celebrate our 100th anniversary (of Ukrainian settlement in Kingston),"
____________________________________________
Canadian Museum for Human Rights is quite un-Canadian
____________________________________________
QUALIFIED CANADIAN MILITARY GRANTED SASKATCHEWAN RESIDENT STATUS FOR FISHING
____________________________________________
Soldiers earned our trust
____________________________________________