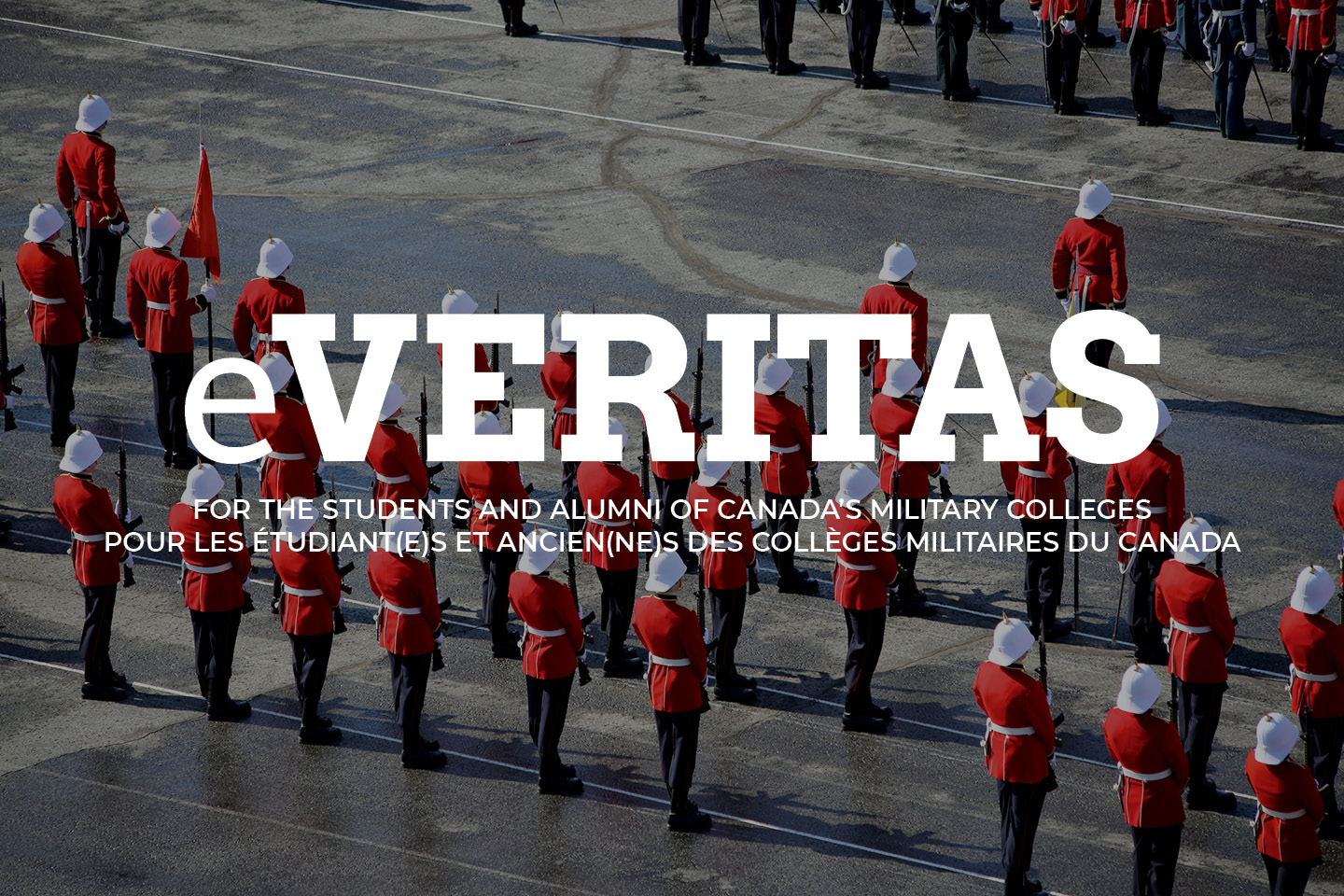 13004 STU MOORS – SWALLOWING THE ANCHOR SOON
RETIREMENT – 13004 CAPTAIN(N) STUART MOORS, CD, RCN – RRMC Class of 1982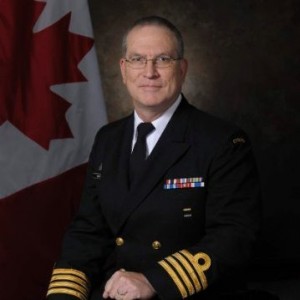 1. AFTER OVER 37 YEARS OF LOYAL AND DEDICATED SERVICE TO QUEEN AND COUNTRY, CAPT(N) STU MOORS IS SWALLOWING THE ANCHOR.  A SMALL DWD WILL BE CONDUCTED IN LATE SEP WITH A FOLLOW ON CELEBRATION AT HMCS BYTOWN AT A DATE TBD.
2. RAISED AN AIR FORCE BRAT, STU ENROLLED IN THE CANADIAN ARMED FORCES IN 1977 IN NORTH BAY AND WAS COMMISSIONED AS A SUB LIEUTENANT UPON GRADUATION FROM ROYAL ROADS MILITARY COLLEGE IN 1982. AFTER COMPLETING INITIAL MARS TRAINING IN ESQUIMALT, HE JOINED THE WEST COAST FLEET IN 1983; GOING ON TO SERVE IN HMC SHIPS KOOTENAY, ANNAPOLIS, TERRA NOVA, SKEENA, VILLE DE QUÉBEC, CULMINATING WITH COMMAND IN TORONTO.  HE ALSO COMMANDED THE CANADIAN FORCES NAVAL OPERATIONS SCHOOL.
2.  HIS NAVY AND JOINT STAFF APPOINTMENTS INCLUDED SQUADRON COMMANDER COLLÈGE MILITAIRE ROYAL DE ST JEAN, STAFF OFFICER DG MARITIME DEVELOPMENT, ADC/CDS, MARITIME PLANS OFFICER IN THE 1ST CANADIAN DIVISION HEADQUARTERS, MILITARY ASSISTANT TO COS HQ SACLANT / TRANSFORMATION AND ASSISTANT CHIEF OF STAFF PERSONNEL AND TRAINING MARLANT HQ.  HE IS AN OFFICER OF THE 4TH GRADUATING CLASS OF THE COLLÈGE INTERARMÉE DE DÉFENCE, PARIS, WHERE HE MASTERED GEOPOLITICS AND SCRAPED BY IN WINE TASTING.
3.  CAREER HIGHLIGHTS INCLUDE COMMAND IN TORONTO FOR A MEMORABLE 2005 OP CONNECTION GREAT LAKES TOUR IMMEDIATELY FOLLOWED BY KATRINA RESPONSE DEPLOYMENT, DEPLOYMENT AS AIR PLANS OFFICER FOR THE UN MISSION IN CENTRAL AFRICAN REPUBLIC AND THEN AS PLANNER FOR THE ICE STORM IN 98, A SUPERB YEAR AT SEA AS CHIEF OF STAFF FOR NATO'S STANDING MARITIME GROUP ONE, RECENT ESCAPADES SAILING THE SANDS OF NORTH AFRICA AS CANADIAN DEFENCE ATTACHÉ FOR EGYPT, MOROCCO, ALGERIA, TUNISIA, LIBYA AND SUDAN, AND PLAYING ON THE WINNING CMR REMPARTS FOOTBALL TEAM IN THE QUEBEC COLLEGIATE CHAMPIONSHIPS "BOL D'OR" IN 1977.
4.  AFTER ALMOST FOUR DECADES OF MOVES AND ADVENTURE, STU WILL PICK UP THE SLACK AS A DOCKYARD MATEY TAKING DIRECTION FROM THE REFIT COMMANDER, HIS WIFE ANN MARIE, AS THEY CONDUCT A DEEP MAINTENANCE PERIOD AND PAINT SHIP ROUTINE ON THEIR OTTAWA HOME BEFORE FINALLY SETTING ANCHOR WATCH IN HALIFAX.  THOSE SEEKING TO RE-CONNECT CAN EASILY FIND STU WANDERING THE AISLES OF HOME DEPOT OR CANADIAN TIRE IN OTTAWA.
5.  DIRECTOR FOREIGN LIAISON WILL CONDUCT A SMALL DWD FOR CAPT(N) MOORS AND OTHER RETIRING DEFENCE ATTACHÉS ON 24 SEP 14 AT THE ARMY OFFICER'S MESS IN OTTAWA.  EXPRESSIONS OF CONGRATULATIONS, ANECDOTES, AND SALTY DITS CAN BE SENT BY EMAIL TO SERGE.THIBODEAU@FORCES.GC.CA.  A FESTIVE EVENT FOR THE WIDER NAVAL COMMUNITY WILL BE CONDUCTED AT HMCS BYTOWN AT A DATE TO BE ANNOUNCED. 
***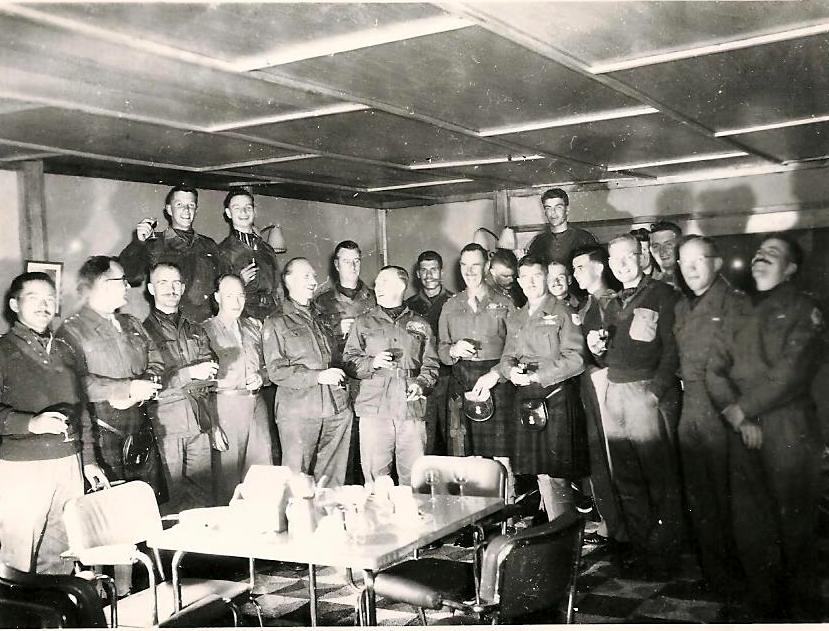 Caption: Ex-Cadet Weekend in Korea in 1954, officers of 27th Canadian Infantry Brigade who were ex-Cadets or (like LCol Ross) ex-Vice Comdt of Royal Roads whom therefore, knew many of the RMC Class graduating in 1954 who had started at RR in 1950.
Most in the photo are newly-minted lieutenants who had graduated from RMC in early June 1954. The photo was likely taken in the Brigade Officers Mess.
It is this Class of '54 that will be having their '60 Years from Grad' reunion later this month.
***
1954 Ex-Cadet Weekend in Korea
Submitted by #3288 John HULSEMANN (RR'52, RMC'54) and #3235 Ron MANN (RMC'54)
Rank is included for the pre-war ex-cadets. If no rank included, the individuals were newly-minted lieutenants, largely from the RMC'54 class (many of whom could not be present that evening due to various duties). Apologies from the submitters for missing or incorrect information.
From left front: 3188: Tony BABA; 3247: Bill STEWART (in kilt); 3235: Ron MANN; 3269: George CLENNDINNEN;
Standing on chairs in left rear:3195: Ed BOBINSKI (behind Ron); 3202: Streb COLLINS (behind George);
The 5 in centre front, left to right (all pre-war we think)
Unidentified (to George's left)
2391: Maj(?) R. E. Hogarth (behind LCol SYMONS) (Class of '39); 2251: LCol J.W.D. 'Bill' SYMONS (CO 3 RCHA) (entered 1931); LCol R. M. ROSS (in kilt) (CO RHC/Black Watch, Vice Comdt at RR in early 1950s); 2805: Maj G. H. 'Gord' SELLAR (in kilt) (RHC/Black Watch) (entered 1940; grad. 1942);
From centre to right:3218: Barry HOLT (between the 2 LCols); 3326: Frank TREMAYNE (behind LCol ROSS's left shoulder); Unidentified (looking over Maj. SELLAR's left shoulder); 3190: Ian BALLANTYNE (standing on chair); 3301: Gerry MARTIN (on Maj Sellar's left); 3261: Laurie ALTWASSER (in front, facing camera, white pocket on sweater); 3288: John HULSEMANN (on Laurie's left); 3278: Chick FERGUSON (in rear, between Laurie & John); 3126: Chuck GOODFELLOW (on extreme right of photo).
***
We recently received a nice note from 7402 David McDougall (Class of '67). Which read in part:
"I just finished reading Into the Silence by Wade Davis. I suspect that you know of the book and the glowing reference to an ex-cadet."
If not, the ex-cadet is 758 E. O. (Oliver) Wheeler (Entered RMC in 1907). He was a key member of the 1921 Everest expedition. The book is excellent – I highly recommend reading it to anyone the least bit interested in the First World War, and the consequences of that war on nations and the generation involved in it. An extremely thoughtful, detailed, and well written book."
Ed Note: Following is a short clipping on 758 EO Wheeler.

Click, click on clipping for better viewing.
***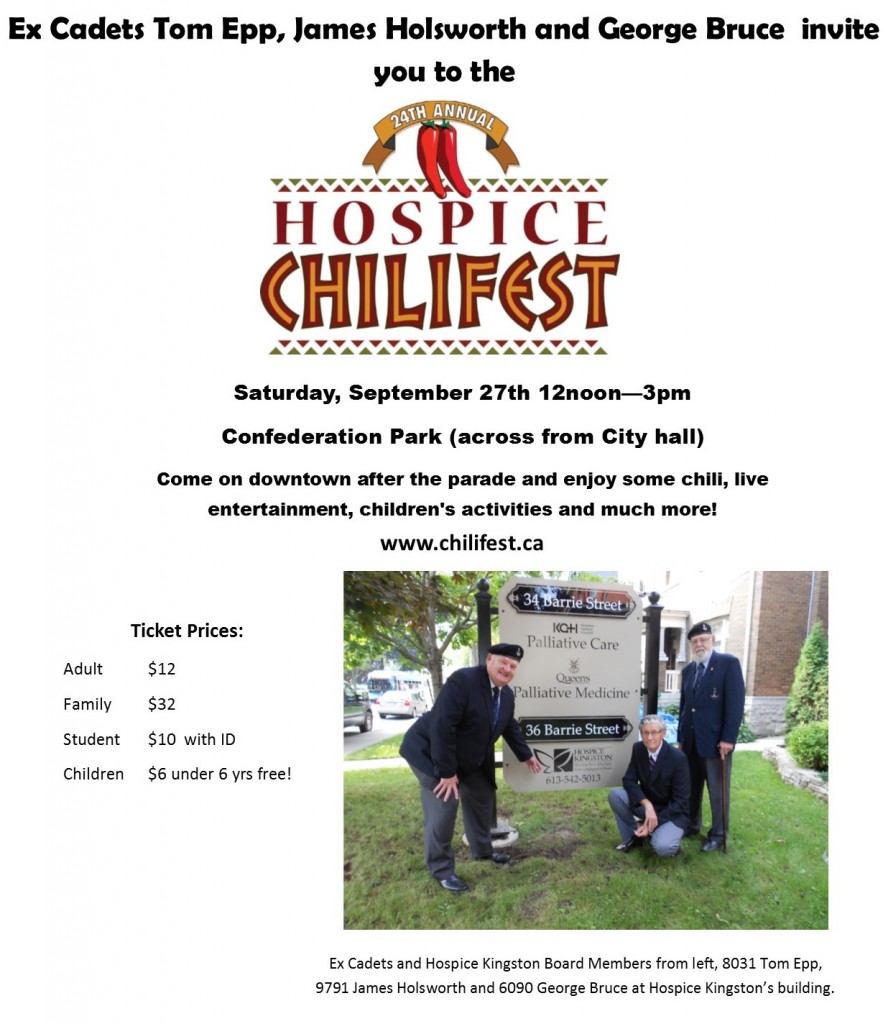 Click, click on poster for better viewing