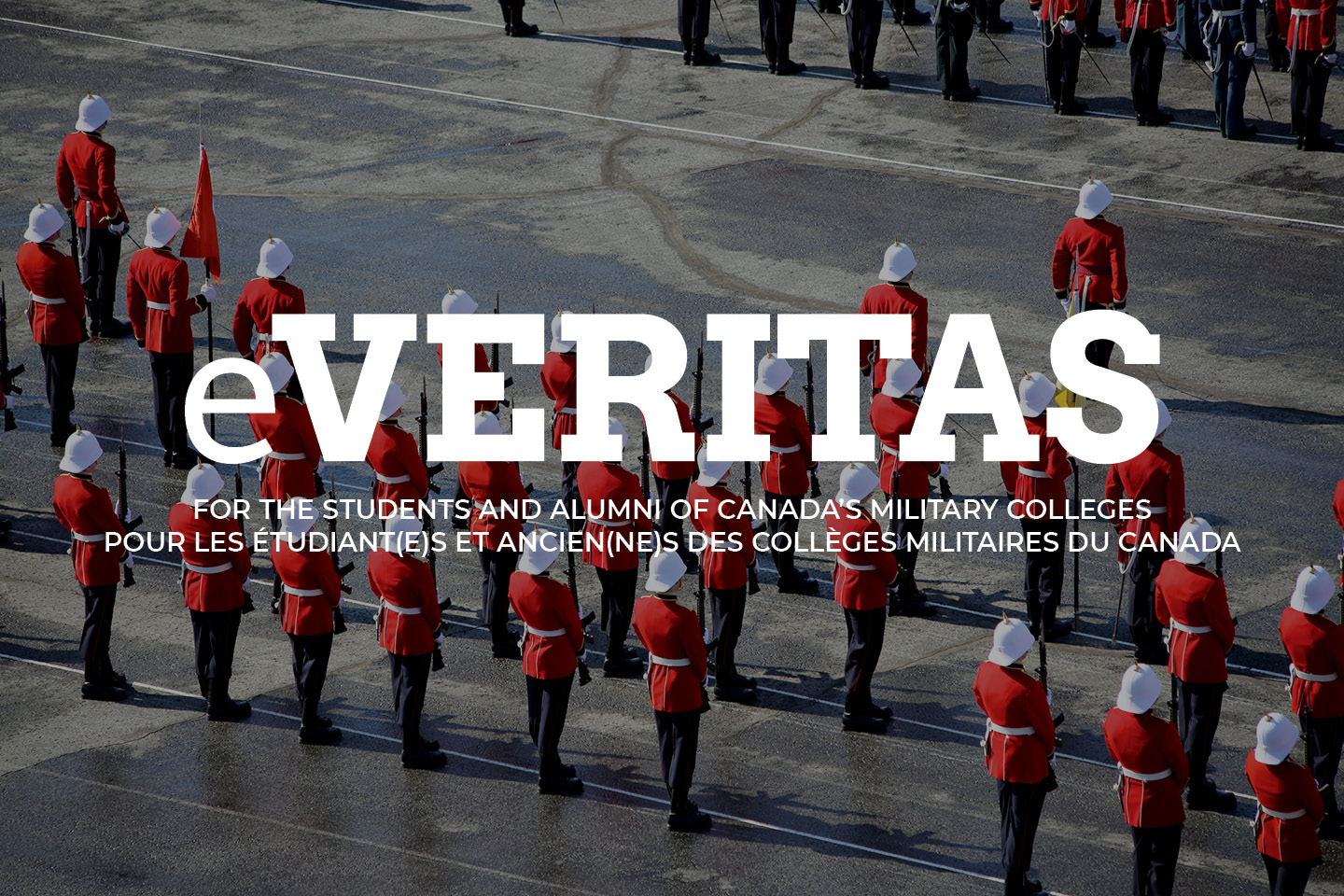 ex-Cadet named Sr Vice President, PSP, in Ottawa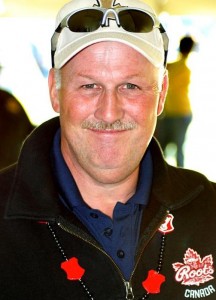 16158 Commodore Mark B. Watson, (Class of '87) Director General Personnel and Family Support Services, made the announcement this past Thursday that 13068 Peter Atkinson, Class of '81, has been named Sr Vice President, PSP, in Ottawa. Mr. Atkinson retired from the CF in December of 2011 at the rank of BGen. He served as the Chief of Staff to the Vice Chief of the Defense Staff as well as Deputy Commanding General of III Corps, United States Army, from July 2008 to July 2011. He holds a Bachelor of Arts degree from RMCC, as well as a Masters in Military and Strategic Studies from the United States Army War College. Mr. Atkinson will officially assume the position of VP PSP on 1 May 2013.
________________________________
We are always on the lookout for ex-Cadets to add to our Class Notes section. If you are or if you know of an Ex Cadet with something interesting going on, we want to hear about it! Whether it's career related or more related to personal/family life, we would like to know what's going on with you and / or them.
Just send a short write up, and, if you want, a recent JPEG appropriate photo,to: everitas.classnotes@gmail.com.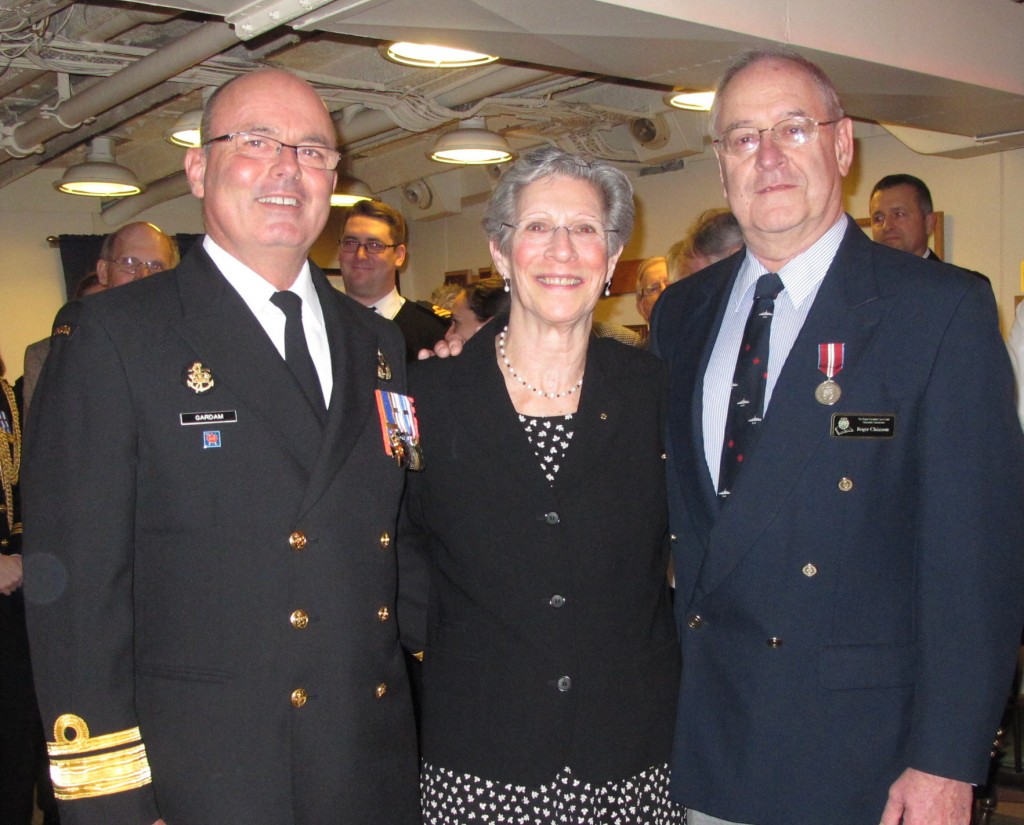 6606 Capt(N) (Ret) RCN Roger Chiasson, Class of '65 was presented the Queen's Diamond Jubilee medal with his wife, Bonnie in attendance by RAdm David Gardam on board HMCS SACKVILLE on Friday the 22nd of February.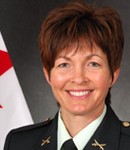 9758 Shawn Coyle, Class of '73, was recently awarded 'Communicator of the Year' by the Helicopter Association International. He says it's not bad for an engineer who didn't want to write reports!
17312 Jennie Carignan, Classe de '90, est chef d'état-major du Secteur du centre de la Force terrestre/Force opérationnelle interarmées du centre dans les Forces canadiennes à Toronto depuis 2011. En 2011, la colonelle Carignan reçoit la médaille du Service méritoire par le Gouverneur général du Canada pour son service en Afghanistan en 2009-2010. Elle est aussi récipiendaire du prix Major General Hans Schlup pour l'excellence en relations internationales. En 2011, elle est nommée parmi les 100 femmes les plus influentes au Canada par le Réseau des femmes exécutives. Jennie Carignan est mère de quatre enfants.
21750 Marie-Noël Duhaime, Class of '00, recently returned to work from the maternity leave of her second baby girl. She currently works as a Manager, Resource Planning with Sun Life Financial in Montréal, Québec.
________________________________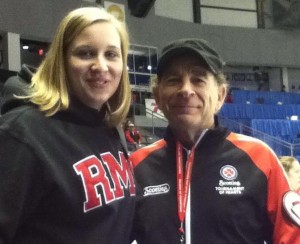 While many cadets and staff were away to points all over the world during Reading Week, the 2013 Scotties Tournament of Hearts, the national women's curling championship was being held in Kingston. A number of Cadets who stayed around for the week attended a number of the games. One such cadet, 1st year Naval Cadet Marisa Warner who met up with 7301 Earle Morris, Class of '67, coach of the Ontario team who eventually won the championship by defeating Manitoba in the final.
Earle, Marisa and Paddy (her mom) share a love for curling. Marisa is curling in the recreational curling league at RMCC on Friday evenings. She was 3rd in the province for the Boys (yup – boys – she played 2nd and held the broom for skips rocks) high school curling championships last year.
Paddy and husband, Dale  were thrilled to chat with Earle last weekend. Team Ontario provided Marisa and one other lucky girl each 2 tickets for the weekend Scotties last weekend.
The Warner family went to 5 draws between Saturday and Sunday.
________________________________
All Ex Cadets who attended RMC Kingston: if you were at RMC between 1974 & 1994, you might remember my friend and co-worker, Norleen Hope.
Among other things such as arranging vehicles for exercises and TD claims for military & civilian staff, Norleen Hope was a key to the success of the yearly graduation. In one week, the college sent up to 750 cadets off to their futures as graduates or to their summer training, often involving 3 or 4 training places for one cadet between end May to end August. Every cadet & every location involved a separate travel claim with message numbers and the myriad of other admin details, all of which had to be 100% correct with flights booked and/or POMV details. In my time as staff (1981 to 1983), there were easily in excess of 2000 claims to be initiated, signed, etc; then the sometimes green-as-grass cadet had to be briefed on what he/she was doing, where he/she was going and how he/she was going to get there. Mrs Hope managed this incredibly complex work for 20 years, usually with the help of only one other staff member. It was an incredible feat that repeated itself yearly and as the number of cadets increased, the amount of work expanded as well. Her middle name was Devoted!
Maybe you were one of the cadets or staff who received a claim that officially didn't exist and would be destroyed on your safe return to the college? Snuck into the signing authority with instructions "just sign, don't ask" so that someone could make it to a wedding or to visit a relative whose situation didn't quite qualify as compassionate yet? (No, Harky/Bob/Gerry, no, she never really did this, I'm just making this part up, honest!) Norleen had only one child but to her, every cadet who went through RMC in her years is like one of her children or grandchildren now. Norleen was an amazing woman and was rewarded with numerous awards and so on but there is nothing she appreciates as much as a word or two from her RMC cadets & co-workers. This past week in Stratford ON where she now lives, we reviewed some of the RMC memories and people of which she is most proud, currently Chris Hatfield and Tom Lawson, although there have been so many over the years.
Norleen will turn 75 in May 2013. I am hoping to compile a scrapbook of birthday greetings from former cadets and staff of all ilk. Please send them to: Theresa Winchester by email – tjw_ca@yahoo.ca – or postal mail (988 McPherson Cres, Kincardine ON N2Z 1M4), with a photo if possible. Also, please pass this along to any ex-RMC people you know.
TDV
M0361 Theresa Winchester