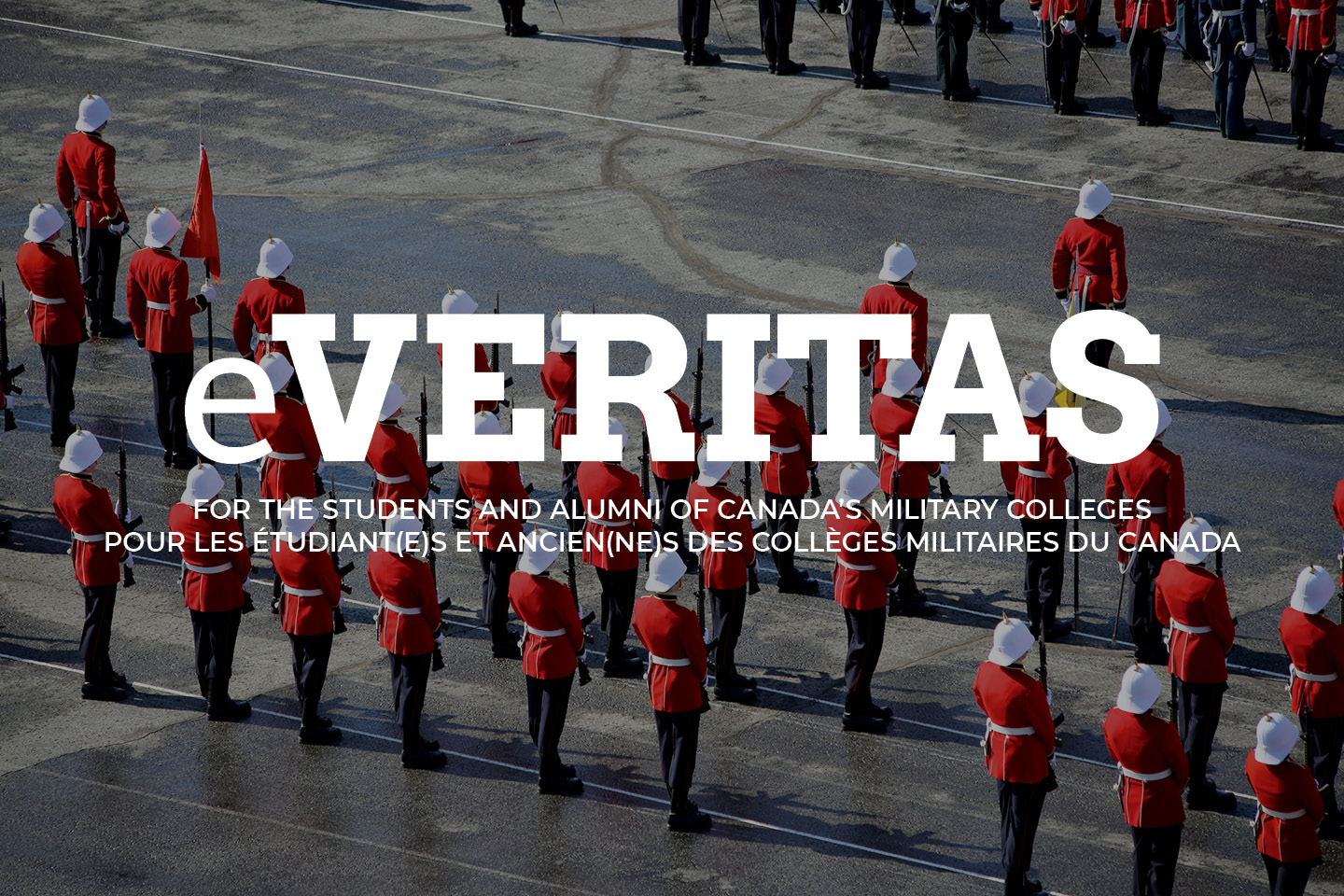 Class Notes
We would like to acknowledge and thank the creative and professional work of 26069 OCdt Chris Kunkel who over the last number of weeks has been the Co-ordinator of the Class Notes Section and the author of some popular human interest articles for e-Veritas.
Chris is currently going through a career transition and is no longer available to assist us. We wish him a successful and fulfilling future.
Prior to his departure Chris had contacted a number of readers inviting future Class Notes submissions.
We invite readers of all stripes – Ex cadets; PGs; Continuing Education students; former & current faculty & staff to participate in Class Notes. Simply provide a short update on recent significant life events (special events participation, career changes, retirement, promotions, changed locations, new family members, personal initiatives within your community, etc.)
The new Class Notes Co-ordinator is Mike Shewfelt – Send submissions to: s25366@rmc.ca
Notes des Classes
Nous remercions et reconnaissons la créativité et le travail professionnel de 26069 elof Chris Kunkel qui au cours des dernières semaines fut le coordinateur de la section des Notes de Classes ainsi que l'auteur d'articles pour e-Veritas.
Chris est en cours de changer de carrière et n'est plus disponible pour nous assister. Nous lui souhaitons un futur rempli de succès.
Avant son départ, Chris avait contacté quelques-uns de nos lecteurs concernant les Notes de Classes à venir.
Nous invitons ces lecteurs ainsi que bien d'autres à participer aux Notes de Classes. Faites nous parvenir un court résumé des événements importants et récents dans votre vie (participation dans des activités spéciales, changements de carrière, retraite, promotions, déménagement, nouveaux membres dans la famille, aide personnelle dans la communauté, etc.)
Le nouveau coordinateur des Notes de Classes est Mike Shewfelt – faites parvenir à : s25366@rmc.ca
x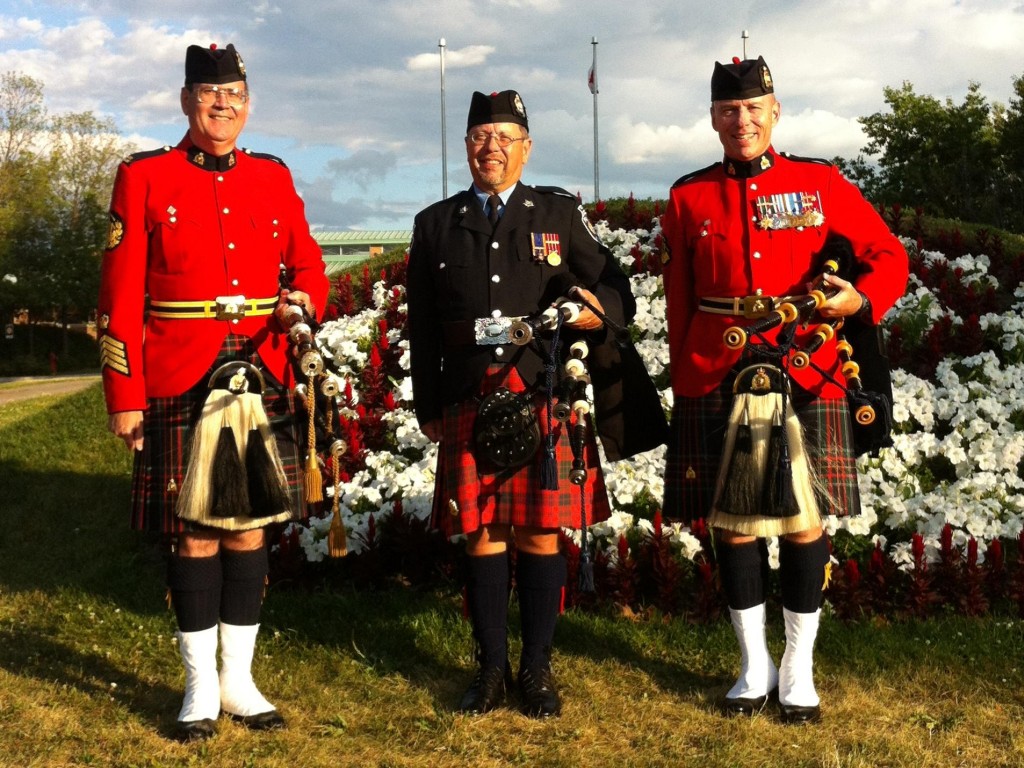 Old habits die hard! Little has changed in 35 years…… RMCC has a legacy of producing excellence in many things. During late June, former Cadet Wing Bandmasters (L to R): 11396 Maj (ret) Graeme Ogilvie '77, 11035 Col (ret) Neil Anderson '76, and 12632 MGen (ret) Mike Ward '80 reunited to support the annual RCMP National Capital Sunset Ceremonies in Ottawa. Ogilvie and Ward play for RCMP A Division in the National Capital Region while Neil plays with the Ottawa Police Service. All three have continued to play actively since graduation from the College and continue to play in support of local, national and international events. The fun continues and we invite Ex-Cadet pipers and drummers to come on out. Slainte!
______________________________________
9872 Yvan Houle, Class of '73, graduated from RMC Saint-Jean in 1973. He went on to pilot training, graduated as a fighter pilot, and was posted on the CF-5 in Bagotville. He did an exchange posting with the French Armée de l'Air on the Mirage III, and then returned to Cold Lake to intruct first on the CF-5 then on the CF-18. He had two more flying tours on the CF-18, the last one being CO of 425 Sqn, as well as staff tours in North Bay and NDHQ. In 2001, he was appointed Defence Attaché to France and in 2005, after a year of specialized training, Defence Attaché to Turkey. He retired in 2008 after 39 years of service. He and his wife reside in Gatineau.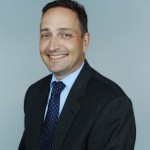 18865 Richard Marshall, Class of '93 – With the divestiture of RBC Bank (USA) and its sale to PNC Bank in March 2012, Richard is now a corporate banking relationship manager focused on Middle Market companies in the eastern Carolinas for PNC Bank. His new e-mail is r.marshall@pnc.com. Richard, Valerie and the family continue to reside in Raleigh, NC. Son James will be entering third grade and his second year of hockey and daughter Georgia is set to begin her last year of pre-K.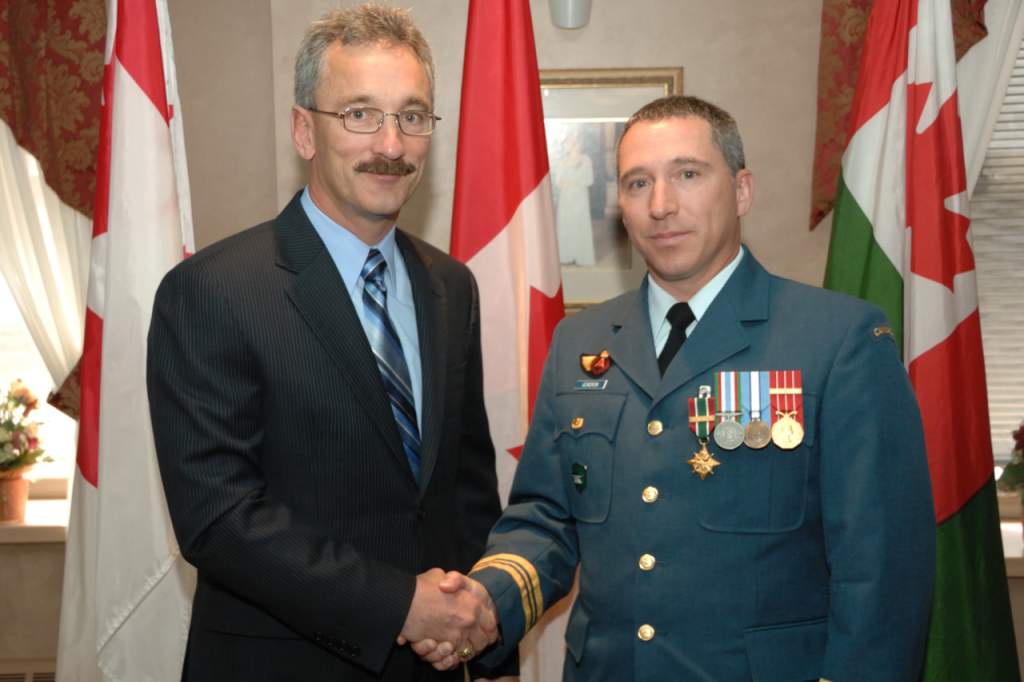 M0660 Denis Gendron, Class of '94 – After graduation in 94, he was posted to CFEWC in Ottawa where he worked with the CC130 Herc Defensive Electronic Warfare Suite until 99. He completed his Masters Degree at RMC in Electrical Engineering in 2001. He was posted to the CF18 Det Mirabel in the Radar and FLIR position from 01 to 04, and was  SAMEO of 438 Sqn in St-Hubert from 04 to 06. Following that, he was posted to Ottawa in PMO MHLH as the Release to Service Coordinator from 06 to 09. He became the D/WSM for the CH147D Chinook form 09 to 10. He was married in August 2006. His son Matthew was born in 2003, and his daughter Kym in 2004. (Photo above: 13122 Bill Kelly '81, Director General of Aerospace Equipment Program Management (DGAEPM) making a presentation to M0660 Denis Gendron, Class of '94.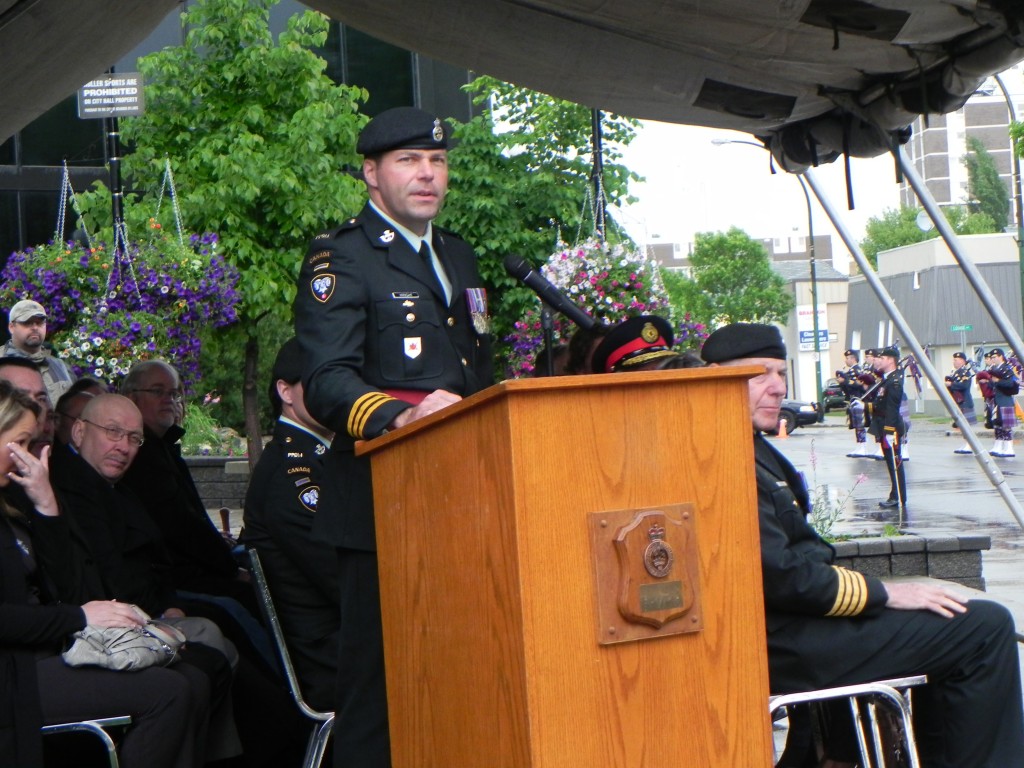 19431 Michael Wright, Class of '94, is entering his entering his second year as Commanding Officer of 2 PPCLI in Shilo, MB. Highlights of his first year included commanding a Battle Group on Exercise Warrior Ram in Wainwright alongside 20043 Trevor Cadieu ('95) and the Battalion receiving the Freedom of the City of Brandon. His family, wife Hilary and sons Henry (9) and Jonas (8), are enjoying life back in Brandon, and are keeping busy at the rink between the boys' hockey and being Wheat Kings season ticket holders.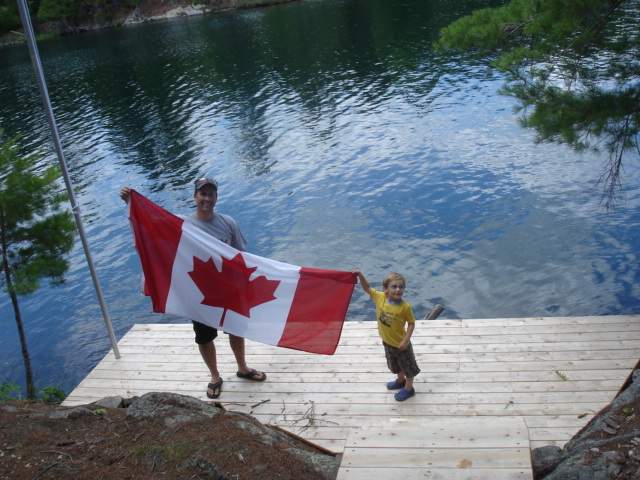 21507 Jeff Peck, Class of '99, left the Patricia's and was called to the Ontario Bar in 2010 after completing law school at Queens University. He is currently employed in the Office of the Judge Advocate General as the Deputy Judge Advocate – Kingston. This is ironic because one of his primary duties is advising RMC on all disciplinary and administrative issues. Jeff and his partner Stephanie live in Sydenham, ON, with their boys JJ (3 yrs) and Luke (1 yr); however most of his spare time is spent at the cottage on Big Clear Lake in Frontenac Provincial Park.
23551 Tyler Wentzell, Class of '06, finally married his RMC sweetheart, Dr. Carly Ng, on June 30, 2012. After five years with the PPCLI, he has left the Regular Force to begin a career in law. He just completed his first year of law school at the University of Toronto, and is currently serving with the 48th Highlanders of Canada, a primary reserve infantry unit in Toronto. He is proud to report that his RMC friends remain some of his closest friends.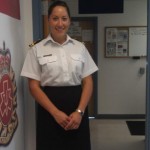 24414 Anna Dupuis, Class of '09, recently transferred from being a Martime Surface and Subsurface Officer to the Personnel Selection Branch. Before her transfer, she received her Bridge Watchkeeping Certificate while doing workups with HMCS Whitehorse. She couldn't be happier in her new role, and has been fielding lots of questions from her friends and recent RMC grads about their careers. She plays on the base slo-pitch team in Esquimalt, and volunteers with Big Brothers/Big Sisters.