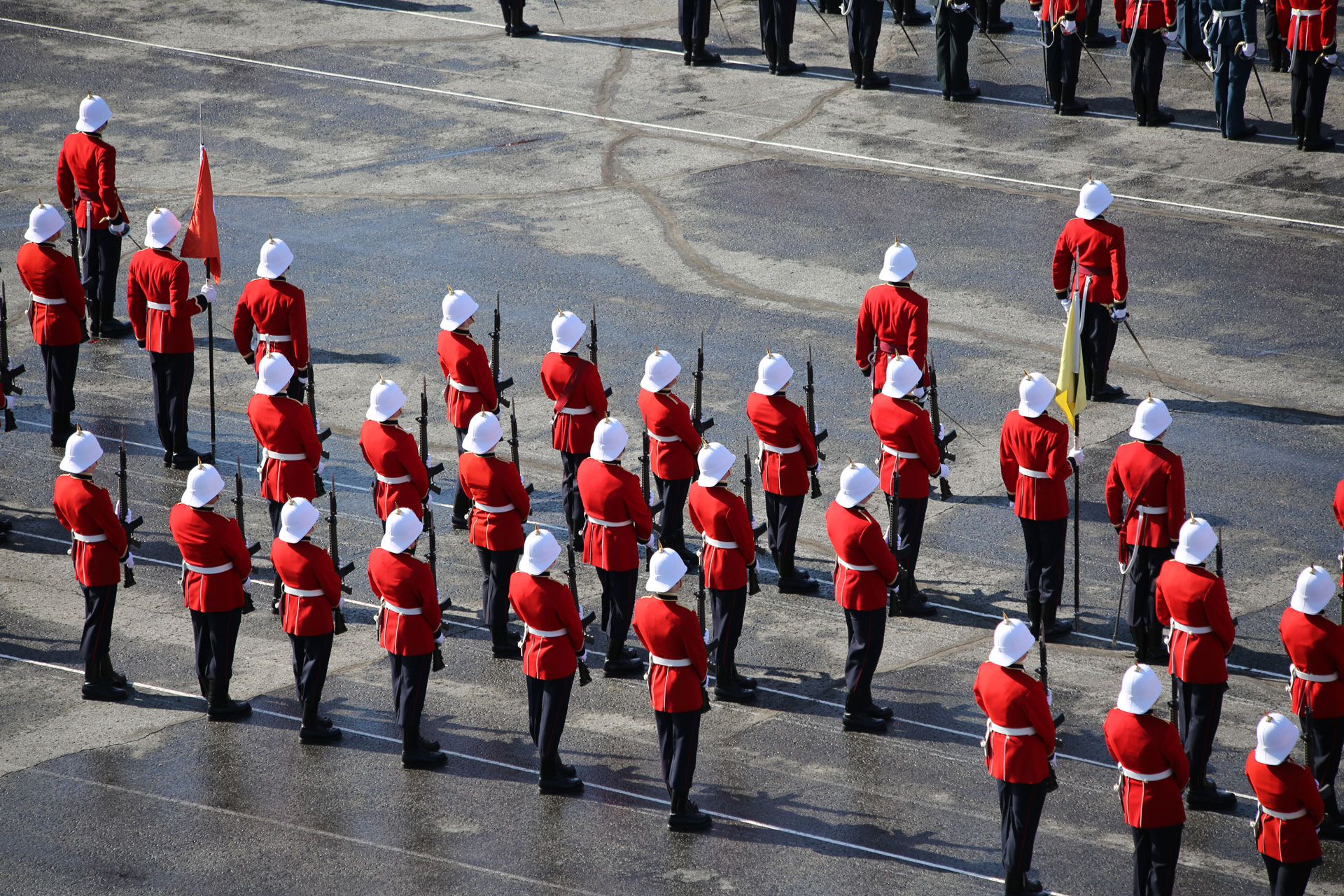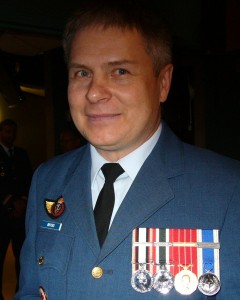 76 Communication Group Conduct Change of Command Parade.
This past Friday (7 May) Cartier Square Drill Hall (CSDH) in Ottawa was the scene of an impressive Change of Command Parade. We felt privileged to be invited.
14417 LCol (by the end of the parade – newly promoted Colonel) J.D.J. Drummond (RMC 1984) handed over command responsibilities of 76 Communications Group to 13846 LCol KF Bryski (RMC 1983) (photo top).
23415 Capt Lauren Banks (RMC 2006) was the Guard Commander with her proud dad, 12151 LCol Gary Banks (RMC 1979) in attendance.  13351 MGen GR Thibault (CMR RMC 83) was the Reviewing Officer. All told, about 50 junior and senior NCMs were on parade – all of whom put out a great effort.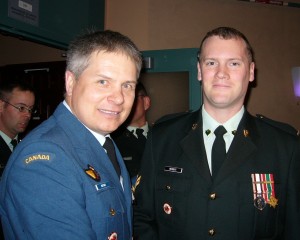 Caption: LCol Kevin Bryski (L) greeted "all the troops" at the post-parade social.  In this photo, is MCpl, Anthony Herbert from Kingston, ON, a 10 year CF veteran. He is a Land Communications and Information Systems Technicians (LCIS TECH) and a proud member of 76 Communication group.

Judging by the assortment of medals worn by many of those on parade, this was a disciplined and experienced group – who knew what was required to put on a good show for their departing and newly appointed commanding officers.
Besides the sharp and spiffy personnel on parade and senior officers who were part of the official ceremony; – CSDH was nearly full with family & friends; serving and retired military members who all seemed to enjoy the morning.
We likely missed some but did catch a glimpse of and chatted with a number of Ex cadets at this classy event:
13143 MGen Mark McQuillan, (RMC 81);
13666 BGen Steve Noonan, (RMC 82);
12193 BGen Terry Leversedge, (RMC 79);
15318 Col Martin Girard, (CMR RMC 86);
7468 BGen (retd) Eddy Morin (CMR RMC 68)

7761 Col (retd) Mike Johnson (RRMC RMC 69);
12469 Col Francois Vertefeuille (CMR RMC 75);
14861 Col Gilles Dufour, RMC 85;
13921 Maj JP Paris, (RMC 83);
13888 Fred Kaustinen, (RMC 84);
13868 Mike Fabbro, (RMC 83);
13860 LCol Steve Davenport, (RMC 83);
16833 LCol Jim Bourgeois (RMC '89);
13360 LCol Andre Brassard, (CMR RMC 83);
12151 LCol Gary Banks (RMC 79);
11158 LCol (retd) Garry Walker (RRMC RMC 76);
14449 LCol Jin Hou, (RMC 84);
M283 Col Ralph Schildknecht, (RMC 84);
13097 LCol James deRosenroll (RMC 1981) ; and
20041 Maj Cory Crosby (RRMC RMC '95)
We were very proud to be in attendance!
Bill & Rolande Oliver
________________________________________________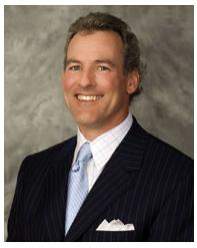 14840 Mr. Mark Albers (CMR 1984) joined Merrill Lynch in March, 2007 as the Associate Director of the Southern California Region; in February 2008 he became the Director of the North Orange County Complex before assuming his current position as the Director of the San Diego County Complex in February 2009. Prior to working in the securities industry, Mark was an infantry officer in the Canadian Army from 1980 to 1994. He has a degree in Business Administration from the Royal Military College of Canada (St. Jean), and holds the FINRA series 3, 4, 7, 8, 31, 63, and 65, licenses, and a California life insurance license. He and his wife Karen currently live in Redondo Beach (relocating to San Diego over the summer) and have four children. Mark holds an expert-rating Skydiving license and is a former medalist at United States Parachute Association and other skydiving competitions, and currently enjoys playing golf and studying Mandarin Chinese during his free time. MARK_ALBERS@ML.COM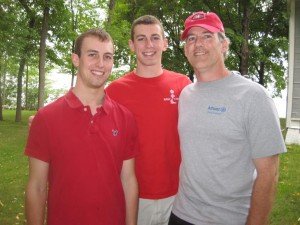 Photo caption: 14840 Mr. Mark Albers (CMR 1984) and his sons Shane, (currently at Laurier in ROTP Armoured) and Zack (currently a 3rd Year at RMC Combat Engineer).
________________________________________________
A Knight amongst Us – 8294 Arthur Jordan (CMR RMC 1970)
Saturday, June 5, 2010, Kingston resident and retired 8294 Lieutenant Colonel Arthur Jordan (CMR RMC 1970) will be recognized by The Lieutenant Governor of Ontario, The Honourable David C. Onley, Vice-Prior of the Most Venerable Order of the Hospital of St. John of Jerusalem (Order of St. John,) at a special ceremony to be held at Queen's Park in Toronto.
LCol Jordan will be appointed a Knight in the Order of St. John – a unique honour sanctioned by the Governor General of Canada and Prior of the Order, the Right Honourable Michaelle Jean, on behalf of Her Majesty Queen Elizabeth II, the Sovereign Head of the Order.
Arthur Jordan is being recognized for his many years of exceptional volunteer leadership with St. John Ambulance. During his volunteer tenure he has served on many committees at the local branch in Kingston, Council for Ontario, and with the Priory of Canada and led many commendable projects, including organizing last year's celebrations for the 125th Anniversary of St. John Ambulance in Ontario. He worked tirelessly to coordinate a provincial event at the Royal Military College in Kingston (home of the inaugural St. John Ambulance first aid class in Ontario), and raised funds for a commemorative plaque that was placed on site.
Ever concerned with the development of others, LCol Arthur Jordan served as Chairman of the St. John Council for Ontario. Under his direction many changes were made to enhance St. John Ambulance's ability to deliver quality health and safety related programs and services. His selfless dedication has made him an invaluable member of the St. John Ambulance organization and has earned him the respect of his fellow volunteers.
It is a great honour within the Order of St. John to receive the accolade and the title of Knight of the Order.
_______________________________________________
Former RMC Coach, Kelly Nobes appointed head coach of hockey McGill Redmen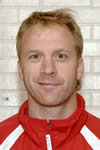 Kelly Nobes, a McGill University graduate, has been appointed head coach of the McGill men's hockey team. The 36-year-old native of West Hill, Ont., becomes the 28th coach in team history and the 11th former Redmen player to guide the squad. He replaces Jim Webster, who had served the past season on an interim basis and led McGill to a 34-14-1 record overall and the Queen's Cup title as champions of the Ontario University Athletics conference.
Nobes started his OUA coaching career at RMC. His overall record over five years was 32 wins – 81 losses – 7 ties.  His teams made the OUA play-offs all five years. His first season was 2001 – 02 and he had inherited a veteran team from Andy Scott that the season before eliminated Queen's University two straight games in the OUA East semi-finals and pushed University of Toronto to three games in the East finals.
Following his five years at RMC he had four successful seasons with Wilfrid Laurier University.
_______________________________________________
Landen Appoints 5562 James C. Gervais (RRMC RMC 1962) to Board of Directors
James C. Gervais retired from the Canadian Forces as a Lieutenant General, the second highest ranking in the Canadian military, before joining the Public Service of Canada. Mr. Gervais' military career of over 35 years consisted of a variety of command and staff appointments in Canada (and abroad), leading to command of the Canadian Army in 1991. Upon his retirement from the military in 1993, Mr. Gervais was appointed Deputy Secretary to three of Canada's Governor Generals. His duties included managing Canada's National Honours Program until 2004, which brought him in contact with leaders in the business, academic and cultural fields. In 1994, Mr. Gervais was appointed Honorary Colonel of the 12e Regiment blinde du Canada, his home regiment which he previously commanded. In 2009, he completed a six-year appointment as the Honorary Lieutenant Colonel of the Governor General's Foot Guards in Ottawa. Mr. Gervais has extensive leadership, operational and government relations experience.
Born in the mining community of Rouyn-Noranda, Mr. Gervais worked in mines prior to his military career and has always maintained a strong interest in mining. He is a fluently bilingual (French/English) executive with excellent communication skills and international contacts.
Mr. Gervais graduated from the Royal Military College in Kingston, Ontario, and attended the Royal Military College of Science (UK). He is currently Chairman of Northern Gold Mining Inc., a Director of the Canadian Corps of Commissionaires (Ottawa Division), a not-for-profit security firm, and co-chairs a committee of the Institute for Canadian Citizenship involved with the integration of new Canadians into society.
"Mr. Gervais has an impressive background," commented Marc-Antoine Audet, President and CEO of Landen Capital Corp. "His insight and guidance will assist the Company in executing its strategic plans and we look forward to his contributions to the Company's success in 2010 and beyond."  More