Kingston Branch Dinner – 22 Nov
Article by 8170 Keith Orton
The fall dinner for the Kingston Branch was held on Thursday November 22 in the Commandant's dining room of the Senior Staff Mess. The room was beautifully decorated for the occasion with candles and poinsettias to help get everyone in the holiday spirit. The meal consisted of salad, stuffed breast of chicken, vegetables, and pumpkin cheese cake followed by tea and coffee.
Although attended by a group of only twenty-eight people, everyone seemed to have a good time and several asked when the next event would be held.
More photos from the Dinner  – HERE
 ***
Hamilton Ex Cadet Club – HMCS Star

Once again, the Hamilton ExCadet Club will be holding its annual meet and greet at HMCS Star in Hamilton on December 21st.  The event will kick off at 1730 hrs with an informal reception until 1930 hrs.  The purpose of the evening is to connect current serving local cadets with Ex Cadets to share stories and pass along news from the school.  It is also a great way for prospective cadets to learn more about the institution, and to hear about what they can expect during and after their RMC experience. Family and friends of current and prospective cadets are encourage to attend. Light food will be available along with a cash bar for those over 19.
Dress:
Cadets:   Scarlets
Ex Cadets:  Sixes
All others:  Jacket and Tie or Equivalent
Cost:
Current Cadets are welcome free of charge
All others $10 at the door.
Directions:
Please find the google map here.  Enter the main gates for HMCS Star located off the Dock Service Road, and turn an immediate left after the guard shack.  Follow around to the end of the building, with the entrance being on the northwest side of the building.  Be wary of the one way streets on John and Wellington.
RSVP by December 14th to Bob Carr.
***
Vancouver Chapter of the RMC Club Invites Cadets to End-of-Year Reception 
The Vancouver Chapter of the RMC Club would be pleased to host all Cadets currently studying at RMC and CMR to an end-of-year reception from 13:00-16:00, Thursday, 27 December. The reception will be held at the Seaforth Highlanders of Canada Officer's Mess, The Armoury, 1650 Burrard Street. Family members of cadets are also invited.
Cadets are requested to wear No. 3 dress, and club hosts to wear business suit or club blazer.
Cadets are also requested to confirm their attendance by email by Monday, 17 December, to 11465 Neil Clegg (Email: [email protected]/Mobile: 1 (604) 306-0346)
***
Le Chapitre Fort Saint-Jean(F) Newsletter (E)
***
Pour une deuxième année, le Chapitre Fort Saint-Jean organise ses retrouvailles hivernales au Manège des Fusiliers Mont-Royal le 14 décembre 2018. Nous vous proposons une rencontre amicale afin de célébrer la fin de l'année et jeter un regard sur les acticités et événements de 2019. Profitez de cette occasion pour retrouver des ancien(ne)s dans le décor luxueux du Mess des officiers du manège des Fusiliers Mont-Royal.
·       14h30 à 16h30 : L'émancipation du chapitre, thème développé avec les majors de classe;
·       16h30 à 19h00 heure heureuse.
For a second year, Fort Saint-Jean Branch organizes its winter reunion at the Armory of Fusiliers Mont-Royal December 14, 2018. We offer you a friendly meeting to celebrate the end of the year and take a look at the activities and events of 2019. Take this opportunity to find Ex cadets in the luxurious setting of the Officers' Mess at the Fusiliers Mount Royal Armory.
•      14h30 to 16h30: The emancipation of the chapter, theme developed
with the class majors;
•      16:30 to 19:00 happy hour.
***
Special invite for cadets at both RMC and RMCSJ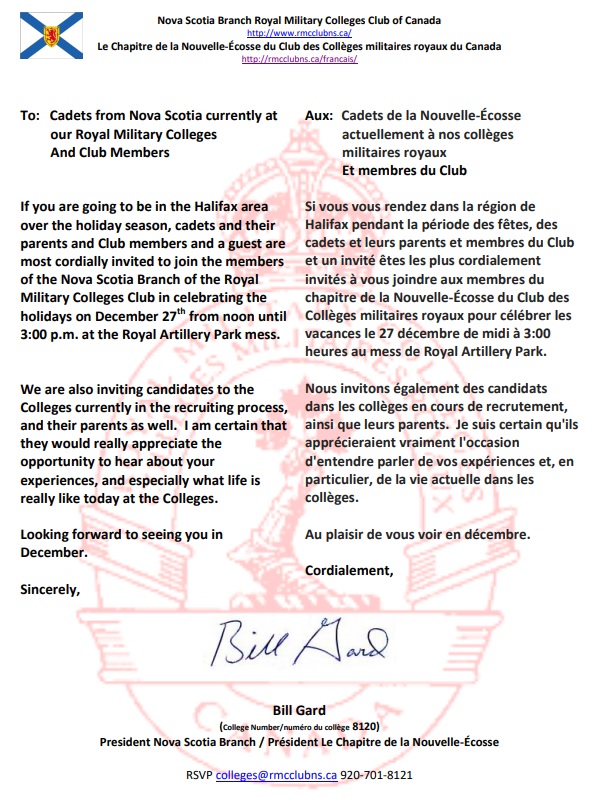 ***
Vancouver Island Ex-Cadet Club
Thu 27 Dec 2018 Union Club – Host the Cadets Luncheon, 11:30 onwards – More details to follow…