CMRSJ journée des anciens
Résultat: Anciens 3, Remparts 2
Sur la photo: mise au jeu protocolaire par Colonel à la retraite Bernard Laliberté et Jean-Pierre Toupin, Élof Desjardins, capitaine des remparts et pour les Anciens Colonel Carpentier.
Remparts contre Anciens.
Résultat: Remparts 1, Anciens 0
Photo du match entre anciens.
Cet après-midi avait lieu la rencontre sportive annuelle entre les élèves-officiers et les anciens du Collège militaire royal de Saint-Jean.
Après une journée bien remplie et un bon repas les anciens et les élèves-officiers ont passé une belle soirée y compris une compétition au "crud".
 The Annual sports activity between the Officer Cadets and the Alumni of the Royal Military College Saint-Jean took place April 7th. Nice to see both Bernard Laliberté and Jean-Pierre Toupin participating.
The day concluded with a nice dinner and social where Ex Cadets mixed with current cadets. Included in the evening were some pretty competitive games of crud.
From all accounts a fun day was had by all.
Overtime comment:
Nice to see JP Toupin and 5780 Bernie Laliberte involved with the official opening game faceoff.
JP, who was also an assistant coach with the RMC Redmen (late 1970s) and head coach for the Remparts for a ton of years. He has always been admired and respected for having a sharp hockey mind and a passion for CMR. Cadets who played for him – loved him!
Bernie entered CMR in 1958 starred in hockey there and at RMC. During the early 1970s, he was on the academic staff at CMR. At that time, he did some part-time coaching with the hockey team; was the head coach when the Remparts beat West Point (2-1).  He was also the driving force behind organizing the Ex Cadets playing Cadets back from that era.
Classy move by the 2018 organizers!
***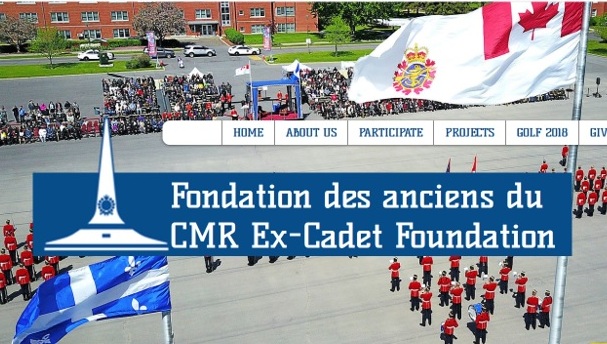 Tournoi de golf de la Fondation des Anciens du CMR
Chers anciens,
La neige a finalement disparu et le printemps commence à se faire sentir. Il est temps de penser à votre saison de golf. Nous avons un changement d'importance pour le terrain de golf. Le Tournoi se tiendra maintenant au Club de golf Le Victorien de Mirabel. L'adresse du Club est 7625, Boulevard Arthur Sauvé, Mirabel, J7N 2R6, (514) 990-9018 ou (450) 258-4207. Le terrain est à 12 minutes de celui originalement prévu; il est plus facile d'accès que celui de l'an dernier. De plus, il y a un beau terrain de pratique. Visionnez les détails de la journée du 15 juin en cliquant ici. Ce sera un départ shotgun qui se fera à 12 h 30. Svp, veuillez arriver au plus tard à 11 h 00 pour l'inscription et le lunch qui précéderont le départ.
Mettez donc cette date à votre agenda – encore mieux, invitez vos collègues de classe à venir jouer au golf/ou souper seulement ($75) pour une bonne cause et vous rencontrer lors d'une belle journée sur un magnifique terrain. Plus de 40 joueurs ont déjà confirmé leur présence. Envoyez votre réservation dès maintenant en utilisant le coupon-réponse disponible sur le site Internet du Tournoi. Nous avons aussi besoin de commanditaires et votre aide nous serait précieuse. Voir les détails sur le site Internet.
Au plaisir de vous y rencontrer.
H17090 Hélène Ladouceur
Directrice générale
Fondation des Anciens du CMR Ex-Cadet Foundation
(514) 867-5264
CMR Ex-Cadets Foundation Golf Tournament

Dear Ex-Cadets,

Snow has finally disappeared and Spring has arrived. It is time to think of your golf season. We have a change of golf club. We are now going to Le Victorien in Mirabel. The address of the Club is 7625, Boulevard Arthur Sauvé, Mirabel, J7N 2R6, (514) 990-9018 or (450) 258-4207. It is 12 minutes from the one previously chosen, with easier access then last year. There is also a very nice driving range. Have a look at our website for the details of the day (June 15). It will be a shotgun starting at 12:30 pm. Please arrive at 11:00 am at the latest for registration and lunch before we start.

Reserve this date on your calendar – better yet, invite your classmates to play with you/or come only for the supper ($75) for a good cause and enjoy a nice day. Over 40 players have already confirmed their attendance. Send us the registration form available on our website. We also need sponsors and your help would be really appreciated. So, come on out for a good round and support your Foundation.

I hope to see you there.

H17090 Hélène Ladouceur
Director General
Fondation des Anciens du CMR Ex-Cadet Foundation
(514) 867-5264