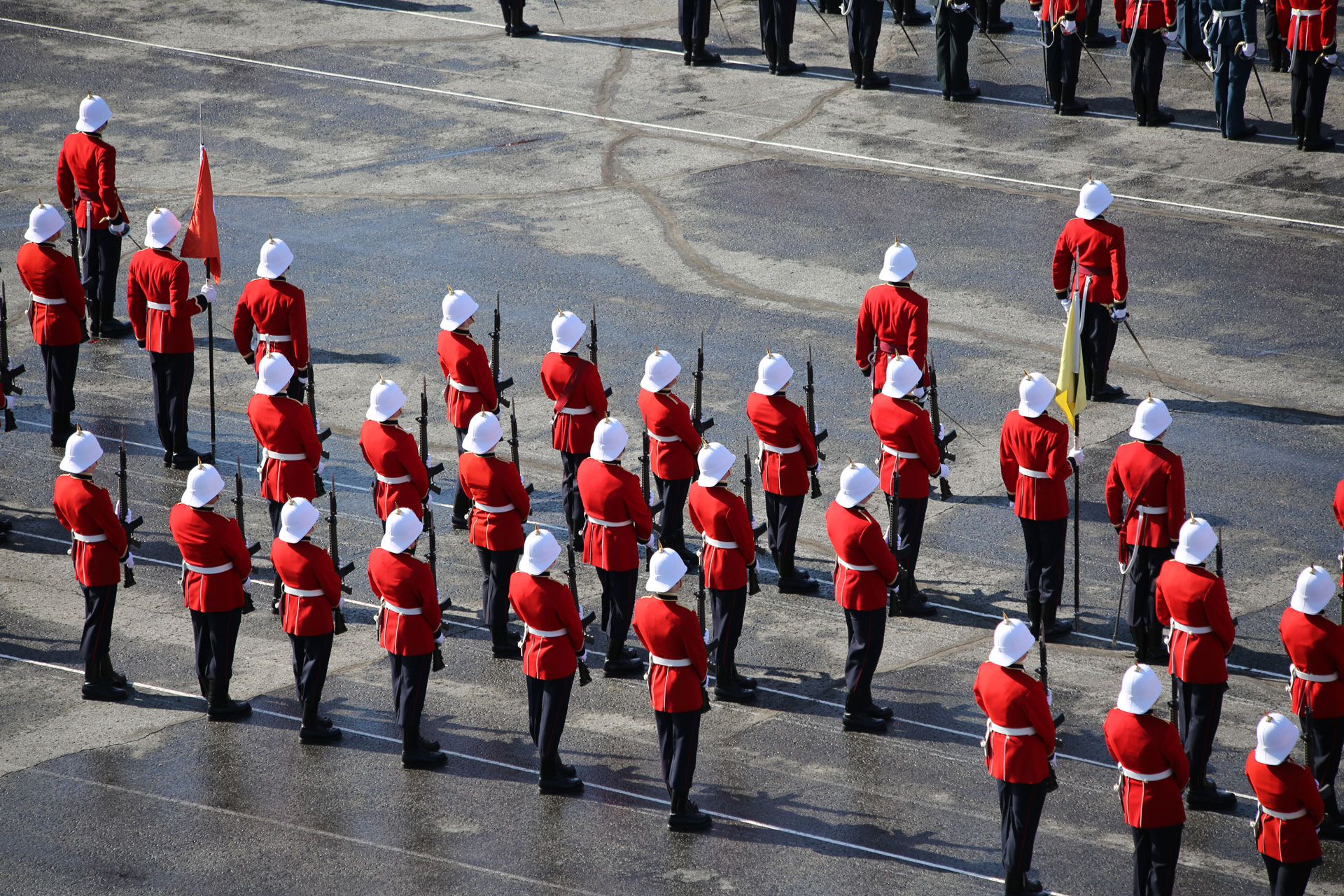 Change of CCWO at RMCC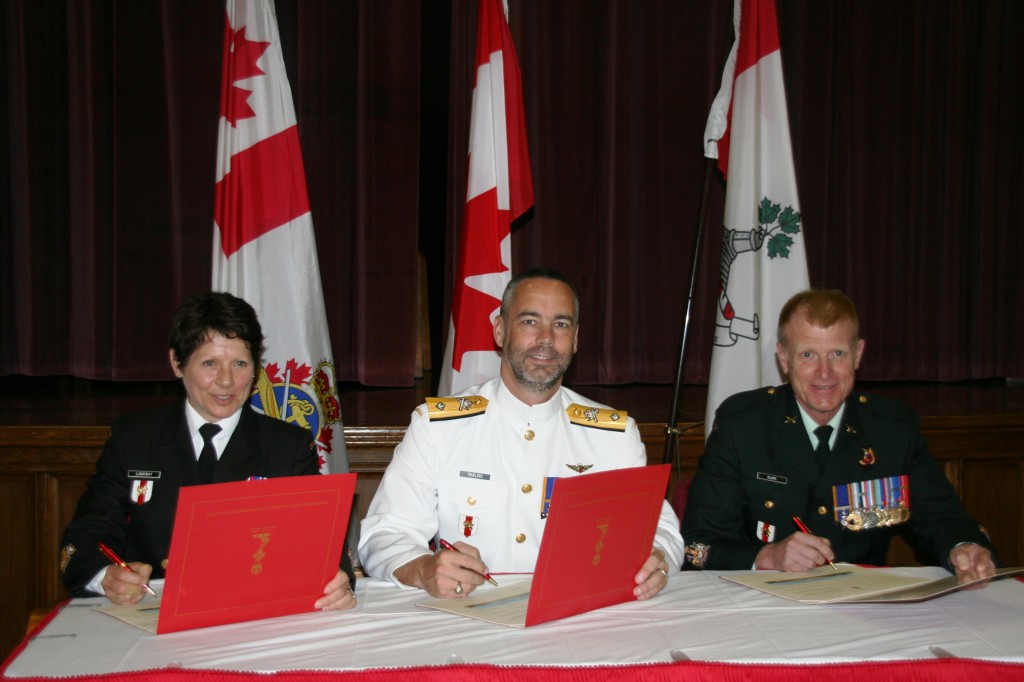 photos by: 25385 Alex Zaporzan
From one mentoring role to another
A/SLt 24498 Noelani Shore
Though Chief Warrant Officer Tony Slack was only posted to the Royal Military College as the College Chief for one year, it is a position he will miss. He spent the last two years at the College, and the combined experience as a student and a leader made it a career highlight.
"Watching the progress of the fellow students I attended classes with throughout this last year has been very rewarding. Many of them have graduated and moved on, but I was able to monitor their progress and help them as much as I could by giving advice," he said.
On June 23, CWO Slack participated in the change of appointment ceremony, and handed over command to Chief Petty Officer 1st Class Elizabeth Lindsay. He was chosen to deploy to Afghanistan for one year as the Regimental Sergeant Major of the Consolidated Fielding Centre. This deployment came as somewhat of a surprise, as CWO Slack has only been at the College for one year, and the decision was also made fairly recently. He received confirmation that he would be going to Afghanistan in late May, so he has been focused on the work-up training ever since.
"The Fielding Centre is the culmination of the Afghan Army training. Once their battalions have completed their individual training, they'll come to us, where they will be embedded with the NATO mentoring teams. We will give them some additional training, some live-fire training on the ranges, and we'll equip them with their weapons and vehicles. Once we assess them, we'll allow them to deploy to their Area of Responsibility," he explained. "We're past the turning point in Afghanistan; we really need to build the institutions they have, and start what is called 'capacity building' of the country. So those skill sets, although they start low, are something that I'm going to be actively involved in. I hope to make a difference with the Afghan battalions that are leaving our care, and also to have some influence on the soldiers and the officers that will be within our command."
This posting poses some unique challenges, as there will be NATO troops from many different countries working within the Centre. There will be American, British, Australian, and Italian soldiers there, so CWO Slack anticipates some challenges working with all those nations at one time. In any deployment, it takes time to build a relationship with the people who are there, and the different backgrounds and levels of training will demand extra patience from everyone involved.
"I'll be replacing an Australian CWO, and one of the reasons I'm going over early is so that he'll be able to give me a five or six day handover. I should be well-versed by the time he leaves."
CWO Slack's appointment at RMC will help him in his upcoming role, as he will switch from mentoring officer cadets to mentoring members of the Afghan National Army. Both groups are learning to become new leaders in an armed force.
"Young people have their own culture, so in the case of mentoring the OCdts, you have to figure out what that is, and what's important in order to leverage that. It's the same thing with other cultures. The Afghan culture is completely different from what we're used to in Canada, so I have to understand what's important to them, where they want to go, and what their goals are, so I can help them achieve their goals, instead of forcing ours on them."
In his role as the College Chief, CWO Slack noticed some distinct differences between college life and the traditional role of a Chief within a unit. Because RMC is a much bigger place, there are more moving pieces to keep track of. With the academic wing, military wing, mess staff, and many other personnel working together, it can be challenging to keep everything moving smoothly.
"There's a lot of information, so my role changed so that I could gather all of that information and message it right, both within the organization, and to outside agencies such as CFB Kingston, CDA, or CMP," he said. "My advice to CPO1 Lindsay was to participate as much as possible, to get out and see as many people as you can, not just within the workplace, but at sporting and social events as well. That way, you get to know the pulse of the organization, and you can bring your own influence. Every CWO and CPO1 brings their own style to the job, and I trust that she'll bring her style to this position as well."
CWO Slack would like to thank everyone he's had a chance to work and interact with over the past two years.
"Myself and my wife Debbie have had a wonderful year, and we've enjoyed almost every moment of it. The cadets have such a great energy and enthusiasm. I'm leaving here with happy memories; it is sad to leave, but I'm certainly leaving with happy memories. I will miss the people the most; I've gotten to work with a fine group of professionals, both the staff and cadets."
______________________________________
Two Padres moving On…
RMCC PADRES RECOGNIZED BY THE MILITARY WING
The Military Wing is greatly appreciative of the contribution made by the Canadian Forces Chaplains located at RMCC. They play a significant role in providing spiritual support to the Cadet Wing that lives and works on the College grounds for four years. Further, their presence provides that link to demonstrating how Canadian Forces leaders rely on integrating staff advisors with a purpose to focus on the more humanistic dimensions of issues in order to effectively achieve mission goals.
We salute our two Padres who have actively supported the well being of both staff and cadets and participated in innumerable ceremonies and events. Padre Bujold is posted to Ottawa to assist with health issues of the sick and injured, while Padre Lublink is posted to Belgium to minister for the Canadian Forces personnel located in Europe.
Though reluctant to leave, both are excited about their new positions and we wish them all the best in the future.
_________________________________