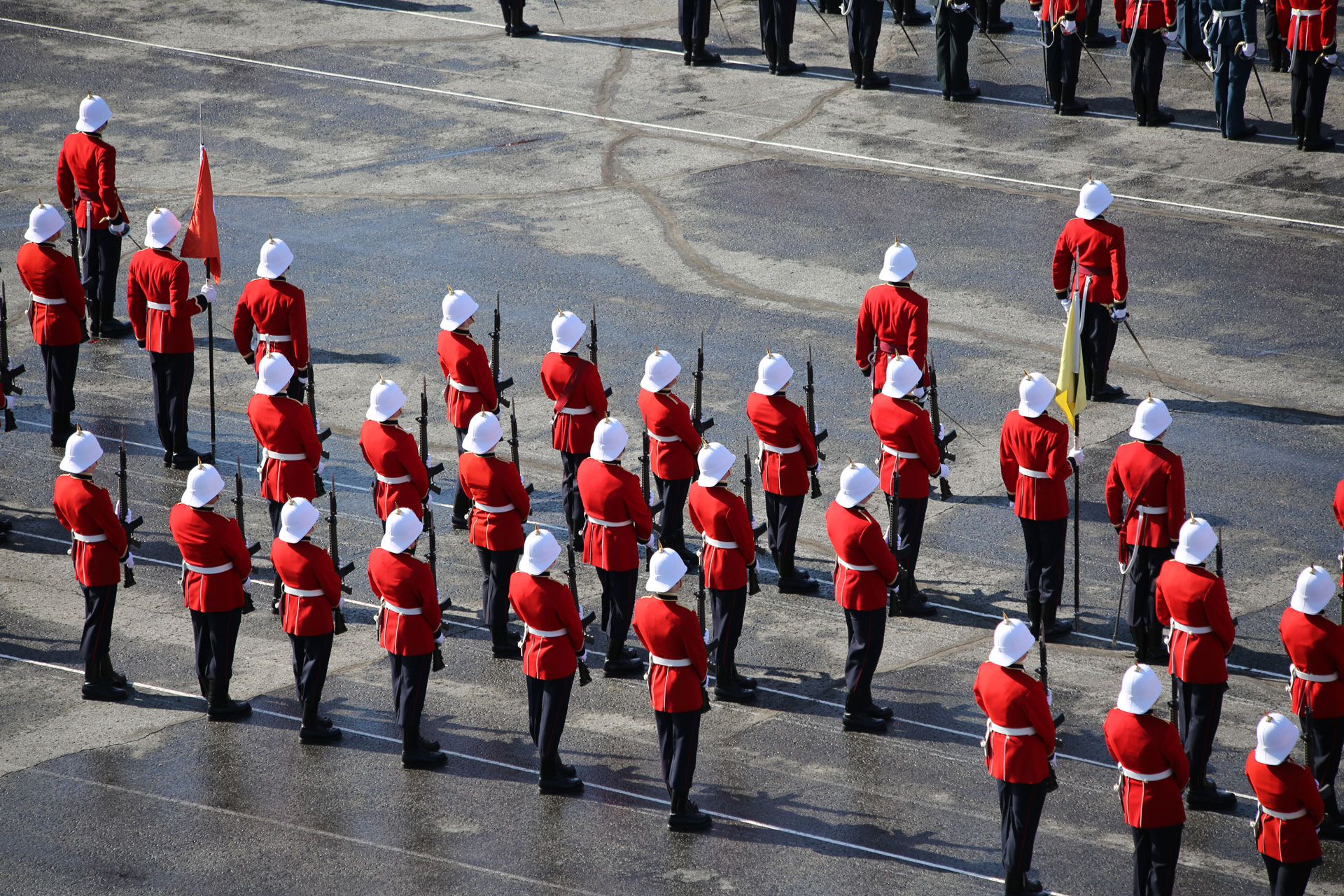 Farewell to the Class of 2011
Article by 26173 OCdt (I) Emily Morgan
Photography by 25881 OCdt (II) Anthony Matlock
A bright Friday morning saw the graduating class of 2011 march onto the RMC parade square for the last time as Officer Cadets.  The dais party arrived shortly afterward which included the parade Reviewing Officer, Chief of Defence Staff (CDS) General Walt Natynczyk.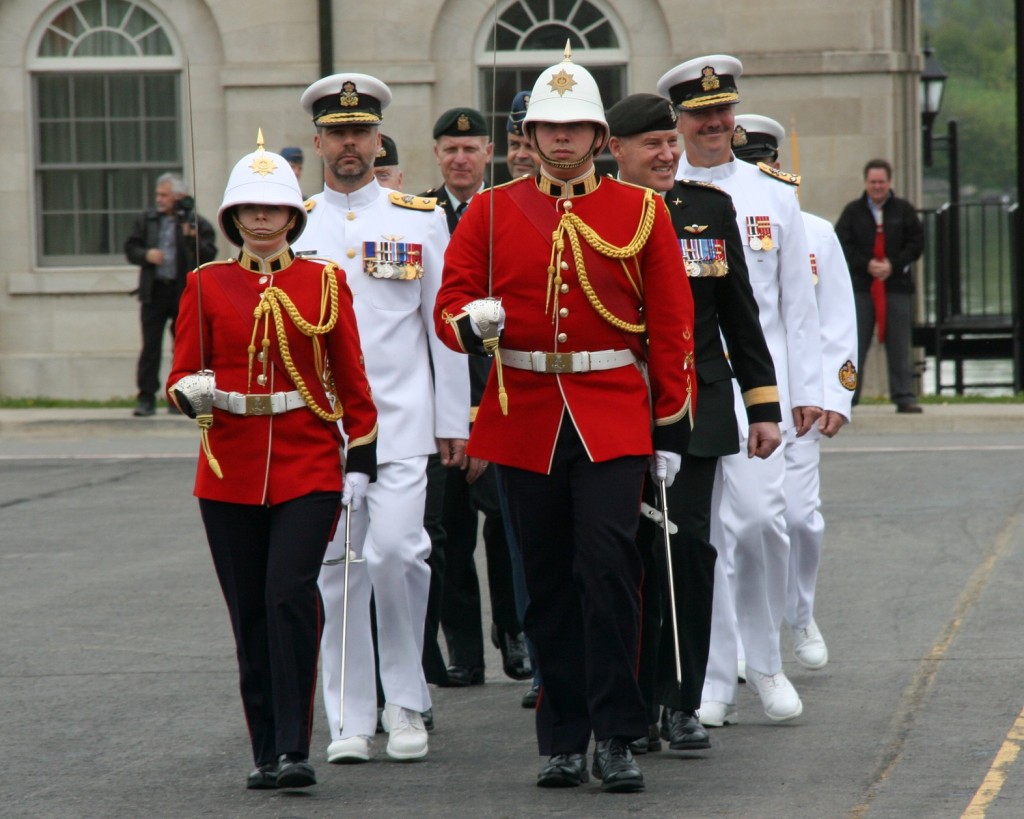 Following the General Salute, General Natynczyk, escorted by Cadet Wing Commander 25012 NCdt Andrew Chong, the RMC Commandant Commodore William Trulove, escorted by Cadet Wing Training Officer 25100 NCdt Kendall Arthur, and the Chief of Maritime Staff (CMS) Vice-Admiral P.D. McFadden, escorted by Chief Warrant Officer Tony Slack inspected the graduating fourth years.
The RMC Band led the March Past.
The Presentation of Prizes and Awards followed.
The Sword of Honour was presented by CDS General Natynczyk to

Rhodes Scholar

24862 OCdt Brendan Alexander.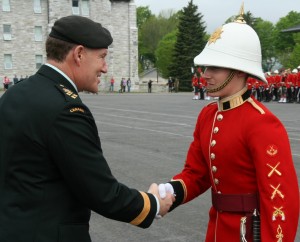 The Department of National Defence Award of Merit was presented to 24718 OCdt David Bernatchez.

The Sword of Distinction for Leadership

was presented by CDS General Natynczyk to 25012 NCdt Andrew Chong.
The Victor Van der Smissen-Ridout Memorial Award was presented by Mrs. Susan Mccoll to 24885 OCdt Charles Keita.

The Jack C. Sargant Memorial Scholarship

was presented by RMC's Director of Athletics Mr. Darren Cates to 25017 OCdt Paul Demers.
The MacArthur Leadership Award was presented by the CMS Vice-Admiral McFadden to 24912 OCdt Jeremy Whalen.
The Generalissimo Jose-Maria Morelos Sabre of Honour was presented by the Representative Ambassador of Mexico Colonel Omar Diaz to 24718 OCdt David Bernatchez.
The Navy League of Canada Prize was presented by the league president, Mr. Dominique Richard to 25121 NCdt Carolyn Pumphrey.
The Royal Canadian Artillery Association Prize was presented by the Chief of Land Staff Lieutenant General Peter Devlin to 24783 OCdt Vincent Boivin.
The Air Cadet League of Canada Award of Merit was presented by Major General (Ret'd) William Paisley to 24959 OCdt Matthew Gallaway.
The Commander Arturo Prat Leadership Award was presented by Captain (N) Mauricio Velasquez to 25121 NCdt Carolyn Pumphrey.
The UTPNCM Award of Merit was presented by the Principal Dr. Joel Sokolsky to M0957 OCdt Chantal Bellerose.
The Military Engineering Prize was presented by the Assistant Chief of Military Personnel Brigadier-General Madower to 24813 OCdt Mael Roy-Richard.
The Military Support Award of Merit was presented by the Deputy Commander and Chief of Operations and Plans of Canadian Operational Support Command Brigadier-General Thurrot to 24736 OCdt Patrick Gignac.
The Canadian Defence Academy Profession of Arms Award for Excellence in Military Professionalism was presented by the Commander of CDA, Major General Daniel Gosselin to 24865 OCdt John Belliveau.

The Linester Sheild

was presented by the RMC Commandant, Commodore Truelove. This years winning squadron was 5 Squadron.
The J. Douglas Young Sword of Excellence was presented by the RMC Commandant, Commodore Truelove to 25109 OCdt Sebastian Harper and 24995 OCdt Donald Saul.
The Duncan Sayre MacInnes Memorial Scholarship was presented by the Assistant Chief of Air Staff Major General Lawson to 24939 OCdt Christina Scott.

The Harris-Bigelow Trophy

was presented by Brigadier General Fred Bigelow to 25133 OCdt Marshall Thibedeau.

The Toronto Branch RMC Club Prize

was presented by Mr. Paul Whirley to 25109 OCdt Sebastian Harper.
The Panet Cup was presented by the President of the RMC Foundation, Mr. Cameron Diggon to 24768 OCdt Matthew Stokes.
The Padre W.A. Ferguson Shield of Duty

was presented by Padre Major Bujold to 24983 OCdt Lisa Mueller and M0968 OCdt Lynn Stuckless.
The Bradshaw Award was presented by the DCadets Lieutenant Colonel Susan Wigg to 24789 OCdt Charles Gallant.

The UTPNCM Drill and Physical Education Departmental Prize

was awarded by the Chief of Staff Canada Command HQ Brigadier General Collin to M0956 OCdt Mark Noel.
The Class of 78 — Dr. Walter S. Avis UTPNCM Honour Shield was presented by Captain (N) (Ret'd) Peter Avis to M0975 OCdt Karl Braschuck.
Next the parade was addressed by the Reviewing Officer, CDS General Natynczyk.
Here are some excerpts:
Four years ago, the graduates on parade marched through in the Arch with a dream, enthusiasm and determination to better themselves. Many thought they'd never make it.  But after a huge amount of their hard work, teaching and coaching by military and academic staff and strong encouragement by families and each other, you have made it. What we see on this wonderful parade is a reflection of all that hard work.

…

Now for my simple leadership messages for the graduates that you already know by heart.

If you can remember Truth, Duty, Valour, you will be good to go.




Since you arrived here you have learned the College motto's meanings, you've sang them and shouted it, been lectured to for countless hours about the many meanings of Truth, Duty, Valour and how those that have gone before you have applied them in combat and peacetime duty.

Speak, act and live the truth.  No less is acceptable. Do what is right and proper at all times, even when no one is looking over your shoulder – you know the standard!  Have the courage to act, to lead into combat, to take the right path to do and say what is right. All your subordinates and peers will key off of your lead.  That is what a true leader does!

My message to you today is that you are ready for the next phase of your life.   All you have to do is to walk the talk! Whether your life leads to a career in the CF as I have, whether you become a leader in Government or lead in industry, if you ''walk the talk'' these simple messages, you will be successful in leading our great country.

You have had a good go at RMC.  Now you are ready to lead the sons and daughters of Canada.

Congratulations.  I am proud of you and proud to be your CDS and I look forward to serving with you.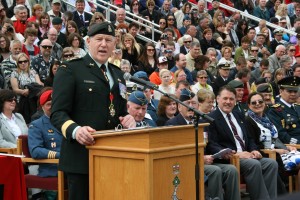 The graduates of 2011 were then presented with their Commissioning Scrolls.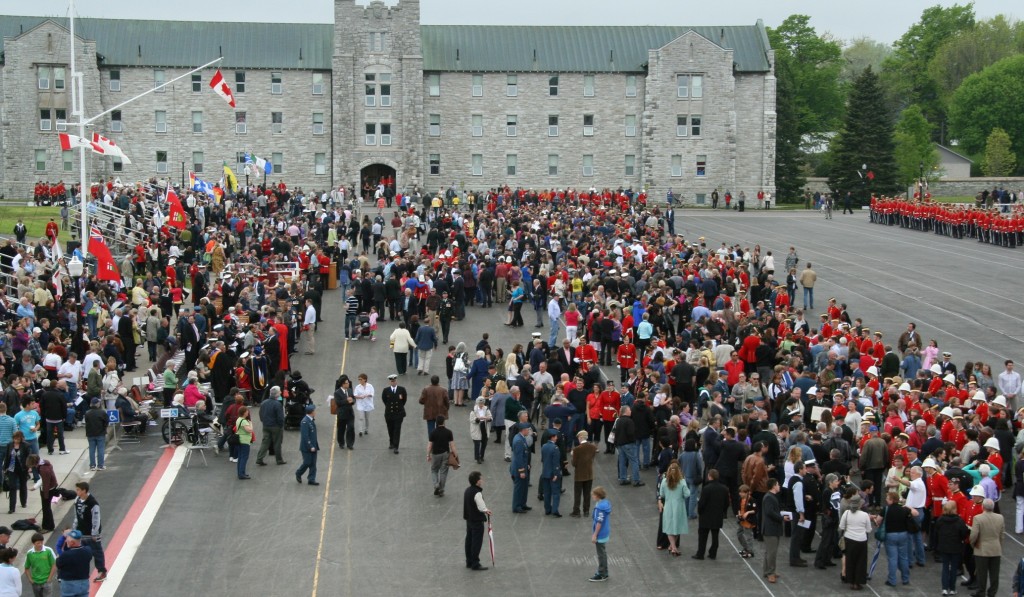 The Cadet Wing gave a resonating farewell to the class of 2011 with a Feu-de-joie accompanied by artillery pieces firing and a Snowbirds fly-by.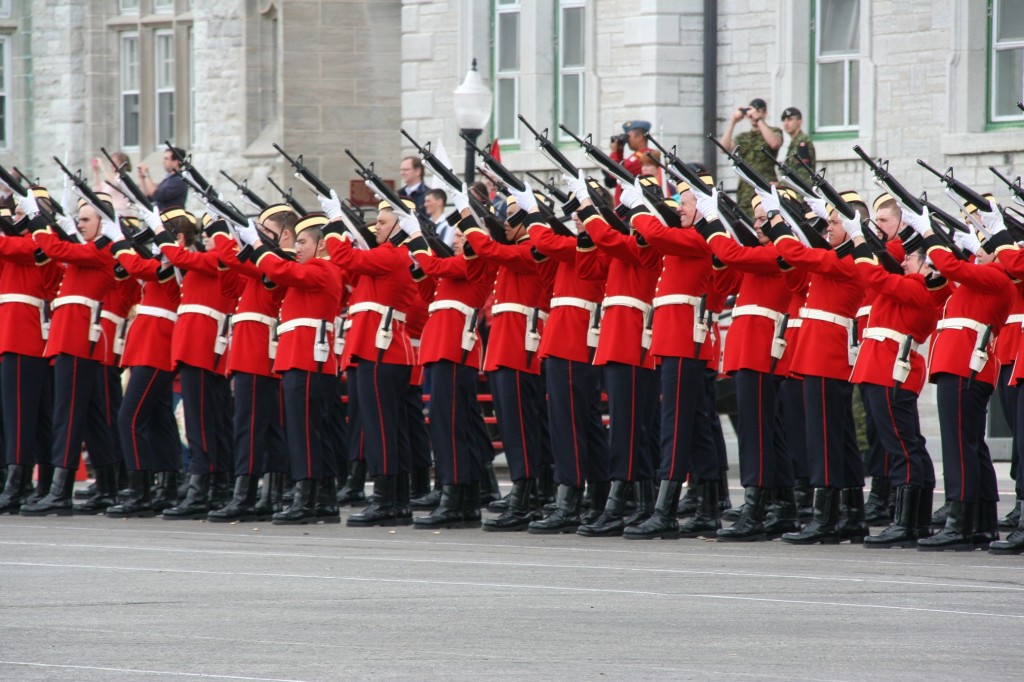 The Honourary Graduates of 2011 were Warrant Officer Patrick Harpelle and Barrack Warden Ms. Heather Wallace.
When asked about his reaction to being chosen as honourary graduate, Warrant Officer Harpelle replied "my reaction to having been chosen, simply put, was honoured and excited." He has been at RMC for eleven months so far.
Ms. Wallace started as a cleaner at RMC in 2002 during which time she also worked at the Cadet Drinking mess on weekends and for special events. "In January of 2008 I was offered the Acting Barrack Warden position which turned into a permanent job."
Ms. Wallace was asked what connection she was proud to have with the graduating class, and she replied "that we both grew from unsure of what was required of us into the confident people we are, together."
Asked the same question, Warrant Officer Harpelle answered:
"My connection, of which I am proud of, is the fact that I have known a lot of the graduates since their basic training. I have seen them go from young and unsure of themselves to confident, prepared officers ready to go on and do great things. This I expect from all the graduates. It is amazing to me to have had the opportunity to follow these young officers over the last 4 or 5 years. To see the changes and growth in all of them. To be able to see cadets go from learning how to perform basic drill at St. Jean (CFLRS) to being CWC at RMCC commanding a graduation parade amazes me."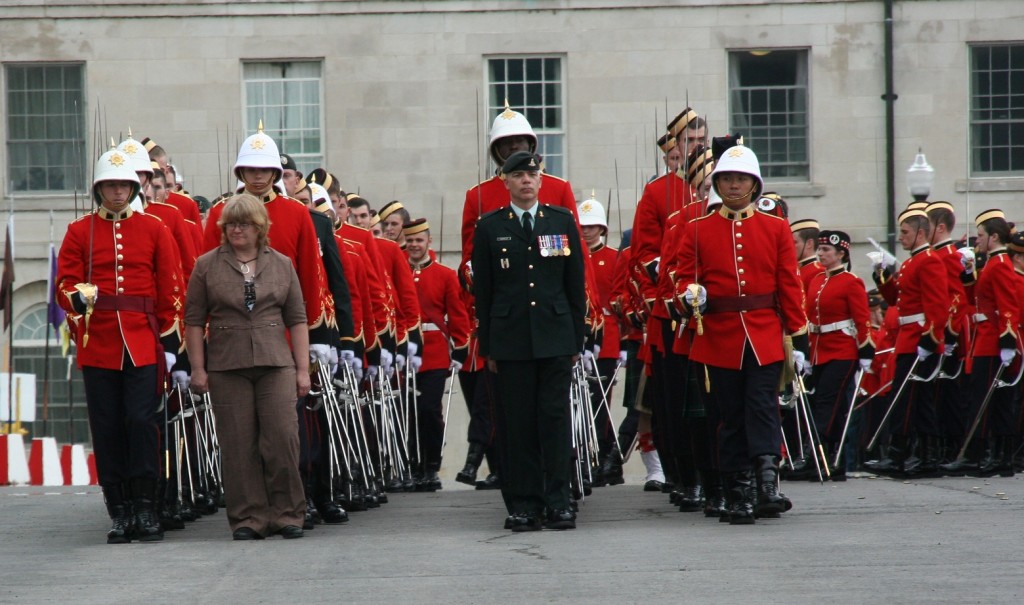 The newly commissioned Second Lieutenants marched off the parade square towards the Memorial Arch.
In keeping with college tradition, the graduates of 2011 marched through the Arch out of RMC.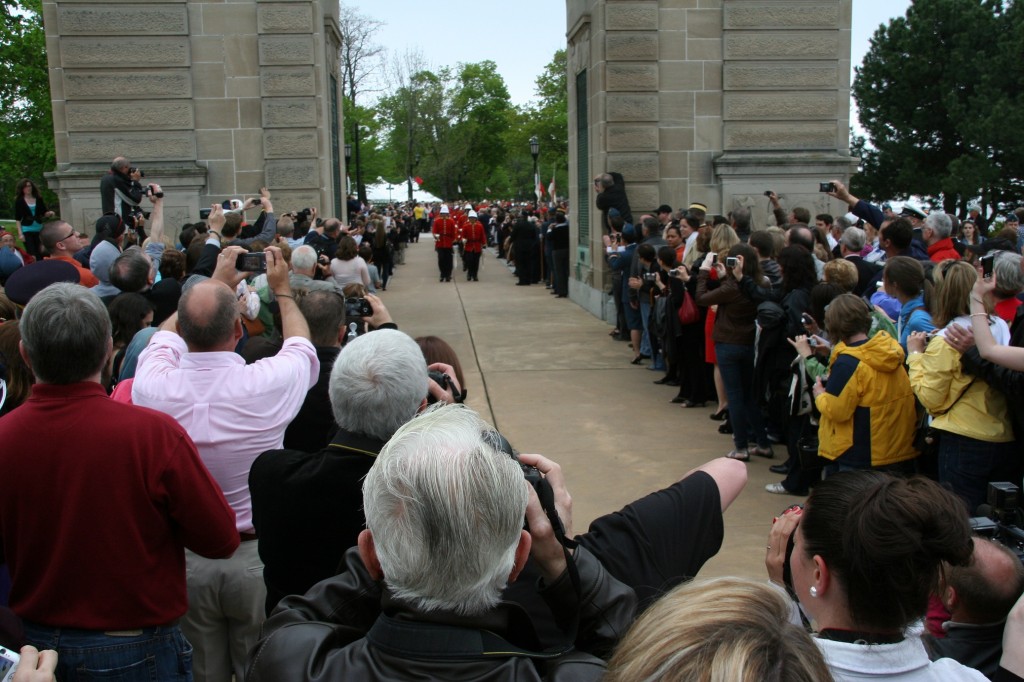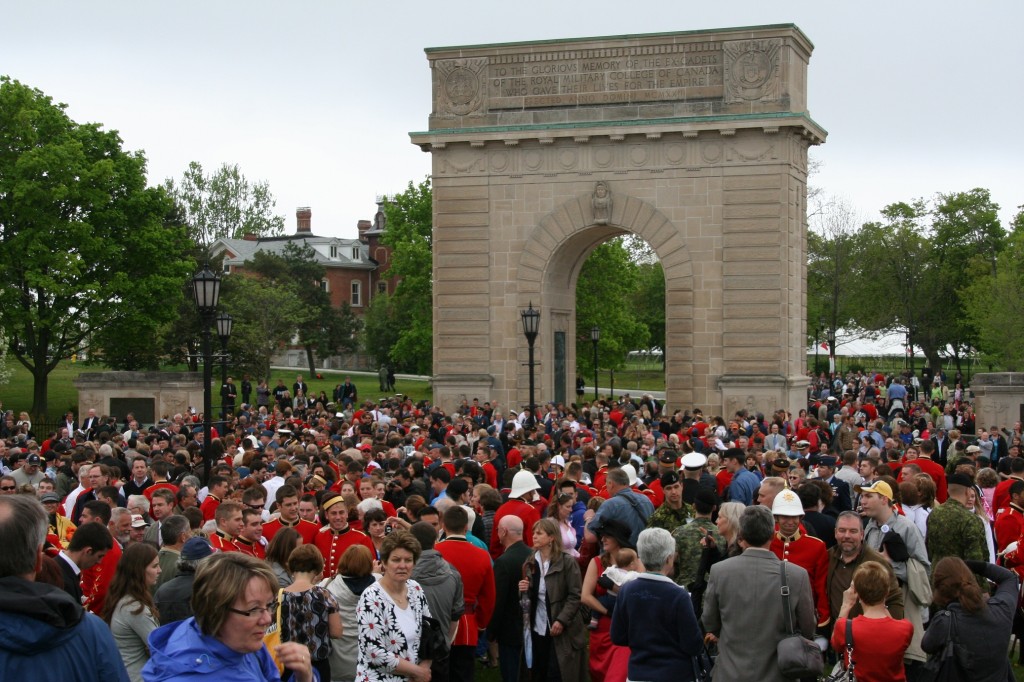 To the newly commissioned officers, good luck with all of your future endeavours!
CKWS VIDEO – ARCH MARCH 2011: Military pomp and ceremony was, once again, on full display at Kingston's Royal Military College.