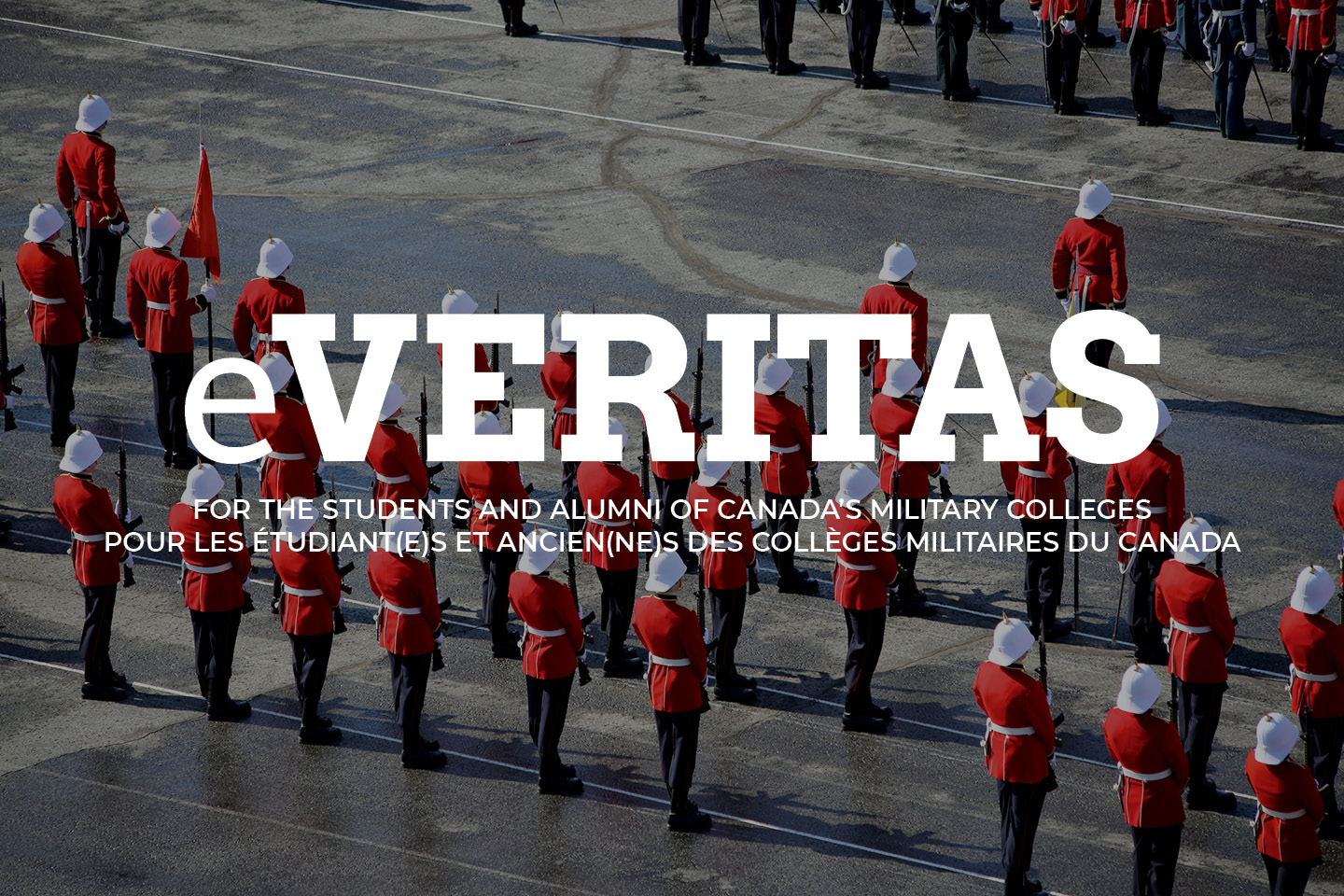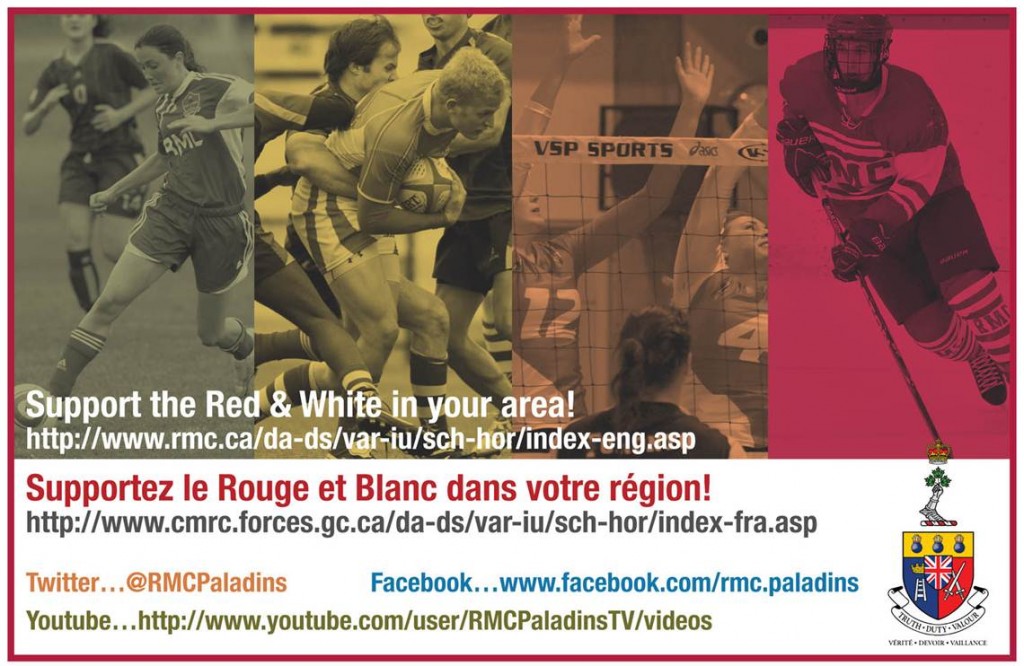 xxxx
__________________
Recent Results:

Rugby

Oct 20th – Laurier 12 – RMC 14 Game Summary


Soccer (M)

Oct 20th – Trent 0 – RMC 1 Game Summary


Oct 21st – RMC 0 – Carleton 1 Game Summary


Soccer (W)

Oct 20th – Trent 0 – RMC 3 Game Summary


Oct 21st – RMC 2 – Carleton 5 Game Summary


Hockey

Oct 19th – RMC 4 – Nipissing 5  Game Summary


Oct 20th – RMC 1- Ryerson  2   Game Summary


Volleyball (W)

Oct 21st – Lakehead 1 – RMC 3 

Upcoming Games:

Rugby

Oct 27th – Western vs RMC @ Navy Bay, 3:00pm


Hockey

Oct 26th – RMC vs Concordia @ Concordia, 7:30pm

Oct 27th – Concordia vs RMC @ Constantine Arena, 7:00pm

Volleyball (M)

Oct 26th – RMC vs York @ York, 8:00pm

Oct 27th – RMC vs McMaster @ McMaster, 7:00pm

Volleyball (W)

Oct 26th – RMC vs York @ York, 6:00pm

Soccer (W) 

Oct 24th – RMC vs U of Toronto @ UofT Varsity Stadium, 6:00pm
______________________________
Much, much more…Running, IMs & Rowing articles…

Running Article
By: II years Marina Aude & Ben Simon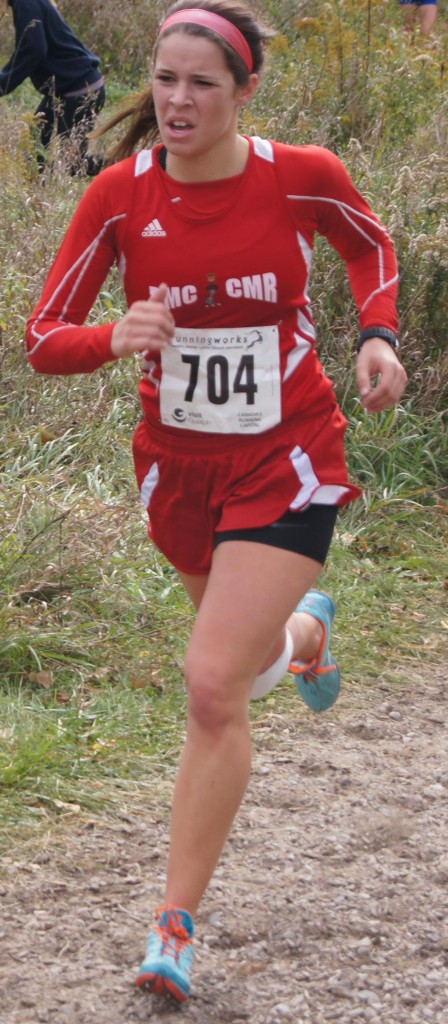 On Saturday, October 13, the RMC Men's and Women's Cross Country Teams raced at the New Balance Vic Matthews Invitational Cross Country Meet that was hosted by the University of Guelph. Both teams put forth a very strong effort racing against some of the top teams in the country including #1 ranked University of Guelph. Weather conditions for the race were ideal with the temperature just around 10 degrees while the course presented opportunity for fast times as it mostly consisted of flat terrain with only a few rolling hills. The RMCC Cross-Country Team capitalized on this opportunity as the majority of the team ran times that were faster than their previous races that season.
L'équipe féminine de RMC était dirigée par Isabelle Allain (lV – St-Antoine, NB). Isabelle est toujours en convalescence après avoir subi une chirurgie au genou le printemps dernier. Son temps de 21:32.5 la place 120e Elle démontre qu'elle se remet bien depuis l'opération. Véronique Trépanier (lV – St-Jean-sur-Richelieu, QC – 21:59.9 à 128e) et Paula Findlater (lll – London, ON – 22:14.9 à 135e) ont à la fois amélioré leur temps de course et leur placement par rapport aux résultats de l'an dernier. Marina Audé (ll – Val-David, QC) a fait son meilleur temps de cette année à cet évênement, elle a terminé en 23:32.5 et s'est placée 148e. Pour terminer les résultats des femmes pour cette course, Constance-Aurélie Ratelle (lV – Otterburn Park, QC) a complétée la course en 24:42.8, la plaçant 151e.
The men's team also put forth a strong performance placing 15th out of 17 teams. Their 8km race had 190 runners 10 of which were from RMCC. Our Men were led by Jordan Vadala who ran his fastest time of 28:20 on his hometown course putting him in 148th position. Anthony Dionne and Colin Shannon also ran their fastest races on the Guelph course as Anthony placed 152nd with a time of 28:29 and our team captain Colin placed 159th completing the race in 29:12. Pier-Alexandre Lacasse placed 161st with a time of 29:21 while Olivier Lafreneiere-Abel finished closely behind in 29:30. Gabriel Thibault finished in 168th, Keegan Peckham, our Air Force Academy Exchange student, in 173rd and Benjamin Simon in 175th. Matthew Walsh and Shane Conrad rounded out the field with in the 179th and 180th positions.
Pour cette année, cette course conclue nos compétitions de Cross Country de cette saison. L'équipe pourra encore participer à une course supplémentaire dans la région de Kingston dans le cadre du programme de l'automne.
______________________________
Half Way Point of the Intramural Season
By: Ryan Thompson, Intramural Coordinator
This past Tuesday was the half way mark for Intramural Water Polo, Ball Hockey, Soccer, Ultimate Frisbee and Ice Hockey. The first half of the season has proven to be very competitive as teams jockey to get themselves into the A tier for a chance to become champions and earn well deserved points towards the Commandant's Cup. The following is a small recap of the season so far.
The first five games have seen the emergence of some powerhouse squadrons. 2 Sqn and 5 Sqn were the only Squadrons able to finish in the top Tier of all their sports. Currently 7 Sqn is the top seed in Soccer, 5 Sqn is the top seed in Ultimate and 9 Sqn is the top seed in Ball Hockey. Divisional sports have also drummed up their fair share of excitement. The parity in Ice Hockey is evident as only two points separates a chance to play for the championship or the threat of coming in last, which increasingly makes every game more important. Water Polo has seen a dominant force in the water come from B division with a perfect 4-0 record. They look well on their way to capturing the first Divisional Title in water polo.
With all the excitement that the first part of the season has brought upon us, the main talking point surrounding the Intramural program has been the Cadets' first experience with the new, state of the art, facility affectionately known to all as "The Dome". It allows 77% of all Intramural (IM) sports to be played indoors taking Mother Nature out of the equation, and also allows games to finish earlier. Currently all sports, with the exception of Ice Hockey, are finished by 2000 allowing Cadets time to hit the books after a hard fought match on the pitch, field, ice or water.
Playoffs will be starting Tuesday November 6th for all Squadron sports with the divisional sports having their playoffs on Thursday November 15th. Everyone will be celebrated with a parade the morning of November 21st where our champions will be announced along with our Most Valuable Players, Most Sportsman-like Players, and Best Referees. All are welcome to attend.
As with any successful program there are many people to thank. The CWIMO (Cadet Wing Intramural Officer), Jason Wonchala, has done a great job. His work has been made easier by the very capable CSSOs (Cadet Squadron Sports Officers) that are working for him this semester. Their hard work, combined with strong efforts from officials, has put the IM program in great shape.
I look forward to a great second half of the season and best of luck to all IM participants.
GO RMC!!
Half way highlights (click to enlarge):
______________________________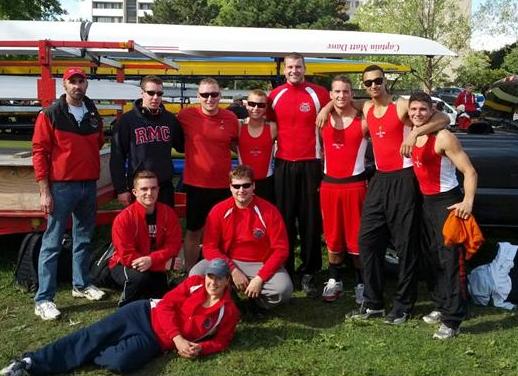 The RMC Rowing club at Head of the Rideau. Missing Daniel Barry (26461) and Kyle Naylor (26492)
Quick Word from the RMC Rowing Club President /
Mot du président du club d'aviron du CMR
Written by/
écrit par 25574 Élof (IV) Maxime Rivard,
président du club d'aviron du CMR
So far this semester the RMC rowing club has provided more than 16 Ocdts with incredible challenges and opportunities. Most of the current competitive roster are new rowers to the club and some even to the sport.
It is not a secret that the club had a rough start and a lot has changed since then, but as we are taught here at RMC, we are not to be afraid of changes and must accept them and move on. As we are preparing for our last regatta of the season this Friday in St-Catharines, Ont, I would like to thank on behalf of the club, Ms Christine Powers (RMC's Rec & IM Manager) and Mr Craig Palmer (RMC's Rec Manager) for their incredible work and understanding in helping the club stay afloat during a rough time and their continued support of RMC Rowing.
I would also like to thank Lt(N) Lance Mooney who offered his help as club supervisor and finally, I would like to thank our current head coach, Mr Paul Overvelde, for stepping up as the rowing crew's head coach and for his understanding that being a member of a team at RMC means far more than just being an athlete.
Depuis le début du semestre, le club d'aviron du CMR a permis à plus de 16 élofs de vivre des défis et d'avoir des opportunités de représenter le collège à des événements sportifs. La plupart de nos membres compétitif sont nouveau au club d'aviron et certains sont même nouveau au sport. Ce n'est plus un secret que le club a vécu un début de saison très mouvementé, mais comme nous l'apprenons au CMR, les changements ne doivent pas être craint, il faut les acceptés et continuer de performer. Le club est présentement en préparation pour notre dernière régate de la saison ce vendredi à St-Catharines en Ontario. J'aimerais donc prendre ce moment pour remercier au nom du club Mme Christine Powers, la gestionnaire des programmes de loisirs et des sports intra-muros du CMR ainsi que Mr Craig Palmer, le coordonateurs des loisirs du CMR pour leur travail incroyable et leur support alors que le club passait au travers de certaines complications. J'aimerais également remercier le Lt(V) Lance Mooney qui s'est gracieusement offert comme superviseur du club et finalement, j'aimerais remercier notre entraîneur-chef Mr Paul Overvelde d'avoir accepté la position ainsi que de sa compréhension que d'être membre d'une équipe sportive au CMR est bien plus qu'être un athlète.
Rowing Club Highlights
RMC Rowing in Ottawa
Written by 26257 OCdt (II) Zachary Day 
The RMC rowing team competed at the annual Head of the Rideau Regatta on the 23rd of September, spending the day in lovely downtown Ottawa. The Head of the Rideau is composed of a 5.3 km course. The team sent a total of 15 rowers to Ottawa to compete against the likes of Queens, McGill, Western, Trent, and various other colleges and universities.
The regatta was open to more than just students however, various rowing clubs showed up in full form, including the Kingston Rowing Club. The weather was perfect for competition, with very little wind and calm waters. 25820 OCdt (IV) Jenny Allan, who participated in the varsity women's heavyweight single, and 25407 2LT Jamie Jessup, who participated in the varsity men's heavyweight single, rowed to a competitive finish early in the morning. Ocdt Allan ended 4th out of 6 with a time of 25:07. 2Lt Jessup ended 3rd with a time of 22:19. The men's 8, who participated in the competitive men's 8 category, fell just 9 seconds behind Queen's University with a time of 19:32 even though Ocdt Allan, who had rowed in the morning, had to fill in the bow seat. The men's 4, who rowed in the competitive category, finished off the day ending in 3rd place out of 3 with a time of 21:25 in their first regatta as part of the team.
RMC Rowing Club at the Head of the Trent
Written by 25574 OCdt (IV) Maxime Rivard 
Because the Head of the Trent regatta in Peterborough, Ont, ended up on the 29th of September, which was the same day as the Badging Ceremony for First Years, the RMC Rowing club was only able to send 25407 2Lt James Jessup. 2Lt Jessup rowed in the university heavyweight single men's category and finished 7th with a time of 20:11.48 for a 5km race.
Early Mornings Translate into Early Success for RMC Rowing Crews
Written by 26730 OCdt (II) Matt Mooney
All of those mornings when the RMC rowing crew had been awake before the crack of dawn finally paid off on Saturday the 13th of October, when the RMC rowing crew attended a regatta in St-Catharines, Ontario, at the Royal Canadian Henley Rowing Course.
Here they faced other rowing crews from other Ontario universities in their first 2 km race of the season. There were three RMC boats entered into the regatta.
The men's eight crewed by: Maxime Rivard (25574), Alex Reece (25424), Matthew Noonan (26497), Zach Day (26257), Kyle Naylor (26492), Daniel Barry (26461), Michael Cherry (26653), and Matthew Mooney (26730).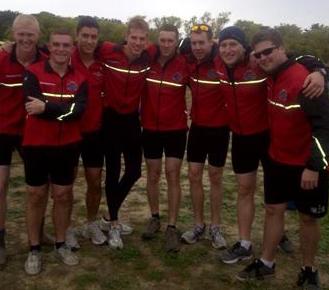 The eight rowed in the third heat against Queen's University, Trent Excalibur, and other universities. The RMC crew put forth a valiant effort and was leading the heat for the first 1500m when, unfortunately two other crews were able to surpass them.
They placed 6th with a time of 6:51.45 out of the 16 crews that were entered into the men's novice eight category. This strong performance by the crew caused a ripple effect as Jenny Allan (25820), who rowed in the women's single, succeeded in making her way into the finals. Here OCdt Allan was able put up an impressive time and managed to place 5th in the overall standings with a time of 8:16.41.
James Jessup (25407), who rowed the men's single, also showed his rowing strength in some of strongest heats faced by the crew that day placing 6th in his heat with a time of 7:44.83.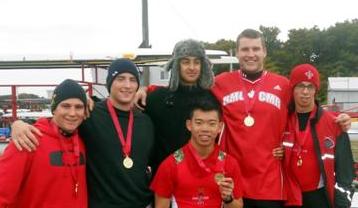 4+ Crew after their victory
The men's novice four, however, stole the show at the regatta as they represented RMC with an amazing time of 7:13.43. Their spectacular effort brought home a gold medal for the crew. The boat was crewed by: Jordan Killen (26642), Liam Wright (26860), Alex Lukoius, and J.C. Ouellet (25434) and coxed by Benton Wong (26708). The medals around their necks are hoped to be a good omen for the upcoming regatta as well as the spring season.