Deaths
Long Time CSGA Member John Frank Passes Away at 92
RCNC 90 John Frederick Frank
FRANK, Commander (E) Retd., John Frederick Passed away peacefully at the Ottawa Civic Hospital on Thursday, June 29th, 2017. John was born in Picton, Ontario, and grew up in Peterborough, Ontario where he attended Peterborough Collegiate and Vocational School, graduating in 1942. He then joined the Royal Canadian Navy as a cadet. Two years later after graduation from the Royal Canadian Naval College he was sent to the Royal Naval Engineering College in Devonport, England followed by two years of post graduate studies in aeronautical engineering at the College of Aeronautics (Cranfield), where he earned an MSc degree.
During the 1960's he became actively interested in the Canadian Military Colleges and was invited to the board of the Royal Military College Club of Canada where he was elected President in 1967. He later served on DND's Advisory Board for Military colleges. After retirement from the navy in 1963, he joined the Printing Industry; first in sales of printing machinery, then in the manufacture of Business Forms. In 1990 he retired after 24 years with R.L. Crain Ltd. in Ottawa, having been Vice President of Manufacturing, President, and ultimately Chairman of the Board and Chief Executive Officer.
Though involved in a host of sporting activities throughout his life including fishing, canoeing, camping, hockey, basketball and rugby, he enjoyed golf the most. He was an ardent and competitive "B" class player until he suffered a stroke in the summer of 2007. For over forty years he had been a dedicated and proud member of the Royal Ottawa Golf Club, had been invested as a Life-Member, had served on the Board for many years, and was Club President in 1975.
John was predeceased, in 2011, by his wife of 65 years, Joan, and is survived by his sons Christopher (Nancy) and Timothy (Wendy), daughter Deborah (Hugh Campbell), grandchildren Graham (Andrea), Elizabeth (Cory), Kathleen and Olivia, and five great-grandchildren. They were his pride and his joy. He lived his life at one speed…"full ahead", and navigated this mortal coil with the use of a moral compass that never failed him, his family, or his friends. He was truly one-of-a-kind; we shall all miss him. The family will welcome friends for a celebration of John's life, 1400hrs Monday, July 10, 2017 at the Royal Ottawa Golf Club, 1405 Aylmer Road, Gatineau, QC. In lieu of flowers, a donation to the Ottawa Food Bank is preferred.
***
6699 George Robert Walker, July 3, 2017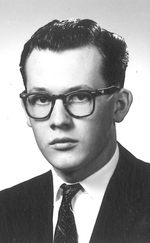 GEORGE ROBERT WALKER, of Lethbridge, passed away peacefully at the Chinook Regional Hospital on Monday, July 3, 2017 at the age of 74 years.
George was born in Lethbridge, Alberta on February 26, 1943. He attended L.C.I., graduating in 1961. He then went to Royal Roads Military College on a full scholarship, graduating as a Mechanical Engineer in 1965 and pursuing a career with the RCEME. After leaving the army he continued his career as an engineer and then went on to be a farmer in the Fort Macleod area.  He left farming in 1981 and was a full time and very prolific artist.  He was a member of various art clubs in the province, devoting many hours to his one true passion.
George leaves behind his mother, Beth Walker, his daughter Susan (Martin) Drost and son Paul (Julie) Walker.  He is also survived by grandchildren Nicolaas, Sarah (Chad) Zentner, Georgia (Tim Ash), Jack and Milena and by his great-grandchildren Rowynn and Carter Zentner.  Also left to mourn his passing are siblings Ted (Anita) Walker, Marilyn (Sid) Kok, Donald (June) Walker, Donna (John) McCracken and numerous nieces, nephews and their families.
At George's request a private celebration of life will be held at a later date.
***