Feature photo by Liam Norris
RRA 15 Brigadier General Barry Howard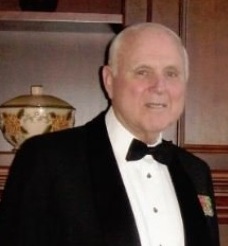 In loving memory of Brigadier General Barry Allen Howard who passed peacefully at home on June 24, 2018 at the age of 89 years.  He is survived by his loving wife of 67 years, Colleen (née Henry).  Lovingly missed by his children Barry Jr., (Ailsa), Michael (Mel), Lynn (Bob), and Gregory (Carol), grandchildren Justin, Lauren (Dean), Stephen (Marek), Kaitlyn (Andrew), Lindsay (Heiko), Neil (Alysha), Drew (Natalia), Derek (Maggie), Ryan, Reanne (Chris), and great-grandchildren Zackary, Sloane, Wesley, Cole, and Luna.
Born in Toronto on October 25th 1928, Barry lived a rich and full life, achieving his degree from the University of Toronto in Engineering and Business.  After graduation he transferred to the RCAF active reserves and assumed command of the 400 "City of Toronto" Fighter Squadron.  His success culminated in his rank of Brigadier General in the RCAF, and ownership and chief executive officer position of Wheel & Rim Co. of Canada Ltd.  Barry was deeply loved and respected by those who knew him and his keen intellect and kind, generous heart will be greatly missed.
A private family Funeral Service will be held at a later date.  In lieu of flowers, the family requests that donations be made to the North York General Hospital in his memory. Condolences may be left at www.rskane.ca
***
5918 Charles (Chuck) Leishman –  Class of 1963 
Dedicated husband, father, grandfather, brother, friend, soldier, and teacher: Charles ("Chuck") Robert Leishman passed away peacefully after a courageous 3-year battle with cancer in his Elko home on the morning of July 6, 2018, with his family at his side. A former Captain with the 2nd Battalion, Black Watch of Canada, a committed skier and snowboarder and a lifetime member of the Canadian Ski Instructors' Alliance, Chuck's passion for life in the mountains introduced a considerable number of people to life on snow.
Those closest to him knew Chuck best for his staunch belief in social justice, inclusion and human compassion. He had a limitless imagination for architecture and an inherent need to know everyone's name and backstory. Chuck was an idealist with a keen sense of connection to his community and a vested interest in the futures of his four grandchildren: Nate Lach, Marcus Ellis, Holden Lach and Chuck (Junior) Ellis. He will be enormously missed by his wife of nearly 48 years, Stephanie, and by his three daughters Liesl (Blairmore, AB), Sarah (Whistler, BC) and Miriam (Fernie), their partners and by his tight network of longtime friends. Even in his final days, Chuck maintained his youthful sense of humour with an understated intellectualism that we all admire.
The family extends a warm thank you to Dr. McBeth, the nurses and all the staff at the Fernie Hospital for all the care and attention given during this difficult time.
The Leishman family invites all interested to celebrate Chuck's life with a procession to his gravesite followed by refreshments at the Elko Hall. Gather at the Burton Lake Ball Diamond Wednesday, July 11 at 1 pm. Graveside and hall to follow from 1:30.
In lieu of flowers, donations can be made to the Elk Valley Hospice Association.
***
2946 George Francis Whitaker – 1929 – 2017 –
Entered RMC with the new 100 in 1948
George Whitaker, 88, passed away peacefully at home on December 22, 2017 in the company of family. The son of Francis Chapman and Harriet Usher Whitaker, George was born in Queenston, Ontario in 1929 and moved to Montreal as a child. He was a 1954 graduate of McGill University. A lifelong employee of Bell Northern and Nortel, he moved to Raleigh from Ottawa in 1985.
George will be remembered for his keen intelligence, constant sense of humor, ceaseless curiosity, and his extraordinarily giving nature.
George was predeceased by his beloved wife Maud, who passed in 2006. He is survived by his sister Louise, children Andrew, Donald, Marcia, Keith, Harold, and Stuart, eight grandchildren, and his former wife, Louise.
His funeral was held at St. Timothy's Episcopal Church in Raleigh on Friday, January 5, 2018.
In lieu of flowers, please give to a charitable organization close to your heart.
Published in The News & Observer on Jan. 1, 2018
***
Article first appeared the The Review – Log of HMS Stone Frigate – June 1942
***
West Point Football: Former Army QB, Chase Prasnicki, Dies in Afghanistan
***