Feature photo by Liam Norris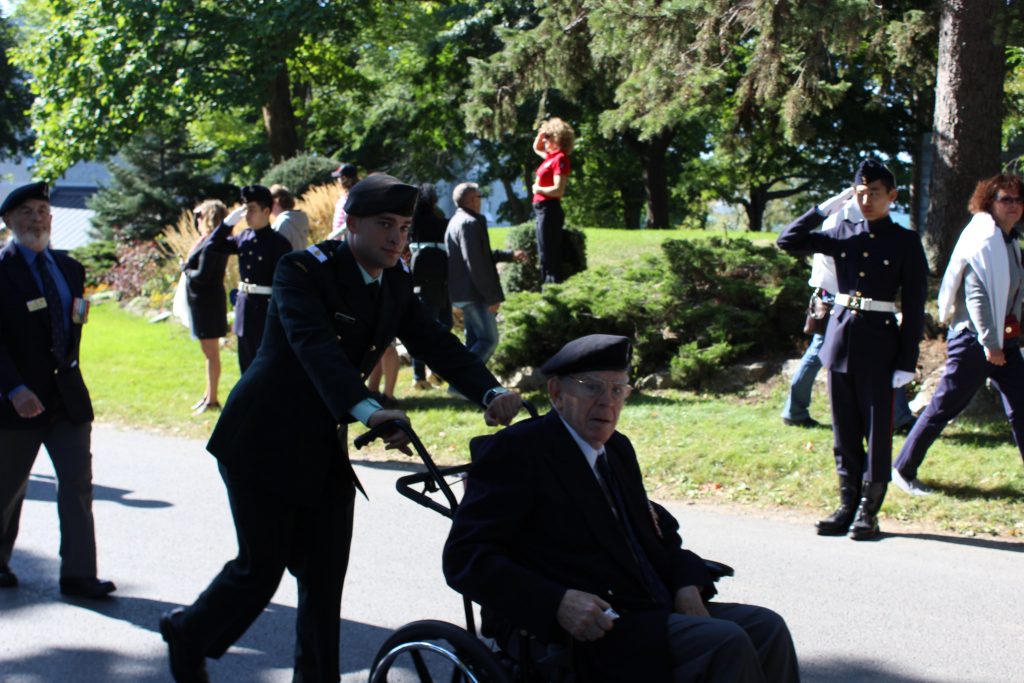 Caption: 2015 – March to the Memorial Arch – OCdt Stephane Prior aiding Doug Youngson from the Parade Square to the Arch and back.
H3439 Douglas Mackenzie Youngson – Class of 1955
YOUNGSON, Douglas Mackenzie – 1931-2018 Passed away peacefully surrounded by his family. He served his country with the Royal Canadian Engineers and with his wife Jane, raised their children Grant (Christine), Tessa (Gilles) and Jennifer. Dad spent 62 years as a husband, 6 decades as a father and 3 decades as a father-in-law. His greatest role was grandpa, poppa and pa to his six grandchildren. Alexandre, Mackenzie, Sydney, Maxwell, Zachary and Delaney. Predeceased by his sister Helen Jean and will be missed by his nieces Susan and Margie (Steve). Also by his sister Merrall (Jerry) and nephews Jamie (Marion) and Anthony (Elissa). Douglas (Digger) loved RMC and the military; and his dear wife Jane who came from abroad to marry him and raise their children. He will be missed by his extended family Celine, Joanne, Caroline (Chris) and Jonathan (Elianne). The family wishes to thank all the dear friends who have loved and supported both mom and dad and all of us. Special thanks to Bill Oliver of the RMC Club of Canada who helped Douglas Youngson (L.COL.) march in his last ex-cadet parade aided by Stephane Prior. The family truly appreciates the love and support of all of those at Arbour Heights. Dad is reunited with his mother Grace Elizabeth who he lost over 86 years ago.
There was a 'celebration of life'  held at the JAMES REID FUNERAL HOME on Saturday October 20; we had an opportunity to attend. The turnout was impressive in light of the fact that there was less than a 24 hour notice.
"Digger'" would have been proud on both the size of the crowd and the great tributes put together by the family.
Previous e-Veritas Doug Youngson article – HERE
***
5473 Wilf Cude – Class of 1962
Wilf's body has been donated to the Dalhousie Medical School. No Memorial service will be held for him until, as is the custom of the School/Centre, a group acknowledgement is held in a year or two … to which a number of people (family and others) will be welcome to attend.
***
We are still waiting word and details, when the family of 4823 Archie Zagrodney – Class of 1960 will be hosting a celebration of Life. We will do our best to inform our readers when we hear something.