Feature photo: Liam Norris
Memorial Service for Archie Zagrodney

Memorial Service for 4823 Archie Zagrodney, (Class of 1960) will be held at Currie Hall, RMC, on Saturday, Nov. 3, 1400 hrs.   The service will be followed by a gathering at St. John's Presbyterian Church, 2360 Middle Road, Kingston.
If you wish to send a card to the family, please address it to his daughter, Tanya Morgan-Zagrodney, 585 MacDonnell St., Kingston, ON K7K 4W9, 613-549-0074.
Previous death notice – HERE
***
5473 Wilf Cude – Class of 1962 – Former RMC English Literature Professor 
Teacher, writer, activist – has passed away at age 80. Wilf taught English literature at the Royal Military College, the Canadian Coast Guard College, the University of British Columbia, Concordia, Cape Breton University and Saint Francis Xavier. He was a storyteller in word and song, and friends and family will long cherish these special memories. Through his scholarly publications, he made a significant contribution to English literary criticism. As an activist, he fought tirelessly for fairness and institutional reform. Universities and political systems were the focus of his efforts, and his work consistently reminded those institutions of their duty to serve and evolve. Wilf is survived by his wife, Mary Pat; his children, Alison, Caryl (Stephen), Jonathan (Bellona) and! Roberta; grandchildren, Alexa, Camryn, Matthew, Riley and Connor; his brother, Alan (Beverly); sister, Beverly. He is predeceased by his brother, David (Wendy). Wilf is remembered for his kindness, generosity and humour. He was a beloved husband, (grand)father, brother and friend. The entire Cude family would like to thank the Palliative Care team and the staff in Strait Richmond Hospital for their wonderful care and support. As Wilf wished, and in keeping with his dedication to teaching and research, his body has been donated to Dalhousie's medical school. Donations in his memory can be made to Amnesty International, Doctor's Without Boarders or to the charity of your choice. A celebration of Wilf 's life will be held in the St. Georges Channel Community Hall on November 3rd at 2 p.m.
***
 4526 W.Humphrey Sheridan – Class of 1959
Suddenly, at the Ottawa Heart Institute, on October 23, at 81 years of age. Retired Colonel, Canadian Armed Forces (Signals / C and E). Loving husband to Kathleen (Wismath), proud father of Paul (Heather Johnson), Judy (Rob Hardie), and Michael (Shelley Robinson). Dear son of the late Walter and Muriel Sheridan of Elliot Lake, and brother to the late Lorne (Jeanne) of Uxbridge, the late Russell of Elliot Lake, the late Ann (Dick McCutcheon) of Sault Ste Marie, and David (Vivian) of Fort Erie.
Born and raised in Timmins, and a graduate of the Royal Military College in Kingston, he maintained close friendships with many of his classmates throughout his life. Humphrey and Kathleen raised their three children while moving to a variety of military postings around the world, finally settling back in Ottawa, to enjoy a retirement filled with golf, gardening and reading.
Funeral took place in Ottawa, Friday, 26 Oct.
More here
***
5019 Gary Lionel MOWRY – Class of 1961 (no photo available)

MOWRY, Gary Lionel Retired Lieutenant-Colonel Department of National Defence Gary passed away peacefully in his 81st year at the Queensway Carleton Hospital on Friday, October 5, 2018 surrounded by his loving family. He is survived by his loving wife of 57 years Margo. He will be greatly missed by his sons Rob (Marta), Rick (Amity) and Greg (Lyna). Proud grandfather to Ashley, Sydney, Annabelle, Michelle and Zachary. Honouring Gary's wishes cremation and private family graveside service at Pinecrest Cemetery. Please remember Gary in your own way.
***
Pamela Margaret (Wakeling) McPhail – Wife of 5502 Larry McPhail (Class of 1962)
Pamela Margaret (Wakeling) McPhail slipped peacefully into the arms of our Heavenly Father on Wednesday, Sept. 26, 2018. She shared 76 years of love and faith with her family and friends.
Pamela will be lovingly remembered by her beloved family, including her husband of 57 years, Lawrence D. McPhail; her son, Lawrence E. (Michelle); her daughter, Dr. Natalie M. (Louis) Takacs; and her grandchildren, Alexandra L., Bayleigh I., and L. Hunter Takacs IV, and bonus (step) grandchildren, Tyler and Max Mueller; her sister, Virginia A. (R. Bruce) Morris; her sister-in-law, Mary Lee (William) Tennant; six nieces and nephews, Michael Morris, Melanie Morris, Leeanne (Alfonso) Alonso, Tyler (Jill) Tennant, Sean (Gabrielle), and Warren (Deanne) Tennant; five great-nieces and -nephews, Spencer Tennant, Antonio and Miguel Alonso, Riley Tennant, Lindsay Tennant, and Payton Morris; and her beloved little poodle, Beau. She was predeceased by her parents, Edward (Huntington) and Virginia (Cadue) Wakeling; and many additional dear relatives. And her beloved unborn child.
Pamela was born in Kingston, Ontario, Canada, and as the daughter of an artist and an art critic, Pamela developed many talents and shared them with her loved ones. Pamela attended Queen's University in Kingston, and became smitten by a handsome young man in the uniform of the Royal Military College. After a year of teaching in Jamaica, West Indies, Pamela married LD and moved across Canada with her Air Force husband. After the births of their two children, Lawrence and Natalie, they moved to Sparta when LD was based in New York for American Airlines.
Pamela was very active in the community, serving as president of the Byram Township PTA, Cub Scout leader, LVR play costume designer, and many other clubs and volunteer service groups. Pamela was a past president of Sparta Woman's Club, as well as being active in its literature club, the talent auction, and the Mah Jongg club. Pamela was a devoted member of Redeemer Lutheran Church for over 52 years and was actively involved with Women of Redeemer, was a Pioneer Girl leader, Sunday School and Vacation Bible School teacher.
Well known as an accomplished baker and cake decorator, she created many masterpieces, including multi-tiered wedding cakes for special friends and family members. Pamela enjoyed traveling the world, especially with her grandchildren. Pamela was secure in her faith in God and exemplified true Christian love in every aspect of her daily life.
A Celebration of Life Service was held Oct. 1.
***
Jocelyn "Joy" JOHNSTONE – wife of 4804 Neil Johnstone (Class of 1960)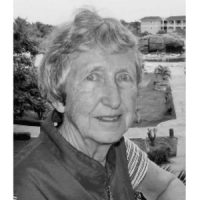 JOHNSTONE, Jocelyn "Joy" (nee Smith) Peacefully passed away at Laurier Manor Ottawa on October 17, 2018 at the age of 78 after suffering for several years from dementia and Alzheimer's. Survived by her husband of 55 years Neil and her sons, Mike (Karen) and Doug (Tam) and four grand-children, Nicholas, Fae, Benjamin, and Saskia. Born in Toronto, she attended Queen's University, graduating with an Arts Degree in Math and Philosophy in 1962. She lived across Canada and in the United States, Germany, and England. A great lover of music. Choir Director for 33 years of the CFUW Madri-Gals. At Rothwell United Church she sang in the choir and for a number of years directed the church's Senior Handbell choir. She enjoyed playing the piano, the flute, the piccolo, and an assortment of other musical instruments. Joy held a keen interest and knowledge about wildlife and nature. She was most at home in the outdoors especially canoeing and hiking at her summer cottage at Edward's Point, Newboro Lake. She took great enjoyment in hiking and cross-country skiing in the Gatineau.The funeral service was held in Ottawa this past Sat – 27 Oct.