Deaths | Décès
 Late addition: H2552 William Holton Young – was the last surviving member of the Class that entered RMC in 1936

William Holton Young 1918-2017 Dad was well loved by all who knew him. A man of many accomplishments, he never spoke of any of them. What he cared about was his family, his community, the Hamilton Tiger-Cats and a good martini. Ancaster was his home for 95 of his 98 years. Dad died peacefully on Friday, April 21. He leaves behind Joyce, his beloved wife of almost 71 years, his three children Doug (Rosemary Shockman), Cathy Phillips (John) and Bill (Janet); his seven grandchildren Kate (Arthur Ruff), Michael, Jamie, Caroline (Cheryl Gudz), Will, Nicky and Sarah, and two great-grandchildren Charlie and Tenzin; as well as his brother (RMC 2851)Ben. He was predeceased by his, parents – Major General James V (RMC 803) and Willmot Young and by his brothers Doug (RMC 2360) (died on D Day – 6 June, 1944) and David and his sister Babs Woods. Born in Hamilton in 1918, he attended Hillfield and Lakefield Colleges, and graduated from Royal Military College (H2552) with a degree in military science (as he always said, try and find anyone else with that degree!).
He served as an officer in the Royal Canadian Artillery for the entire duration of WWII, much of it on the Italian front. He had a very successful business career and was actively involved in the community. He was the CEO of the Hamilton Group Limited, originally started by his grandfather as the Hamilton Cotton Company in 1880, and together with his brothers led it through a number of successful expansions and transitions. He served on the boards of numerous companies such as Stelco, Gulf Canada, National Trust, Harding Carpets and the Hamilton Tiger-Cats as well as non-profit boards such as the Stratford Festival, the McMaster Medical School and as Chairman of Hillfield and Strathalllan College. He proudly served as the Honorary Colonel of the Argyll and Sutherland Highlanders for many years and continued to stay in touch with the regiment and his RMC class to his dying day. But as important as his career and his community were to him, there were two more important influences in his life: the death of his older brother Doug and the marriage to his wife Joyce. Doug was Bill's best friend and role model. He was deeply affected by his death. He didn't talk about it much, but it made him value even more the importance of family love and human connection. He didn't much care about recognition or material success. He just cared about being kind, conveying warmth, displaying grace and figuring out the best way he could help any of the rest of us. At the centre of his life was Joyce. They were each other's best friend and brought out the best in one another. They worked together closely on all important matters and never kept score. Countless people would reference their marriage when asked about the best marriage they had ever seen, and numerous of our friends saw them as surrogate parents because of their always open and generous natures. The extended families and friends frequently gathered at the cottage in Muskoka and at their home in Ancaster. Dad was the consummate host. His warmth, generosity, the ever present twinkle in his eye, the crackling fire and the fact that no one ever had an empty glass, made everyone feel very welcome and completely at home. His martinis were legendary and his special "vesper" concoction at Christmas drew large crowds before we sat down to Christmas dinner. There are so many stories that will live on and provide comfort and laughter while we grieve the loss of this extraordinary man. If you see a family member, ask us about beaver wars, Gertrude Stein versus Mrs. Shufflewick, cannelloni stuffing, the day the Bent River General Store never opened, Mom's chic red jacket that went to Goodwill and the first 65 years are the toughest. You will help us get through his loss and you will be given a good belly laugh in the process.
A celebration of his life will take place on Saturday, April 29 at THE YORK CLUB, 135 St. George Street, Toronto. Doors open at noon and family remarks will begin at 12:45 p.m.
In lieu of flowers, and if desired, donations can be made to the Hamilton Community Foundation or the Argyll and Sutherland Highlanders of Canada.
We would like to thank the staff of the Belmont House for their considerate care, and especially his caregivers Marta and Glen.
***
RCNC199 Capt (N) Peers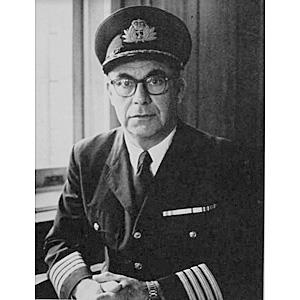 PEERS, Capt. R.C.K. CD, RCN (retired) March 17, 1927 – April 14, 2017 Bob was born in Vancouver, B.C. to W.J. and Kitty (Hill) Peers of Burnaby Lake. His early years were in Burnaby, Vancouver and Winnipeg before moving to Victoria in 1941. He went to Oak Bay High School where he excelled academically and athletically; playing rugby and soccer, winning the track and field championship, and graduating as Student Council President and Valedictorian. He attended the Royal Canadian Naval College (Royal Roads 1944-46) and was awarded the Sword of Honour on graduation. Bob then went overseas to train with the Royal Navy and was posted to HMS Vanguard, the last of the 15″ gun battleships. In 1947 Bob participated in the Royal Family visit to South Africa with their Majesties and the Royal Princesses. Sadly he was the last surviving Canadian Naval Officer from this deployment. In 1950 he joined HMCS Sioux and completed two tours in Korea. On March 12, 1952 Bob married Cleone Kathleen Thompson of New Westminster, spending their early years in Ottawa, England and Halifax. He was honoured to be 1 of 3 Canadian Naval Officers to attend the 1953 Coronation of Elizabeth ll. In December 1956 he was appointed Commanding Officer of HMCS Trinity and subsequently HMCS Chignecto. From 1958-60 Bob was seconded to the U.S. Navy to the Commander Carrier Division 16 (USS Valley Forge). After a posting to RCN HQ in Ottawa Bob commanded HMCS Annapolis on her commissioning in 1964. Thereafter he commanded the Sea Training Unit (Halifax) and the Second Escort Squadron (Esquimalt). In July 1970 Bob was appointed Commandant, Royal Roads Military College. In this capacity he negotiated with the Province of BC, giving the College a Charter to grant degrees. Captain Peers retired in August 1976 and subsequently participated in various non-profit endeavours including the Goldstream Salmon Hatchery and the Charter Fishing Association. Bob spent his last years at the Lodge at Broadmead in Victoria. The family wish to thank the Lodge staff for the love and care they gave Bob. Our thanks also go to Dr. H. Domke and Wendy Smith for their support. Bob leaves his two sisters, Anne Latham, Babs Jeffrey (David) and three children, Lorna Peers, Brian Peers (Millie) and Carol Mitchell, six grandchildren and two great grandchildren. Bob was predeceased by his wife, Cleone, (2010), son-in-law Bob Mitchell and brother-in-law Russ Latham. A memorial gathering will be held on Friday, April 28, 10:00 am at First Memorial, 4725 Falaise Drive, Victoria.
***
RCNC199 Capt (N) Peers was RRMC Commandant from 1970-76.
A true gentleman who will be sorely missed by the Rodents.
We received the following information from Lorna Peers, daughter of Capt(N) Bob Peers through 10277 John Miller:
Sadly I have to inform you of Dad's passing on the morning of April 14, 2017.  The family have organized a memorial gathering for him at 1000 hrs on Friday, April 28.  This is to be held at First Memorial, 4725 Falaise Drive, Victoria.  All are welcome.
Lorna, Brian and Carol Peers and families
***
5608 Robert Dennis Stewart – June 4, 1938 – April 17, 2017 (Class of 1962)
Celebration Of Life was held  – Saturday, April 22, 2017