Deaths | 
The family of Dave Rutherford is sad to announce his death. He was predeceased by his parents, Arthur and Myfanwy Rutherford. Left to celebrate his life are his loving wife of forty years, Lynn, his children, Devon (Shelley), Colin (May) and Megan (William). He was so proud of and got such joy from each one of them. His five grandsons, Henry, Ben, Andy, Eric, Andrew, and his baby granddaughter Lillian were the lights of his life. They will miss their special Grampy.
He also leaves his sister Heather (Tad), brother-in-law Ray (Linda), sister-in-law Karen, and their families.
Dave spent his entire work life in the gardens of Royal Roads University. Forty years there saw him grow from a seasonal worker to Manager of Grounds and Gardens. He had a vast knowledge which he shared with the gardening community and he was passionate about the gardens he knew so well.
Dave was highly principled, intelligent, and blessed us with his unique sense of humour. He kept us laughing right up until his death and made this journey easier on us all.
He worked extremely hard his entire life and could build or fix anything. Reminders of him are everywhere in the homes he built for his family.
He fought pancreatic cancer with such a calm, determined strength, as he lived his life. He was taken from us far too soon and we will miss his strength, the mischief in his warm brown eyes, and his love. He was a very special person.
There will be no service by request. A tree will be planted in his name at Royal Roads and his ashes scattered on his beloved property in Sooke.
Thank you to Dr. Pocock, Dr. Parimi, Sooke Hospice, family, and friends.
Please remember Dave by taking a walk in a forest, visiting Royal Roads, planting something beautiful in your garden, or hugging someone you love.
What others had to say about Dave Rutherford:
***
Over the past few months I was able to visit Dave in his beautiful home in Sooke which he built. The attention to detail, the Arts & Crafts design with some references to Hatley Castle were evident throughout. I will remember Dave as a devoted family man, of keen intelligence with a caring and gentle approach to life.
Dave Rutherford passed away 10 May 2017. Dave started work at Royal Roads Military College in 1970 as a Gardener. He was Head Gardener in 1995 at the closing of Roads. Dave was made Manager of Grounds and Gardens for Royal Roads University and retired in 2010. Dave served as a Director for RRU and was a long serving member, Director and Treasurer of The Friends of Hatley Park.
Don Lovell -RRMC 1970 -72
***
Hi Don,
Thanks for sharing this message, and the obit. I never got to meet Dave in person, but his knowledge and contribution to Royal Roads is scattered throughout the archives and his absence will be keenly felt. The
closing words in the obit are probably the loveliest farewell message I have read in a newspaper and I will certainly take a walk in the forest in appreciation of Dave's devotion to and passion for Royal Roads.
Take care,
Jenny Seeman
***
Don,
Thanks very much for sharing both the obituary and your personal memories. Seeing Dave's photo I do remember him from my time as BCEO. I recall that my visits to Royal Roads were always appreciated as opportunities to "escape" the pressures of the dockyard, and I particularly appreciated how Dave pointed out the special meaning of the gardens, as well as the rest of the beautiful grounds at RRMC!
I didn't have a chance to get to know Dave outside of the work environment, but I now see that he was a truly loved family-man. Such a tragic loss for his family!
Larry Cade
***
Don: Sad news indeed although we knew it was coming. Bave will be remembered as a true "Friend of Hatley Park," and will be missed.
Rick Young
***
3350 Tom Pearce – Class of 1956
***
John Sean Dennehy – Father of 17450 Paddy Dennehy
March 4, 1938 –  May 21, 2017
DENNEHY, Sean John – LCol (Retired) – RCAF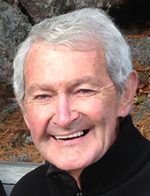 Sunday, May 21, 2017 at the age of 79. Widower of Liette Jacqueline née Pettigrew. Beloved father of Kevin (Una Nì Mhurchu), Patrick (Kate Doherty), Brian (Meredith McDowell), Michelle and Michael (Stéphanie Chaput). Proud grandfather of Aisling, Jack, Aiden, Declan, Willem, Cian, Sean, Madison, Logan, Quinn and Violette. Will be dearly remembered by his long-time companion Anita, relatives overseas in Ireland, England and Australia. Friends are invited to visit the Hall of Colours at Beechwood Cemetery, Funeral and Cremation Services, 280 Beechwood Ave. (East of Vanier Parkway) Wednesday May 31, from 4 to 7 p.m. Funeral Service will be held on Thursday June 1st, in the Sacred Space at 2 p.m. followed by interment and reception. In lieu of flowers donations in memory of Sean may be made to the Canadian Cancer Society.