Above photo by Liam Norris
---
16834 James Bower
Passed away peacefully at the Royal Victoria Regional Health Centre Barrie, on Thursday, June 11, 2020 at the age of 54. Loving husband of Donna Bower (nee McCracken). Cherished father of Claire, Heather and Scott Bower. Beloved son of Helen and the late Robert "Bob" Bower. Dear brother of Robert Bower (Karen Casselton-Bower) and Brian Bower (David Frattini). Proud uncle of Kayla Bower-Husul (Kevin Husul), Leigh-Anne Mauthe (Kyle Mauthe), Jessica Boxell (Josh Wilson) and Jarrett Bower (Danielle Bower). James will be sadly missed by his father in law John "Jack" McCracken (the late Winnifred McCracken), his sister in law Colleen McCracken (Doug Boxell) and many friends and extended family. A Celebration of James' Life will be held at a later date. Memorial donations to the charity of your choice would be appreciated by the family. Messages of condolence may be forwarded to the family through adamsfuneralhome.ca.
---
The following was contributed by 7000 David Haas.
Les commenced his formal training in the rudiments of war when he arrived at Royal Roads in September 1962. He showed up already well versed in the business, as his historical taste and enthusiasm for military matters had previously led him to study the U.S. Civil War.
In addition to his liking for history, he possessed a wicked wit and an inventive knack with the English language. Through his first and second years at Roads he channeled this into cartoons lampooning aspects of college life, with occasional memorable nicknames attached to characters.
First year was also memorable for Les running a burger supply operation bringing in nourishment from Big Ben's Dog N' Suds in Victoria. In second year he also brought in, with permission of the college authorities, a Luger pistol which he kept in his cadet strongbox. He occasionally practised shooting on the college's pistol range. He also uttered threats to use this firepower to despatch the raucous peacocks the new Commandant had imported that year. Such side activities apart, his studious aptitude got him through the college curriculum with little difficulty, transiting from the Science and Engineering program in first year to become one of the Seven Artsmen in second.
Les was Army, and in the first summer of the Regular Officer Training Plan went on the Introductory Tour of the army's training establishments. This gave participants a good idea of the varied components of a modern army in the field, as well as an introduction to many parts of Canada. Les then selected the Infantry, commencing footslogger training at Camp Borden in the second summer before beginning the Honours History program at RMC. Unfortunately the next summer of army training he suffered a bad accident in the field, severely injuring his back. He was able to complete his academic course and graduate with his Commission and an Honours B.A. in History, but then was medically released from the Canadian Army. Other classmates too have learned to their misfortune that even in peacetime, training can be dangerous.
While still at RMC, Les met his future wife Lawna at a dance at Kingston General Hospital in February 1965. They were married in September 1967 following her graduation in nursing. Their family grew over time to include a son and daughter, as well as three grandchildren.
Following his army discharge Les returned to his home town, Hamilton, and entered the McMaster University graduate program in history, receiving his Master of Arts degree in 1967. He then began working towards a history PhD. Taking a leave of absence in 1970 he put in a year of supply teaching, and so liked it that he proceeded to acquire a degree in teaching at the University of Western Ontario. He went on to a thirty-two year career as a highly regarded high school teacher before quitting the lectern.
In 2006 Les suffered a stroke which left his mental abilities unimpaired, but unfortunately the double blow of apraxia and aphasia severely diminished his ability to speak. With therapy and Les's typical dogged resolve, he regained most of his capacity.
Les never lost his fascination for things military. He was long involved in the Canadian Society of Military Medals & Insignia, and was granted the distinction of being made a life member. He was also a member of the Ontario Model Soldier Society. He was noted for his outstanding and creative displays and presentations. He derived particular enjoyment making historically and militarily accurate model scenes. Working on models was a tremendous outlet for his energies after his stroke. Les was ever fond of passing on his knowledge of things military to anyone interested, and passed his enthusiasm on to a grandson.
---
Patricia Marilyn Perry – Wife of 3305 Kenneth James Perry
Patricia (Pat) Perry (née McAndrew) passed away peacefully during the night of Friday June 5 at Stirling Heights Long Term Care Home, Cambridge, Ontario.
Born on June 29, 1930 in Powell River BC to Josephine (née Ruddock) and Bill McAndrew, Pat always had a deep connection to the west coast of Canada. But after her nursing training in Vancouver and keen for adventure, Pat set off with three good friends to explore Europe. On the way, she met and married a charming young officer of the Canadian Army, Kenneth (Ken) Perry, posted in Germany. The ensuing military life took her to many beautiful places: three times to England in the 1960s and 70s, the Peoples Republic of China in the 1970s and to Israel in the 1980s. During several periods Pat practiced as a nurse. Eventually she could not resist the call of the west coast, so she and Ken moved back to the Island to enjoy a busy and pleasant retired life.
With the passing of Kenneth, Pat moved back to Ontario to be with her large family: children, grandchildren and great grandchildren.
Predeceased by her brother Donald and her husband Kenneth, Pat leaves behind her daughter Dawn Goddard, husband Art and their four children, Adam, Virginia, Holly and Emma; her son Guy, wife Anna-Marie and their three children, Derek, Robin and Heather; and her son Scott and wife Kim. She also leaves eleven great grandchildren. She will be sorely missed by her loving family and friends.
Pat's family would like to thank deeply the staff and volunteers at both the Chartwell Queen's Square Retirement Home and the (Revera) Stirling Heights Long Term Care Home, who provided great care and empathy for Mom.
Donations in Pat's name may be made to the Victoria (BC) Hospice that provided great comfort during her husband's decline.
---
Courtesy of 10961 Brian Kroeker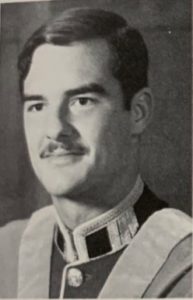 10996 Bill Rutledge
Dear members of the Centennial Class of '76
Mid-afternoon, Wednesday, 17 June 2020, Bill Rutledge (aka Root – 10996) peacefully slipped away while at home with his wife (Joan), children and their significant others by his side.  It was the culmination of a long and courageous 10-year battle with ALS.
Joan wanted his RMC buds to know that the Root Brigade ZOOM video call, held exactly one month ago, was a highlight for Bill and one of the last moments where he was happy, alert and pain free.  Bill was requesting Joan to show him pics from the yearbook after the ZOOM conference and when the ZOOM recording was posted on our Class of 76 web page he (re)listened intently to all 2 1/2 hours of it.
Because of COVID-19 restrictions the funeral service will be small and attendance very restricted. The service will be streamed online with details to follow.
---
5751 Gerald-Leon "Gerry" Couture Class of '63
5 March, 1939 – 16 May 2019
After a ten-year struggle with a rare kidney disease, we have recently learnt that Gerry left his beloved Yukon in the same way he lived his life – fighting for the preservation of life.
Born in Rossland, BC, at a young age Gerry was drawn to the Army and in 1958 entered CMR. His five years at CMR & RMC saw him complete an Honours Degree in History and in fourth year held the appointment of CWTO – who can forget that magnificent moustache?
After a brief career with the R22eR, Gerry headed west again and took up flying, first as a hobby then later as a commercial crop sprayer. Moving to the Yukon in 1969, he met the love of his life Jan, and against all odds they embarked on a wilderness adventure that lasted 40 years. For 17 years they lived on the banks of the Yukon River, 90 miles up-stream from Dawson City where Gerry turned his hand to trapping, competitive sled dog racing, placer gold mining, and commercial salmon fishing, whilst raising a family of three. In 1984 he was appointed as a member of the Canadian delegation to the Canada-US Yukon River Salmon Negotiations, working for 17 years to develop the international agreement between the two countries. He used to joke that he was the only Yukon trapper to go to work with a briefcase.
In 1992 the family moved into Dawson City, and Gerry was appointed to the Fish and Wildlife Management Board, and Jan worked for the Yukon Territorial government. They retired in 2005, and settled down in Dawson City. Unfortunately, in 2009 Gerry was diagnosed with Goodpasture's Disease, and lost both kidneys. This resulted in him becoming the most remote home hemodialysis patient in western Canada, spending six nights every week hooked up to the hemodialysis machine that filtered his blood while he slept.
In 2009 an anonymous donor created the Gerry Couture Stewardship Award to foster public awareness of, and appreciation for, the personal dedication required to conserve and manage the Yukon's natural resources. The donor of the award was inspired by Gerry's fearlessness and persistence in the face of adversity, and his creativity, innovation, and curmudgeonliness.
Rest in Peace Gerry, we salute you for a life spent in the service of others. Bravo Zulu