Above photo by Liam Norris
---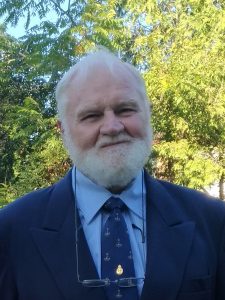 5904 Alexander Horne
RMC '63
Queens B.A. '69
Sandy passed away peacefully in Kingston, on Monday, July 6, 2020 at the age of 79.
He is survived by his wife of 51 years, Auren, his children James (Deanna), David 21240 (Anne-Marie 20865), and Elizabeth Robbins (Jeffrey), as well as his grandchildren Cassidy, Alexander, Peter, Catherine and Jason.
Sandy pursued a wide range of interests over the years ranging from SCUBA diving to boat-building to really learning calculus to building fine furniture.  He was always tinkering away on a project or three, with ideas for more.  He was ever ready to lend a hand and his expertise anywhere his help was needed.  As many know, he was always up for an adventure (as long as some one does the planning…).  He enjoyed spending time with his family and in later years especially enjoyed sharing the wonders of the world with his grandchildren.
He had a deep and abiding relationship with RMC, having made life-long friends and connections while at Royal Roads and RMC. As a father, grandfather and high school teacher, he encouraged many young people to pursue "university with a difference".
In keeping with his wishes, cremation has taken place. Donations in his memory may be made to Historica Canada.
---
Padre Don Hatfield Royal Roads 1967-1971
Padre Don Hatfield passed peacefully on Friday July 24th, with his wife Sylvia, son Stephen and daughter Sara at his bedside. Don was in his 92nd year.
LCol Hatfield, CD served with distinction in all three elements, on sea and on the land. Don held a four year term as the Protestant Chaplain at Royal Roads Military College from 1967 until 1971. He is an Honorary Member of the Class of 1970-72. Sylvia was made his Senior when she was appointed an Honorary Member of the Class of 1967-68. Don was awarded an Honorary Membership by the Vancouver Island Ex-Cadet Club with the notation of VIS 2.
Padre Hatfield conducted the November 11th Service at the Royal Roads Italian Gardens from 1998 until 2012. In 2001 Rev Hatfield was appointed the Honorary Chaplain of the Vancouver Island Ex-Cadet Club and held that post until 2016. Padre Hatfield conducted the dedication service for the Flagmast Plaza at Roads on September 14, 2008 with over 200 Ex-Cadets and guests in attendance.
Royal Roads University has lowered the Canadian flag at the Flagmast Plaza until sunset Wednesday August 5th, 2020 in honour of Padre Don Hatfiled's service to the Ex-cadet, the University and the community.
There will probably not be a newspaper obituary and a service will be held at a later date.
The following is courtesy of 8977 Bevan Slater: 
I regret to inform e-Veritas readers who knew Don Hatfield that he passed away at home in Esquimalt, B.C. on July 24, 2020 at the age of 91. Don is survived by his son, daughter, and his wife of 65 years, Sylvia. Don and Sylvia remained friends with many of "their boys" after Don's time as the Protestant Chaplain at Royal Roads and they both continued to inspire us right to the end of Don's life of service. We all benefited from their influence on our young lives and thank them for their caring.
---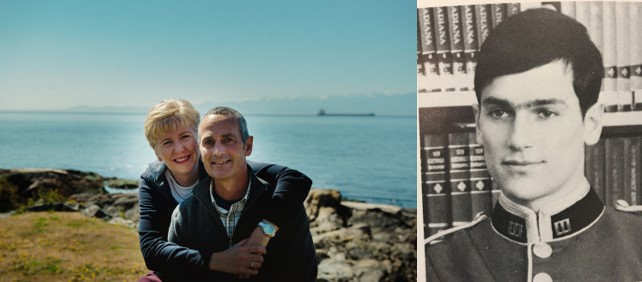 13808 Harry Weiler
July 1, 1959 to July 24, 2020
13808 Harry Weiler joined the Canadian Forces in Newfoundland in 1978 with a group of thirty young men, of which only two would eventually receive their commission. After two years on a "sports scholarship" at Royal Roads followed by two more years of sports at RMC, he graduated in 1982 with a bachelors degree in Engineering Management.
Harry was commissioned as a Royal Canadian Engineer and served as a Combat Engineer and Diver at 1 CER in Chilliwack. Harry trained and led the 1 CER Combat Divers to win the prestigious 1st Canadian Division March and Shoot Competition in RV 83 against all other Army units. That was a truly unique accomplishment. He then moved to the Mapping & Charting Establishment in Ottawa. His military claim to fame is a rugged survey in the high northern Arctic spending 1987 and 1988 on Ellesmere Island, completing the final outstanding piece of the map of Canada.  He released from the CF in 1989 and worked at SPAR aerospace building up the satellite sales division and envisioned, created and championed a contract sales division. When he left SPAR after five years employment this new division had achieved $40M per year in sales.
Harry met the love of his life Laurie in 1988 and they made an exciting life for themselves renovating fourteen homes and travelling. They moved to Victoria in 1999 and never looked back. He consulted and helped create the business plan for Carmanah Technologies and then became CEO of AXYS Technologies from 2001 to his early retirement in 2015. With AXYS, he took the maritime sonar buoy and device organization from a small shop to a $16 million per year highly recognized global force. With his friend Peter Berrang, they continued into kite-boarding to direct one of the world's premier manufacturers of sports gear.
Harry's athletic abilities were renowned. He exemplified high performance in athletics including: the dreaded MilCol PT test, gymnastics, running, tennis, squash, rugby, uni-cycling, skiing, snowboarding, windsurfing and kite-boarding. Anything he'd set his sights on would be mastered within a few months. His serious hobbies included "Windigo" (his sailboat) and "Tony" (his Bayliner cruising boat) and their never-ending need for maintenance.
With his great friend and fellow combat diver RMC8501, Doug Foreman, he was a master of open ocean fishing for salmon, prawns, halibut and crab. If it moved, it was always on the menu. He was skilled at mechanics and wood-working, making his famous bowls and spoons and he loved entertaining with extravagant seafood dinners. There was very little down time especially in his five good years of retirement. He loved involving his close friends in his activities, like touring his magical playground, Portland Island, and especially loved teaching kids and making their lives brighter and exciting. With Laurie they shared a wide range of friendships.
With the love of his life Laurie at his side, he took on his final challenge of fighting leukemia since October 2019. Harry did nothing half-assed, including trying to beat the relentless cancer. All was looking good for a few months after his bone marrow transplant – the fishing, athletics and activities returned to normal. Then the final biopsy showed the cancer had returned. Ever the decision-maker, he passed away at a time of his choice with Laurie, his loving "Bunkie", at his side listening to the pounding waves and the wind in their Pacific Ocean home in Victoria. Ever fitting, he passed at 1415 hrs on Friday, July 24th 2020 while the fish were waiting to be caught at the low tide "bite", when fishing is the best.
His was a wonderful ride with his life, activities, family and friends. Harry's retirement five years ago was the best decision, as he said many times; and that's what Harry always did well … deciding.
Laurie will rebuild their home as they both decided and Harry's memory will live on through his contributions to the various children and friends that he always taught cool things, and through his loving gifts of material and shared activities. These were the essence of his true altruism.
See you on the water Harry.
---
4079 Guy Provost
À Saint-Lambert, le 26 juillet 2020, est décédé M. Guy Provost, époux de Anne Beaulieu.
Outre son épouse, il laisse dans le deuil ses enfants Anne-Marie (Louis-Philippe) et Martin (Phil), sa petite-fille Gabrielle (Louis-Mathieu), son arrière-petite-fille Florence, son frère Marcel (Nicole), ainsi que plusieurs neveux, nièces et amis.
La famille accueillera parents et amis le vendredi 7 août 2020 au Complexe funéraire Yves Légaré de Longueuil. Une cérémonie commémorative s'y tiendra.
Au lieu de fleurs, un don à la Fondation québecoise du cancer serait apprécié en la mémoire de Guy Provost.