Above photo by Liam Norris
---
7748 Terje Hartvigsen
Passed away suddenly 7 Sept 2020. No further details were available as of press time.
---
4595 Jarrot Holtzhauer
August 31, 1935 – September 12, 2020
"I have fought the good fight. I have finished the race.  I have kept the faith." 2 Timothy 4:7
Struck off Strength:  Colonel (Ret'd) Jarrott (Jerry)W. Holtzhauer, CD died on September 12, 2020 under the loving care of Chapel Hill Retirement Residence after many medical complications borne as usual with a sense of humour and without complaint.
Jarrott's life was one of service to his country and commitment to his family.  He was the deeply loved and always loving husband for 60 years of Judith Ann Neale.  He was the very proud father of his wonderful children, Katie (Larry) and Christopher (Suanne), the joyful Poppa of his amazing grandchildren Laurel and Thomas (Kajtya), Liam and Jake and his treasured great- grandsons Tobias and Trevor.
Born in Galt, Ontario, August 31, 1935, into a military family to MW01 Wilbert Holtzhauer and Gertrude Holtzhauer, he was the eldest of four boys, always devoted to his late parents and his brothers, Rayburn (Trudy), the late Harvey and the late Dwight.
After growing up in Camp Borden, he went on to graduate from Royal Roads Military College (Victoria) and Royal Military College (Kingston) where he made connections and friendships that sustained him his whole life.
His 35 year career as a Service Corps and Logistics Officer offered opportunities to explore and serve Canada, especially in Ontario, Quebec and New Brunswick, to participate in a UN tour in India/Pakistan and with NATO in Germany as the Commanding Officer of 4 Service Battalion (Lahr).
After his retirement from the Canadian Armed Forces, Jarrott continued to serve within the Public Service.  His second retirement left him free to continue volunteering for many military organizations he loved; CAVUNP, NATO Vets, and the RMC Club.  His proudest accomplishment was his involvement in the development of the new Canadian War Museum, the "Passing of the Torch" campaign and his opportunity to serve as the President of the Friends of the War Museum for 12 years.
Always an athlete, he loved biking in summer and skiing in winter but golf was his passion and curling his joy.  He loved his companions on the course and the rink and having the winning hand with his Tuesday night poker group.
His commitment to service extended to the community. He was a dedicated volunteer for many years for the Orleans-Cumberland Community Resource Centre.
He was honoured to receive the Minister of Veterans Affairs Commendation and the Sovereign's Medal for Volunteers.
Always kind and thoughtful and a true gentleman, Jarrott felt blessed to have wonderful friends, to be able to travel widely and to live each moment well.  A good party, a fine meal and a great scotch made any day perfect.
A heartfelt thank you from his family to each of you who enriched his life in so many ways.  He valued you all.
Sadly, due to the increasing Covid-19 restrictions and limits at the funeral home we have made the difficult decision to postpone the visitation and funeral services for dad until sometime in the new year. When Covid-19 restrictions have lifted we will celebrate with a grand happy hour, the party he always wanted.
Donations in Jarrott's memory may be made to the "Friends of the Canadian War Museum" or the Orleans-Cumberland Community Resource Centre, both organizations dear to his heart.
The life that I have
Is all that I have
And all that I have
Is yours
-Leo Marks
---
8845 Robin Arthur McDonald
Of Halifax. Family and friends were devastated to learn that long-serving Halifax lawyer Robin McDonald passed away on August 29, 2020 at age 69. Son of Commander Arthur Hathaway McDonald and Rosemary (Wallace) McDonald, Robin was born and raised in Halifax and Ottawa.
As a reserve naval cadet, he earned his bachelor's degree at Royal Military College in Kingston, Ont., graduating in the Class of 1971 when he was still just 19 years old.
He then continued his studies in Kingston at the Faculty of Law at Queens University, gaining admission to the bar in 1974. With Terry Cooper in 1977, he founded the law firm of Cooper & McDonald, and served clients in the areas of commercial law, real-estate law and civil litigation until 2007. Robin was a talented enthusiast who brought limitless energy to all his professional, scholarly and recreational activities. His clients remember him as a savvy, caring advocate who sought fairness in every dealing. His colleagues respected his expansive knowledge of the law, boosted by a photographic memory that enabled him to cite the specifics of even obscure case law with indisputable precision.
His friends gratefully welcomed his authentic, sustained interest in their pursuits, and many experienced his readiness to help anyone in need.
A seasoned sailor and long-time member of the Nova Scotia Yacht Squadron, Robin loved the sea.
After retirement, he and his adored wife Karen embarked on a life of travel and adventure to the watery parts of the world, often on sailing trips with members of their close-knit family. Whether at their summer home on Williams Lake in Halifax, or their winter roosts in Victoria, B.C., and Barbados, they routinely surrounded themselves with family and friends, all of whom will sadly miss Robin's fine cooking, witty conversation and roaring laughter.
Robin is survived by his wife, Karen Lyle; her daughters, Christine Taylor (and Shane) in Halifax; and Catherine Quentien (and Marc) in Victoria, B.C.; as well as his much-loved grandchildren, Zachary, Vanessa, Michael, James, Maisie; and great-granddaughter, Gemma. Robin is also survived by his sisters, Janet Riddell (and Ray Riddell) of Woodman's Point, N.B.; Katherine McDonald (and Ray Cannings) of Ottawa, Ont.; and Yolande McDonald of McLean, Va. He will also be greatly missed by nieces and nephews, Dylan, Patrick, Jessica, Max, Jaqueline and Jackson; brother-in-law, Ken Powell; and sisters-in-law, Joan Harrison, Sandi Thompson, Sheila Thompson, Lori Voogt and Linda Bessem.
In lieu of flowers, Robin's family would appreciate that donations be made to Canadian Cancer Society.
---
3278 William (Bill) Henry Evans
August 13, 1932 ~ August 27, 2020
Bill was born in Winnipeg on August 13th 1932 to Helen and Harry Evans, the oldest of 3 brothers. While his father was away serving in the 2nd world war, Bill took the Big Brother responsibilities while his mother worked. He excelled scholastically and athletically and after graduation from Daniel MacIntyre Collegiate, he headed to Royal Roads University where he started his military career. He and his classmates started what would turn out to be friends of a lifetime. They studied together, socialed together, performed musicals together, and even married together. Bill and several classmates participated in a British/Canadian exchange, where they finished their formal schooling at Greenwich College in England. While there, Bill and 2 classmates all married their sweethearts, standing up for each other in what were very intimate celebrations of Marriage. September 15, 1954 Bill married Janet (Farquhar) at St Mary the Boltons in London England.
Bill and Janet returned to Canada in '55 to live in Halifax NS where they welcomed the birth of Michael in '56 and Brian in '58, completing a Communication Specialist Course in Cornwallis NS. The next assignment saw the small family journey to Virginia on loan to the US Navy for 2 years serving on the VALLEY FORGE and then back to Halifax where Bill retired in 1963 from Naval Service as Lieutenant Commander. Throughout his tenure with the Canadian Navy he held posts on HMCS BEACON HILL, ONTARIO, MAGNIFICENT, HURON, CORNWALLIS and NIAGARA.
His roots called him back to Winnipeg in '63, where he took on several corporate executive positions with Eaton's. The family welcomed the birth of Tim in '64 and Heather in '67. He was an active member of the Eaton Curling Club, the Niakwa Golf Club and the Winnipeg Squash Club. There will be many medical practitioners who marvelled at his courage and perseverance in regaining feeding and speech following a near-fatal car accident in '66
The opportunity to relocate to Toronto in '71, saw the family settle in Etobicoke where they became an integral part of St George's Golf & Country Club, both in golf & curling, and in several musical productions which Bill directed, including Pajama Game and Guys & Dolls. He was well-known for the intricate Car Rallies he planned & mapped, up to as recently as 2019.
Bill moved over to Hudson's Bay Company in '74. In '85 Bill took on the Presidency of the Hudsons Bay New York Fur division and commuted from Toronto to New Jersey for 4 years. Retiring in 1990, Bill was coerced to the other side of the table and served as Marketing Director for American Mink Council & North American Fur Association, negotiating with HBC on behalf of the fur farmers.
Vancouver Island always had a special place in Bill's heart and as a result, Bill & Janet moved to Nanoose Bay in 1998, where Bill continued his tenure with AMC/NAFA for several more years, finally handing over the reins in 2012.
Not to slow down, Bill took on the Presidency of the local Strata, key roles with the local Probus, all the while revelling in the achievements of his children & grandchildren. A fierce competitor, there was always a game of cards or dominos or a friendly banter about sports or politics at hand. Growing up a choir boy in the Anglican Church, retirement gave him the opportunity to give to St Mary Nanoose Bay Church in many capacities.  His effective leadership in his community and his church has earned him the praise and gratitude of all who knew him.
Bill loved flowers, live theatre & musicals, sports, books and being a leader. Bill faced many years of serious medical challenges, against which he fought the good fight until his last battle which was not winnable. Through it all he was always positive and tenacious. Despite his speech difficulties, Bill was a leader, a prolific storyteller and a take-charge guy in any setting.
Bill was predeceased by his brother, Murray, his parents Helen and Harry. He is survived by his wife, Janet, sons Michael (Mary Jane), Brian, Tim (Christine) and daughter Heather and the 4 grandchildren he adored, Alyssa, Chad, Matthew and Stephanie. Brother Gary (Evelyn) and their 4 children and Sister-in-law Emily all reside in Winnipeg. Brother-in-Law Laddy (Karen) and their 2 children reside in Halifax.
The family will hold a private service. In lieu of flowers, donations in memory of Bill can be forwarded to St Mary Nanoose Bay, 2600 Powder Pt Rd, Nanoose Bay, BC V9P9E8
Son, Brother, Husband, Father, Uncle, Grandfather, Co-worker and Friend. The memory of a good person is a blessing to all who knew him.
From 3201 Aus Cambon:
The Class of RR'52/RMC'54 is saddened to report the passing of 3278 WILLIAM ("Bill") EVANS. Bill passed away on August 27 at age 88. His Obituary, provided by Yates Memorial Services, Parksville, BC, is attached. Bill was an exceptional person as is reflected in this comprehensive review of a life well lived and a person loved by the many who had the opportunity to know him. To say that Bill was a good person would be to understate his life achievements and the serious health challenges he fought. As a naval cadet at RR Bill excelled both as an athlete and as a leader. The RR 1952 yearbook noted that Bill was "certainly one of the most outstanding Cadets to pass through Royal Roads".
Our RR mates hold dear the attached photo that shows Bill as one of the four top cadets at RR who were chosen to meet with and chat with Princess Elizabeth and the Duke of Edinburgh during their visit to RR in October,1951. The cadets seen in the photo are, from left to right:
3300 Alick MARSHALL, 3276 Bill EVANS, 3278 Chick FERGUSON, and 3272 Ed CZAJA. Quite an honour!
Bill had extensive naval experience in the RCN and with the US Navy and as Nigel BRODEUR wrote in tribute
"Bill was an exemplary naval leader and Communicator who was greatly respected by everyone who knew him".
Our heartfelt sympathy to Bill's wife, Janet, and all the Evans family on their loss..
3201 Austen (Aus) Cambon, Class Secretary, Class of RR'52/RMC'54
---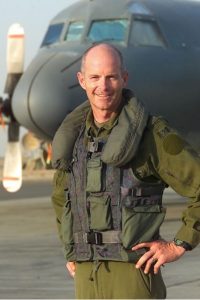 13991 Frederick Bigelow
Bigelow, BGen (Ret'd) Frederick George, ONM (1961 – 2020) peacefully passed away at home in Courtenay on Tuesday, September 1. Fred was predeceased by his parents, Alan and Stella, his sister Mary (David) and his son Eric. He is survived by his wife Sarah, children Stephanie (Scott) and Alan, and his sisters Margaret (Gene), Jean (John) and Susan (Doug).
Chasing his dream of becoming a pilot, Fred embarked on a plan to fly with a commercial airline in 1978, which failed miserably. He was then rejected by Canadian Forces recruiters who cited lacklustre grades and a questionable attitude towards the military. He fooled them the next year when he was selected to complete his Physics and Oceanography degree at Royal Roads Military College. After receiving his wings, Fred was selected to remain in Moose Jaw as a jet instructor (those who can do, those who can't…) and then joined 407 Demon Squadron in 1988 as a Captain and then a Major. After being appointed CO and flying the Aurora domestically, Fred led the Persian Gulf Long Range Patrol Task Force in 2003. After various ground jobs across the country, he returned to Comox as Wing Commander and flew the Buffalo SAR aircraft with 442 Squadron. After a year of Peacekeeping in the Sinai, and a couple of staff assignments in Ottawa, Fred was tickled pink to join the team at the Comox Valley Airport as CEO.
The latter being a job that supported his main goals – trying to keep up with Sarah running and biking trails, or falling off his Surfski! Primarily Fred will be remembered by how he connected with and supported others. He will be most missed by his family, his wife, his children, and his grandchilden. Under current gathering restrictions, a live-stream of an intimate celebration of life was available online between 1300 and 1500, Friday, September 4 at:
www.facebook.com/Celebration-of-Life-Fred-Bigelow-109752927522707
Memorial donations in memory of Fred can be made to the United Riders of Cumberland (UROC) or the Cumberland Community Forest Society.
---
17512 Michael Smith
Michael, age 51, passed away from health complications at his home in Ottawa. He is now at peace.
Mike was born in North Vancouver where he lived for 11 years, then the family moved to Calgary where he lived until finishing high school. Mike attended Royal Roads Military College, and RMC Kingston, earning his aerospace Engineering degree.
He worked at Canadian Forces, and in project management with DND and high tech aeronautical industries.
Michael enjoyed classic rock, soccer and skiing. He was a kind, considerate, witty, gentle, artistic, charming, intelligent charismatic soul, who will be greatly missed.
Michael is predeceased by his Mother Jan. He is remembered by his daughter Natalie, partner Marina, father Darrel, his siblings Allison (Warren), Ken (Carol), Aunt Lois, nieces; Carlie, Nicole, Shawna, Katrina, his nephew Connor, as well as his dear cat Harry.
A gathering for Michael will take place in Ottawa when circumstances allow.
---
4930 Andrew Kipiniak
Andrew Kipiniak died at his home in Etobicoke, on Friday, September 11, 2020. He was born in Poland, on July 8, 1939. Immigrant to Canada, he was an officer in the Royal Canadian Air Force and an engineer graduated from the University of Toronto. He is survived by his brother Walerian, his nephews, and nieces in the USA. Visitation was held at Ward Funeral Home, Toronto, on Sunday, September 20.
---
4326 Victor De La Durantaye
Boucherville 1936 – 2020
À Boucherville, le 15 avril 2020, à l'âge de 84 ans, est décédé monsieur Victor de La Durantaye, ing., époux de madame Micheline Girard.
Outre son épouse, il laisse dans le deuil sa fille Lyne (Jean-François Leblond), ses petits-enfants Philippe et Corinne, son beau-frère Camille, ses nièces ainsi que plusieurs parents et amis.
La famille recevra vos condoléances le dimanche 27 septembre de 13 h à 17 h au :
Complexe Funéraire Pierre Tétreault inc.
549, Samuel-De Champlain
À l'est de Montarville
Sortie 19 de la Route 132 est
Boucherville (Québec) J4B 6B6
Tél. : (450) 655-6036 Téléc. : (450) 655-0941.
Une liturgie de la parole aura lieu le même jour à 17 h en la chapelle du Complexe Funéraire Pierre Tétreault.
L'accueil se fait dans le respect des règles de la distanciation en raison de la COVID-19. Le port du masque est obligatoire.
Vos témoignages de sympathie peuvent se traduire par un don au Centre de répit-dépannage Aux Quatre Poches de Boucherville.
---
M0061 Efstathios "Stath" Amarandos
Age 72, of Halifax. It is with profound sadness that I am announcing the death of my best friend and devoted husband of 51 years. Stath passed away on September 18, 2020, at home with me by his side holding his hand. He battled for 11 years with heart disease and two years with cancer. He was a very brave soul and never complained, keeping his witty sense of humour and his good nature to the very end. Stath began his 42 year career in the Canadian Armed Forces (Army) as a boy soldier in the RCEME Corp, Kingston, Ont. Later in his career, he attended CMR, Saint Jean, Que. and graduated from RMC, Kingston, Ontario, 1981. He also served with the Military Police and finished his career with the Training and Development Branch. He served in Kingston, Gagetown (3 tours), Lahr, Germany, Saint Jean, Kingston, Valcartier, Halifax, Shearwater and Haiti. Besides myself, Alana (Mader), Stath leaves behind to mourn him his daughter, Sonja Amarandos; his granddaughters, who he adored, Kayleigh (Manuel) Amarandos and Kate Amarandos; his daughter-in-law, Sheila Amarandos; and his two best army brothers, Ken (Dona) Riel, Fort Worth, Tex.; and Brian (Trudy) Cook, Windsor, Ont. His brothers, Paul (Reta) Blades, Paradise; George (Pat) Amarandos, Mount Uniacke; Chris Amarandos, Edmonton, Alta.; and his sisters, Virginia (Doug) Hambly, Halifax; Athena Amarandos, Ottawa, Ont.; his brother-in-law, Rick (Sharon) Mader, Mineville. As well, he will be mourned by those lives he touched with his patience, caring, wisdom and sense of humour. Stath was predeceased by our beloved son, Jeffrey who he now joins; his army brother, Calvin (Rhea) Frost; and his parents, Evangelos and Mildred Amarandos. I would like to thank Dr. Mark Stender and Dr. Evan Merrick, the ICD clinic, Halifax Infirmary and the Cardiology Clinic. Thank you to Emergency Health Services, the Oncology Department of the VG Site QEII, the Palliative Care team, especially Dr. Kruger-Naug, and Monica Flynn. Thank you to Atlantic Funeral Home for their respect, care and assistance. As per Stath's wishes cremation will take place and there will be no visitations. Online condolences may be made by visiting the Halifax chapel at: www.atlanticfuneralhomes.com "To live in hearts we leave behind Is not to die"