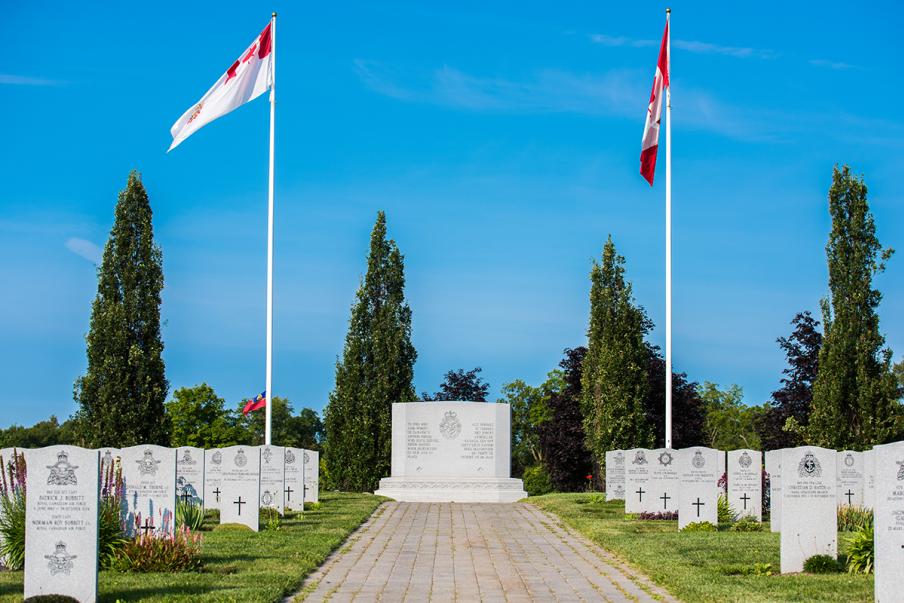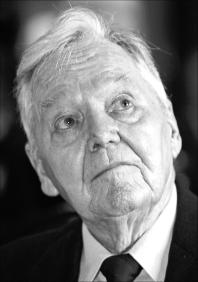 2510 BGen (Ret'd) Edward A.C. "Ned" Amy OBE, DSO, MC (RMC 1936)
Decorated soldier dies
Ned Amy, 94, was 'more than a commander'
By EVA HOARE Staff Reporter – The Halifax Chronicle Herald
One of Canada's highest decorated and respected tank officers of the Second World War has died.
Retired brigadier-general Ned Amy, 94, died Wednesday in the Camp Hill hospital, said several members of the military.
"He was marvellous," said Amy's good friend, retired major-general Clive Addy, colonel-commandant of the Royal Canadian Armoured Corps.
"He was more than a commander. He was a person who was very human in his command," said Addy in an interview from his home in Perth, Ont.
"I think I will have a 'Remember Ned Amy' toast."
Aside from numerous honours bestowed upon him for his battle prowess throughout Europe and Korea, Amy will be best remembered in Nova Scotia for his tireless effort to have the Halifax Rifles returned to the Canadian Order of Battle.
"There is nobody of the commandants after Ned Amy who did not get a minimum of five calls per year (from him saying), 'So what are you doing about the Halifax Rifles?' " Addy said of his predecessor in Halifax.
Amy accomplished his mission in 2009, when Defence Minister Peter MacKay made it official.
After that success, Addy remembers Amy turning to him and saying, "Well Clive, I've done my part, you keep them there."
Another military friend, retired colonel John Boileau, also recalled Amy's doggedness in having the Halifax Rifles restored to its former glory.
"I really got to know him when I started serving in Halifax in 1990," Boileau said in an interview Thursday.
Now retired, Boileau was chief of staff of Land Force Atlantic Area from 1990-94. He remembers Amy's numerous visits to prod the military into returning Halifax Rifles to the Order of Battle.
"He finally succeeded," Boileau proudly recalled.
Boileau first met Amy in 1967 in Germany when the brigadier-general commanded the 10,000-man strong Canadian brigade that was in Germany as part of Canada's commitment to NATO.
"He was at the top of the heap of our Canadian troops in Germany and I was at the bottom," Boileau said, noting that he was only a tank troop leader at the time.
Both Boileau and Addy remember Amy for his modesty despite the incredible honours he received.
A couple of years ago, Addy said he and Amy were at CFB Gagetown to be briefed on simulation training. After they took in a technology presentation, Amy said to Addy, "That does it Clive, neither you and I were smart enough to join today's army!"
Addy also recalled how touched Amy was when CFB Gagetown named its tank park the Amy Tank Park. "He broke down. He was extremely touched. He was a man who didn't like big shows about him. He was an honest, a modest man."
Boileau, who visited Amy in hospital on Monday, has similar remembrances of his friend. "He was tiny man, a small man, but one of the biggest-hearted individuals I'd ever know."
MacKay said, "Ned will be remembered by all who knew him as a dedicated soldier, a generous and vibrant human being, and a truly great Canadian."
NDP defence critic Peter Stoffer called him "one of Canada's greatest heroes. He was about five feet tall but pound-for-pound one of the strongest-willed people in all of Canada."
Both politicians credited Amy with the successful campaign to reinstate the Halifax Rifles.
Amy could well have been the most decorated Canadian soldier when he died, Boileau said.
Amy received the following awards during his military career:
•Distinguished Service Order during the Second World War from Canada for his part in the liberation of the Netherlands.
•The Military Cross during the Second World War from Canada for determined and gallant leadership while holding a vital bridgehead over the Moro River when he was serving in Italy.
•The Order of the British Empire for his service during the Korean War.
•The United States Bronze Star for his service in Korea.
In July 2007, Amy received the highest order France bestows, the Legion d'honneur, for helping liberate that country during the Second World War.
Amy retired from active service in 1972.
Maj. Mario Couture, head of public affairs for Land Force Atlantic in Halifax, said the military is awaiting word from Amy's family as to funeral service details.
"We stand ready to support a military funeral," said Couture. "We will go with what the family wishes. They have the lead."
Addy, whose father was a great friend of Amy's as well, said he and his colleagues were reminiscing about the "great warrior" on Thursday.
"He could look through your heart from his limited height," said Addy. "He was an absolutely fine and wonderful gentleman. His war history was absolutely amazing. He had a good ride."
Funeral Arrangements. The life of General Amy will be celebrated during a 'Soldiers Funeral' at the Trinity United Church on Edgewater St in Mahone Bay (tel 902-624-9287) commencing at 1400hrs on Thursday the 10th of February. His service will be followed by a reception in the hall at the rear of the church.
Visitation. An afternoon and evening visitation will take place at Cruikshank's Funeral Home, located at 2666 Windsor St, Halifax (tel 902-423-7295) on Tuesday the 8th of February. Precise timings will be contained in an obituary to be published in the Halifax Chronicle on Monday the 7th of February.
Dress. Dress for serving members is DEU 1A (tunic with medals). Mourning bands for CWOs and Officers will be available at the entrance to the church. It would be quite appropriate for retired members to wear their medals.
Condolences and Remembrance Anecdotes. Condolences and remembrance anecdotes can be forwarded to Colonel (Ret'd) John Boileau at johnboileau@eastlink.ca. Further, should you wish to do so, and in lieu of flowers, a donation in General Amy's memory can be to organizations and associations near in dear to General Amy, the details of which will also be contained within his obituary in the Monday edition of the Halifax Chronicle.
Previous e-Veritas article on Ned Amy – Ardent Advocate for the Reactivation of the Halifax Rifles.