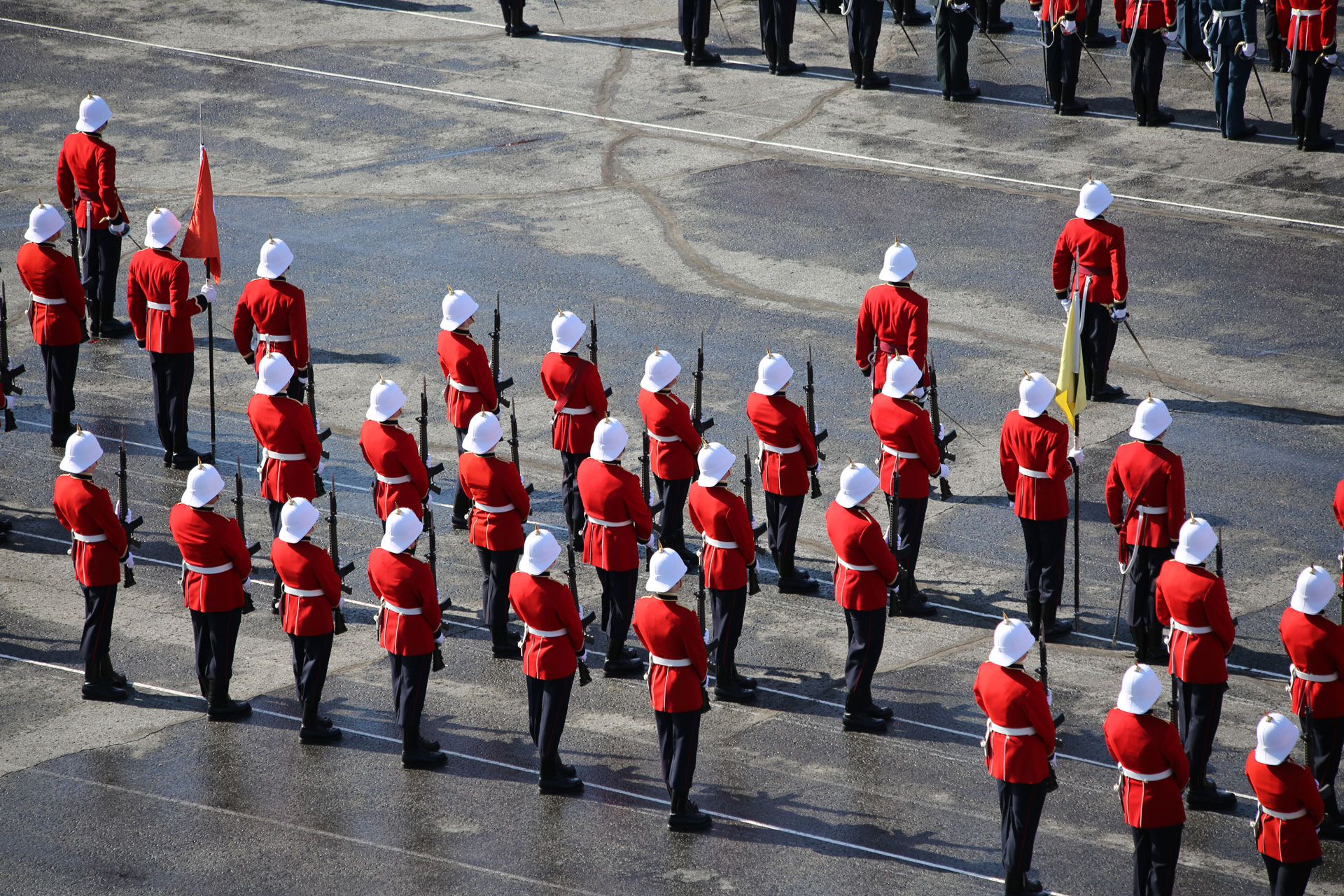 Did you know?
The Offical Sculptors of Canada are better known for the decorative objects, such as sculptures and stained glass windows on Parliament Hill.
Maurice Joanisse, an apprentice carver who later became the Official Sculptor of Canada, carved two Coats-of-Arms on the exterior window bays of the Currie Building at RMC in 1976. The carvings were sculpted on limestone blocks using traditional carvings tools at a workshop in Ottawa before being transported to Kingston. Eleanor Milne, then Official Sculptor of Canada supervised the limestone carving outside Currie Hall.
The arms of General Sir Arthur William Currie were selected as a subject because the Currie building was named in his honour. The arms of 151 Lt-Gen Sir Archibald C. Macdonell K.C.B., CMG, DSO were selected because he was the Commandant at the time the Currie building was constructed.
Researched by E3161 Victoria Edwards – Photos by: 25850 OCdt Stephen Andersen

Did you know?
Veterans Affairs Canada (VAC) established a Cenotaph/Monument Restoration Program (CMRP) to assist communities across the country to properly conserve cenotaphs/monuments to Canada's war dead and Veterans. The program can provide support of up to 50% of eligible expenses, not exceeding a maximum of $25,000. Next application deadline is April 28, 2011.
http://www.veterans.gc.ca/eng/sub.cfm?source=memorials/cenotaph/guidelines
Anciens Combattants Canada (ACC) a mis en oeuvre un Programme de restauration de cénotaphes et de monuments afin d'aider les collectivités canadiennes à conserver de manière appropriée les cénotaphes et les monuments érigés à la mémoire des Canadiens morts à la guerre et des anciens combattants. Anciens Combattants Canada prévoit offrir un soutien financier représentant 50 % des coûts admissibles jusqu'à concurrence de 25 000 $. La prochaine date limite pour soumettre des demandes est le 28 avril 2011. http://www.veterans.gc.ca/fra/sub.cfm?source=memoriaux/cenotaphes/lignesdirectrices

War Graves Photographic Project
A project is underway to photograph the graves of and memorials to all service personnel from 1914 to the present day and make the images available to the public. The work is being carried out by The War Graves Photographic Project in conjunction with the Commonwealth War Graves Commission (CWGC). The aim is to photograph every war grave, individual memorial, Ministry of Defence grave and family memorial of serving military personnel from World War I to the present day. These memorials are all over the world where British, Commonwealth and other nations servicemen and women are buried or commemorated. The project has thus far recorded over 1,000,000 photographs for posterity. www.twgpp.org
Although not all photographs have been uploaded yet, ex-cadets include:
Mrs Josua Wright, the mother of 2 cadets who gaves their lives in WWI, unveiled the Memorial Arch, Royal Military College of Canada.
• #558 Maj G.B. Wright DSO, RCE killed in action in France 21 May 1915; Hinges Military Cemetery, Pas De Calais, France http://www.twgpp.org/information.php?id=1853856
• #814 Major J.S. Wright 50th Bn CEP, Canadian Infantry (Alberta Regiment).killed in action in France 18 Nov 1916 Vimy Memorial; Pas de Calais, France http://www.twgpp.org/information.php?id=1597172
1123 Second Lieutenant Robert Leighton Moore Ferrie (RMC 1915), 46th Sqdn. – Izel-Les-Hameau Communal Cemetery http://www.twgpp.org/information.php?id=2574793
1073 Lieut. Geoffrey Crosier Hilliard (RMC 1914);Royal Canadian Dragoons – Etaples Military Cemetery http://www.twgpp.org/information.php?id=2101752
908 Lieut. Francis Malloch Gibson (RMC 1911);15th Battalion Canadian Infantry (Central Ontario Regiment) – Cite Bonjean Military Cemetery Armentieres http://www.twgpp.org/information.php?id=1964991
1277 2nd Lieut William Kellock Domville (RMC 1916); Hamilton Cemetery Killed while flying (crashed) 07/07/18 Age 20 http://www.twgpp.org/information.php?id=1676195
676 Captain Robert Clifford Darling (RMC 1904-1907); Canadian Infantry (Central Ontario Regiment) – Toronto (Mount Pleasant) Cemetery http://www.twgpp.org/information.php?id=1681476
1070 Captain Frederick Pole Daw (RMC 1914); 4th Bn. Worcestershire Regiment. – Bancourt British Cemetery http://www.twgpp.org/information.php?id=2431955
932 Lieutenant Richard Gilpin Crawford (RMC 1911); Princess Patricia's Canadian Light Infantry (Eastern Ontario Regiment) – Bailleul Communal Cemetery (Nord) http://www.twgpp.org/information.php?id=1852789
1214 Second Lieutenant Osbert Leveson Calverley (RMC 1916) 124th Sqdn. – Cambridge City Cemetery http://www.twgpp.org/information.php?id=592986
Also see We remember ?p=45844
Researched by E3161 Victoria Edwards (RMC 2003)