Caption: A few key lecturers and the RMC Cadets attending; Picture from left to right: Renaud Bellais (INSTA-Bretagne, France), Ugurhan Berkok (RMC), MGen (Ret'd) Denis Thompson 14378, OCdt Andrey Khalypenko 27642, NCdt Christopher Perry 28174, Col (Ret'd) Charles Davies 10821, Craig Stone (Canadian Forces College).
Officer-Cadets at Defence Economics Workshop in Ottawa
Article by: 27642, OCdt A. Khalypenko 
There is always that part of a student life, when we are told about an incoming guest speaker, or some conference happening somewhere over there. First comes the usual RMC feeling of "Don't we already have a lot to do?", but then we realize it's a great gateway to see the practical and more advanced side of our sometimes monotonous, tunnel vision everyday studies.
One such opportunity was the yearly Defence Economics Workshop, hosted by Carleton University, and prepared with a lot of implication from Economics teachers here at RMC. We were privileged to hear from experts and government officials about important today's topics, and have a glance at what our future studies and projects may look like in our field.
The two-day conference kicked off Thursday, October 25th, with Dr. Douch, Head of the Economics Department at RMC, analysing defence spending and its economic involvements in the Middle-East. Then, recent arrival at RMC, Dr. Dorval presented a statistical study about wartime migration in Iraq, creating a mathematical model encompassing all factors and their consequences. Many others followed with various and clever, fine subjects we never find in the headlines; from case analysis in Asia and Africa, or the changing structure of the military-industrial complex, to economic goals of Canadian Defence Procurement, by a federal ministry; just to name a few. Nonetheless, all subjects had one thing in common: they are never taught, vaguely spoken about, and are an emerging theme in Economics: Defence Economics.
After learning about this hidden but important face of Economics in governmental function, and being challenged all day on our current knowledge, we had the chance to informally socialize and discuss with many lecturers at a private dinner in a pub. This experience surely has widen our field of view, and planted a seed in us to think more analytically about what can be done with current and future issues. The key thing I learned is the value of this degree, and that beyond the classroom, so much can be explained with the principles and methodology of Economics!
We would like to thank the donors to the RMC Foundation for making it possible for us to attend this conference in Ottawa.
***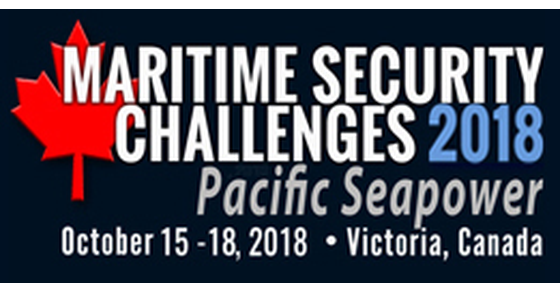 Naval Cadets Attend Maritime Security Challenges Conference 2018
Article by NCdt Hyun-Jae Choi
From October 15th until the October 19th, NCdt Mackin and I were given the opportunity by the RMC Foundation to attend the Maritime Security Challenges Conference 2018 (MSCC) thanks to the generous support of H6604 Jim Carruthers. MSCC was held at the Fairmont Empress in Victoria, BC.
The MSCC started in 2005 and is the only conference in Canada that solely focuses on maritime issues and strives to seek solutions to common concerns. It continues to attract more representatives from other nations each year with this having over representation from 25 nations. This year the theme was A strong, Secure, and Engaged Maritime Future with a focus on the Indo-Asian region.
The conference started off with a day sail on HMCS VANCOUVER where they showed the inner workings of the Machine Control room, Operations Room, and the bridge. One of the big highlights of the sail was from the Naval Tactical Operations Group when they demonstrated how they would board a ship while underway. The rest of the conference contained hot subject topics; such as, climate change and its effect, the maritime silk road, procurement ambitions, and the relevance of the aircraft carrier to name a few.
Attending the MSCC was an incredible experience for NCdt Mackin and myself as it provided a greater insight on what is presently occurring on the global scale. We both benefited greatly from the knowledge gained from the subject matter experts as well as meeting senior officers from the Royal Canadian Navy and nations abroad. We'd like to thank the Navy League of Canada, Royal Canadian Navy and the Asia-Pacific Center for Security Studies for organizing and hosting the event as well as H6604 Jim Carruthers for sponsoring our attendance through the RMC Foundation.