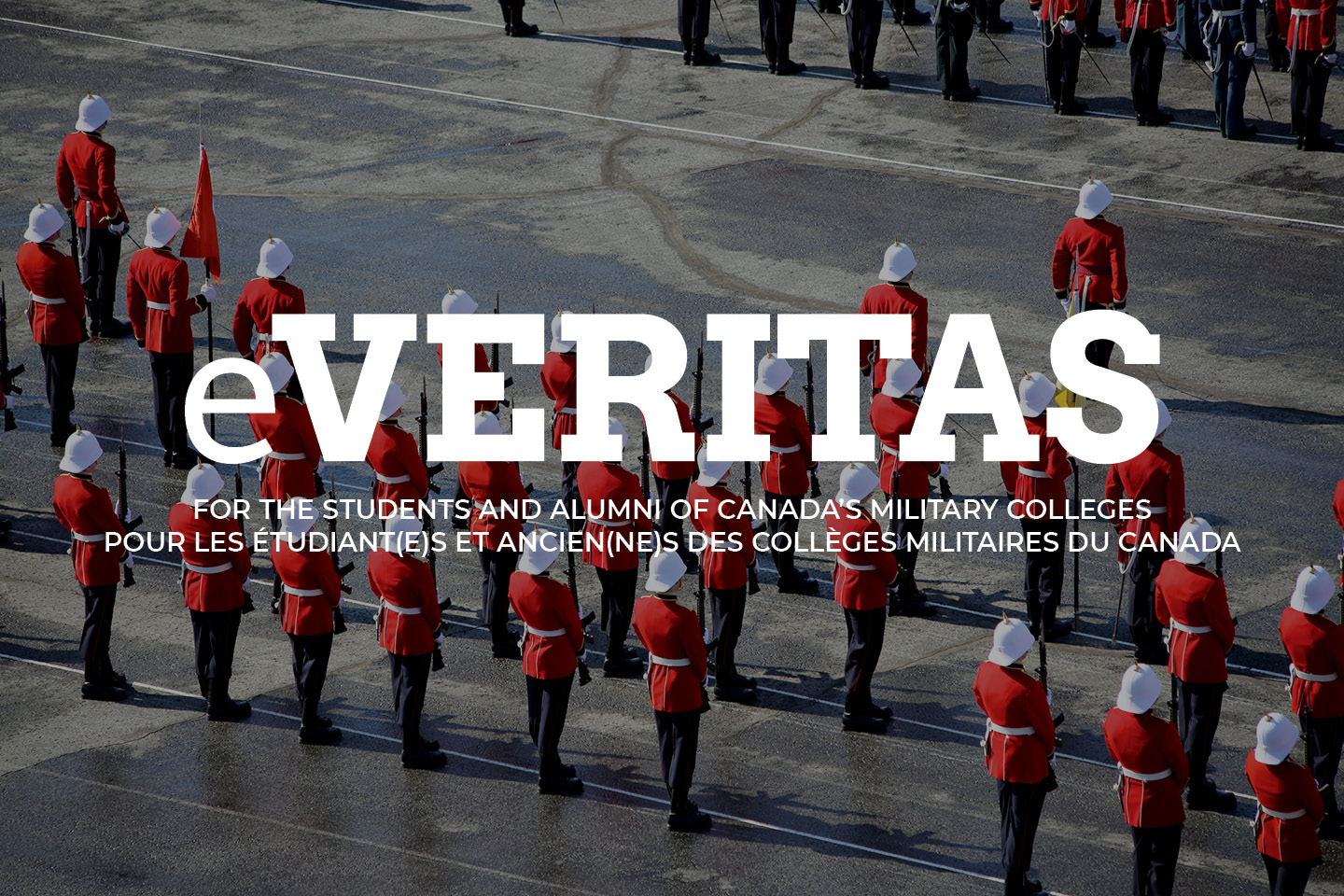 E3161 Victoria Edwards in conversation with H2897 MGen (Ret) Herbert Pitts (RRMC RMC 1952) who served as President of the RMC Club in 1981-82.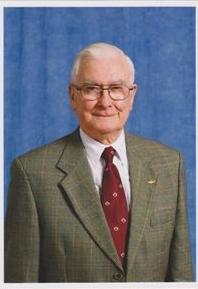 e-veritas: I understand that you were part of the first Tri-Service entry at Canadian Service College Royal Roads. Your classmate 2996 Lt. Arthur Herman (RRMC 1948), died on August 19, 1952 Hill 210,South Korea.
Herb Pitts: In 1948, I was one of the initial group of Army cadets to be enrolled in the first Tri-Service entry into what was then called the Canadian Services Colleges. We were Juniors only for our first year and from that point on were the Senior terms with various levels of Cadet rank. This carried with it a certain elevated level of responsibility not since duplicated – with the possible exception of CMR! Since there were only 86 cadets in the term, we were divided into two large dormitory rooms. Naval cadets, such as 2928 Commodore (Ret'd) Jim Cumming (RR 1952) had the option to join the Navy as midshipmen and to go to sea instead of another two years at RMC. Our dorm mate 2996 Lt. Arthur Herman (RRMC 1948), 1st Battalion Royal 22nd regiment died on August 19, 1952 Hill 210, South Korea. 2928 Jim Cumming (RRMC 1952) and I placed flowers on Art's grave on Nov 2011 as part revisit with the Korea Veterans Association.
e-veritas: What extracurricular activities were you involved with at Military College e.g. varsity teams, band, clubs? Did you hold leadership position(s)?
Herb Pitts: My activities at both Royal Roads and RMC were centred on team sports and Cadet Officer duties. I was an accomplished athlete – having played baseball, hockey, basketball, soccer, curling and lacrosse during school years in Nelson B.C. Boy Scouts and Royal Canadian Army Cadets figured prominently in my education as Cadets was compulsory for members of the more senior grades during WW 2. On leaving Royal Roads, I was awarded "The Captain's Cup" as the outstanding Senior term athlete so I was "on notice" when we transferred to RMC in 1950.
At RMC, I captained the varsity level Soccer and Basketball teams for both years. I had to give up hockey as I'd not played (except for pickup games) at Royal Roads and the interval was difficult to make up at Kingston and conflicted with the other two sports. I played other sports and swam at the inter-squadron level for Number Three Squadron which I commanded for most of my two years at RMC. At graduation I was awarded the Harris Bigelow Trophy and the Victor Vander Smissen-Ridout Memorial Award together with a couple of subject prizes. [Notes. The Harris-Bigelow Trophy is awarded, in memory of 2039 T.W.E. Harris (RMC 1932) and 2021 J.G. Bigelow (RMC 1932) to the Fourth Year cadet who has displayed the best combination of academic and athletic ability throughout the entire course of study at RMCC.  The Victor Vander Smissen-Ridout Memorial Award is awarded, in memory of 924 William Henry Victor Vander Smissen (RMC 1914) and his nephew 2415 William Lawton Ridout (RMC 1938) to the graduating ROTP/RETP cadet deemed to stand highest morally, intellectually, and physically at the Royal Military College of Canada (based on a vote by the cadets)].
e-veritas: Outline your career progression
Herb Pitts: I took a Regular Army commission on 03 June, 1952 (no obligation existed to serve at that time as we paid our way in cash at the start of each year). I was assigned to Lord Strathcona's Horse (Royal Canadians) (LdSH) and given 30 days leave plus travel time to report for a draft to Korea in Vancouver. I arrived in that theatre of operations about 20 July. I served my entire one year tour with the Princess Patricia's Canadian Light Infantry (PPCLI or Patricia's) having transferred to that regiment after a few months in the theatre. Trained for the armoured corps, I never joined my preferred regiment, the Lord Strathcona's Horse. I was a platoon commander in 1PPCLI and a platoon commander and base plate officer for 3 PPCLI . My other assignment was a three month job as a platoon commander / instructor at the Commonwealth Junior NCO School at the same time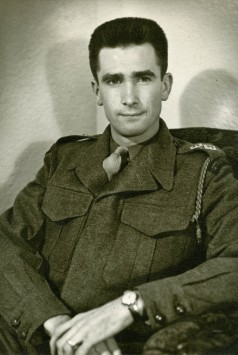 as the Division was "in rest" (out of the line). Our only real break from duty for the whole one year tour was 5 days R & R in Japan.
My more intense combat experience came in four packages apart from a lot of more routine patrolling of all sorts. The first was a fighting patrol's escort (firm base) in October 1952 about three week's prior to the attack by Chinese forces on Hill 355 which was held by the 1st Battalion Royal Canadian Regiment (1 RCR). My patrol covered (led) the outbound route and the withdrawal of the fighting patrol with its wounded as the Chinese started to follow up. The assignment of our Company to 1 RCR on the night of the attack on 355 lasted for 10 days during which we became their P or "Peter" Company. Things gather speed as two weeks later our newly arrived Third Battalion was moved into counter attack positions to restore the British Black Watch stout defence of the "Hook". I was tasked the next day to train a volunteer platoon sized team to rewire parts of the front of the position in what Bill Boss, CP correspondent, described as "probably the most daring piece of defensive field work yet carried out". Next up in early May, was controlling mortar fire support for 3 RCR and 3 PPCLI for defence and under enemy counter battery fire. And yes, there were casualties in all of these mentioned operations. Weeks later we shifted east to almost the same location we joined the war a year earlier. The Ceasefire took effect on 27 July, 1953 and most of us were in Japan for a couple of days waiting to board a Canadian Pacific Airline plane to go to Vancouver the next day. Subsequently, I commanded 1st Battalion, The Queen's Own Rifles of Canada and the Canadian Airborne Regiment. I stayed in the Army until 1978 serving last at National Defence Headquarters. See also http://www.thememoryproject.com/stories/2306:herb-pitts/
e-veritas: You were one of four ex-cadets from the Class of 1952, who were awarded the Military Cross for gallant and distinguished services in action while serving in Korea.
Herb Pitts: Yes, the other three were 2967 Chuck Carter (Engineers); 2948 Andrew M. King, 1 RCR; 2861 Dan Loomis, 1 RCR. 2973 R W. Bull, LdSH was awarded the Belgian Order of Leopold and Croix de Guerre. There is an account of the Class of '52 in the "As You Were", 100th Anniversary Book by H1877 LCol (Ret'd) Guy Smith (RMC 1925).
e-veritas: How did you get involved with RMC Club business? How did you end up as RMC Club president?
Herb Pitts: While serving at National Defence Headquarters I became a liaison officer with the RMC Club, replacing 2805 BGen (Ret'd) Gordon Sellar (RMC 1940). I have been connected since, took a seat on the Club's Council as a Vice President and soon after became the Club's President.
e-veritas: What were some of the biggest challenges during your tenure as president?
Herb Pitts: My years on Council saw the introduction of Lady Cadets into the College. This change brought forth many opinions on what the results of that change would be. Comments ranged from "catastrophe", "what next", "about time" to "welcome". My position, then as now, was if we are to recognize equality of gender, equality of opportunity and equality of service – we should and must afford equality of entry and training for entrants into commissioned ranks.
One of my most satisfying moments was to discuss the award of an engineering prize with the donor's widow. She was certain her husband would not approve of the entry of Lady Cadets and the award of the prize to a woman. In the discussion around this issue, I raised the question of what would be his (her) feeling with regard to the award going to the third best candidate if there were two better qualified lady cadets? At the next presentation ceremony she seemed very pleased to present the prize to a lady cadet.
e-veritas: As RMC Club President, you commanded the Parade to the Arch, which remembers our fallen comrades, whether faculty, staff, alumni and students.
Herb Pitts: I was President in the year my Class was celebrating its thirtieth year of Graduation. I felt very privileged on that occasion to command the Parade to the Arch and return for that reason – and one other. I was a "Big Brother" at the time to a seven year old boy, Robert Trent Abbott from the area in which we were living (Perth). His father, 9019 Capt Robert Reid Abbott CFD (CMR 1971) was an Air Force pilot with 416 All Weather Fighter Squadron killed on duty in a plane crash at CFB Ottawa on 19 Feb 1980. His mother, Joan Margaret (nee Code) Abbott wanted a man in his life and I was pleased and thankful for the opportunity to be his "Big". It so happened that "Little's" father's class was celebrating a graduation the same year and invited / ensured that the youngster paraded with them in the same parade I was commanding. For me this was a special moment as to why relationships are important and also demonstrated the strength, character and camaraderie shown by ex-cadets. bigbrothersbigsisters.ca
As Ex Cadet Club President, I participated at the 1982 Ex Cadet Weekend Parade, with Cadet Wing Commander 13894 Jeff Lafortune, followed by the Commandant, 3572 BGen Frank Norman and 2265 LGen (ret'd) Bill Anderson (RMC '32) both of whom are saluting. Bill Anderson was on the parade because it was the year of entry for his Class to the Old Brigade and he had been their Battalion Sergeant Major.
e-veritas: You were involved in the RMC Club Foundation's Centennial Campaign.
Herb Pitts: Following my Presidency, and a three year appointment to the Board of Governors, I volunteered to conduct, along with H2840 Colonel (Ret'd) Don Strong (RMC 1952) (Club Secretary) and 4823 Captain (Ret'd) Archie Zagrodney (RMC 1960), the Foundation's Centennial Campaign in 1986 – 87. The aim was to increase the capital available to the Foundation. We, using principally "The Marker" publication of the College, succeeded in roughly doubling the assets to over $600,000. This achievement was due entirely to the generosity of ex-Cadets and their appreciation of the College's needs. Changes to the Foundation's relationship with the Club and methods of fundraising have since taken place along with the evolution in methods of communication!
e-veritas: You were involved in funding an award for the RMC Sandhurst Challenge Team.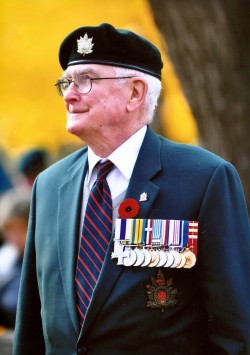 Herb Pitts: As Patron of the First Canadian Parachute Battalion Association for over thirty years, I was asked by that Association for ideas on where best to place some of their funds when the Association was preparing its dissolution due to decreasing membership. RMC leaped into my mind as a possibility and a suggestion to support the Sandhurst Challenge Team was readily accepted by the College. Funds were placed with the Foundation to furnish a yearly award to the member of the team, voted by the team members, "to best reflect the aspects of team leadership and contribution to the team". The competition embodies those elements of determination, team work, initiative, physical fitness and attitude that are necessary for success in a demanding competition and in military service. It is gratifying to see the success of the College team in the last six or seven years and to learn that a form of the competition is now part of inter-squadron sports.
e-veritas: What do you know of the Club business today? What are the Club's/College(s) biggest challenges?
Herb Pitts: I am an active member and participate on the Executive of the Vancouver Island Branch. I feel up to date on Club affairs, locally and nationally.
Alumni associations have brought great benefits to most of our very best universities. Certainly RMC and CMR rank right up there with the best and deserve support from our graduates. Let me say also, that preservation of the military aspects of RRMC at Royal Roads University is an ongoing activity which is worthy of support by all of us, not just those who attended that college as cadets. The Parent Club and the Foundation have been helpful in this regard but a reminder of Service life in the West makes us a more national association.
e-veritas: Would you advise cadets/Ex cadets and former students to get involved with the College extracurriculars / RMC Club? If yes, Why? If not, why not?
Herb Pitts: Certainly, I would promote membership to any ex-Cadet who has an interest in College and Service matters. As former cadets, I think we have a strong common interest in providing capable graduates for some of the most demanding professional challenges a person can face. Those being – competent command of persons volunteering for Service, which can place great stress in life or death situations of significance to our way of life, our society and our Canada.
e-veritas: What are you up to these days?
Herb Pitts: I feel that I'm perhaps into too many activities. These include honorary positions in three regiments, Life Governor of the Dominion of Canada Rifle Association, Patron of three Military Associations, Honorary President B.C. / Yukon Command of the Legion, Scouts Canada, the Korea Veterans Association and other local seniors and veterans groups. Church affairs and community involvement still demand a lot of time. Cumulatively, for over 30 years, these endeavours were recognized in 2012 by the award of the Governor General's Caring Canadian Award.  As to golf and fishing? Both have been set aside and as far as I'm aware, neither suffers from my absence.
e-veritas: You were awarded a Doctor of Military Science from RMC.
Herb Pitts: In 1984, RMC awarded me the degree of Doctor of Military Science, honoris causa, being the first post World War Two graduate to be so honoured. I have been well recognized for widely diverse pursuits over many years and am deeply appreciative
________________________
Previous Interviews with Former Presidents

 
E3161 Victoria Edwards in conversation with H3356 Robin B. Cumine, Q.C. (RMC 1955) who served as RMC Club president 1992-3.