Over the next few weeks eVeritas will be publishing excerpts from the recently published "The Dark Mist Cast Across the Guns – Poems in Honour of Remembrance Day," by the 2018-2019 ENE110-1 class at RMC in Kingston. Please note this volume is available for free in the RMC Gift Shop.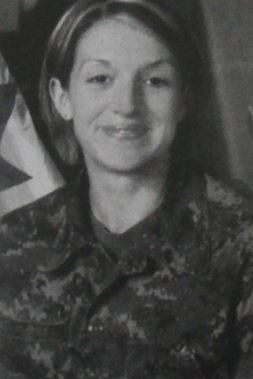 No. 22007 Major Michelle Mendes
Died in Afghanistan
23 April 2009
Untitled
By 28990 OCdt Chelsea Stephen
–
Haboob! Haboob! The first female soldier
To stumble up the face of that tall dune.
Gritty gusts blew one shell from its chamber
In an afternoon heat, locked in a room.
–
Did we push her too much? It was only
Four days before the storm hit the trigger.
A friendly mirage now gone again, lonely –
The wind is stronger now; the dunes, bigger.
–
You always demand more of the best. BANG!
A quick flash through her crown, a seething fire;
Her pain became ours as the bullet sang –
Sun lowers, ne'er to graze our highflier.
–
Soaring into a bed of orange waves,
She's now free. Look up Mic; shams habibiti.