SPECIAL REQUEST:

Click on logo for info on The Original Hockey Hall of Fame
Looking for vintage RMC hockey jersey:
R
         M
                C
We have been asked by the The Original Hockey Hall of Fame (located in Kingston) to send them a photo of a RMC hockey jersey from 'way back in the day'.  The particular style of jersey has the  letters R-M-C running diagonally across the sweater and down.  Not straight across like many of the photos from the 1980s and beyond.
Anyone who has acess to such a photo please scan it; and send or contact Bill Oliver ASAP. [email protected]
***
Proposed infrastructure bank legislation strikes the right balance
7771 Jim Leech
***
Canadian military to relax deployment-readiness rule
15696 Jonathan Vance
Canada's top general 'horrified' by images of Iraqi abuse
***
Joyful in defeat: 19894 Erin O'Toole reflects on the campaign
***
Stogran alleges 'malicious' rumour, harassment from insiders led to quitting NDP leadership race
12723 Pat Stogran
***
Military helicopters back in limited service after software issue grounds fleet
18285 Peter Allan
***
U.S., Canada have an 'open conversation' on drones
26372 Matthew Walsh
***
Ethics commissioner acknowledges Sajjan downplayed his role and knowledge of Afghan detainee issue
Is it time for Harjit Sajjan to move on and a new defence minister to take over?
MND S175 Harjit Sajjan

***
Federal Government Eases Restrictions On Military Mission In Ukraine
21669 Mark Lubiniecki
***
Improvement focus of meeting of military minds
n/a Christine Whitecross
***
Women in Aviation: Lieutenant-Colonel Jill Bishop
17347 Jill Bishop
***
Invictus Games Canadian Team announced in Kingston
12320 Walt Natynczyk
Invictus Games 'about inspiring others'
23350 Simon Mailloux

***
Army members share spiritual experiences at the International Military Pilgrimage
23161 Joseph Gsell
***
Bon Accord, Alberta bestows Freedom of the City on 1 Combat Engineer Regiment
20848 Ryan Smith
***
Anti-Canada propaganda greets troops in Latvia
21261 Josh Major
***
Gagetown troops headed to Latvia, new commanding officer says
21357 Sean French
***
Family & friends surprise, Tom Epp – on his 70th!
Close to fifty family and friends from across Canada gathered in Glenburnie, Ontario on 10 June to celebrate 8031 Tom Epp's 70th birthday. The merrymakers included five of Tom's classmates and their wives thus resulting in yet another Class of '69 mini-reunion.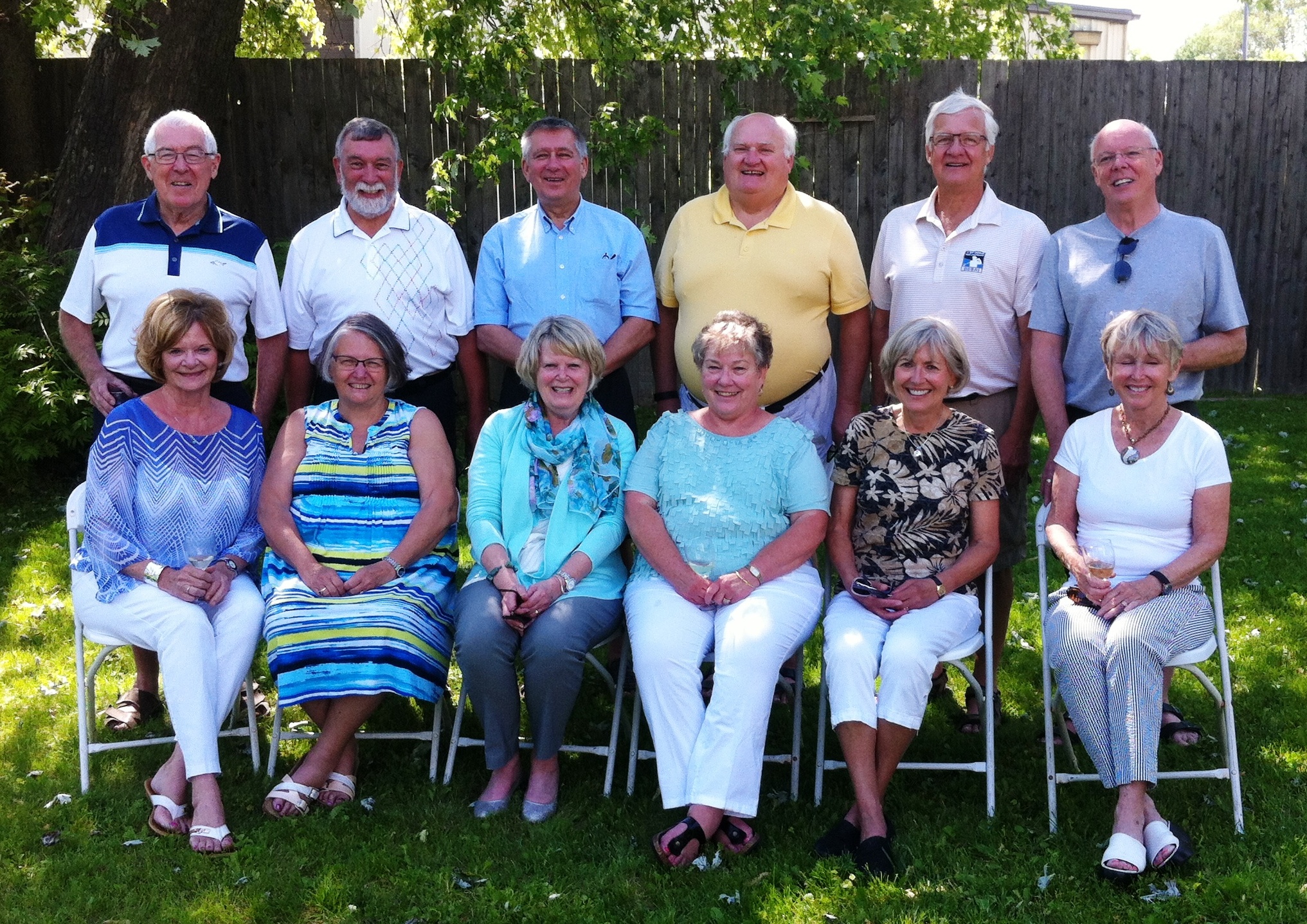 Caption: '69er's in attendance –  (L-R): Mike & Julie Johnson (Ottawa),  Rick & Linda Wright (Calgary), Garry & Patty Beckman (Ottawa), Tom & Sue Epp (Kingston), John & Alice Carlson (Bath), and Blair & Wendy Trousdell (Vancouver).
***
RMC rugby coach part of Canadian U20s national team
Sean McDonaugh – Assistant Coach (RMC varsity head coach)
CANADA ADVANCES TO JUNIOR WORLD RUGBY TROPHY