CAF amends criteria for Special Service Medal
****
5808 Thomas Davey Gordon
Since 1987, Thomas Gordon has volunteered with the Air Force and Army cadets, as well as with numerous veterans' organizations. His involvement with the Commissionaires Ceremonial Marching Unit has inspired young cadets and veterans alike.
 ***
Vice-Admiral Mark Norman charged with breach of trust over alleged shipbuilding leak
Le vice-amiral Mark Norman finalement accusé d'abus de confiance par la GRC
***
How much should the Canadian public know about a $19B jet purchase? The government knows best
14240 Pat Finn
***
Colby Cosh: Don't call them therapy dogs: a case study in the Liberal tax-engineering style
13855 Medric Cousineau
***
Plan to send Canadian peacekeepers to Colombia fizzled due to official foot-dragging
15696 Jon Vance / Walter Dorn, College Prof

***
DND wants early start on construction of already delayed navy resupply ships
15141 Ron Lloyd / 16086 Spencer Fraser
***
Sailor testifies superior sexually assaulted him aboard Canadian destroyer
15519 Sandra Sukstorf
***
MP honours clean-up heroes
22007 Michelle Knight Mendes
***
Celebrating An Olympic Gold Medal – Gone Fishin'
7301 Earle Morris
***
Former Paladins Hockey coach, Kelly Nobes,  earns OUA East Division Coach of the year honours
Kelly Nobes who got his first university head coaching job with the RMC Paladins, guided the McGill Redmen to a division-leading 22-4-2 record and their fifth trip to Nationals in his eight seasons. He takes home the award for the second time in his career after winning it during his first season behind the Redmen bench in 2010-11.
Congratulations!
***
Canadians, Norwegians work together on NATO exercise
E2886 Bruno Baker
***
CAF Firsts: Captain of the Queen's Guard
25981 Megan Couto
***
8816 Marius Grinius – Power and Politics – CBC 9 March
***
OUA News – Two hockey Paladins; & a (M) VB player earn special honours
RMC Paladins, first-year phenom is the East Division's Rookie of the Year award, as ALOY student, Riley Brandt (Trail, B.C.) secures the honour this season. When looking for the elite goal-scorers in the country, Brandt's name quickly shot to the top of the list, as the Paladins star finished first in U SPORTS in goals this season with 21.
Brandt, who also earns a First-Team All-Star and All-Rookie Team nod, stepped up in a big way for the Paladins, not only achieving great personal success, but also helping his team fight tooth and nail for the final playoff spot this season. Behind his 33 points (7th in OUA), Brandt has helped to show that the future of RMC hockey is as bright as ever, especially given that he is just the second Paladin to ever win the award (Ryan Vince, 1997-98), and that he is one to keep an eye on at all times when taking to the ice.
While one RMC rookie was putting pucks in the net, it was another keeping them out, and 28398 OCdt (I) Year, Daniel Vautour (St. Louis de Kent, NB) has garnered an All-Rookie Team nod for his puck-stopping proficiencies.
Congratulations to Dale Towe from the (M) volleyball team for being chosen to the second All Star team.
***
4 ESR Deploys Sub-Unit to Latvia in support of Op REASSURANCE
Article by: MCpl Jacob Bradley
From 25 Sept 17 to 20 Oct 17, a composite troop of 38 Combat Engineers, Heavy Equipment Operators and Construction Technicians deployed from 4 Engineer Support Regiment (4 ESR) to Camp Ᾱdaži, Latvia in support of Op REASSURANCE and NATO's enhanced forward presence Battle Group (eFP BG). Sqn HQ consisted of Maj Heather Reibin (RMC 23234) with her Squadron Sargent Major (SSM), MWO Keith Comerford while the Troop was led by Capt Ryan Perry (RMC 26013) and Tp WO, WO Craig Watts. Their mission was to consolidate multiple Re-locatable Temporary Camps (RTC) into a centralized location capable of supporting 500 personnel for BG Relief In Place (RIP) operations. NATO's eFP BG is a multi-national effort to reinforce NATO's collective defence and strength of Allied solidarity in Eastern Europe.
The RTC is a collection of modular WeatherHaven equipment such as tents, showers, and generators that provide soldiers with accommodation and ablution facilities, running water, light, power, and heat. Making the RTC operational requires a number of unique CAF trades including Combat Engineers, Construction Technicians, Electrical Distribution Technicians, Electrical Generating Systems Technicians, Plumbing and Heating Technicians, and Refrigeration and Mechanical Systems Technicians. The Engineers also had various types of equipment at their disposal including a front end loader, backhoe and telescopic forklifts. On a few occasions, multinational support was required to set up and move certain components of the camp into location.  Due to the inclement cold weather, the RTC was also winterized by the addition of insulated wooden floorboards.
The Engineers also completed concurrent tasks including the preparation of excess RTC equipment for redeployment, and Heavy Equipment operators made improvements to camp infrastructure by constructing multiple gravel pads on which MTS¹ shelters were erected. In order to build these pads, the existing ground had to be surveyed, and properly compacted. Locally sourced material was brought in to lift and level each pad. These shelters allowed the CAF to continue to provide medical services to deployed members over the winter months.
Indicative of their motivation and work ethic, the Sappers² were able to make a considerable impact to the Canadian infrastructure in Camp Ᾱdaži. 4 ESR continues to demonstrate the value of the Engineer Corps in supporting and sustaining CAF Operations on the modern battlefield.
1. The Modular Tentage System (MTS) is one of the most thermally efficient and robust tactical shelters in the world. This capability comes in a selection of sizes, and is used for a number of field applications. The MTS is particularly popular with military forces due to its flexibility in design to form larger complexes, such as operations centres and medical facilities. http://www.weatherhaven.com
2. The term "sapper" has been associated with engineers for many generations. The origin of this term lies in the French word "sape," meaning undermine and in the Middle French word "sap" that was a spade or hoe. The dictionary defines a 'sap' as a trench that is prolonged by digging away the earth from within the trench itself. Customs and Traditions of the CME
***
Le 4 RAG déploie une sous‑unité en Lettonie à l'appui de l'Op REASSURANCE
par le cplc Jacob Bradley
Du 25 sept. 2017 au 20 oct. 2017, une troupe mixte de technicien du 38e Régiment du génie de combat, d'opérateurs d'équipement lourd et de techniciens en construction se sont déployés du 4e Régiment d'appui du génie (4 RAG) au Camp Ᾱdaži, en Lettonie à l'appui de l'Op REASSURANCE et du groupement tactique (GT) de la présence avancée renforcée (PAR) de l'OTAN. Le QG Esc était constitué du maj Heather Reibin (CMR 23234) et son sergent-major d'escadron (SME), l'adjum Keith Comerford, tandis que la troupe était dirigée par le capt Ryan Perry (CMR 26013) et l'adj Tp, soit l'adj Craig Watts. Leur mission consistait à regrouper de multiples camps temporaires déménageables (CTD) en un lieu centralisé capable de desservir 500 personnes pour les opérations de la relève sur place (RSP). Le GT PAR de l'OTAN est un effort multinational visant à renforcer la défense collective de l'OTAN et la puissance de la solidarité alliée en Europe de l'Est.
Le CTD est un ensemble d'équipements modulaires WeatherHaven, comme des tentes, des douches et des génératrices qui permettent d'offrir aux militaires des logements et des salles d'eau, de l'eau courante, de l'éclairage, l'électricité et du chauffage. Pour rendre un CTD opérationnel, cela exige un certain nombre de professionnels propres aux FAC, notamment des sapeurs de combat, des techniciens en construction, des techniciens en distribution électrique, des techniciens en groupes électrogènes, des techniciens en plomberie et chauffage, ainsi que des techniques en réfrigération et en systèmes mécaniques. Les ingénieurs disposaient aussi de divers types d'équipement, notamment un camion à chargement frontal, une rétrocaveuse et un chariot élévateur. À quelques occasions, du soutien multinational a été requis pour installer et déménager certaines composantes du camp à l'endroit voulu. En raison du temps froid peu clément, le CTD a aussi été hivérisé par l'ajout de planchers de bois isolés.
Les ingénieurs ont aussi effectué des tâches simultanées, dont la préparation de l'équipement excédentaire du CTD pour son redéploiement, et les opérateurs d'équipement lourds ont apporté des améliorations à l'infrastructure de camp en construisant de multiples plateformes de gravier sur lesquelles on a érigé les abris du STM¹. Pour construire les plateformes, il a fallu arpenter le sol existant, et le compacter convenablement. On a fait venir des matériaux achetés localement pour lever et niveler chaque plateforme. Les abris ont permis aux FAC de continuer de fournir des services médicaux aux militaires déployés pendant les mois d'hiver.
Preuve de leur motivation et de leur éthique professionnelle, les sapeurs² ont pu avoir un effet considérable sur l'infrastructure canadienne au Camp Ᾱdaži. Le 4 RAG continue de s'avérer précieux pour le Corps du génie lorsqu'il s'agit de soutenir et de maintenir en puissance les opérations des FAC sur le champ de bataille moderne.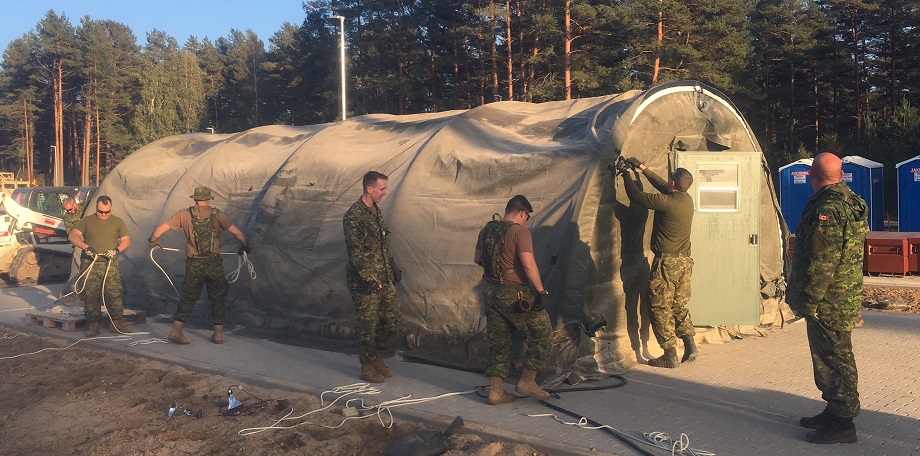 1. Le système de tentes modulaires (STM) est l'un des abris tactiques offrant le meilleur rendement thermique et les plus robustes au monde. Cette capacité est offerte dans une variété de dimensions, et elle sert pour un certain nombre d'applications en campagne. Le STM est particulièrement populaire chez les forces militaires en raison de la souplesse du concept permettant de former des complexes plus vastes, comme des centres des opérations et des installations médicales. http://www.weatherhaven.com
2. Le terme « sapeur » est associé aux ingénieurs depuis de nombreuses générations. L'origine de ce terme remonte au mot français « sape », qui signifie de miner (détruire par la base) et au mot « sape » en moyen français, qui signifie « pioche » ou « bêche ». Le dictionnaire Robert définit la « sape » comme une tranchée d'approche pour atteindre un obstacle ennemi ou une fosse creusée au pied d'un mur, sous un bâtiment pour le faire écrouler. Coutumes et traditions du GMC.