Ex Cadets and more in the news
LE SENTIMENT DU DEVOIR ACCOMPLI
10966 Michel Maisonneuve
***
Canadian Forces Intelligence Command takes command and control of two Canadian Forces Schools
15137 Charles Lamarre
***
Top Aces Achieves 70,000 Hours of Air Combat Training Excellence Worldwide
17398 Didier Toussaint
***
Military family members gain greater access to HMC Dockyard, Colwood, and Y Jetty
17793 Bob Auchterlonie / 21206 Jason Boyd
***
Children's art, support, friendship adds up for military members, families
25982 Colin Strong
***
House of Commons Standing Committee on National Defence (24 April 2018)
Lew MacKenzie / 14378 Denis Thompson /10155 Greg Mitchell
***
435 Squadron Welcomes New Honourary Colonel
22149 Kevin Kozak
***
2018 Snowbirds Squadron Members
3 Ex Cadets – 22058 Bassam Mnaymneh / 23501 Blake McNaughton /   22273 Megan Latta
***
Soldier, nun, physiotherapist honoured as distinguished Catholic alumni
Rob Morningstar – RMC 'B'Division Senior NCM
***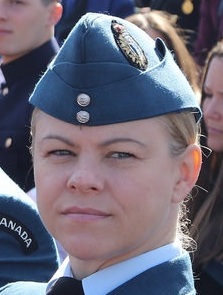 May 9, 2018
Hello Everyone,
Today is my last day at RMC and I am being posted to the Joint Personnel Support Unit where I will be working on transitioning out of the CAF for medical reasons.  Before I leave, I want to let you know how proud I am of all of you and the incredible work that you are all doing. I have rarely worked with people as dedicated as all of you are.  The work that you are doing is incredibly important and you are contributing to the development of our nation's future leaders.  It has been and honor to have been the Director of Support Services during my time here at RMC and It has been a real pleasure working with all of you.
As this week is Mental Health week, I also want to take this opportunity to remind all of you just how important you all are. We all encounter stressful situations, at some point, in our personal and professional life and It is so easy to forget ourselves in the process. Mental health is just as important as our physical health and fitness and it deserves just as much attention.  Do not hesitate to reach out if you are struggling with mental health issues, you are not alone and there are plenty of support and services available to help you through those difficult times.  From my part, I can say that I have received outstanding support from the RMC Chain of Command, medical services as well as from all of you.  I cannot tell you to what extent this support was essential to me and I am so grateful for it.
I would to thank all DSS personnel for your outstanding work and commitment, you are the corning stone of this institution.  I also want to thank the RMC Cmdt and D/Cmdt for their inspirational leadership and incredible support, they truly have being instrumental to my healing process.  I am proud to have been a small part of this great institution and family. I will miss you all very much.
Until next time…
Lieutenant-Colonel 21134 Anny Métivier – Class of '98
Bonjour à tous,
            Aujourd'hui est ma dernière journée au CMR.  Je suis mutée à l'Unité Interarmées du Support au Personnel, où je me concentrerai à préparer ma transition vers la vie civile.  Avant de partir, j'aimerais vous dire à quel point je suis fière de vous tous et du travail que vous faites. J'ai rarement eu l'occasion de travailler avec des personnes aussi dévouées que vous l'êtes.  Le travail que vous accomplissez chaque jours est incroyablement important et vous contribuez à former les futurs leaders de notre pays. Ce fut réellement un honneur d'avoir été la Directrice des Services de Support lors de mon passage au CMR et d'avoir eu le plaisir de travailler avec vous tous.
            En cette semaine de la santé mentale, j'aimerais prendre cette opportunité pour vous rappeler à quel point vous être tous et toutes importants(es).  Il nous arrive tous de vivre des situations stressantes au cours de notre vie personnelle ou professionnelle et il est tellement facile de s'oublier dans tout cela.  La santé mentale est aussi importante que la santé et la forme physique et elle mérite tout autant d'attention.  N'hésitez pas à tendre la main si vous avez besoin de support en santé mentale, vous n'êtes pas seuls et il existe toute une panoplie de services disponibles pour vous supporter durant les moments difficiles.  Pour ma part, j'ai reçu un soutien incroyable de la part de la chaîne de commandement du CMR, des services médicaux des FAC, ainsi que de vous tous.  Je ne peux vous dire à quel point ce soutien a été essentiel pour moi et j'en suis très reconnaissante.
            J'aimerais spécialement remercier tout le personnel du DSS pour votre fantastique travail et votre dévouement, vous êtes vraiment la pierre angulaire de cette institution.  J'aimerais également remercier le Cmdt et Cmdt/A du CMR pour leur leadership inspirant et pour le support inconditionnel qu'ils m'ont témoignés, ils ont vraiment été essentiels à mon processus de guérison.
À la prochaine…
Anny
***