***
Feature photo caption: Full Debriefing at Dusty's
The Vancouver Branch had a great RMC Club Ski Day on Saturday Feb 17th 2018 starting at the Whistler Creekside Gondola entrance where the keen skiiers gathered in non-parade format.
Ken and Carol Tanner, Dana and Margaret Vanier, Craig Riddel, Bob Parsons, Darrel Madill, Richard Ronhalm, Scott De Lange Boom and Mark Duncan were in attendance.
It snowed all day and the powder was over a foot in most runs attacked by the group. (see slides and pictures at www.rmcvancouver.simplesite.com )
After an enjoyable day on the slopes, a wrap up cocktail hour and debriefing with numerous expanded stories occurred in Dusty's Tavern in the Creekside Village.
Thank you to [email protected] for organizing a fabulous day.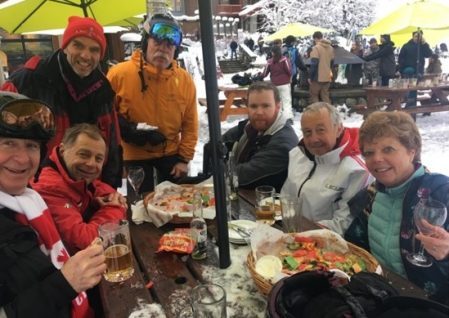 Ex Cadets and more in the news
***
US fight for military recruits not echoed in Canada but problems remain
15696 Jonathan Vance / Christian Leuprecht, a professor at Royal Military College /
Defence chief promises to fix morale tours, plays down allegations of partying
***
Army runs winter training in Calabogie
22001 Tim Kenney
***
Governments of the past have been able to provide proper veteran care. So what's changed?
E1367 Robert Smol / 15488 Sean Bruyea

Liberal government plan saves money at expense of veterans: opinion
15488 Sean Bruyea
***
Do offshore wind turbines generate noise that is harmful to marine life?
17255 Paul Ryan
***
D'élève-officier à commandant du CMR Saint-Jean
18087 Gervais Carpentier
***
West Point posthumously admits Parkland shooting victim Peter Wang
***
Operation 'was war,' warrant officer says
M737 Andy Belyea
***
Don't keep quiet about mental health issues, advocate tells CFB Halifax crowd
18127 Paul Forget
***
S149 Peter Milliken new Habitat ambassador
***
Petawawa soldiers heading to Ukraine
20294 Fraser Auld
***
Pond Hockey Classic scores $70,000
22097 Spencer Selhi
***
Cold Lakers will get a rare glimpse of an F-22 this summer
20031 Kael Rennie
***
DE LA GRANDE VISITE DANS LA RÉGION
15610 Sean N. Cantelon
***
Defence bureaucrats rejected high-tech guns for new supply ship because they're expensive
14240 Pat Finn
***
Canada seeks to get more women into UN peacekeeping operations
Walter Dorn – an expert on peacekeeping at the Canadian Forces College in Toronto
***
Raytheon to overhaul Canada's anti-ship Phalanx system
15542 Terry Manion
***
Are Canada's Military Officers Smart Enough?
A professional debate among a number of individuals (academics and former military officers) discussing the benefits of military officer education. Its title is 'Are Canada's Military Officers Smart Enough – A Debate'.
Adam Chapnick, is the deputy director of education at the Canadian Forces College, Toronto; Howard G. Coombs, Ph.D. – he is Assistant Professor of History and War Studies at RMC; David Last; Pat Stogran; and Paul T. Mitchell is Director of Academics and Associate Dean of Arts at the Canadian Forces College.
***
Membership and Administration Clerk – Royal Military Colleges Club of Canada
The RMC Club is seeking a part-time Membership and Administration Clerk, to begin work at the Club offices in Panet House, for an initial term of one year commencing 15 March 2018, with a Probationary Period of three months. The term of employment may be extended thereafter, on an annual basis, subject to further agreement of the parties.
Skills and Qualifications
Strong capability with Microsoft Office tools, especially Word, Excel, Publisher.
Previous knowledge of, or demonstrated ability to learn, the Abila/Paradigm Database software.
Previous knowledge of, or demonstrated ability to learn, the Club's retail Point of Sale system in Gift Shop.
Excellent communication and inter-personal skills, and a pleasant demeanour for interaction on phone and in person.
Ability to work independently, covering for Supervisor daily during lunch, and occasionally during Supervisor's absence.
Must be suitable to obtain DND Security Clearance at level of Enhanced Reliability.
Ability to work in a collaborative environment with a service orientation
Excellent documentation skills; attention to detail is a must-have.
Capability of maintaining strict confidentiality, and an ability to recognize and handle confidential information in an appropriate manner.
English essential, with Bilingual (French and English) preferred.
Remuneration
Pay will initially be $16/hour during the probationary period of three months, and $18/hour after the probationary period is successfully completed. Pay will be subject to the usual withholdings and deductions, and will be paid every two weeks. Compensatory time-off is normally provided in lieu of overtime.
To apply, please send a résumé and cover letter, by 1 March 2018 to:
and
General Office and Gift Shop Manager,
Royal Military Colleges Club of Canada
Only those selected for an interview will be contacted.
Commis d'administration et aux adhésions
Club des Collèges militaires royaux du Canada
Le Club cherche une adhésion et commis à l'Administration, à temps partiel, pour commencer à travailler dans les bureaux de Club à Panet House d'une durée initiale d'un an à partir du 15 mars 2018, en commençant par une période probatoire de trois mois. L'emploi pourra être prolongé ultérieurement, sur une base annuelle, sous réserve d'un nouvel accord entre les parties.
Compétences et Qualifications
Maîtrise avancée de la Suite Office, notamment Word, Excel, Publisher.

Connaissance du logiciel Abila/Paradigm de base de données ou démontrer son habilité à l'apprendre.

Connaissance du système Point de vente de la boutique du Club ou démontrer son habilité à l'apprendre.

Aptitude en communication et en relation interpersonnelle ainsi qu'une attitude conviviale lors d'interaction au téléphone et en personne.

Capacité à travailler seul, remplacement du superviseur quotidiennement pendant ses pauses et occasionnellement durant son absence.

Passer avec succès l'habilitation de sécurité du MDN de niveau fiabilité approfondie.
Capacité à travailler dans un environnement collaboratif orienté vers le service.
Excellentes compétences en documentation, le souci du détail est indispensable.

Capacité à veiller à la stricte confidentialité ainsi qu' à reconnaître et traiter les informations confidentielles de manière appropriée.

Anglais essentiel, bilinguisme (Français et anglais) préféré.
Rémunération
La rémunération est de 16 $/h durant la période probatoire et de 18 $/h une fois la période complétée avec succès. La rémunération est soumise aux déductions et retenues habituelles et versée toutes les deux semaines. Des congés compensatoires sont normalement utilisés pour le paiement des heures supplémentaires.
Application
Veuillez transmettre votre curriculum vitae ainsi qu'une lettre de motivation d'ici le 1er mars 2018 à :
et
Bureau général et Gift Shop Manager,
Club des collèges militaires royaux du Canada
Seules les personnes retenues pour une entrevue seront contactées.